Will we ever see Keanu Reeves in the MCU? The actor has implied he'd be into it, and fans are, too. But which Marvel character would he play?
In a recent interview with Esquire, Keanu Reeves addressed rumors that he was involved in MCU projects. While his response neither confirmed nor denied a casting, fans are delighting at the opportunity to fancast the beloved actor as many of Marvel's mightiest heroes– and villains.
Like everyone else on the internet, we have opinions. If we're going to meet Keanu Reeves in the MCU, here are some of our picks for characters he could play.
It Could Happen– Keanu Reeves in the MCU
Reeves is set to reprise his role as Neo in The Matrix: Resurrections, which premieres in theaters on Dec. 22nd. Already a pop culture icon thanks to this and other choice nostalgic roles, Reeves is also the star of the mega-popular action John Wick series.
In the Esquire interview, Reeves addressed several rumors and fan questions about his career over the years. And yes, that includes questions about his involvement with the MCU.
The actor has said he'd be "honored" to work with the MCU. In the video, Keanu makes a joke about Marvel's multiverse. He also expresses admiration for the ambition and scale of the MCU, and says he'd be honored to be involved.
Of course, nothing's final till the studio releases a trailer. But until then, I'm happy partake in some of the speculative fun, starting with–
6. Mephisto
Alright, let's just get this out of the way, I'll include Mephisto.
I'm not sold on the idea that Mephisto is already pulling strings in the MCU. But he makes this list because it would just be amazing to see Keanu's iteration of "the" Devil.
I'm picturing Reeves making bargains for people's souls, then bringing him back to his hell dimension. Plus, it would be really fascinating to see Keanu Reeves in the MCU as a villain.
5. Balder the Brave
Listen, Hela doesn't have to be Odin's only secret kid in the MCU. Truth is, the guy got around. And wouldn't it be nice for the Odinson kids to get a nice surprise sibling?
Balder certainly fits that category. As the God of Light, he's often served as a friend and ally of Thor. He even held the crown of Asgard in Thor's stead. And he almost showed up in Thor: The Dark World.
Thor: Love & Thunder is very likely to expand the mythos of Asgard, and could introduce us to a whole slew of new characters. Balder doesn't have to be Thor and Loki's brother, but Keanu as a fellow Asgardian god would certainly brings light into the lives of fans.
4. Mister Sinister
Nathaniel Essex was a biologist back in the 19th Century. He was a big fan of Darwin's theories of evolution– maybe too big a fan. Like, obsessed enough to toss all morals aside in his quest. He began researching on humans to create the 'perfect human race'.
If you've never heard of Mister Sinister, he's a top-tier bad dude. He's done some pretty atrocious things in the comics– mostly to the X-Men. Without any mutants in the MCU, folding him into the mythos could be difficult, but not out of the question.
Sinister is dark and terrifying. Keanu usually plays the good guy, but if John Wick taught us anything, it's that he still has an intimidating presence on screen. Well, that and don't mess with dogs.
We're all for 1800s Keanu– so long as he promises not to revisit that terrible accept from Bram Stoker's Dracula.
3. Beta Ray Bill
Marvel fans invest a lot of fancasting energy into looks, which means that many humanoid characters get shuffled to the side. But lots of characters undergo the CGI treatment, and Reeves could do the same.
That said, Reeves could lend his recognizable voice, facial expressions, and stunt work to many characters in the MCU. And one of my favorite contenders is Beta Ray Bill.
Bill is a member of an alien race known as the Korbanites. After their world was destroyed, the remaining Korbanites elected Bill as their leader, and augmented his body to become the ultimate defender.
At first he was assumed by Thor to be a foe. But Bill quickly proves his worthiness to Thor by lifting his hammer. In the comics, he eventually becomes the wielder of Stormbreaker, Thor's mighty axe made on Nidavellir.
Reeves has a great sense of comedic delivery that would vibe well in a Taika Waititi production. Plus, his tone and body movements would give Bill the gravitas needed for such a badass character.
There are plenty of rumors circulating about Bill's appearance in the upcoming Thor: Love and Thunder or even Guardians of the Galaxy. And after his face showed up in a Ragnarok easter egg, we're inclined to believe that Bill is on his way to screen in Phase 4.
2. Silver Surfer
What better way to fold Keanu Reeves into the MCU than as the surfing herald of Galactus? To save his people from the giant, Norrin Radd made a bargain with the devourer of worlds to be his herald if he would spare Norrin's homeworld, Zenn-La.
Surfing the universe faster than the speed of light sounds like a perfectly symbolic culmination of Keanu's career. Combining the world-bending effects of The Matrix with his surfing days in Point Break, Keanu could play the surfer's  ambivalence with perfect nuance.
1. Johnny Blaze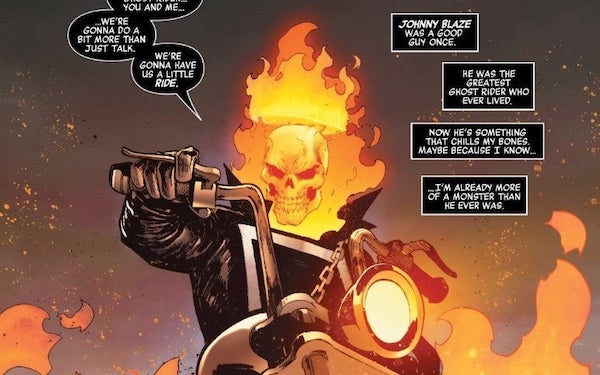 Okay, this one gets tricky. Because technically we've already seen Johnny Blaze in the MCU. In Agents of S.H.I.E.L.D., Johnny serves as a mentor to the new Ghostrider, Robbie Reyes.
But Marvel has found creative ways to retcon their earlier stories. And we've got a gigantic multiverse-cracking movie coming out in December. Theoretically, this could introduce alternate versions of past characters, and Johnny Blaze could be one of them.
Fans are extra supportive of this casting because in the meatspace, Keanu is actually a big motorcycle enthusiast. He's even done trick photoshoots that just beg to be Ghostrider-ed.
Keanu Reeves said it was an honor for him to join the MCU, I made a concept featuring him as Ghost Rider, he would be perfect.
–
Logo design by CHG_graphics. pic.twitter.com/eUXlNzOwZY

— rahalarts (@rahalarts) November 27, 2021
Other Fan Favorites for a Keanu Reeves MCU Appearance
There are a couple of fan-favorite characters for Keanu's MCU debut that didn't make the list. The first of which is Prince Namor. To be honest, this one is one of the only possibilities that gets little traction for me.
For one, Keanu has many blessings, but Namor's gloriously high-arched eyebrows are not one. Surely Marvel makeup artists could go full drag queen and give him the brows needed, but what then?
I don't see Keanu Reeves as the haughty and proud Prince of Atlantis. It doesn't feel like a good fit to me. But if it does to you, here's some awesome fanart of Keanamor.
View this post on Instagram
Another popular fan favorite casting is Keanu Reeves as the MCU's Wolverine.
While acknowledging that Hugh Jackman's version is iconic, many fans are still calling for Keanu as Wolverine.
On a functional level, it doesn't seem practical. The MCU still hasn't made moves to introduce mutants, and Reeves himself has said that he's incredibly satisfied with Jackman's take on the role.
Still, it's fun to imagine an Earth where Keanu did get cast as Logan.
View this post on Instagram
Which Marvel character do you think Keanu Reeves should play in the MCU? Do you think he'd play a hero or a villain?