Jumping into Wild West Exodus with Showdown at Retribution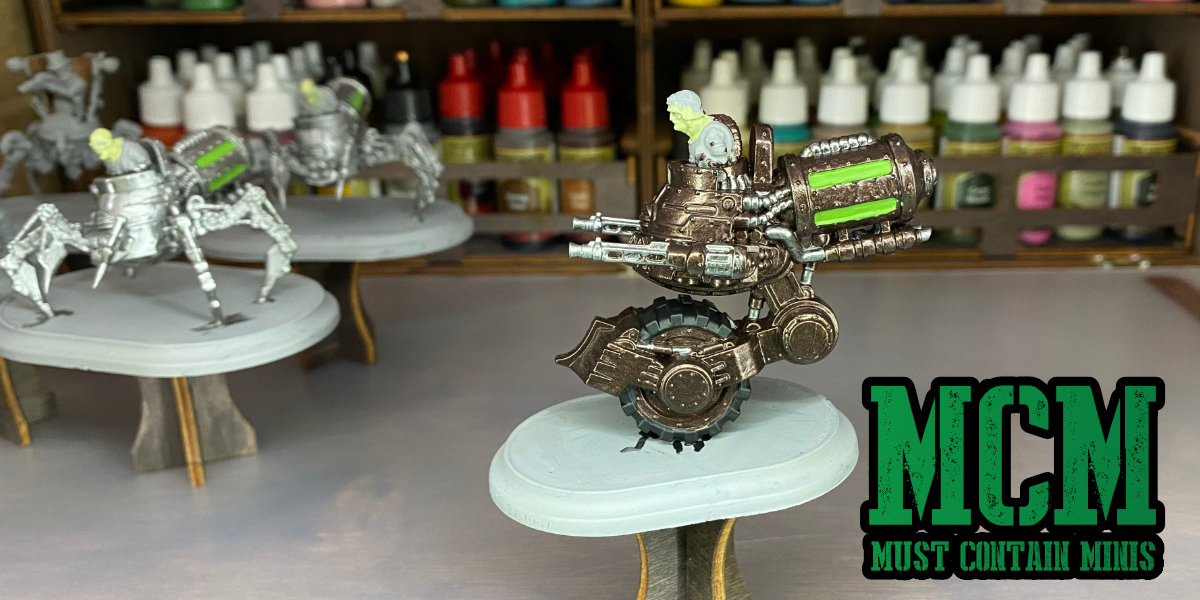 Wild West Exodus has an electrifying new starter set – let's take a look at what's inside!
Ever wanted to look at the weird and twisted world of Wild West Exodus? If so, you are in luck! Warcradle Studios recently brought this game back for a third edition, and I got my hands on a copy!
In this post, I will share an unboxing video and a build video of the Enlightened faction in the new two-player starter set. I will also show some pictures of my work in progress. That is right; I am painting up the Enlightened side of these miniatures. Now, let's get into it.
Unboxing the New Wild West Exodus Box Set
For a closer look, check out my unboxing video. If the embedded file below does not work, you can use this link here to watch the video.
After unboxing the Wild West Exodus minis, I started building them. The original instructions didn't tell you which base went with which miniatures very well. Since then, the online version of the instructions has been improved. That said, you may still find this video helpful. If the link below does not work, you can watch it here.
Between these two videos, you get to see the box's contents, flip through all the books and see the Enlightened half of the boxed set, all built in a bit of a tutorial. Now, let me share a few pictures of my work in progress with you.
Work In Progress Pictures
Slowly I have been working on these Wild West Exodus miniatures. I started by priming all miniatures grey with The Army Painter brush-on primer. This primer is extremely handy in the cold weather of the Canadian climate where I live. Please note that these are work-in-progress pictures. I follow a simple process of Prime, Base Coat, Shade, and Highlight. Once they are done, they will look pretty good. Right now, this is my work so far.
Wrapping it up…
So far, I am working on just the base layer of these miniatures. Overall, they are very enjoyable plastic miniatures to work with. Scale-wise, you are looking at about 35mm. If you follow my work, you will eventually see some scale comparison images go up on my personal site.
I am painting these miniatures as part of the Wild West Exodus Global Gunslingers League. You can learn more about that here. In it, you run the chance to win a major prize of the opposite faction that you paint up in the competition. Winners will be picked early in 2022 if this interests you.
All of the paints and primers that I am using for this project are by The Army Painter. They have great paints at very affordable prices. You can see my review of their Wargamers Complete Paint Set over on my site. You might also want to check out my tutorial on how I painted a small army of skeletons with these paints. I also have a continuation of this post with more work-in-progress photos.
Subscribe to our newsletter!
Get Tabletop, RPG & Pop Culture news delivered directly to your inbox.
Before finishing up, let me tell you more about my site…

Read more about great Indie and Historical games on my site!
Must Contain Minis is my reviews, showcases, and battle reports website where I look at a wide variety of miniatures games and miniatures related products. I like to focus mainly on Indie and Historical Games. If you haven't visited for a while, come on over and check the site out! You can also follow me on Social Media. I am very active on Facebook and have a YouTube channel too. I upload my best pictures to Instagram and am also on Twitter. Thanks again for reading!!!