'Return to Hogwarts' With These Magical Harry Potter Snacks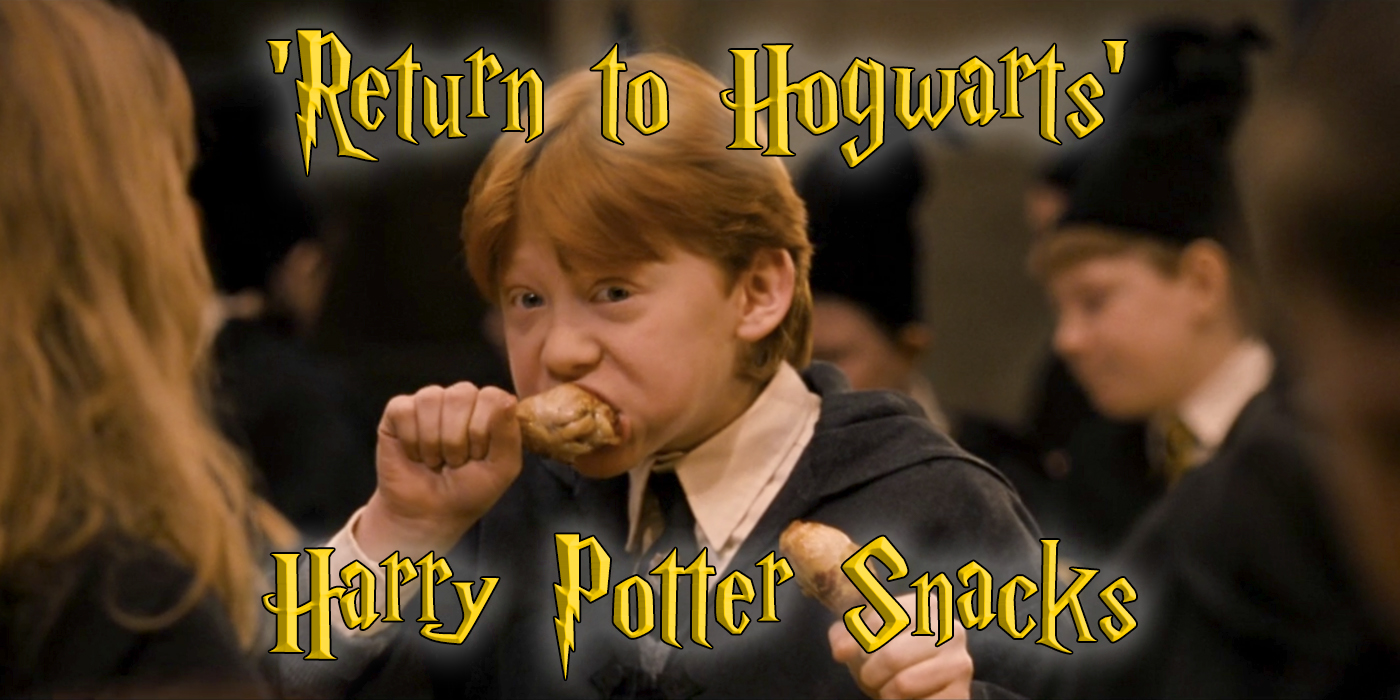 The series has some uniquely magic in-world food and drinks. From butterbeer to chocolate frogs, check out our favorite Harry Potter snacks.
Return to Hogwarts will ring in the new year by celebrating the 20th anniversary of Harry Potter and the Sorcerer's Stone. Series stars like Daniel Radcliff, Emma Watson, and Rupert Grint will reunite in the HBO Max special. The event promises to be full of nostalgia and magic and it's a great opportunity for a fan celebration. What watch party would be complete without some tasty Harry Potter snacks?
With a new strain of COVID going around, we don't recommend any large viewing parties. So these snacks are easy to prepare for your close circle, family, or just for yourself! After two years, your home may feel about as roomy as a cupboard under the stairs, but the safety of the wizarding community is really important. So please enjoy Return to Hogwarts responsibly.
1. Butterbeer
If there's one Harry Potter snack or drink that comes to mind first, it's butterbeer. The popular drink is a best-seller at the Three Broomsticks. Just the mention of it conjures smells of butterscotch and the feeling of foam on your upper lip.
Some like it hot, some like it cold– I prefer a recipe that can do both. And the best source for butterbeer recipes comes from the Wizarding World Park guide. The site features five options, all of which can be served hot or cold. The recipes start with the simplest and gradually build-up to the most park-accurate recipe.
Of course, you can always go with an unofficial butterbeer soda if you don't want to dirty any dishes. For those who want to get weird at their Potter-party, add some dark rum with a nice caramel flavor.
Of course, drinks aren't the only way to enjoy that rich butterbeer flavor. Make a giant bowl of butterbeer popcorn instead! It's easy, it's delicious, and it's a very Potter take on the perfect watch-party snack.
2. Pumpkin Pasties
"Anything off the trolly, dears?"
In the book, these little pastries are a staple of the Hogwarts Express ride. It's unclear from the books whether these treats are sweet or savory. Pumpkin is magic and can do both with great results.
So Bijoux & Bits created a recipe for both! Perhaps you want your pumpkin mixed with sage, garlic, and cheese. Or you want to keep it sweet with a classic pumpkin pie feel. Whichever you prefer, these little pumpkin-pockets are a nice, warm treat for your Return to Hogwarts viewing.
3. Chocolate Frogs
Need a little chocolate to keep the end-of-year Dementors away? Look no further than a plate full of chocolate frogs. These treats are great for a nom, and they won't jump away from you while you try to eat them!
Subscribe to our newsletter!
Get Tabletop, RPG & Pop Culture news delivered directly to your inbox.
Grab yourself an inexpensive, no-stick frog mold and your favorite chocolate chips. Follow these quick and easy instructions from the Fun Money Mom– all it takes is a few minutes and a microwave.
4. Pumpkin Juice
We're at the tail-end of pumpkin season, so it's just the right time to enjoy one of the most popular drinks in the Harry Potter universe. Pumpkin juice is served everywhere, including the Great Hall at Hogwarts.
This version of pumpkin juice is the perfect embodiment of the Potterverse taste profile. It's easy to make, and the ingredients are easy and cheap to find. Grab some pumpkin purée, some apple juice, brown sugar, and some apple pie spice mix and you'll be using wingardium leviosa to float your cup back for multiple refills.
5. Golden Snitches
Even though Harry caught his first golden snitch with his mouth, this Quiddich ball isn't technically edible. But there are a couple of ways to turn it into a winning Harry Potter snack.
If you're feeling kitchen-crafty, you can make these simple and delicious golden snitch peanut butter balls. Or you can take inspiration from this Ferrero Rocher snack-hack and give your favorite chocolate treat a set of wings. Both options make for a sweet Harry Potter snack that's sure to win the House Cup.
6. Ogden's Old Firewhiskey
The best thing about having to hold your Return to Hogwarts watch party at home is the cheap drinks. Take that bottle of whiskey sitting on your bar or in your pantry and add a little Potterverse twist.
Thanks to Follow the Butterflies, all you need is some cinnamon sticks, sugar, and cherries. It's an easy-prep way to add a little magic to your usual adult beverage. It's bound to make your personal rendition of "Hoggy Warty Hogwarts" a roaring good time.
7. Cockroach Cluster
In the books, these Harry Potter snacks are likely made with real bits of cockroaches. Ron seems pretty keen on tricking Fred into eating some at one point.
For obvious reasons, I'm partial to this no-bake version of the snack by Whip & Wander. It's got lots of wholesome ingredients like pecans, honey, dates, and chocolate. Plus, these look like cockroaches– not too much, though.
Harry Potter Snacks, Fun, & Games
However you celebrate your Return to Hogwarts, have a box of tissues ready. This will probably hit you right in the nostalgia spot. Wave your wand at the screen and assemble that Harry Potter LEGO kit you've been dying to unbox.
No matter what you do, have a fun and safe celebration. And don't forget, when you're done, say "Mischief managed!"
Watch 'Return to Hogwarts' streaming exclusively on HBO Max on New Years' Day.