Warhammer 40K: This Week's Meta Hotness A Blast From The Past – Drukhari Cronos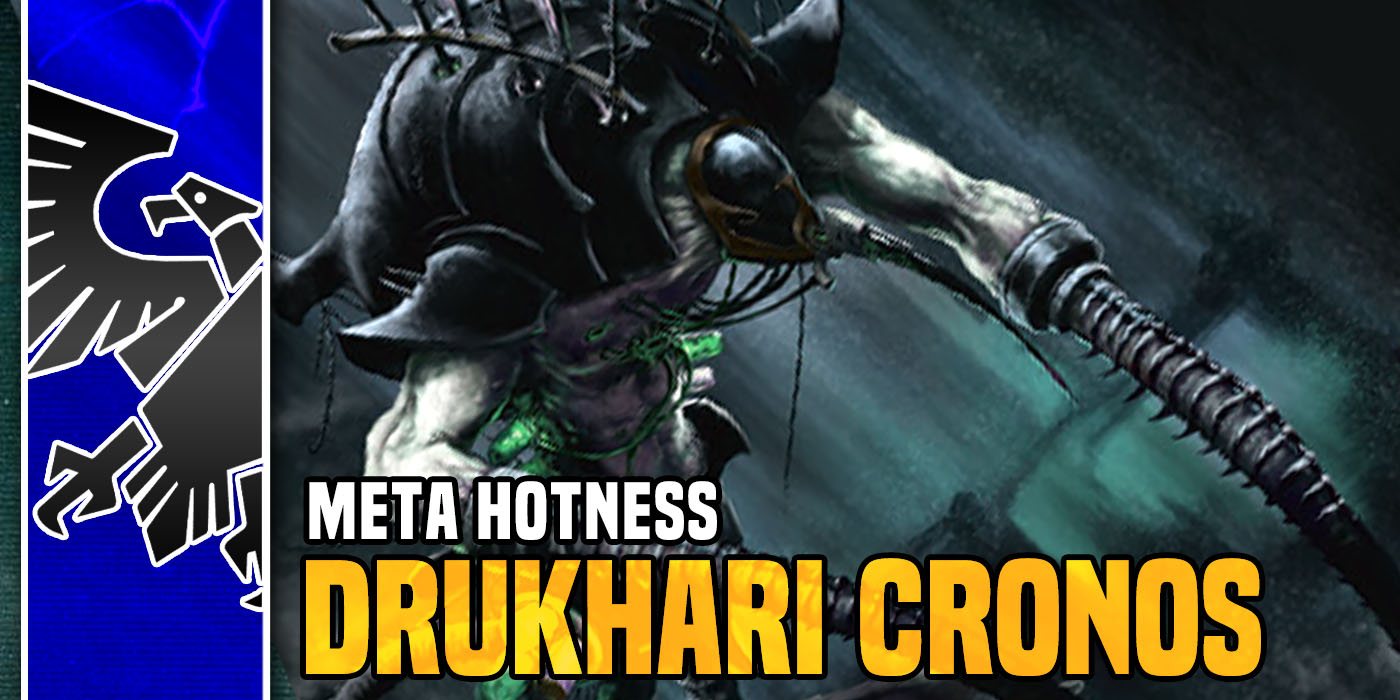 Turning back the clock we take a look at an old favorite unit, reborn- The Drukhari Cronos.
In the ever-shifting meta of 40K, armies rise and fall. We've spent a lot of time talking about armies that are hot or not, but a lot less time looking at units that are running the show. Today let's take a look at one of the hottest units currently running around the tabletop.
The Unit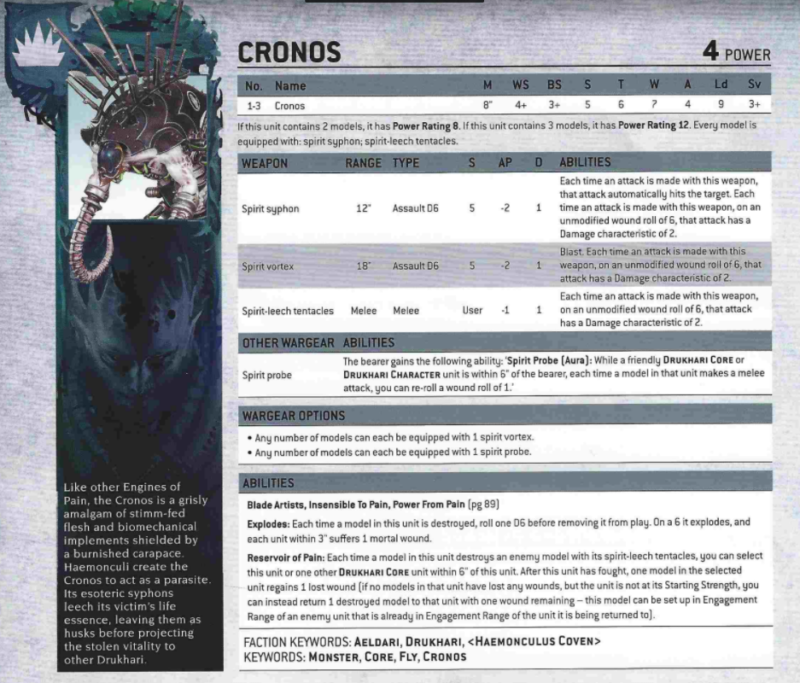 The Cronos is a heavy support unit of mid-weight monsters. These flying beasts are stitched together by the Haemonculus Covens and are among their largest creations. They are similar to the older Talos, but focused more on close-range firepower.
Why They Are Good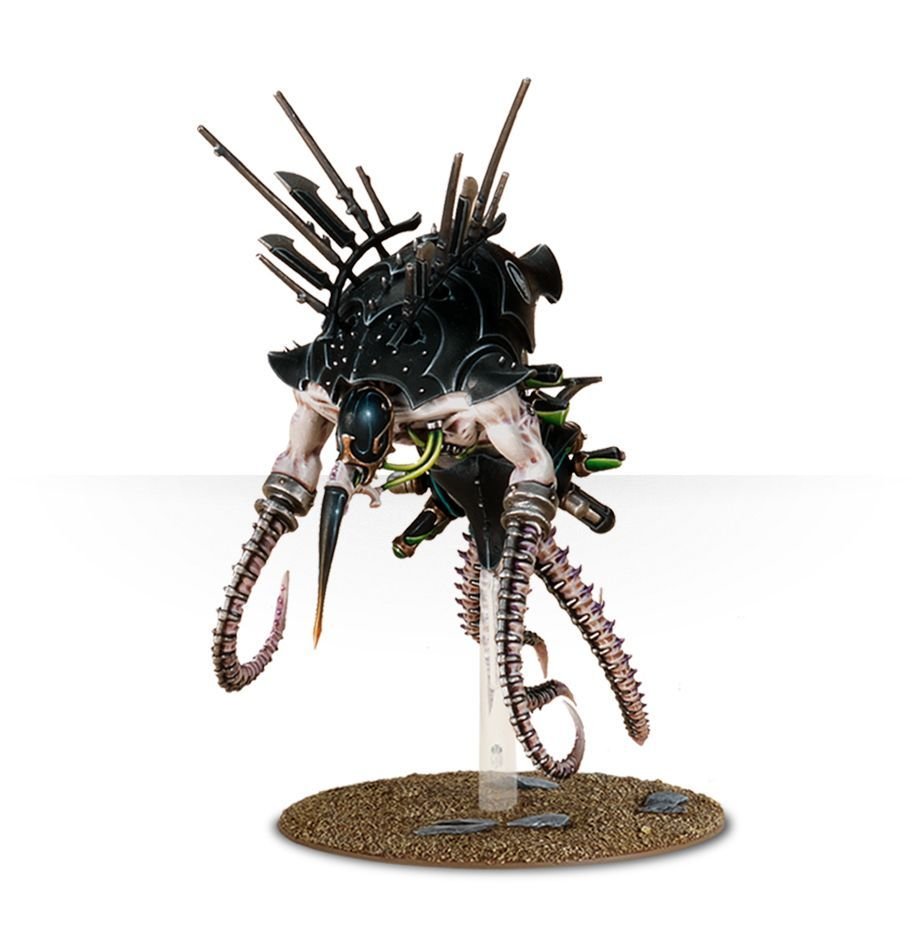 Right off the bat, the Cronos has a lot of the same strengths that light vehicles do.  While they aren't vehicles, they share a lot of the same buffs, having solid toughness and a decent amount of wounds. They are pretty hard for light weapons to hurt, and need some dedicated firepower to bring them down. The Cronos also has the added buff of flying making it a little more agile. It heals itself, which is a nice buff, and supported by a character can get extra healing and go up to T7. Starting at a 3+/6++/5+++ save these guys can be super annoying to kill, and it is possible for a properly supported one to go from 1 wound back up to full in a single round. They also don't degrade.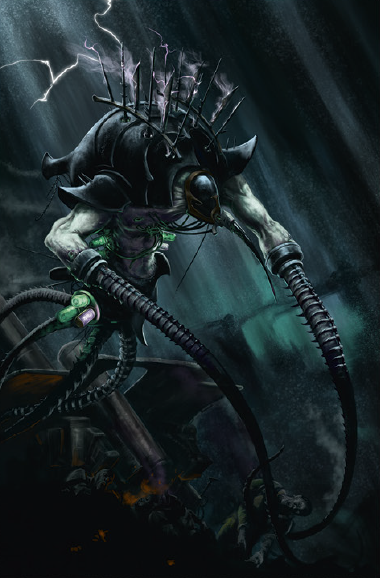 The Cronus also comes with a number of weapons and some options. In the past it was very common for people to take them with the additional Spirit Vortex. This gives them an S5 AP -2 flamer, complete with auto hits. On top of that they've got a slightly longer range gun with the same stats, but blast instead of auto-hit. However thanks to some point changes in the new It's got an unremarkable close combat weapon. All of its weapons have a rule that on an unmodified 6 to wound they got up to D2.
At first glance this doesn't seem too crazy, its a moderate amount of decent firepower. That is until we add in Dark Technomancers (oh right, that thing again). Suddenly this guy is rocking a ton of D2 weapons that can jump to D3 in a pinch. Best of all (or worst) one of its guns auto-hits getting ride of any downside (remember they had FAQ the last gun that did this). At S5 with a +1 to wound these guys wound MEQ on a 2+ with D2 and AP-2, meaning they can plow through MEQ units with ease. You've got a hard to kill and deadly unit that is very efficient.
A Sample List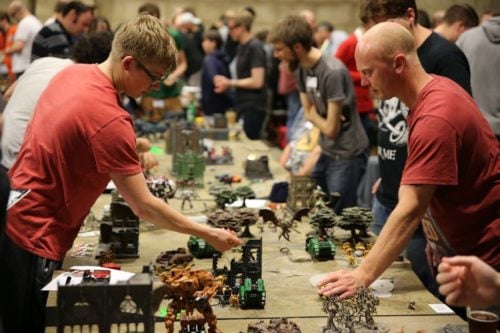 Saying a unit is hot is all well and good, but let's look at how players are using it. One list that highlights Talos is the list that Richard Siegler ran to take 1st place at both the recent  GW Austin GT.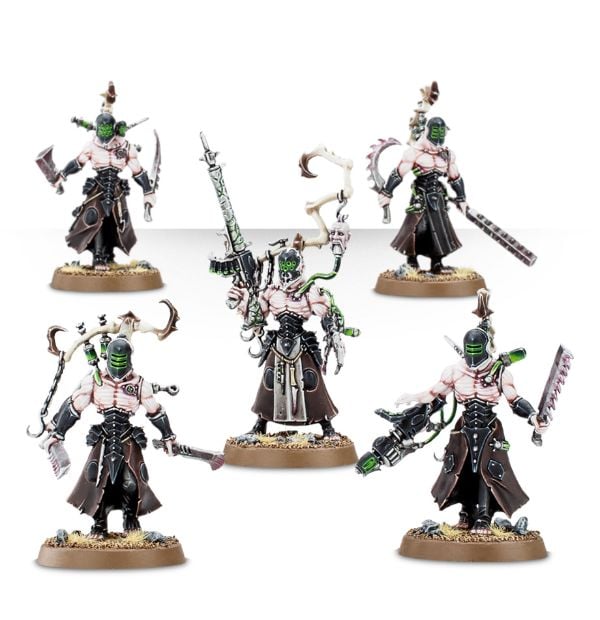 Subscribe to our newsletter!
Get Tabletop, RPG & Pop Culture news delivered directly to your inbox.
Patrol
Obsession – "Custom Coven" – Artists of the Flesh (All Consuming)
-HQ-
Haemonculus – Warlord – Master Regenerist, The Animus Vitae – 70pts
-Troops-
Wracks X 17 – Electrocorrosive Whip, Ossefactor, Wrack Blade X 16 – 154pts
Wracks X 5 – 40pts
Wracks X 5 – 40pts
-Elites-
Grotesque w/Master Cleaver X 4 – 140pts
Grotesque w/Master Cleaver X 4 – 140pts
-Heavy-
Talos X 2 – Heat Lances X 2, Talos Gauntlet, Talos Icho Injector – 210pts
Talos X 2 – Heat Lances X 2, Talos Gauntlet, Talos Icho Injector – 210pts
Patrol
Obsession – "Custom Coven" – Dark Technomancer
-HQ-
Succubus – Hypex, Quicksilver Fighter, Relic – Triptych Whip, Tolerated Ambition, Show Stealer – 95pts
-Troops-
Wracks X 4 – 40pts
-Heavy-
Cronos X 3 – Sprit Probe X 1 – 260pts
Cronos X 3 – Sprit Probe X 1 – 260pts
Patrol
Obsession – Kabal of the Black Heart: Thirst for Power
-HQ-
Archon – Ancient Evil, Djin Blade, Splinter Pistol, Huskblade, Tolerated Ambition, Splinter Genius
-No Force Org-
Court of the Arcon – Sslyth X 4, Ur-Ghul X 4 – 136pts
-Troops-
Wracks X 5 – 40pts
-Elites-
Mandrakes X 5 – 75pts
Pts: 2000 CP: +8CP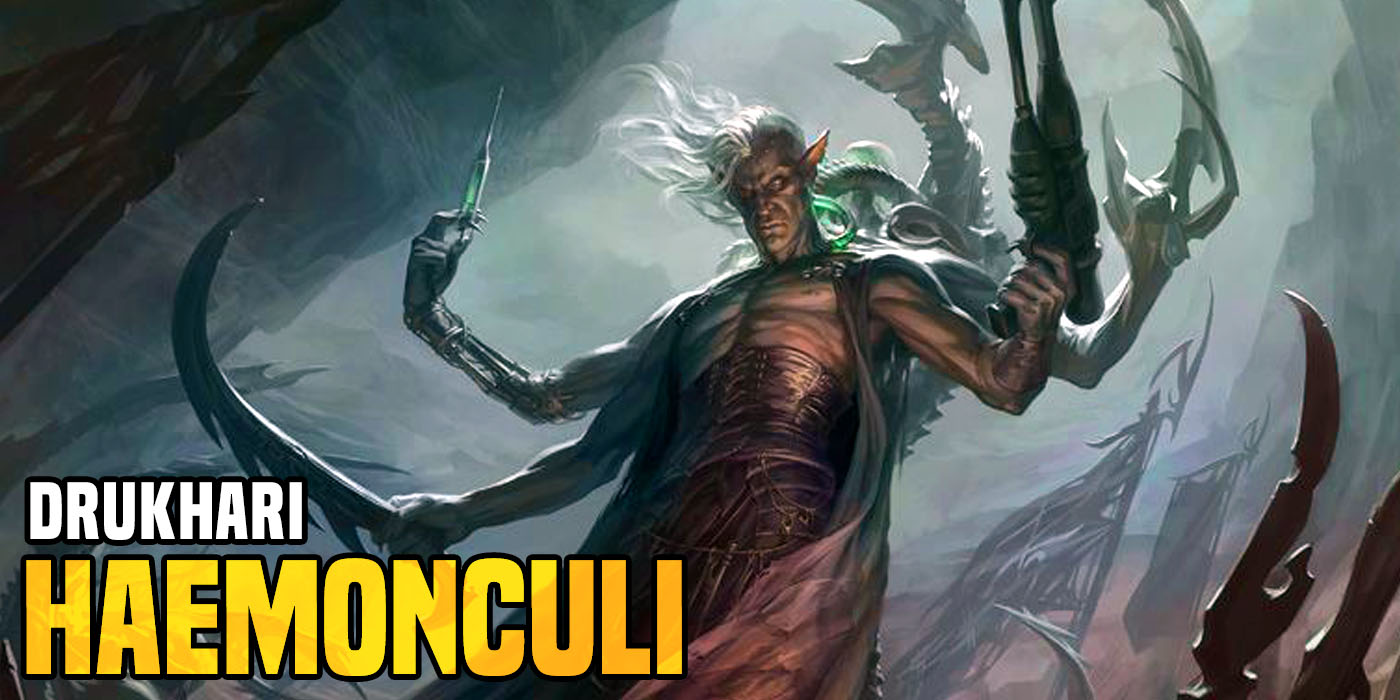 Using the Unit
We've actually covered the pre-Balance FAW Cronos before, when it was showing up in very different Drukhari lists. However I thought it was worth giving it another look as the meta has changed a lot. This list, like some of the old ones, uses two large units of 3 Cronos(es?) each. These form a real hard core of beat sticks. However we can see some differences here. In the past Spirt Vortex was a common upgrade. We can see that thanks to point bumps its been dropped in favor of the Sprit Probe. The army it's supporting has also massively changed.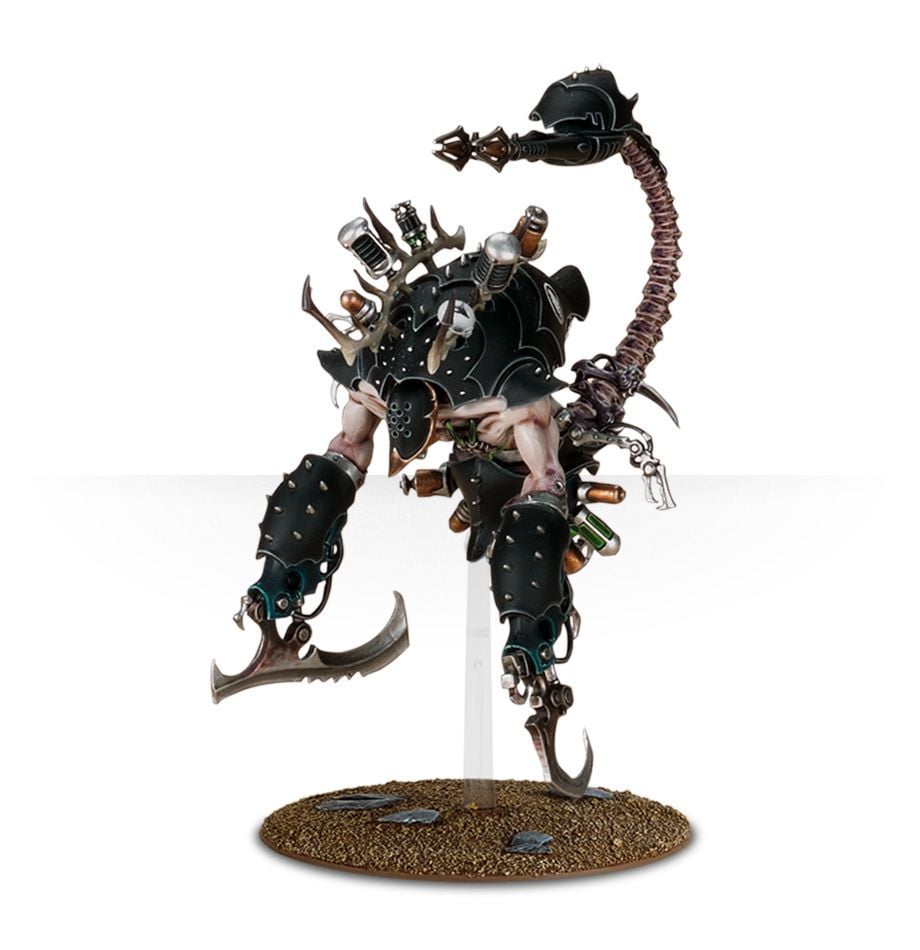 Helpful brothers…
The prior meta revolved around a ton of ultra fast Raiders packing Incubi and Trueborn for lots of light infantry action and annoying tanks. Sometimes Wraks and Cronos would be taken to back these lighter elements up. Now we see the army has morphed into a mountain of flesh type of list. The Cronos are backed up by a bunch of Talos, giving the list 10 hard to kill -1d units that can be healed. This is effectively the same as an Ork Buggy list or a Marine Dreadnought list. Backing up these heavy units are a host of foot sloggers drawn from the heavier infantry of the Drukhari. Incubi, Wyches and Trueborn, along with Raiders, Ravagers and Venoms, are all gone. It's a transformed list that still kicks butt.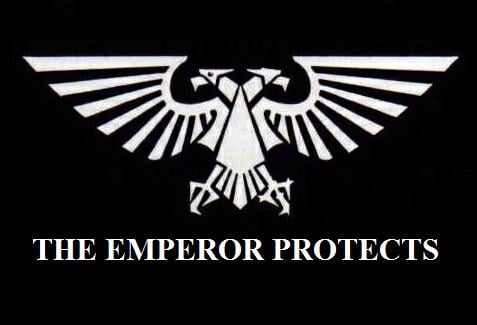 Let us know what units you think are hot right now, down in the comments!