'Star Trek: Strange New Worlds' – Meet Cadet Nyota Uhura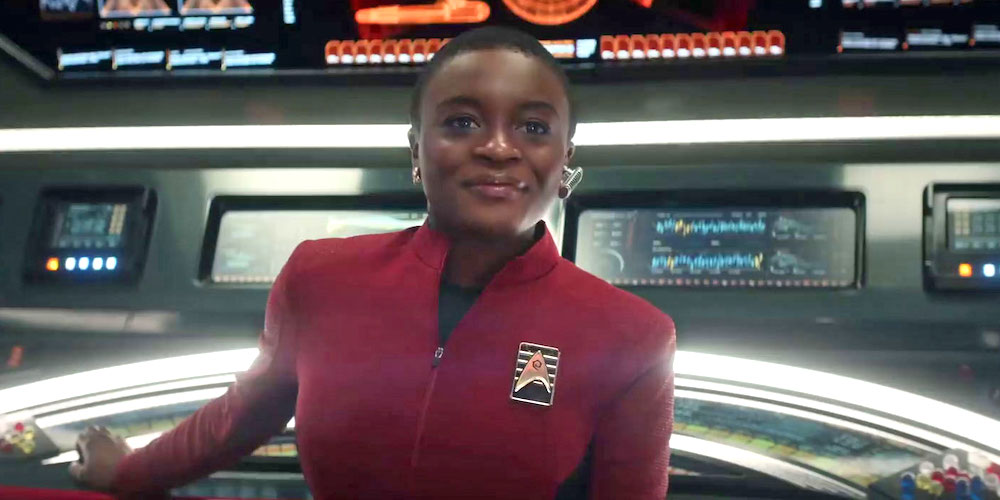 Star Trek: Strange New Worlds takes us back to the original series era with some younger versions of favorite characters – meet Cadet Nyota Uhura.
Nichelle Nichols' performance was ground breaking. As part of the Enterprise's diverse crew, Uhura was one of the first Black characters to have a significant role on an American TV series. There's a lot to live up to here, but I think Celia Rose Gooding is up to the task. And she'll be able to bring new elements to the character.
Meet Cadet Nyota Uhura
Gooding is a newcomer to the screen, but she's not a newcomer to acting. She's was nominated for a Tony for her role in the Jagged Little Pill musical, as well as a Grammy winner for the original Broadway cast recording. I'm curious to see if they take advantage of her singing abilities. Uhura's singing was featured in the original series several times.
Nyota Uhura is a Starfleet communications officer in the original series – we'll be getting a younger Uhura in Strange New Worlds. She's a talented cadet that speaks thirty-seven languages  in the new series. She'll be doing a lot of growing and she's ready for it –  "Who knows where I'll end up, I guess I'm still searching."
Star Trek: Strange New Worlds Details
The new series spins off from the plotline in the second season of Discovery. It will be focused on a more optimistic future. One closer in tone and feel to the orignal series than more recent shows have been. Paramount has a lot of faith in the show. The studio has already green-lit a second season before the first starts streaming.
STRANGE NEW WORLDS is based on the years Captain Christopher Pike manned the helm of the U.S.S. Enterprise. The series will feature fan favorites from season two of STAR TREK: DISCOVERY: Anson Mount as Captain Christopher Pike, Rebecca Romijn as Number One, and Ethan Peck as Science Officer Spock. The series will follow Captain Pike, Science Officer Spock, and Number One in the years before Captain Kirk boarded the U.S.S. Enterprise, as they explore new worlds around the galaxy.
The first season of 'Star Trek: Strange New Worlds' debuts on Paramount+ on May 5th.
Subscribe to our newsletter!
Get Tabletop, RPG & Pop Culture news delivered directly to your inbox.