Anime: Trigun is Back With New Series, 'Trigun Stampede'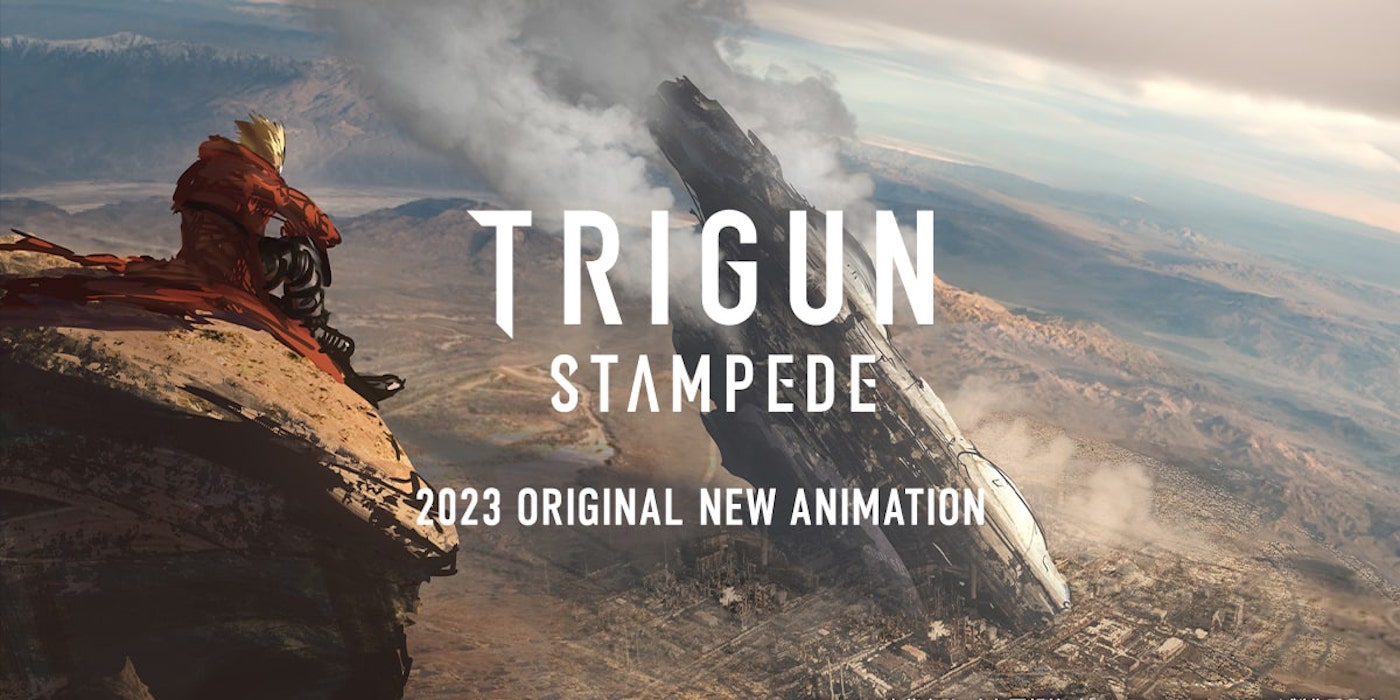 The classics just keep coming back. This time Yasuhiro Nightow's 90's hit is back when Trigun Stampede comes to Crunchyroll next year.
Do you remember Trigun? I sure do. Meryl Stryfe was the first cosplay that I didn't 100% purchase in parts and try to cobble together; I think that might be the costume that forced me to learn to sew. To this day it remains one of my favorites and one of the sources for some of my warmest nostalgia fueled memories. So you can imagine my absolute delight when upcoming brand new series, Trigun Stampede was announced. I've already made plans to have a viewing party with the-Millie-to-my-Meryl and lots of donuts. Love and peace, guys!
Trigun Stampede
The first hint of this series came on June 15th in the form of a somewhat mysterious tweet.
Fans would recognize the wanted poster and font style of Trigun as well as a partial view of the signature 'double dollars.' But there wasn't much info aside from the vague hint of a real announcement on the seventeenth. In fact, if the account wasn't followed by some key creators in the anime world, it would have been easy to overlook this as a fan project on somebody's personal Twitter.
Another equally mysterious tweet came out the next day of another wanted poster, this time with Vash The Stampede's name clearly printed at the top. And finally, on the 17th they announced Trigun Stampede. Coming out a whopping twenty-five years after the original series it will stream to our screens sometime in 2023 with an all-new staff, cast, and studio in Studio Orange (Beastars). The show will be simulcast from Japan on Crunchyroll as well as 200 countries worldwide.
As for what Trigun Stampede will be? Well, your guess is as good as mine. Judging by the low-ish bounty amount as well as what looks like a newly crashed SEEDS ship, my double dollars are on a prequel series. I'm not sure what this will look like since we seem to get all of the important backstory on Vash and Knives through lengthy flashbacks in the original series.
Subscribe to our newsletter!
Get Tabletop, RPG & Pop Culture news delivered directly to your inbox.
But it looks like our questions will be answered next month at Anime Expo 2022. A panel including that will include series creator Yasuhiro Nightow is scheduled for Saturday July 2nd at 8pm and we expect all of the details to be announced then.
About Trigun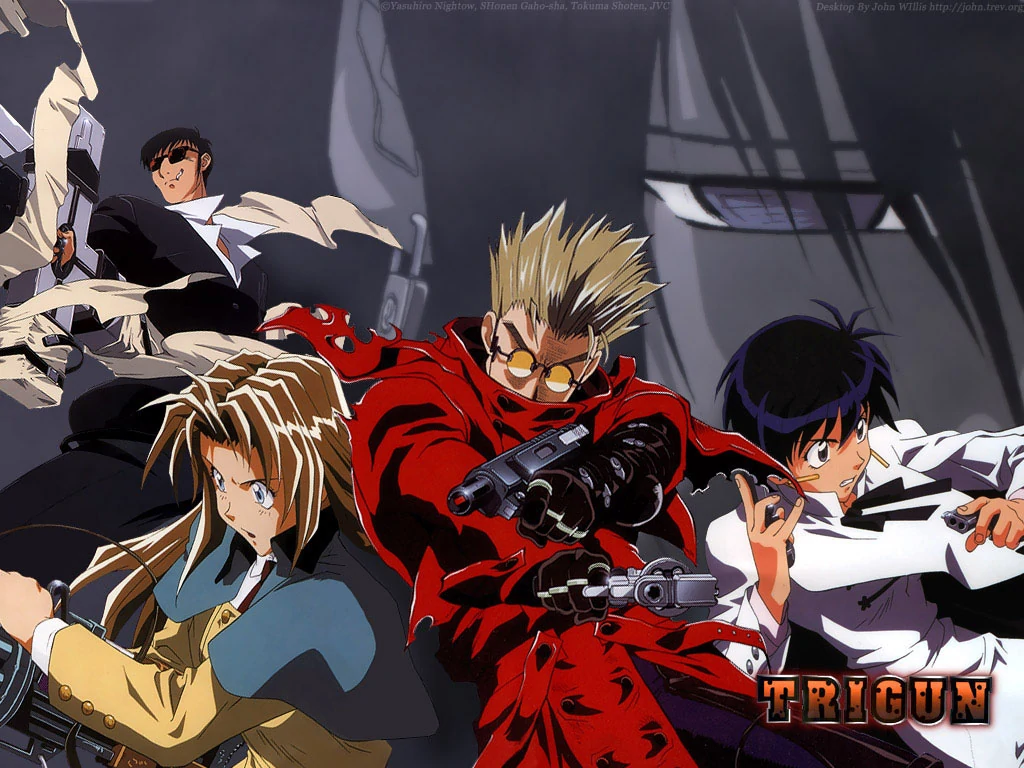 Trigun was originally published in 1995 with sixteen total volumes. And anime's twenty-six episodes ran from April to September 1998. It followed Vash The Stampede, a man with a 6 billion double-dollar bounty for crimes against humanity. But when people meet him instead of finding a monster, they find a goofball pacifist who's more interested in amicable problem solving and donuts than shootouts. Though he is surprisingly good at shootouts. It's a show that starts as a western and takes a hard turn toward Sci-Fi with a lot of important questions along the way about importance of life and the nature of being a non-violent person in a very violent world.
Both the show and the manga are entirely complete. So if you haven't had a chance to dive into Trigun, you can knowing that there won't ever be an indefinite hiatus to leave you on nor will you catch up with the simulcast and have to wait weekly for new episodes. And with Trigun Stampede coming out before too long, now is the perfect time to catch up.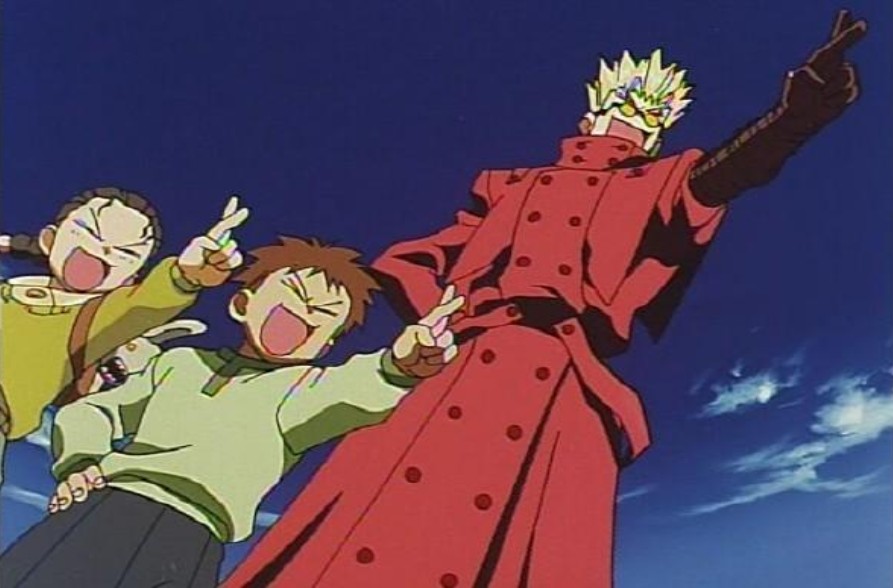 Have you seen or read Trigun? Are you excited for Trigun Stampede? Which character was your favorite? Let us know in the comments!
Ja Ne, Adventurers!