Star Wars Calls Out Racist "Fans" for Harassing 'Obi-Wan Kenobi' Actor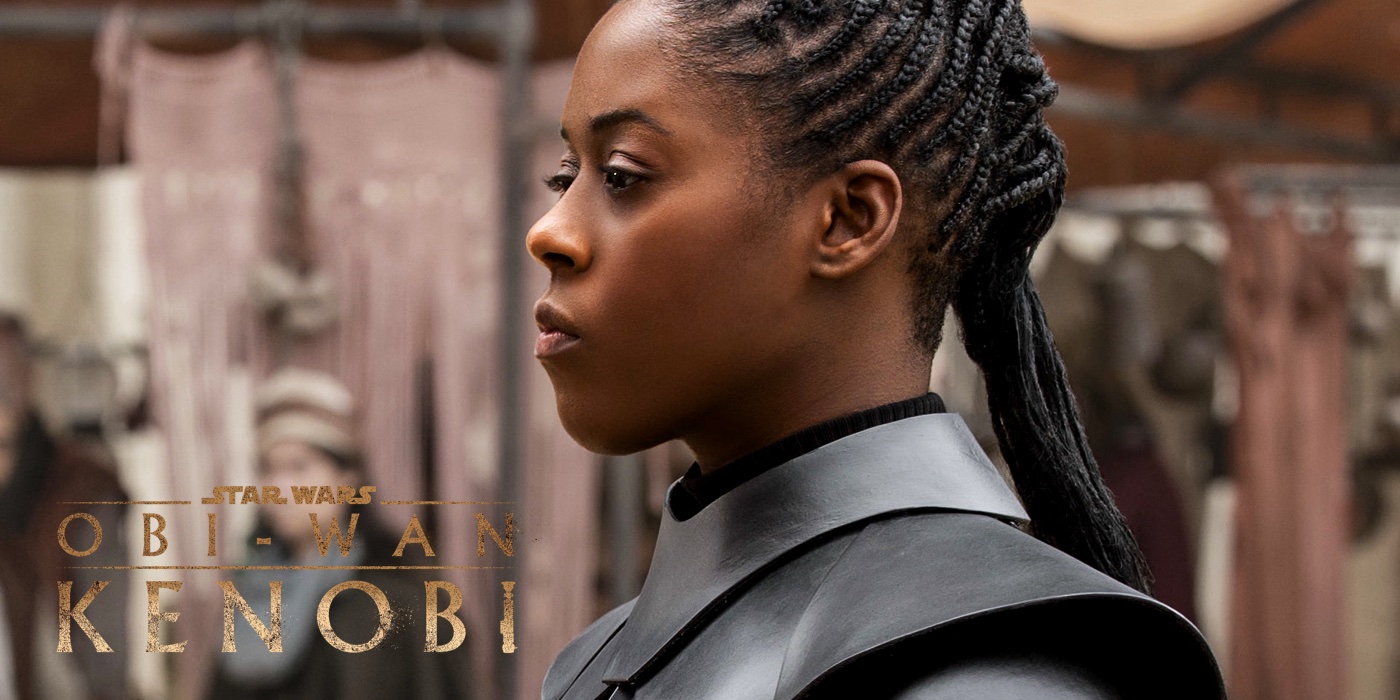 The Star Wars fandom proves, yet again, that it's one of the most toxic out there by sending racist threats to Obi-Wan Kenobi actor Moses Ingram.
After the debut of Obi-Wan Kenobi on Disney+ this weekend a particular subset of the fandom decided to attack one of its actors. Moses Ingram received hundreds of racist and misogynistic messages via social media. She was called a "diversity hire" among other degrading racist insults, threats, and slurs. She got a warning from the studio ahead of time, but that really doesn't prepare you for the level of vitriol the Star Wars fandom can dish out.
The actor expressed feelings of self-doubt on her Instagram Stories after being harassed.
"There's nothing anybody can do to stop this hate, and so I question what my purpose is in even being here in front of you saying that this is happening. I think the thing that bothers me is that like sort of this feeling that I've had inside of myself — which no one has told me — but this feeling of like 'I've just got to shut up and take it,' you know? That I've just got to grin and bear it."
She doesn't have to.
Star Wars & Star Trek Have Her Back
The studio has finally learned that they can't be quiet when things like this happen. Lucasfilm let the fandom know they have Ingram's back publicly. And they didn't mince words.
There are more than 20 million sentient species in the Star Wars galaxy, don't choose to be a racist.

— Star Wars (@starwars) May 31, 2022
Obi-Wan also spoke up in her defense, too.
A personal message from Ewan McGregor. pic.twitter.com/rJSDmj663K

Subscribe to our newsletter!

Get Tabletop, RPG & Pop Culture news delivered directly to your inbox.

— Star Wars (@starwars) June 1, 2022
The 501st has welcomed her into their ranks.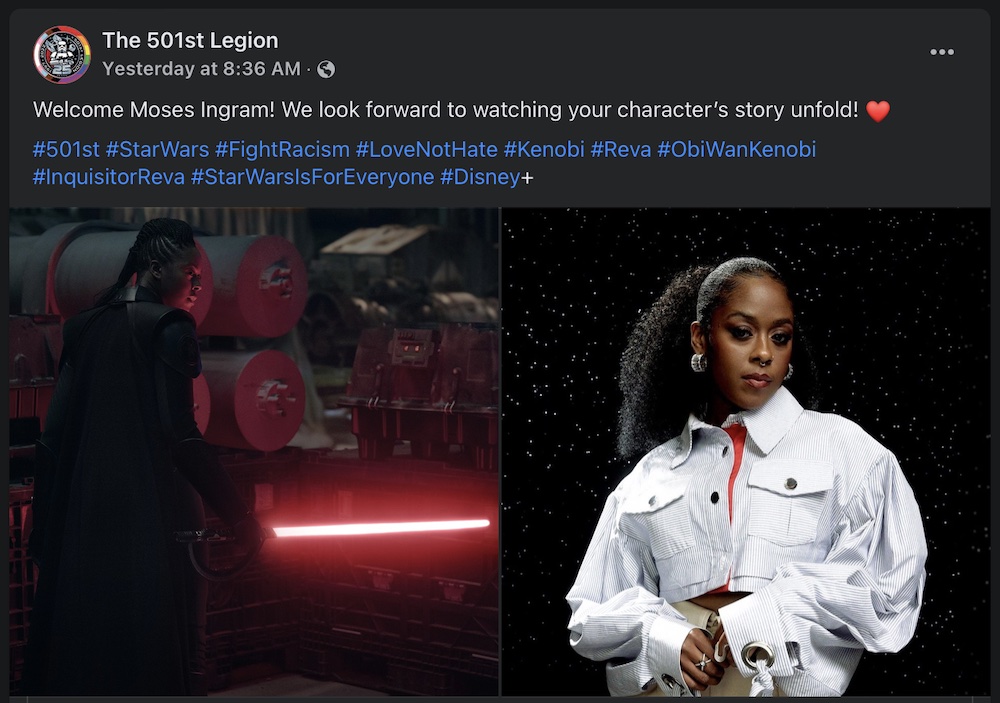 Fans took to Twitter to show their support of Ingram (and other actors that have faced backlash), too.
It sucks man. I spent my entire childhood wanting to see people like myself in some of my favorite fictional worlds. Now that they're finally in them, it's met with some of the worst vitriol and blatant racism online. Makes me sick. I stand with #Reva / Moses Ingram. pic.twitter.com/AdFNNyzJjV

— Duane Miller (@Cinemaniac94) May 31, 2022
The support didn't stop with Star Wars – Captain Pike and Roddenberry Entertainment put out a statement.
View this post on Instagram
Repeat Offense
I wish I could say I'm surprised by this, but this isn't the first time this has happened. Jake Matthew Lloyd, who was 9 when Episode 1 came out, became a target and left acting entirely. Ahmed Best, John Boyega, and Kelly Marie Tran dealt with racists when they made their Star Wars debuts. Tran was forced off social media and Best contemplated suicide.
This has to stop.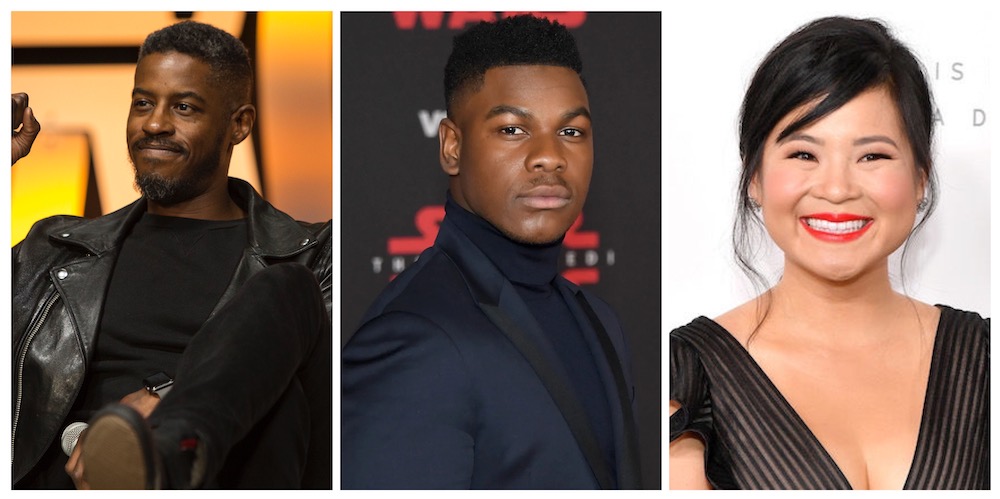 The Star Wars fandom has become known for its violent outbursts against actors, which is a shame. Star Wars has a lot of great stories and diverse characters – and a message of hope against despair. And the studio has made it clear: gatekeeping and bigotry have no place in this fandom. You are not welcome.
Also: leave Leia alone. She's precocious, curious, and gutsy – and at ten years old, she already won't take your crap. Carrie Fisher would be proud of Vivien Lyra Blair's performance. It's fantastic.
New episodes of Obi-Wan Kenobi drop on Disney+ on Wednesdays. You can stop watching whenever you want.