The Predator Has Competition in New 'Prey' Trailer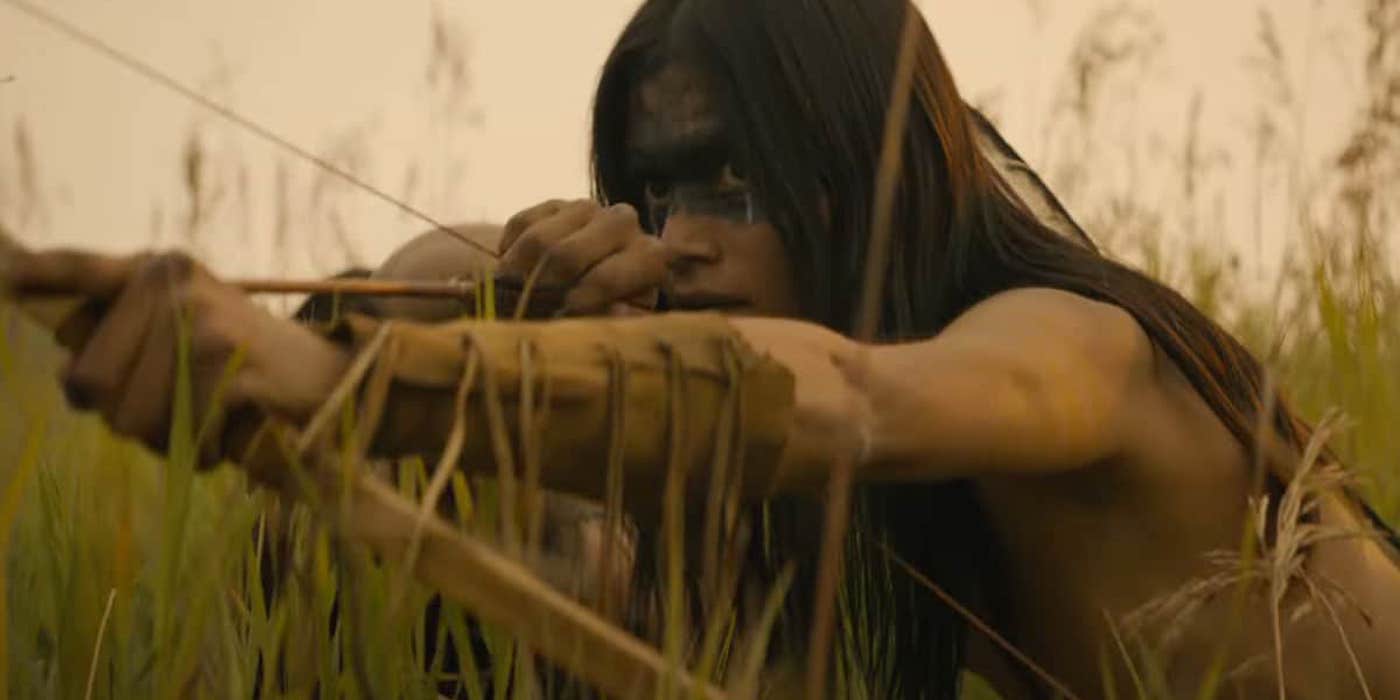 The Predator may live to hunt, but he's never come up against a fighter like this. The battle is far from one-sided. The first full Prey trailer is here.
The Predator franchise is back with Prey –  a new sequel that goes back centuries on the timeline. The creators are aiming for what made the original movie great. And this protagonist won't have automatic weapons or cigars to rely on. Arnold aimed to make Dutch a guy that wasn't just brawn, he was also an intelligent survivalist that won based on smarts. It looks like there's going to be more of that survivor spirit in this battle.
Prey is set 300 years ago as a prequel to the current run of movies. The movie will tell the tale of the first visit the Predators make to Earth. Amber Midthunder (Legion) stars as a Comanche warrior that becomes prey for the universe's ultimate hunter – but she's not giving up easily.
Prey Trailer
Producer John Davis talked to Collider about what Prey is all about:
"It goes back to what made the original Predator movie work. It's the ingenuity of a human being who won't give up, who's able to observe and interpret, basically being able to beat a stronger, more powerful, well-armed force. Watching dailies, you just understand how [Trachtenberg's] vision is completely unique. He's got his own language and it's fresh and it's cool, and it's interesting."
The full Prey trailer has arrived and shows its lead meeting a Predator for the first time, and watching it lift a full-sized grizzly above its head. That meeting is followed by heart-pounding action and a vow to protect. Also: mud. There has to be mud.
Predator has been a hit-or-miss franchise since it first came to the screen. I'm hoping for something good this time around. The last couple of movies were just flat-out bad. Prey looks promising, if only because it's a different setting and time period. The franchise has relied a lot on high-tech military-esque equipment for decades. This is a fresh look at what the Prey vs Predator battle can be.
Prey Cast and Release Date
The cast includes Amber Midthunder as Naru and Dane DiLiegro (based on his size, he's the Predator), as well as Dakota Beavers, Stefany Mathias, and Stormee Kipp. Prey is directed by Dan Trachtenberg with a script from Patrick Aison.
The origin story of the Predator in the world of the Comanche Nation 300 years ago. Naru, a skilled female warrior, fights to protect her tribe against one of the first highly-evolved Predators to land on Earth.
Subscribe to our newsletter!
Get Tabletop, RPG & Pop Culture news delivered directly to your inbox.
Addition post-publication: a Comanche language track will be available, which is a cinematic first.
Prey premieres on Hulu on August 5th.