'Wakanda Forever' Trailer Breakdown – Namor, Ironheart, and a New Panther Join the MCU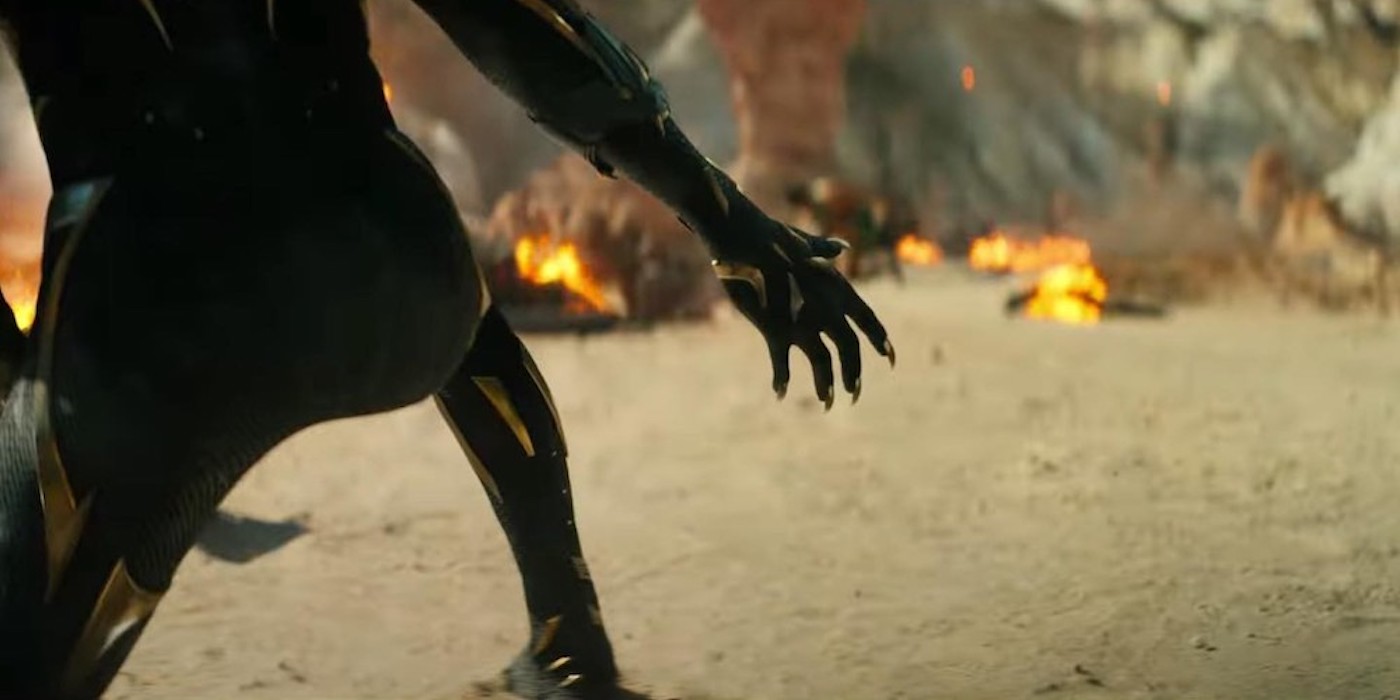 In this Wakanda Forever trailer breakdown, you'll meet a master of the oceans, Tony Stark's protégé, and a bunch of strong women.
There's been a lot of worry about this sequel due to multiple stops/starts, outside drama with actors, covid, scheduling issues, and the fact that it's missing its king. T'Challa, Chadwick Boseman is gone. The first trailer addressed all of it – and in a really beautiful way that had a lot of fans bawling (me included). It's powerful. Andrew Hegele did a marvelous job at cutting it and the Kendrick Lamar/Bob Marley mix is perfect.
And the crowd of Marvel's panel got a grand entrance. This is how they introduced it in Hall H on Saturday…
Wakanda Forever – Trailer Breakdown
Big feelings aside, let's get into this trailer and all of the new characters in it. Like several of the other Phase 4 movies/shows, Wakanda Forever is going to be stretching the boundaries of what we know and introducing new cultures – and enemies. The country is in turmoil due to loss, grief, and recovery that comes after. Power is shifting and T'Challa's last actions have greatly changed how Wakanda operates both culturally and politically.
Namor & Atlantis
Namor McKenzie aka Sub-Mariner (played by Tenoch Huerta – I don't think the surname will stick) was created by Bill Everett in 1939 for Funnies Inc. – before Marvel was a thing. When he joined the Marvel pantheon, he was its first mutant thanks to his human father and an Atlantean princess mother. His father met his mother while on a hunt for vibranium in the Antarctic. Thanks to this he has the aquatic abilities of his Homo mermanus family, plus flight and superhuman strength.
The movie has shifted his back story to something that resembles Central American cultures, specifically Mayan. This is not the Atlantis of Greek myth, it's something less glittering white and more earthen. I don't think this will change his parentage, but it's going to give his whole world new influences and cultural artifacts. I'm looking forward to seeing another rich world with roots like we did in Shang-Chi and Ms. Marvel.
So – how does a half human, half Atlantean fly? Namor has wings on his ankles that showed up when he was fourteen. It looks like he's born with them in the movie. Thanks, mutations, you're weird!
Namor has a history in Marvel comic books with the Fantastic Four, Captain America, and the Illuminati among others. He's a generally good-natured superhero with a short fuse who protects his kingdom from surface-dwellers. He's not always nice about it. Sometimes he's a downright villain.
Wakanda and Atlantis have been at war for ages. Before T'Challa became the Black Panther he met Namor and marked him as a threat, the decades following were filled with fighting and friction. Namor demolished Wakanda using the powers he gained from the Phoenix. It's just not pretty. There was cooperation for a while during the Incursions (talked about in Doctor Strange 2) that led to the Secret Wars (that new movie), but it didn't last long.
Subscribe to our newsletter!
Get Tabletop, RPG & Pop Culture news delivered directly to your inbox.
Also: Atlanteans, aside from Namor, are blue.
Before she gets her own show, Riri Williams (played by Dominique Thorne) is making a pit stop in Wakanda. She's a newcomer – she debuted in 2016. In the comics, she's a skilled inventor and fabricator that grew up in Chicago. She went to M.I.T. at a young age and started building power suits that eventually got Tony Stark's attention. He took her under his hand repulsers (?), and the two became friends. Riri took the mantle of Ironheart after Tony fell into a coma after a Civil War battle. S.H.I.E.L.D. gave her his lab. She joined the Champions and fought missions all over the globe.
That's what this was about…
This is going to be an amazing introduction for her. I'm assuming she's an exchange student working with Shuri when things start to go down. Her skills are going to make her a great ally to Wakanda in this fight.
The Dora Milaje Split
Michaela Coel was added to the cast early – and she's got an interesting role in Aneka. During Ta-Nehisi Coates's run, she and Ayo (played by Florence Kasumba) trained the best of the Dora Milaje. They saw T'Challa and Namor working together without context, causing both to leave the order and leave Wakanda's capital, Birnin Zana. They stole Midnight Angel armor and traveled across the country helping people in need. Their choice and what they learned about their own country led to political upheaval and to Wakanda adopting a more democratic system.
The pair may be part of why Queen Ramonda (played by the magnificent Angela Basset) is so pissed in the trailer. Combine two of your best warriors leaving and challenging the government with more access to the outside world and a vengeful enemy and you have a reason to be that angry – and trying that hard to hold everything and everyone together. A lot is being put on the queen's shoulders, let's hope she has plenty of allies behind her.
Who is the New Black Panther?
All fingers are pointing at Shuri because she took the mantle for a while in the comics and is the most logical successor for her brother. It'll be a massive surprise if it's someone else.
Oh, Look – It's Everett K. Ross!