Wonder Woman & the Battle for Birth Control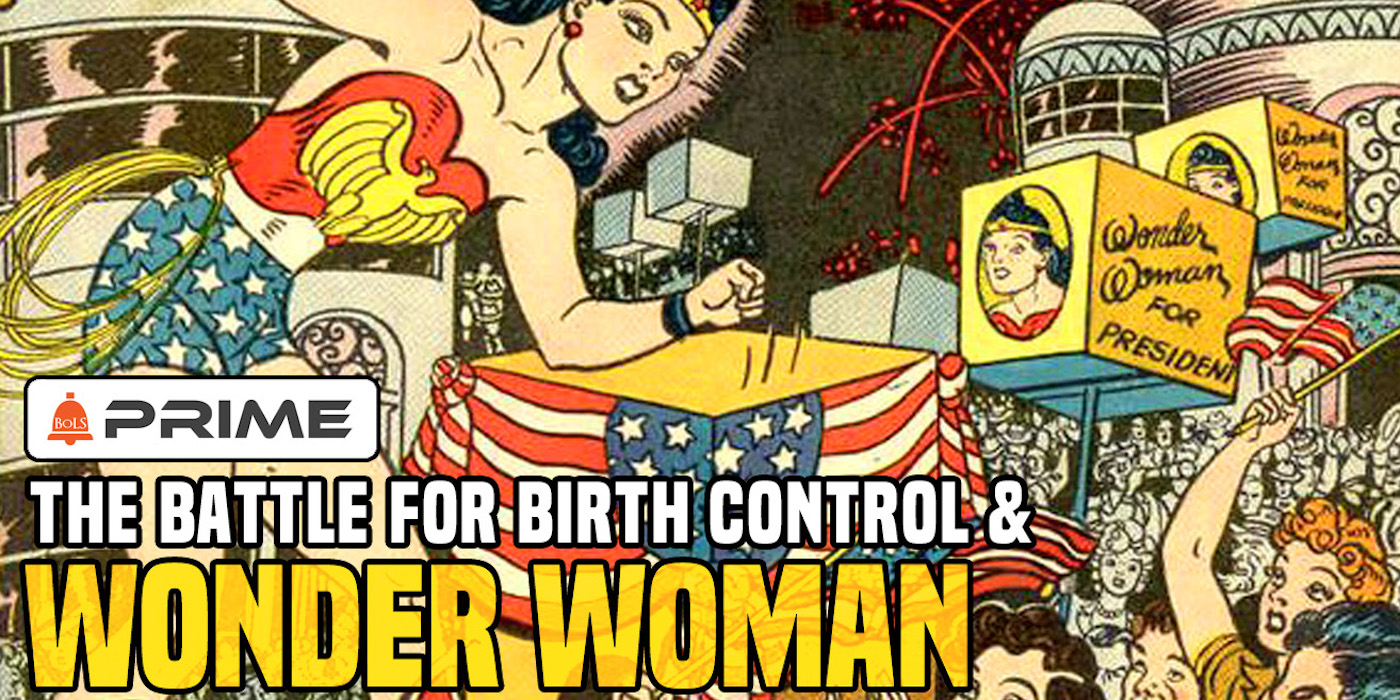 Wonder Woman is a geek pop culture icon – and she wouldn't be the Princess Diana we know and love without the birth control movement.
Wonder Woman is the standard when it comes to feminist power icons in the comic book world. But what you may not know about the Amazon princess is that she has some very real-life stakes in the fight for women's equality. That's because her creator, Willian Moulton Marston, was incredibly influenced by the powerful women's voices around him.
That's right! Without women fighting for the right to make their own reproductive choices, Wonder Woman as we know her today wouldn't exist. But before we dive into mainstream history, we have to meet the women closest to the writer – his wife Sadie and their domestic partner, Olive.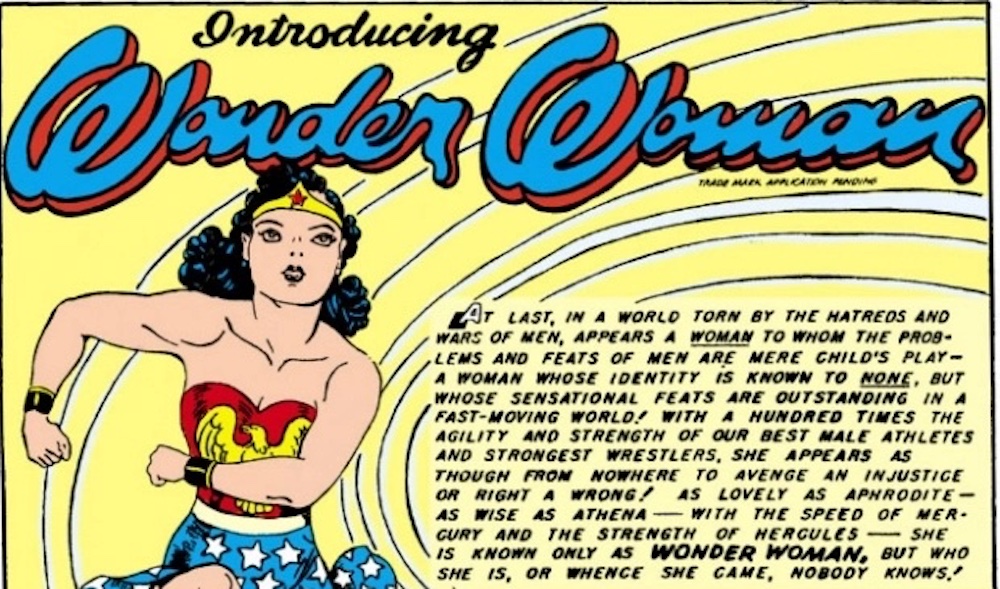 The Women of the Marsden Family
"Sadie" Elizabeth Holloway was Marsden's childhood sweetheart and a brilliant researcher. The two got married in college, and together they created the systolic blood pressure measurement process that was the predecessor to the lie detector test.
During their years together, Marston had a few different jobs. He was an inventor, a psychology proffessor, a film writer, and finally a comic author. Through all of these careers, Sadie used her degrees in law and psychology bring home the greater part of the families income. She spent some time indexing documents for Congress. She also worked as editor of the Encyclopedia Brittanica, and lectured at many universities over the years.
Olive Byrne met the couple in 1925 when She was a senior in college. Marston was her psychology professor and she his research assistant. After she graduated, she moved in with the couple. She soon began caring for their first born child and working as a staff writer for the homemaking magazine Family Circle, then in its early years.
Welcome to the Marston Home
These days, it's pretty well-known that Wonder Woman creator William Moulton Marston had an unconventional family life for the 1940s. Of course, he was surrounded by strong, feminist women, which was uncommon for the time. But the Marston's were incredibly unorthodox. America was not for a functional throuple as it approached the mid-century. Their choice to live and love together was pretty progressive for the time – so much so that someone made a movie about it.
It's hard to guess at the dynamics in any personal relationship, polygamist or otherwise. According to Jill Lepore's The Secret History of Wonder Woman, the choice to include Olive in the family was an ultimatum. However the two women initially felt about the arrangement, Olive and Sadie were incredibly close. In fact, they continued to live together until Byrne passed in 1993. Marston himself died in 1947.
Olive Byrne: Feminist Royalty
A great ideological unifier in the Marston triad was the commitment to feminist ideals. Marston's own belief in the power of the rights of women is a foundational feature of the Wonder Woman comics. And he drew inspiration for her character from the women around him.
And through Olive's family, Marston was able to meet one of the 20th century's most influential feminist figures. Because Olive's mother, Ethel Byrne, was a part of the three-person team that founded the very first American birth control clinic. Ethel and her sister, along with theater performer Fania Mindell, were all arrested for distributing information about birth control. You might have heard Ethel's sister's name before – she's Margaret Sanger.
Though she eventually came to revere her mother and aunt's activist works, Olive didn't really know either Ethel or Margaret growing up. At two years old, she and her brother were sent to live with their grandparents. After her guardians passed in 1914, the Byrne children were sent to an orphanage.
In 1917, when Olive was a teenager, her aunt Margaret came to visit her. She came to tell her all about her mother Ethel's arrest. Ethel, who was charged before her two co-conspirators, protested her arrest by going on a hunger strike. The strike drew a lot of attention to the cause. It also marks the first time an American striker was ever force-fed. Ethel Byrne went 185 hours without food or water in support of legal birth control.
When Olive was 16, she reconnected with her mother. She lived with her on and off during her late teens and early adulthood. It was during this time that Olive was able to dive into her aunt Margaret's literary works and ideologies. She learned about the detriments of forced motherhood from Ethel, who worked as a nurse for immigrant and low-income women.
Subscribe to our newsletter!
Get Tabletop, RPG & Pop Culture news delivered directly to your inbox.
Margaret Sanger, the Mother of Planned Parenthood
Over the years, Margaret would become more famous for the pro-birth control activism that left its mark on mid-century America. Part of this, it's believed, is because Sanger herself actively wrote Ethel out of the story. She was often mistaken as the activist who went on hunger strike. It's said that she would either take credit for the act of protest or "forget" to correct people when they mistook her for her sister.
It's also worth noting that, while Sanger did help to create the institution known as Planned Parenthood, the company has had to part ways with her image. Margaret Sanger also advocated for a eugenic-based approach to reproductive control, and that included some incredibly racist and ableist beliefs. As is often the case with privileged white women of the era, Sanger's fight for equality was all but inclusive.
Wonder Woman's Weakness was Bondage
Once you know all about Wonder Woman's real-life backdrop, you can better understand the symbolism of her story, powers, and accessories. The most famous, of course, is that lasso of truth. It was a weapon that functioned much like Marston wanted his lie detector method to.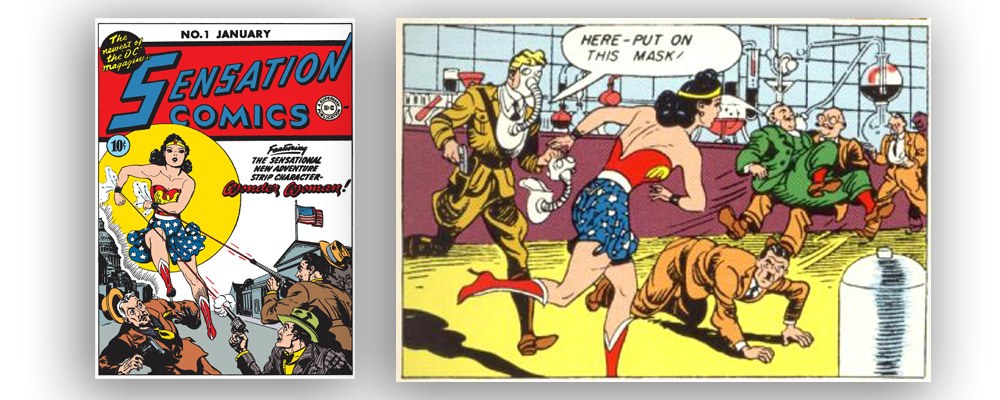 It's been mused that Marston had some, ahem, feelings about bondage and dominance. We can speculate about any historical figures' private kinks (and boy do I!) But we know that Wonder Woman's original powers are rendered moot as soon as she's bound. Her superhuman strength, speed, and agility all disappear when she's wound in rope or chains.
If you've ever wondered why the woman with the super strength that can't escape a bundle of rope, that's the key. The bondage is metaphorical – a symbol of the burdens society puts on women by forcing motherhood. In fact, Wonder Woman's gold bracelets are a direct homage to Sanger's book Motherhood in Bondage.
Hey, pals! Normally we keep these fancy Prime articles behind a paywall for our subscribers. But with the overturning of 'Roe v. Waid', we feel like this story should be public. We'd like to encourage you to spend that sweet, sweet paywall money on a local abortion fund instead.