D&D: Look, It's the Chris-Pine-Stuck-in-a-Gelatinous-Cube Toy You Never Knew You Needed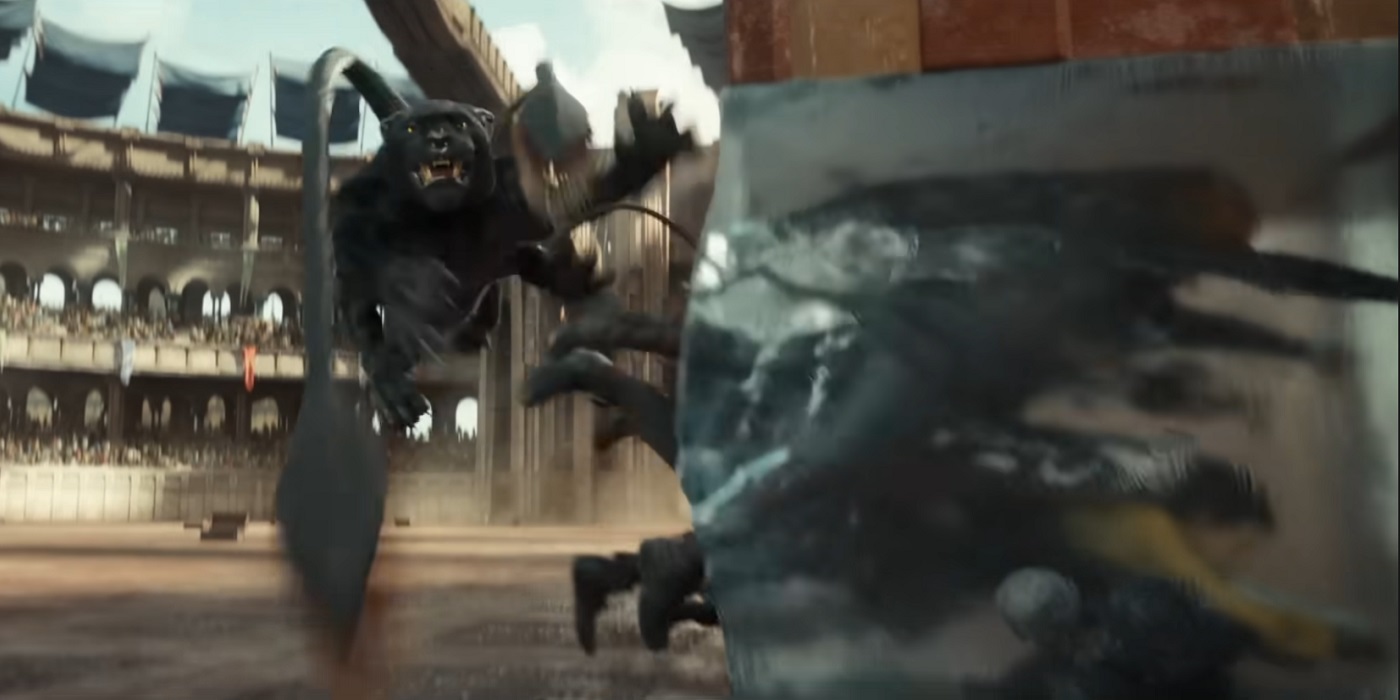 Who doesn't want a Gelatinous Cube toy big enough to eat a 6″ action figure? This one's from the upcoming D&D movie!
In 1987 Mel Brooks reminded us all that there exists one singular driving force behind every single movie, TV show, or other entertainment franchise. Merchandising.
It's a lesson Hasbro learned well. Movies might be a billion dollar industry, but merchandising makes them unstoppable. The Force Awakens brought in $700 million in a single year from retail revenue alone. Needless to say Hasbro and eOne's upcoming D&D movie, Honor Among Thieves is poised to follow in those lucrative footsteps. Especially since the movie isn't out yet but the first glimpses of accompanying toys are here.
Check out the Gelatinous Cube toy. When you do, keep in mind that this toy may be intended to hold Chris Pine, but it will hold any Star Wars Black Series or Marvel Legends Series toys from Hasbro. You know, because they're all the same size.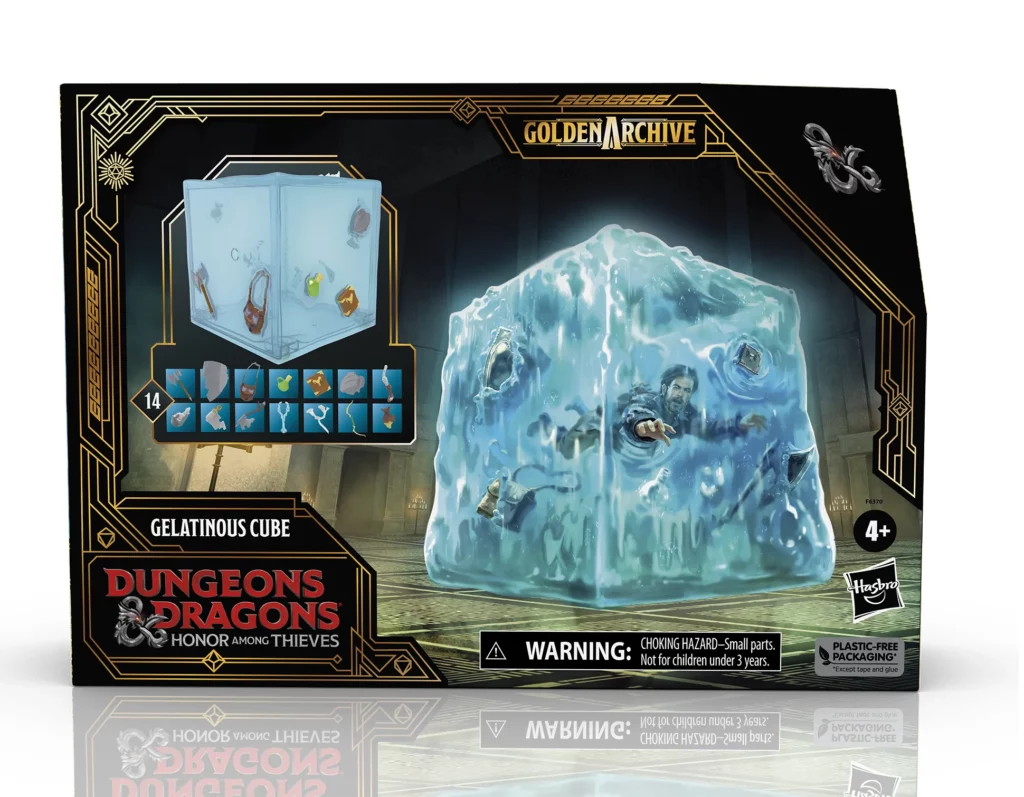 Watch out, it's a Gelatinous Cube! This 6-inch-scale collectible is compatible with D&D 6-Inch figures that can be posed out inside with the "invisible" stand. It includes 14 snap-in accessories to add to the scene. This cubic collector figure will probably look cool in your display, looking menacingly over your other Golden Archive figures. Figures each sold separately. Subject to availability.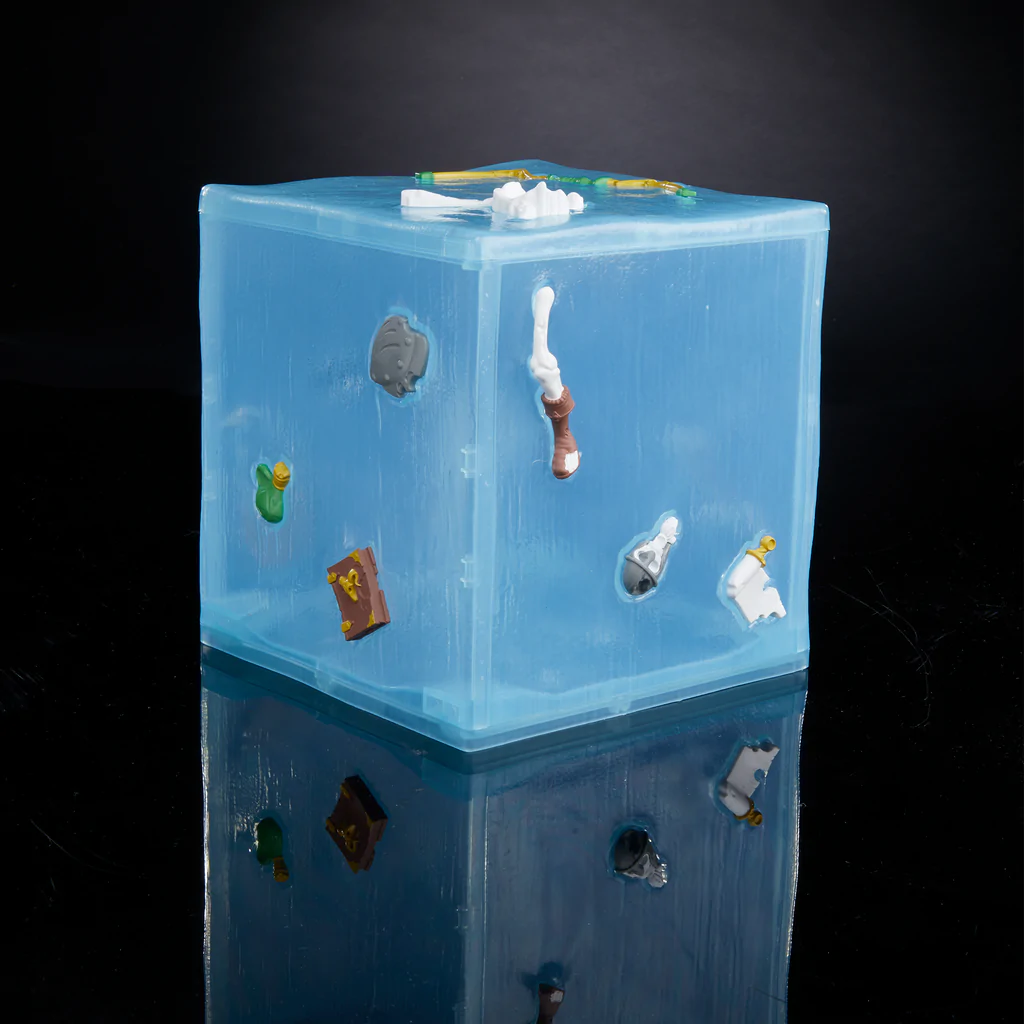 OPEN THE DOORS TO THE GOLDEN ARCHIVE. These 6-inch scale, premium action figures and collectibles are inspired by Dungeons & Dragons lore and entertainment from nearly 50 years. Featuring the deco, articulation, and poseability one expects from Hasbro collectible figures with the characters, classes, and species you love from D&D.

Includes: 6 cube panels for assembly into figure, 14 accessories, stand, and instructions.
6-INCH SCALE GELATINOUS CUBE: Pose a 6-inch action figure within your Gelatinous Cube collectible figure and imagine the heroes of D&D stuck inside. Figures sold separately. Subject to availability.
14 SNAP-IN ACCESSORIES & "INVISIBLE" STAND: D&D dice are the D&D accessories of choice for boring humans, but this Gelatinous Cube comes with accessories & stand for prodigious posing possibilities
INSPIRED BY THE DUNGEONS & DRAGONS MOVIE: Dungeons & Dragons: Honor Among Thieves may have dungeons and dragons. We won't tell. Spoilers!
IS IT A GOOD D&D GIFT FOR BOYS, MEN, GIRLS, WOMEN, AND ALSO EVERYONE?: We can't brag (really, we can't) but this transluscent, 6-inch scale Gelatinous Cube may tickle the fancy of the D&D fans in your life
ROLL A PERCEPTION CHECK TO FIND MORE D&D GOLDEN ARCHIVE FIGURES: More 6-inch action figures means more D&D gifts. Each sold separately. Subject to availability.
Keep an eye out for the Gelatinous Cube toy in 2023
Subscribe to our newsletter!
Get Tabletop, RPG & Pop Culture news delivered directly to your inbox.