Hallway Fights That Give 'Bullet Train' a Run for Its Money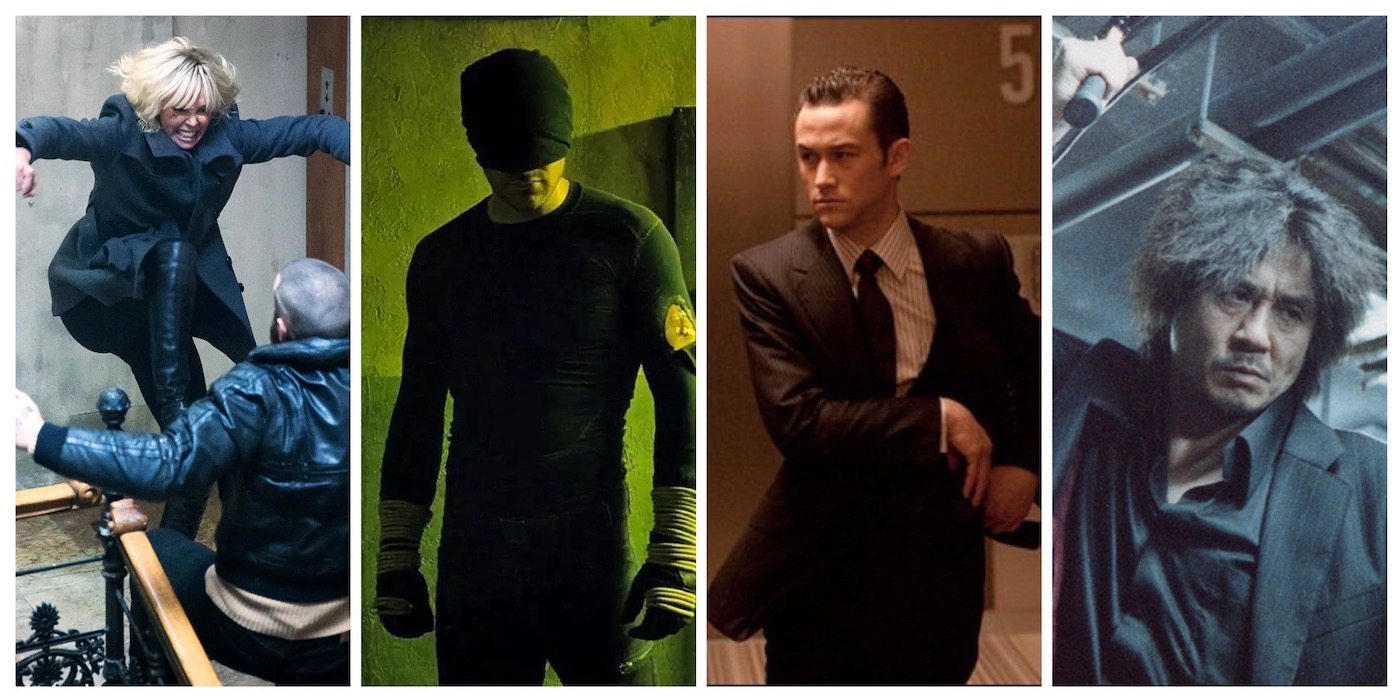 Frenetic hallway fights are a hallmark of the action genre. Here are my faves in honor of Bullet Train's creative use of a fancy water bottle.
Bullet Train may not be a great movie overall, but it does have some fun hallway fights thanks to its setting. Claustrophobic locations limits movement, escape routes, and can make situations more desperate and frantic. Hallway fights quickly become fight-to-the-death/knock-out situations.
For filmgoers, it can mean creative camera work and crazy stunt choreography that takes advantage of walls, ceilings, stairs, and grabbing furniture and tools to use as weapons. They're one of my favorite action sequences because of how creative they force creators to be. This list includes some of my favorites – not all are traditional hallway fights, but they're all hyper-violent marathons set in cramped quarters.
Marvel's Daredevil
This one-shot hallway fight is part of season one's beginning. Murdoch takes a group of toughs to rescue a kidnapped kid. They one-upped it a few times over the show's run ("New York's Finest" adds stairs and "Blindsided" adds another 6 minutes), but this is the scene that really established Murdoch as a badass. It was also the first of the Netflix Marvel shows to tackle one – they became known for them and it all culminated in The Defenders taking on a bunch of security guys in a hallway (S1E3).
Old Boy (2005)
The way this one-shot is built is pure genius – removing a long wall and following Dae‑su as he pummels his way through the mob of gangsters. The music isn't overbearing, you can hear every yell, every groan, every hit. Everyone is tired and injured – and it shows. The motions get clumsy. There's desperation from all sides. It's just brilliantly done and what all hallway fights should be measured against.
The Batman
It's short at 27 seconds, but it makes an impact due to being lit entirely by flashlight, a staccato of gunfire, and bullets bouncing off Bruce's armor. Greig Fraser and Matt Reeves made what could have been a typical gunfight into something truly interesting.
Atomic Blonde
I'm sorry if you didn't get to see this on a big screen – it was amazing. In this one-shot scene, Lorraine fights her way through an apartment building while protecting an asset. It gives elevation to a typically limited-space fight by starting on a staircase and rolling into a two-bedroom apartment with one exit. It is a savage loop.
The foley and ADR crew had a tough/fun time with this one – it has no backing music.
Captain America: The Winter Soldier
Don't challenge Cap if you're a normal human. Just don't. Even if you're a bunch of highly trained operatives in an elevator. This scene gave the long-time stunt team screen time and proved that Cap isn't just a smiling guy that does PSAs.
Subscribe to our newsletter!
Get Tabletop, RPG & Pop Culture news delivered directly to your inbox.
The Raid: Redemption
Iko Uwais makes a name for himself as Rama, a member of a SWAT team trying to take down a drug kingpin holed up in an apartment building. You can almost count this entire movie as a hallway fight – it goes through hallways, stairways, and limited exit rooms nearly non-stop for an hour and forty minutes.
Extraction
This one-shot takes Chris Hemsworth through an apartment building in Dhaka, Bangladesh. It also involves the kidnapped boy he's been paid to save, a bunch of police, and several innocent bystanders. The movie – from Joe Russo (Captain America: The Winter Soldier) and long-time stunt coordinator and performer Sam Hargrave – has a lot of close combat scenes in tight spaces and packed streets.
The Matrix
The scene is set in a technologically-advanced world, but it was shot with practical effects and Yuen Woo-ping's wirework because CG wasn't quite there yet. Less hand-to-hand and more flying bullets, flowing jackets, and 90s techno. The place is rubble by the time Trinity and Neo make it to the elevator.
Inception
The tumbling fight in a hotel hallway is the most impressive of the shots in Nolan's seventh movie. It even goes zero-G for a while. Joseph Gordon Levitt did all of his own stunts for this one. Here's how they did it without CG, all in camera on film.
Rogue One
The end of Rogue One reminded people that Darth Vader isn't a joke. Resistance fighters scramble to get the information that had been sacrificed into the right hands as the lightsaber-wielding monster picks them off like they're nothing.
Other Hallway Fights Worth Mentioning
Those aren't the only ones.
Black Widow in Iron Man 2
Nightcrawler in X2
T-1000 vs. Model 101 in T2: Judgement Day
Luke Skywalker in The Mandalorian
The Punisher in Daredevil Season 2
Editor's Note: The fight in Marvel's Daredevil was incorrectly listed as being part of the Season 1  finale, this has been corrected.