'House of the Dragon' Season 2: New Dragons Will Join the Fight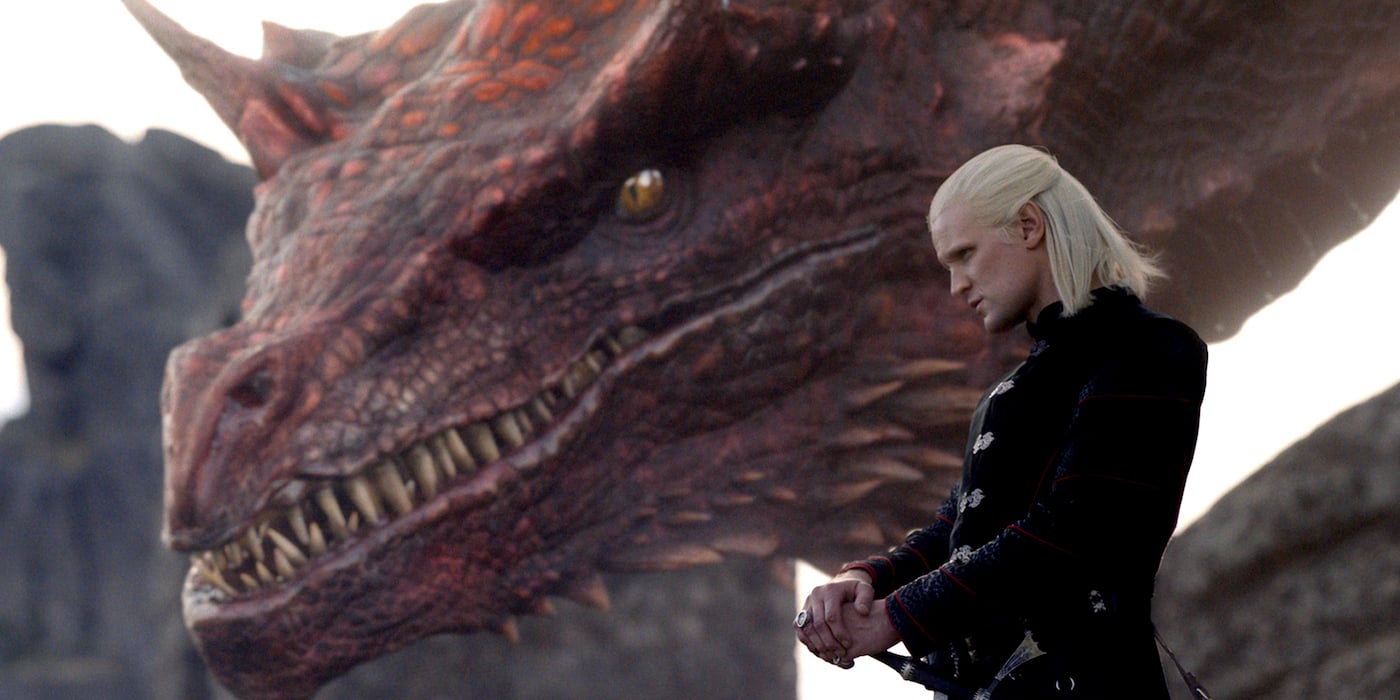 While the civil war ramps up in season two, the fire breathing family of the House of the Dragon is going to grow.
Showrunner Ryan Condal, season one cast, and George R.R. Martin were recently part of an HBO press event. Of course, the season of the show came up. According to the showrunner, they'll start filming "very shortly." Condal also gave a slight hint at what we'll see, revealing, "you're going to meet five new dragons."
There are over fifteen dragons mentioned in Fire and Blood, the show's source material. During season one of House of the Dragon, we saw Syrax, Caraxes, Seasmoke, Meleys, Vermax, Vhagar, Dreamfyre, Vermithor, and Arrax. That leaves a lot of possibilities, but not all of the dragons mentioned have riders. Some are wild, like Sheepstealer and Gray Ghost. Cutting the list down to just dragons with riders during the age that leaves:
– Sunfyre
– Silverwing
– Tessarion
– Moondancer
– Morghul
– Shrykos
– Stormcloud
– Tyraxes
In the book, the dragons on that list were ridden by the children we met in season one – both Targaryen and Velaryon. Each has its own personality, colors, and history. Martin has stated he's enjoyed the dragons in this show more than the trio in Game of Thrones, as they get to show their individuality more. With this many fire-breathing beasts in the mix, it's going to be important to be able to tell them apart.
What We Know About House of the Dragon Season 2
Based on comments from an HBO exec and the award season for next year, the second season will debut next summer. Though recently, Matt Smith mentioned that scripts were going out late, which may push the date back. HBO Max content CEO Casey Bloy has said that they're focusing on story rather than speed. It seems they learned from the last two seasons of GoT.
"My philosophy is a good script is number one priority. I am not doing it based on wanting to have one a year, two a year. I want to do it based on the scripts that we're excited about."
Martin seems to be happier with this series – and not just because of the dragons.
"This guy [Condal] has an amazing writing staff. Because if you read my book Fire & Blood, which you should, it's a fake history. So there's a lot of the details that are in this that are absolutely wonderful and moving that are not in the book. They added stuff, and they added good stuff, which is important."
Hopefully, that mix of Martin's crafted civil war plot and added humanity will continue. It's made for a great show so far.
Subscribe to our newsletter!
Get Tabletop, RPG & Pop Culture news delivered directly to your inbox.