'Star Trek: Strange New Worlds' Drops Final Season 2 Trailer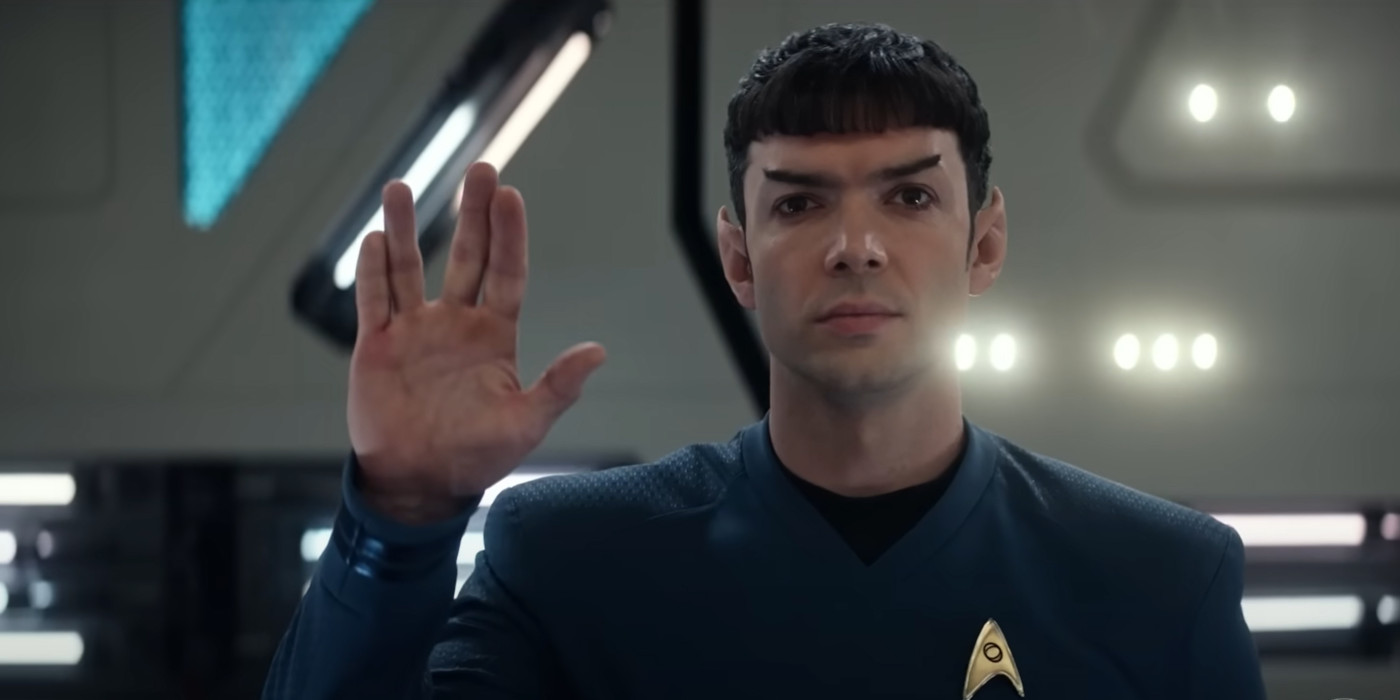 Star Trek: Strange New Worlds second season promises crossovers, Klingons, and a lot of kissing apparently!
The second season of Star Trek: Strange New Worlds premieres in exactly three weeks on June 15. There are a ton of outstanding questions from the first season. But we do know some things. We know James T Kirk is coming. We know Carol Kane will play the new ship engineer. And of course, we know that Beckett Mariner and Bradward Boimler from Star Trek: Strange New Worlds are about to make their live-action debut.
Thankfully this latest trailer gives us a taste of everything we just mentioned above and then some. So, one last time (theoretically) let's look at what's to come before we're officially back on the starship Enterprise.
Location, Location, Location
Star Trek: Strange New Worlds has the name it does because it takes its crew (and audience) out towards the unknown. But a lot of this trailer features some things we know at least a little about. We begin with Ortegas, Pike, and company in a shuttlecraft, granted above an alien world we may not know. But the relevant moment is when Ortegas kickstarts the craft like she used to do in the war. This perhaps signifies that we'll be getting more information about the war with the Klingons.
Do you know what else tells us we'll be getting more Klingon backstory? The fact that we see Klingons in this trailer! We see more in this latest trailer of Spock on what appears to be the Klingon homeworld of Qo'noS.
There are a number of other exciting-looking locales, not least of which seems to be Rigel VII ( a shout-out to the original Star Trek pilot). But the biggest location isn't so much a place as it is a time. Throughout the trailer, we see what appears to be 21st-century Earth. In one shot we see a large, alien craft (maybe the Gorn) in the suburbs. But we also see La'an and Kirk in a city as a huge explosion heads toward them.
Seven Minutes in Star Trek: Strange New Worlds Heaven
Do you ever get the feeling that Star Trek: Strange New Worlds is kind of like a sleepover and everyone wants to play spin-the-bottle? The only reason we ask is because there's not one, not, two, but three separate kissing scenes in this trailer. Three kisses in under two minutes! Like Una says in the last trailer – "It's making me sweat!"
In one scene we see Spock and Chapel together. "What does this mean," asks Spock. "I dunno," Chapel responds. "Shut up." And they kiss. Then we see Captain Batel and Pike hook up. And somewhere in space, James T Kirk and La'an Noonien Singh appear to be making some time as well.
All of these kisses are big deals in their own way. The Chapel/Spock kiss is part of a big love triangle with T'Pring. Funny thing: we have not seen T'Pring in any of these trailers. Wonder what she's up to! The kiss between Pike and Batel is surprising considering Batel arrested Una Chin-Riley at the end of last season. And the biggest surprise of all is Kirk and La'an. After all, someday Kirk is going to fight to the death against La'an's ancestor Khan.
From Lower Decks to Strange New Worlds
We've known from early on that this season will experience the first crossover event of this current crop of Star Trek shows. But what does it look like when Boimler and Mariner from Lower Decks become live-action characters? Well, now we know!
There are not one but two separate moments in this latest trailer featuring our friends from the USS Cerritos. The first features Beckett Mariner saying "surprise" as Pike looks on awkwardly. And the second features Boimler flummoxed at Spock saying "Live long and prosper, Mr. Boimler".
Subscribe to our newsletter!
Get Tabletop, RPG & Pop Culture news delivered directly to your inbox.
This tells us very little. However, if you want to know if Jack Quaid looks good with purple hair, good news! He looks great! And Tawny Newsome's hair looks great. They're on Star Trek: Strange New Worlds – everyone's hair is great on this show!
And if that's not enough, we even get a split second of Carol Kane as Engineer Pelia saying "I love a crazy theory". Who doesn't?
Those are the big moments in the latest trailer. The first new episode of Star Trek: Strange New Worlds season 2 drops June 15.