'Suzume No Tojimari' Review – One of Us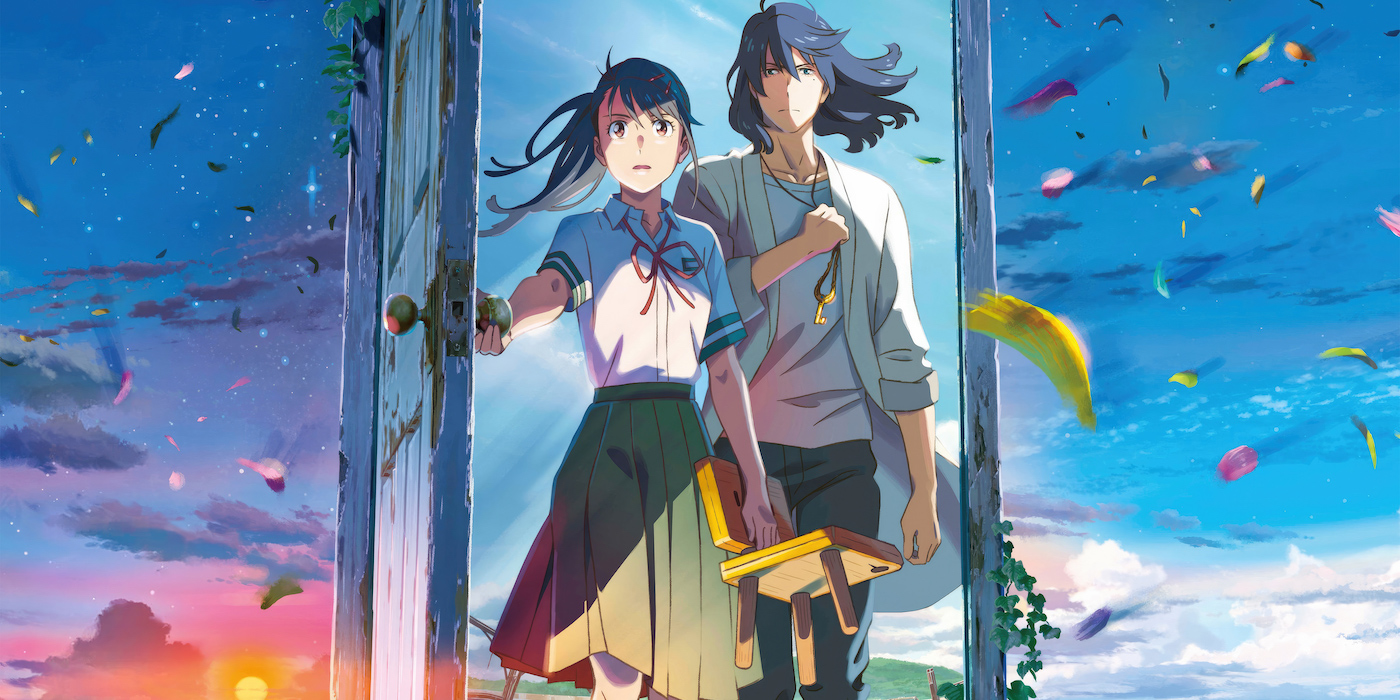 Makoto Shinkai returns with a new touching story and gorgeous animation. Check out the One of Us crew's Suzume No Tojimari review.
Following up the international success of his 2019 anime films Weathering With You and the 2018 anime classic Your Name, writer/director Makoto Shinkai is bringing back the magic and beauty of Japan's ancient culture with Suzume. The title is the name of an adventurous teenage girl brought up by her reserved and cautious aunt Tamaki.
Suzume sees a giant worm from legend floating in the sky and being pursued by a mysterious boy named Souta. She follows the two to a door that seems to go nowhere. Souta explains that his family for generations has been "closers" and keep catastrophes at bay by closing doors that lead to the great beyond. When worms escape from the other side, they curl up into a big spiral above Japan and free fall to earth causing massive devastation, like the Tokyo-Yokohama earthquake of 1923.
Suzume agrees to accompany Souta on his quest to close the doors but they hit a stumbling block when a talking cat named Daijin turns Souta into a three legged chair. Not allowing such a minor setback like losing his human form get in the way of his family duty and obligation, Souta chases the cat and continues his mission with Suzume in tow, who has a bit of a crush on the boy. Meanwhile, aunt Tamaki takes a road trip to find her missing niece and heal the wounds of the past.

Suzume No Tojimari Review
Bradly, Lewayne, Frank, and Melina discuss the gorgeously animated world, share some profound thoughts about Suzume's journey, and remark on how relevant cats are on the internet.
Podcast Link – Subscribe on Apple Podcasts
We are The US – We are one- Geeks of the world, unite!
For too long, the geek community has been divided. The internet has furthered this division by dedicating sites to just one subset or another. We don't believe in leaving you out. We're not going to tell you if you're 'cool' or 'uncool' based on what you're passionate about. We believe in mutual respect and sharing our geekdoms with each other. We believe in having a hell of a good time. Does this sound like you?
In that case, you are ONE OF US. Join us on Twitter and Facebook!