The Damned Cultists Come in Hot From Hell with Wargames Atlantic and MiniWarGaming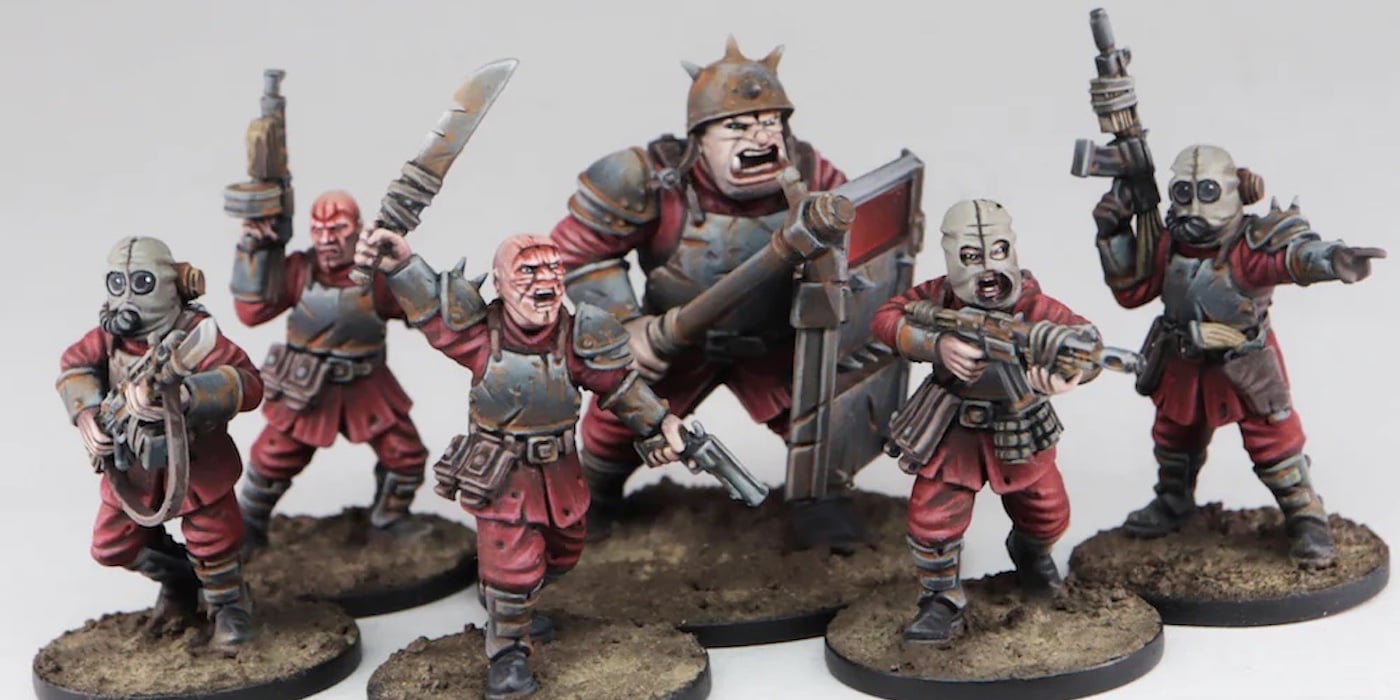 Wargames Atlantic and MiniWarGaming Team up to bring us some awesome new minis.
These miniatures will be a new addition to Wargames Atlantic's line of Death Fields miniatures. To start, funds will be raised on GameFound and with Wargames Atlantic designing and producing the miniatures and MiniWarGaming running the campaign. The Campaign will start on May 26th, so stay tuned for more when they launch.
For now, there is much to be excited about, and Wargames Atlantic released some previews this week for us to go over.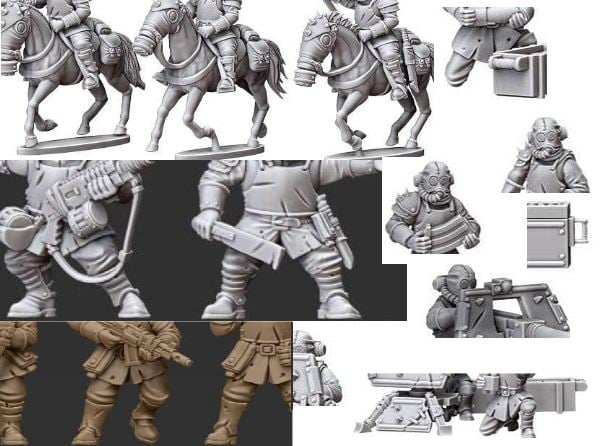 You may remember this image from last week's post about Wargames Atlantic's plans for 2023. Let's talk about the news related to this image – an upcoming Kickstarter to fund a new army of 28mm Sci-Fi miniatures called "The Damned."
What to Expect
This funding campaign will bring to life 8 new plastic miniature kits for Wargames Atlantic's Death Fields line of figures. What's new is that these miniatures will all be of the same faction. Right now, the most developed faction has 2 kits available digitally as STL files and 2 kits available as hard plastic miniatures. That's a total of four kits. The fact that Wargames Atlantic plans to bring 8 kits to life all at once for a single faction is very significant.
The miniature boxed sets going to crowdfunding include…
Infantry
Command
Brutes
Outriders
Heavy Support Teams
Hounds
Artillery
Tank (yes, our first hard plastic vehicle!)
Here are preview renders of the first few models…
The Basic Infantry

Heavy Weapons Teams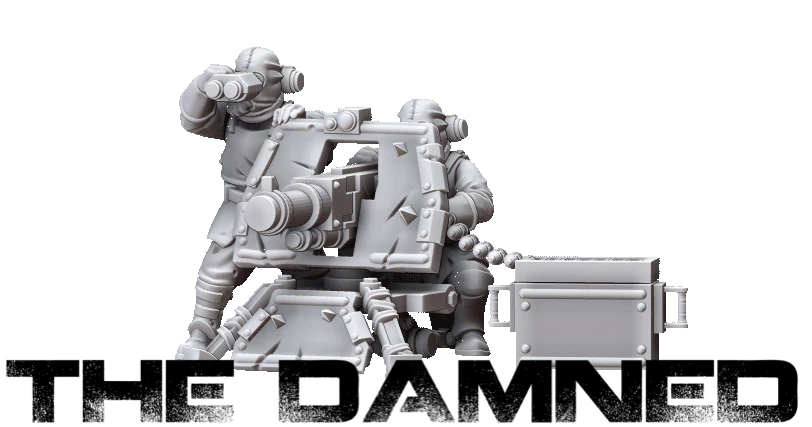 An Infantry Flamethrower And Brute (or Ogre)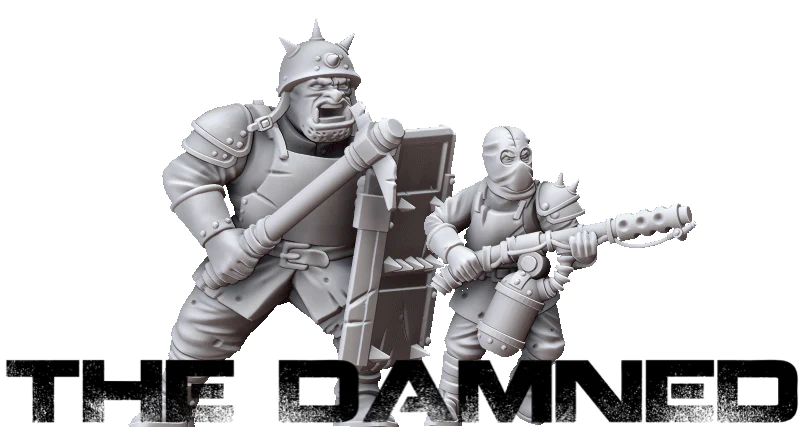 Some Preview Sprues…
The sprues of the Damned are subject to change, but below are the previews given to us so far of what to expect from the GameFound Campaign.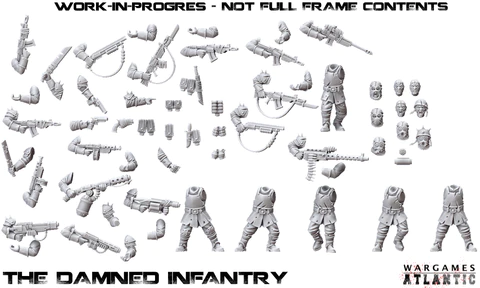 The Infantry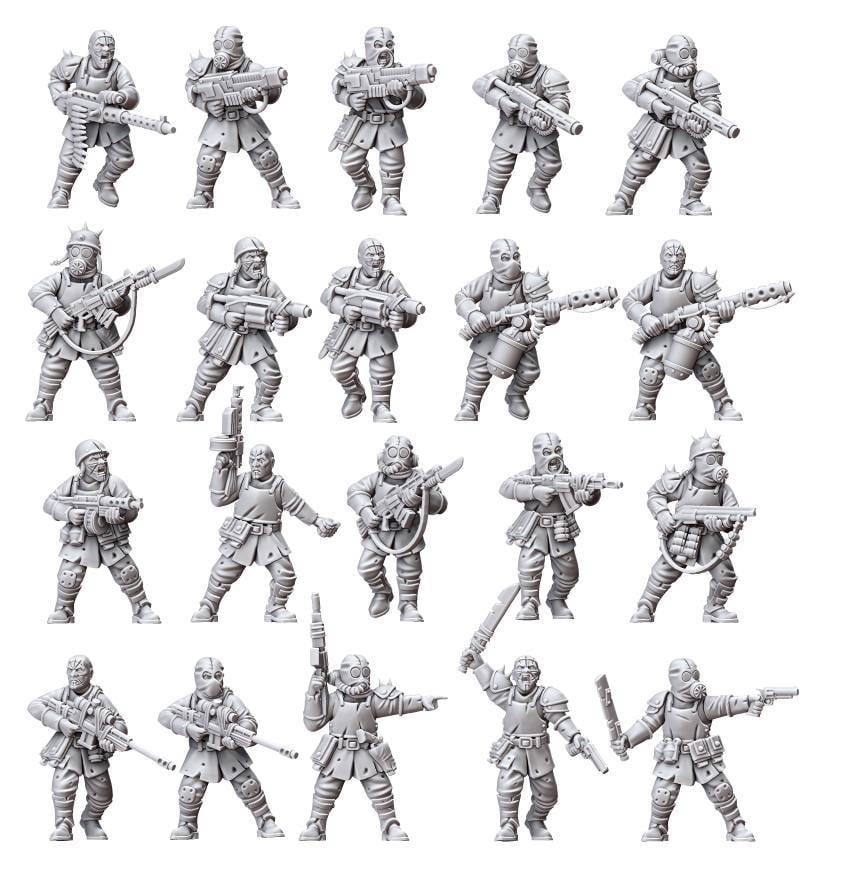 From the box of Infantry models, you should be able to make the figures above and combine the pieces in other ways should you desire to make them differently.
Subscribe to our newsletter!
Get Tabletop, RPG & Pop Culture news delivered directly to your inbox.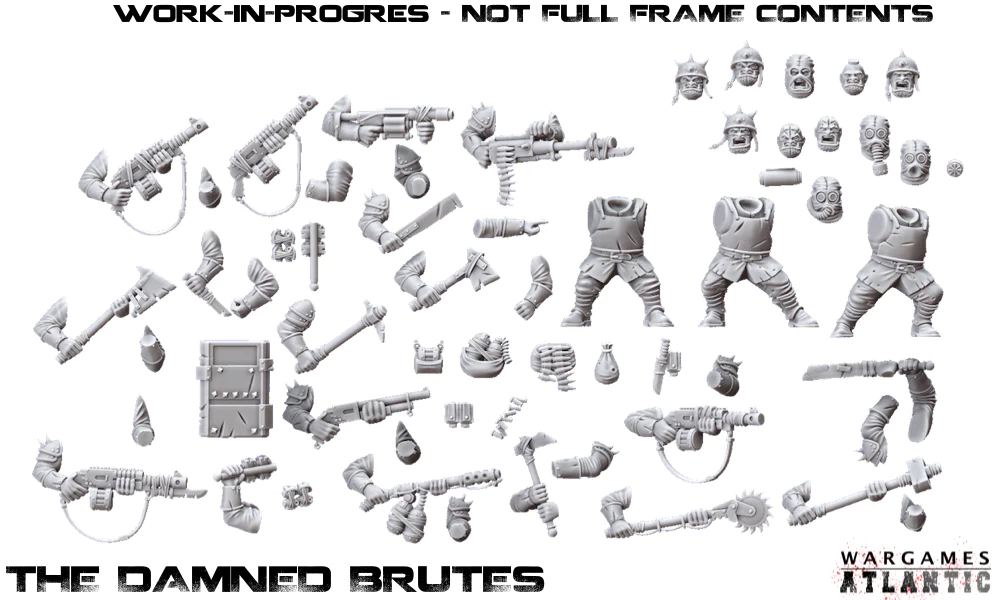 This Brute frame is the second preview of bits we might be able to expect from this campaign. Again, the parts are subject to change, and more parts may be yet to come. Time will tell.
Some Painted Minis
Aside from showing us Renders, Wargames Atlantic has also been showing off some preview images of the miniatures painted by Cult of Paint.
One of the Brute Minis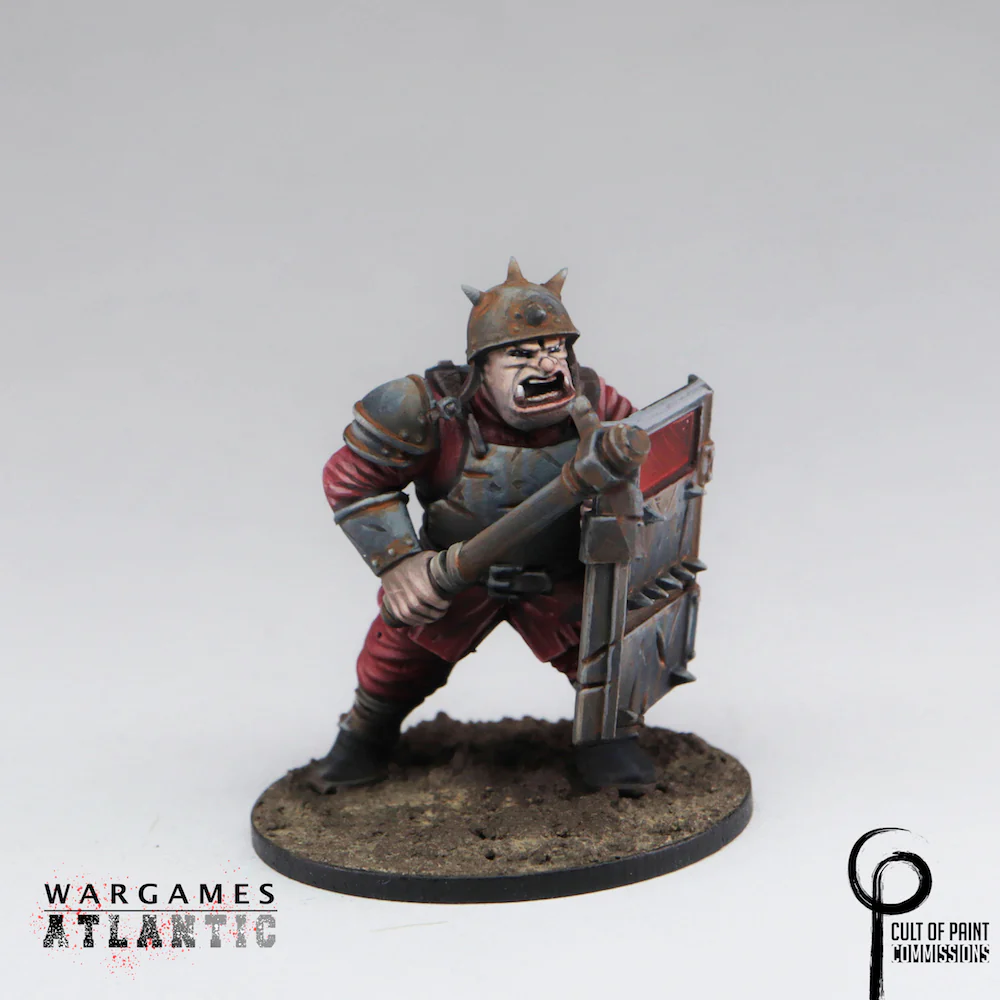 A Couple of the Infantry Models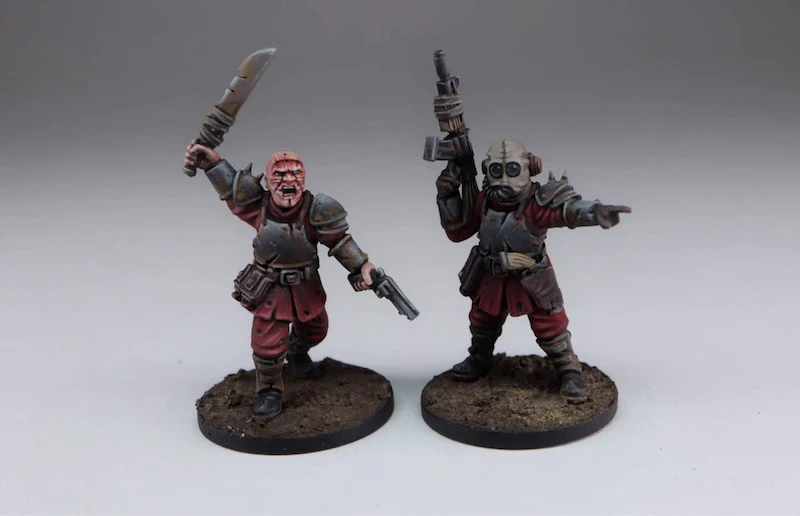 A whole group of figures. They look really cool to me!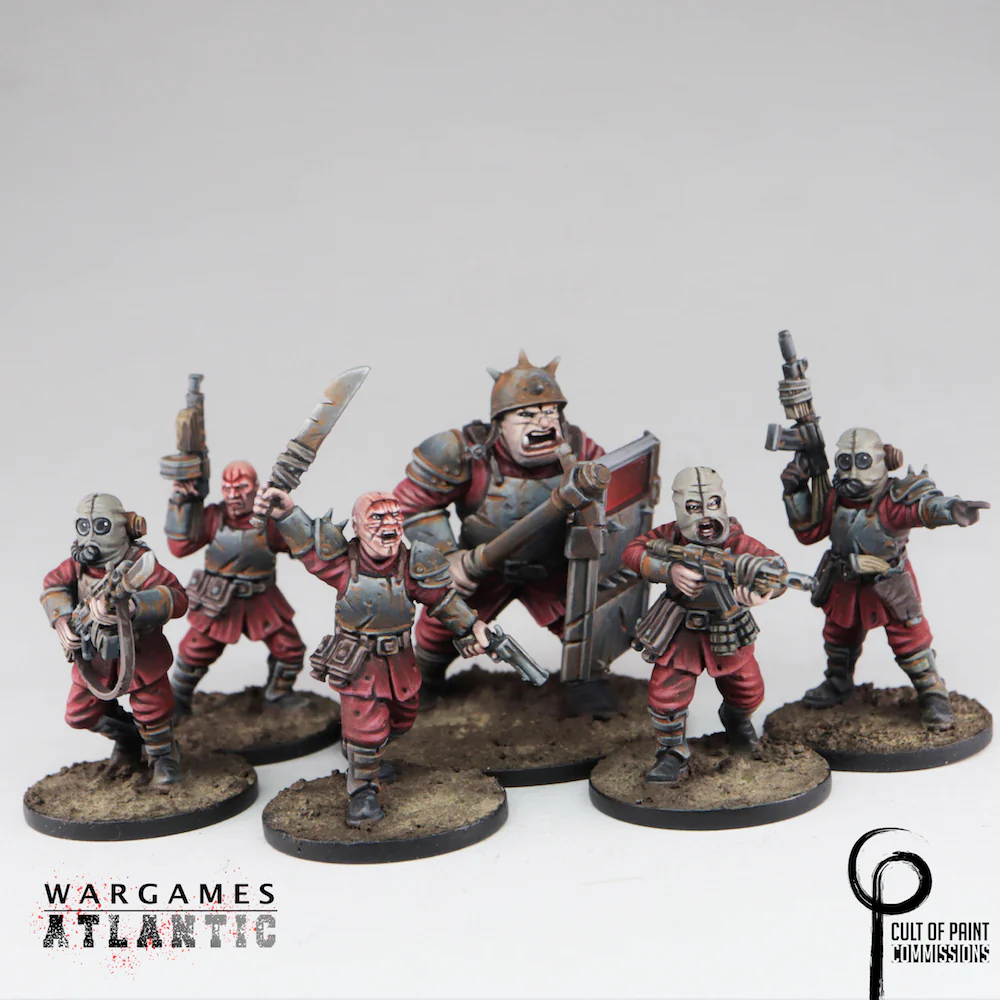 Wrapping it up…
Today's post was to show you some previews of a Wargames Atlantic project that I am excited to see launch. It will be launching on May 26th. For more on these miniatures, you can check out the posts on Wargames Atlantic, where I drew these images from.
The Unveiling of the Damned. Talks about the miniatures, the background of the miniatures and how they fit into the Death Fields gaming world. For me, the story doesn't draw me to the figures or the line. I just think they look cool, but if you want some context of where they come from or what motivates them to fight, this post might interest you.
An Up Close Look at the Infantry. This quick article gives you a first look at the infantry, and there are plenty of comments there if you want to check out their article.
Up Close: The Damned Brutes. This quick article shows off the Brutes and gives a bit of background about them too.
If this project also excites you, be sure to watch Wargames Atlantic on Facebook for news as it comes out.
Until next time, Happy Gaming, Everyone!!!

Read more about great Indie and Historical games on my site!
Must Contain Minis is my reviews, showcases, and battle reports website, where I look at a wide variety of miniatures games and related products. I like to focus mainly on indie and historical games. If you haven't visited for a while, come on over and check the site out! You can also follow me on Facebook, Twitter, Instagram, and YouTube. You can also find the original version of this post over there too. Thanks again for reading!!!