Why You Should Buy 'Star Trek: Strange New Worlds' on 4K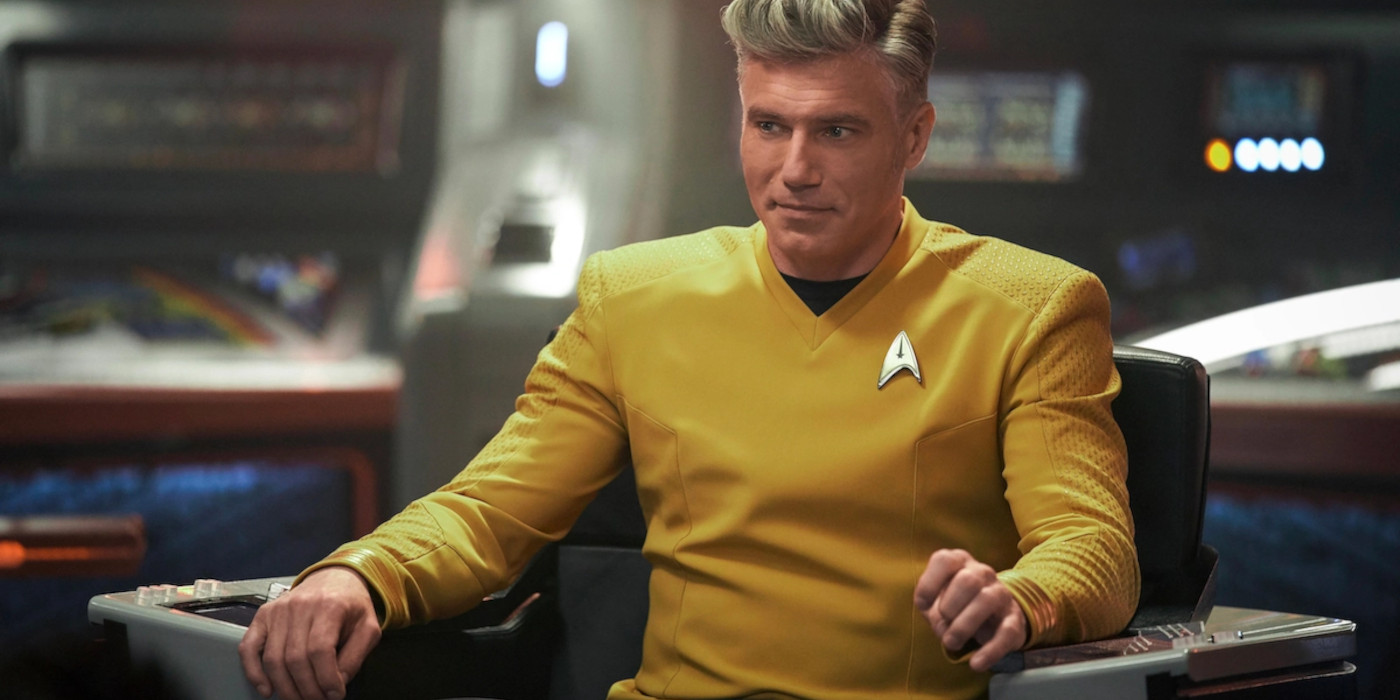 Before Star Trek: Strange New Worlds hits, watch the first season the way it should be seen – in full 4K UHD.
Star Trek: Strange New Worlds is great for so many reasons. However, one reason you may not put it towards the top of the list (but should) is how beautiful it is. Bernadette Croft's costumes are incredible. The sets are stunning achievements in reimagining the 1960s future of Star Trek. And, of course, the actors are beautiful.
Oh, and the special effects are pretty neat, too.
Do you watch 4K media only on streaming? Fun fact: streaming 4K and 4K on physical media are sometimes drastically different animals. And that's very much the case with SNW. And since this is the first time a Star Trek TV series has gotten the 4K disc treatment, we wanted to talk about why it's worth your money to buy this series on disc rather than just stream them again.
Star Trek: Strange New Worlds Video Quality
It's easy to say that the 4K UHD discs for Star Trek: Strange New Worlds look better than streaming. What you want to know is why.
Everyone has a memory of watching something on streaming that looks muddy. Most people remember watching the dragon fights in the final season of Game of Thrones and not being able to make out what was happening. Some people assume that's because the image is too dark. However, the actual issue is often a low bitrate. In other words, the data of the file you are watching is compressed. Compressed data leads to blurred motion and overall image crush.
The average bitrate for Star Trek: Strange New Worlds is 60-72 megabits per second. For a TV series, that is enormously high. High bitrates are common for film. Think of it logically, if you only have one two-hour movie on your disc, that's plenty of space for a larger file and a higher overall bitrate. Thankfully, Paramount spreads the 10 episodes of SNW across three discs. That's four episodes for the first two discs, and two episodes plus special features on disc three.
All this plus both Dolby Vision and HDR 10+ are available. These high-dynamic range options translate to healthier black levels and brighter pops of color. In other words, Star Trek: Strange New Worlds looks more vibrant than on either streaming or the initial Blu-ray release. Add to that the fact that the visual effects seem to be rendered at a minimum 2K and the overall impact is massively improved over streaming.
Star Trek: Strange New Worlds Sound Quality
Here's another thing you may not know if you don't obsess over physical media. Streaming only offers compressed audio, Dolby Digital Plus is the highest option. And while DD+ does offer decent sound overall, it does tend to be quieter than lossless audio options.
Thankfully, the 4K UHD discs for Star Trek: Strange New Worlds come with a standard lossless DTS 5.1 Master Audio track. That means the character's voices are clearer. And it also means the sounds of the ship have more nuance. This is especially relevant if you have a 5.1 surround system set-up. If you want to feel like you are on the bridge of the Enterprise, the physical media release is the way to go.
And while we're discussing sound and Star Trek, it's worth noting that both Star Trek: The Next Generation and Star Trek: Enterprise also have vastly superior audio on their Blu-ray releases than are available on streaming. As an audiophile, one of the most frustrating things about Star Trek: Enterprise on Paramount Plus is that it is not presented in 5.1 surround sound. That sound option is available on the Blu-ray though. Just a little FYI from us to you.
Balance of Terror
There are a bunch of special features on the Star Trek: Strange New Worlds season one UHD disc release. There are behind-the-scenes features, a gag reel, and deleted scenes. The deleted scenes from "For Those Who Wander" especially add a lot to the episode.
However, the best extra in the set bar none is the inclusion of the Star Trek: The Original Series episode "Balance of Terror". As you may know, SNW's season one finale "A Quality of Mercy" is a reimagining of "Balance of Terror". But while many people love that finale, nothing compares with the original.
Subscribe to our newsletter!
Get Tabletop, RPG & Pop Culture news delivered directly to your inbox.
The HD releases for TOS are okay. Not great, not terrible. Certainly, they are a step up from anything that came before. But if you really want a taste of how good TOS can look, this SNW 4K presentation of "Balance of Terror" is what you want. Not only are most shots from the episode, pristine and crisp, but you also get Dolby Vision for the episode.
Simply put: "Balance of Terror" has never looked this good before. And that leads us to the biggest reason to buy SNW on 4K UHD.
TOS and TNG 4K UHD
The amount of work to create high-definition presentations of classic Trek is enormous. For Star Trek: The Next Generation, people had to go through all the raw film elements, find the correct take, and piece together each episode all over again. And none of that gets into the intense cleaning and color-correcting that needs doing to make those TNG HD releases look as incredible as they do.
The reason Star Trek: Deep Space Nine and Star Trek: Voyager do not have HD transfers is because of cost. Also, those series have CGI which would need to be completely redone since they're all low-bitrate 480 interlaced renderings. In fact, that's the reason we may never see those shows in HD.
However, both TOS and TNG already have the heavy, preliminary work done. And there are insider rumors that Paramount is considering 4K releases for those two series. This tracks since the films from both series are also currently available on 4K UHD disc.
But the cost must be justified. In short: the best sign that 4K UHD releases for TOS and TNG are worthwhile is people buying the SNW 4K discs. So if you want to see those classic series look even better than they ever have before, consider the Star Trek: Strange New Worlds 4K a highly worthwhile investment.
Oh hey! BoLS might make a little money if you decide to buy these items.