Uncover Espionage & Thrills in Ten Must-See Spy Movies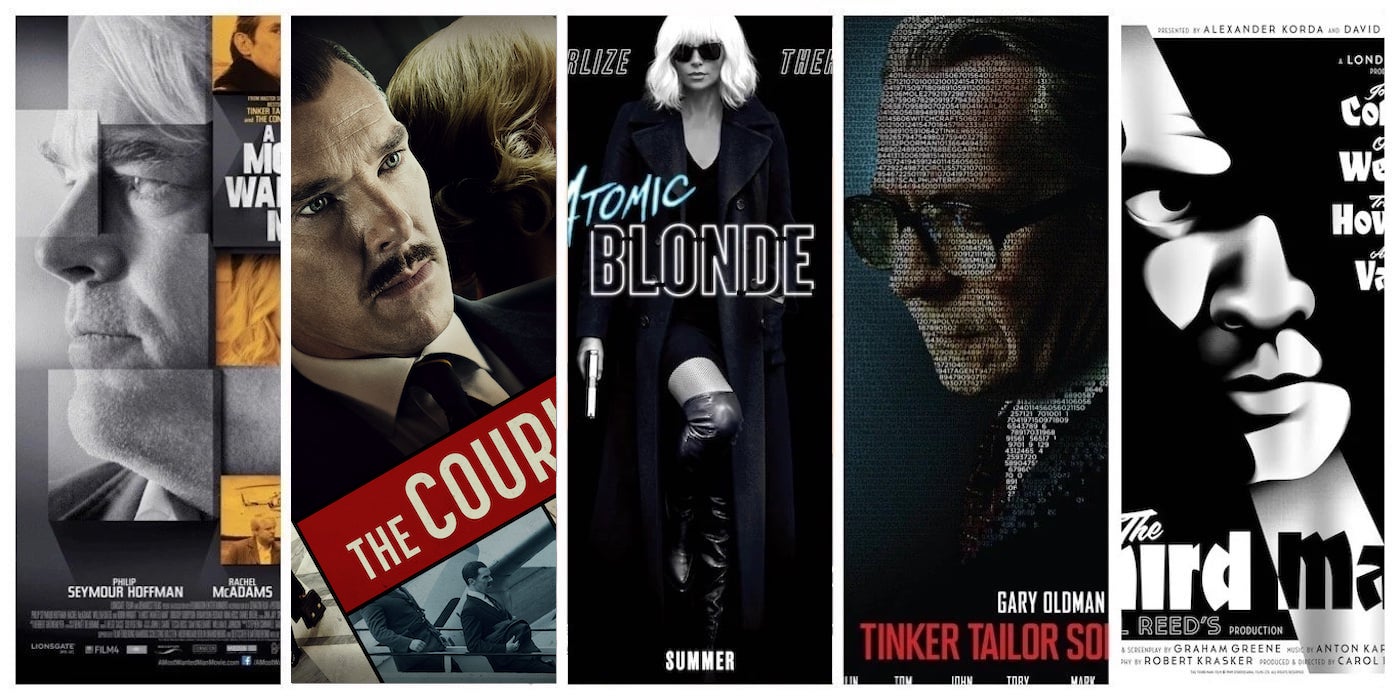 Spy movies are almost as old as movies themselves. Here's must-sees in honor of Mission Impossible: Dead Reckoning Pt 1, which is out now.
Mission: Impossible is one of the most enduring and successful action franchises – pulling in over $3 billion worldwide. We've watched its core cast take on all sorts of enemies – from within the IMF and beyond – over six movies, and nearly 30 years. Dead Reckoning marks the end of this crew's missions, and they're going out with a massive bang. This movie includes some of the most dangerous stunts they've ever done.
"Ethan Hunt and his IMF team embark on their most dangerous mission yet: To track down a terrifying new weapon that threatens all of humanity before it falls into the wrong hands. Confronted by a mysterious, all-powerful enemy, Ethan is forced to consider that nothing can matter more than his mission – not even the lives of those he cares about most."
Part One is out in theaters now.
Must-See Spy Movies
Spy movies have been a thing since the silent era – starting with the propaganda film The German Spy Peril in 1914. The genre runs from action-packed chases to slow burns and tension-filled operations. It's one of my favorites behind heist movies. Here are some of my personal favorites that don't star Bond, Bourne, or Hunt. There's more than one John le Carré movie on this list. I'm not sorry about that.
Honorable mentions: Ronin, Sneakers, Cloak and Dagger, Zero Dark Thirty, and Munich
If you prefer reading, I've got a list of great spy novels for you. – check it out here.
The 39 Steps (1935)
Based on the novel by John Buchan, who worked in the Intelligence Corps of the British Army during WWI. The 39 Steps is filled with twists and turns, this early Hitchcock classic is a must-see for fans of the genre (or the director). Follow this up with Notorious and North by Northwest for a Hitchcock spy fest.
The Story: While visiting London, Canadian tourist Richard Hannay becomes tangled in an international spy ring. He meets agent Annabella Smith and they quickly frame him for her murder. Hannay has to escape the police while trying to stop another operative from sending secrets out of the country. He drags Pamela in as an unwilling accomplice in his mission.
The Conversation (1974)
This paranoid thriller from Francis Ford Coppola is the director at his best. It's a commentary on privacy, responsibility, and technology that is as relevant today as it was in 1974 – maybe more so. Gene Hackman puts in an impressive performance as a spook that's questioning his purpose.
The Story: Harry Caul is a surveillance expert that specializes in recording equipment. He is a surveillance expert who specializes in recording equipment, and memories of a case gone wrong torment him. A mysterious client hires Caul to tail a young couple and record their conversations. He follows them through San Francisco's Union Square and manages to capture a cryptic conversation. He becomes obsessed with what it may mean and the safety of the couple he may have put in danger.
Tinker, Tailor, Soldier, Spy (2011)
The first le Carré. The cast really makes this dense, slow burn of a movie stand out from the flashy, action-based spy movies that have dominated the genre over the last 20 years. Gary Oldman is a brilliant George Smiley. The spy is quiet, calculated, and is seen as a threat even at his age. The production design really drops you into the 1970s, as well.
The Story:  The head of M16 aka Control, sends an agent to meet with a Hungarian general to get the identity of a mole. A Soviet spy has made his way into the organization. The mission fails, and the general dies before he can reveal the mole. They call back veteran agent George Smiley from forced retirement to find the mole and prevent British secrets from reaching the Russians.
Subscribe to our newsletter!
Get Tabletop, RPG & Pop Culture news delivered directly to your inbox.
Atomic Blonde (2017)
The Cold War goes full technicolor in this spy thriller with insane fight scenes – one of them is a 10-minute continuous shot. John Wick co-creator David Leitch led the film and brought an amazing stunt team with him. It also has a fantastic soundtrack. The story isn't too shabby, either.
The Story: Set in Berlin on the eve of the destruction of the wall. MI6 agent Lorraine Broughton is tasked with finding a list of double agents that has been smuggled to the West before it gets into the wrong hands. The city is a ticking time bomb and her allies in the mission prove to be unreliable. She has to go it alone.
A Most Wanted Man (2014)
The second le Carré. Anton Corbijn's smart, absorbing thriller will have you on the edge of your seat. Like Tinker, Tailor, Soldier, Spy it has an amazing cast and uses layer upon layer of tension till the end.
The Story: A Chechen Muslim illegally immigrates to Hamburg, giving a German intelligence agent the chance to lay a trap. He targets a well-regarded Muslim scholar who is suspected of financing terrorists. The whole operation gets caught in the international war on terror and things slide sideways fast.
The Ipcress File (1965)
Bond wasn't the only British spy operating in the 1960s. Harry Palmer was created by novelist Len Deighton and was meant to be a more working-class take on being a secret agent. He wears glasses and complains about his pay grade, proving that being a spy is not all glitz and glamor. Michael Caine plays him in five movies – this is the first and the best.
The Story: Palmer is tasked with investigating the kidnappings and brainwashed reappearances of top scientists. He navigates his way through criminals, secret agents, and his superiors while trying to bring in the main suspect. During his investigation, he discovers a mysterious audiotape labeled "IPCRESS." It's an ominous piece of evidence that steers the rest of his dangerous investigation.
The Third Man (1949)
The Third Man was chosen by BFI as the "best British film of the 20th century." It deserves it. Director Carol Reed insisted the movie be filmed on location in post-WWII Vienna. It has an almost post-apocalyptic atmosphere due to the craters and piles of rubble in the streets and the expressionist cinematography by Robert Krasker. Its script was written by Graham Greene who occasionally worked as a spy for the British government during WWII. Orson Welles and Joseph Cotten's performances are iconic. This is what every spy movie after it wanted to be.
The Story: Writer Holly Martins arrives in postwar Vienna planning on staying with his childhood friend Harry Lime. When Martins arrives he finds Lime dead. The writer develops a conspiracy surrounding a "third man" present at Harry's death. In his quest to find who killed Lime, he runs into interference from British officer Maj. Calloway and discovers a dangerous plot.
(Yep, that's where this song is from.)
The Courier (2020)
Espionage during the Cold War wasn't just trained spies and military – both sides recruited valuable, everyday citizens to the cause. This spy movie is based on the true story of Greville Wynne (played by Benedict Cumberbatch).
The Story: The UK's MI-6 and a CIA operative recruit an unassuming British businessman into one of the greatest international conflicts in history. Under the cover of his electrical equipment business, he meets with Soviet officer Oleg Penkovsky in an effort to provide intelligence to prevent a nuclear confrontation and defuse the Cuban Missile Crisis.
The Lives of Others (2007)
This character-focused spy thriller won an Oscar for Best Foreign Picture for damn good reason. Director Florian Henckel von Donnersmarck (this was his feature-length debut) doesn't shy away from the realities of Eastern Germany and how it affected people.
The Story: Set in East Berlin in the early 1980s, The Lives of Others focuses on Stasi officer Gerd Wiesler. Doubting that a famous playwright is loyal to the Communist Party, he gains approval to spy on him and his lover. Wiesler becomes sympathetic to the couple and faces conflicting loyalties when his superiors order him to take care of the playwright.
The Spy Who Came in From the Cold
The Third John le Carré. Richard Burton leads an excellent cast in this twisty tale of espionage and deceit. It came out in the era of Bond, but isn't a Bond movie. Like all of le Carré's stories, it's calculated and unravels slowly rather than in a hail of bullets.
The Story:  Set during the height of the Cold War, British spy Alec Leamas is on his way to retirement. He has one last assignment, though. They send him deep undercover, where he poses as a disgraced former MI5 agent in East Germany. His mission: to gain information about captured colleagues. He fails, and they throw him in jail and interrogate him. Leamas finds himself caught in a sinister maze of plots and counter-plots that he has to navigate to escape.
---