Tired of Franchises? Try These Upcoming Original Horror Movies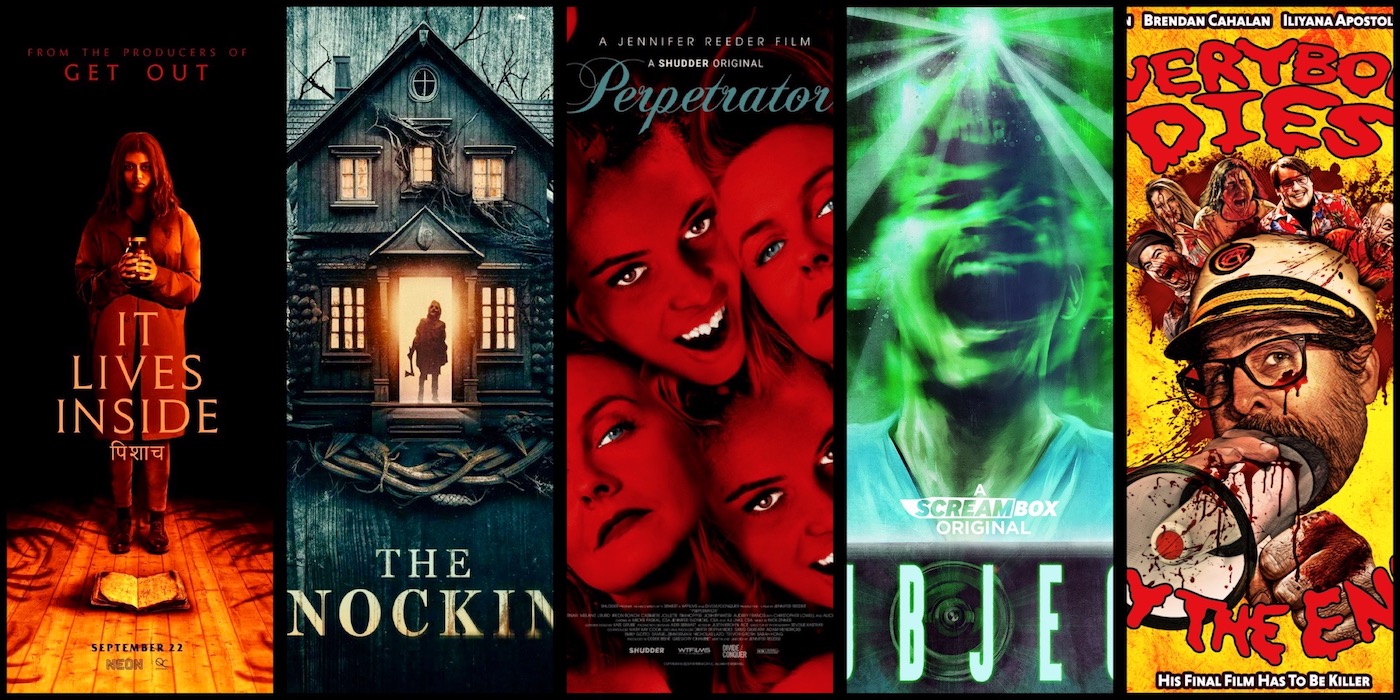 Franchises may have taken over, but horror is putting up a fight. Check out some of the original horror movies and shows debuting this fall.
Subject – Screambox August 22nd
"Compiling suppressed footage, SUBJECT follows a man on his way to prison who gets intercepted by a top-secret government agency. In order to serve out this sentence, he's sent to an isolated facility to observe a terrifying creature up close."
Bad Things – Shudder August 25
"A hotel trip for a weekend getaway might not turn out as this group of friends thought it would."
Slotherhouse – Theaters August 30th
"It's senior year of college for sorority sister Emily Young and for the first time ever, Sigma Lambda Theta is having elections for who will be president. Wanting to have a killer year, Emily Young realizes she might just be the best option for her sorority. While beginning her campaign, she finds an adorable sloth."
Coming Out Next Month
All Fun and Games – VOD September 1st
"A terrifying tale about a group of Salem teens who discover a cursed knife that unleashes a demon that forces them to play gruesome, deadly versions of childhood games where there can be no winners, only survivors."
Perpetrator – Shudder September 1st
"Brace for a birthday surprise with a twist in 'Perpetrator' as Jonny unravels her family's feral secret. Ready to join the hunt?"
The Knocking – VOD September 4th
"Three adult siblings reunite at their childhood home, the site of their parents' alleged murder years before. Intent on preparing the house and estate for sale, they soon find themselves confronted by a primordial evil determined to stop them."
Subscribe to our newsletter!
Get Tabletop, RPG & Pop Culture news delivered directly to your inbox.
Megalomaniac – Theaters Sept. 8th, 2023 / VOD Sept. 26
"1997 – the "Butcher," one of world's most notorious serial killers, strikes and abruptly vanishes. Now his children must carry on with his brutal legacy. They take over his wrath and, through agony and revenge, fall into a world of absolute darkness."
My Animal – Theaters Sept. 8 / VOD Sept. 15th
"Bobbi Salvör Menuez (Euphoria) and Amandla Stenberg (Bodies Bodies Bodies) ignite in this genre-bending supernatural love story. Tormented by a hidden family curse, Heather is forced to live a secluded life on the outskirts of a small town. When she falls for the rebellious Jonny, their connection threatens to unravel Heather's suppressed desires, tempting her to unleash the animal within."
Satanic Hispanics – Theaters September 14th
"Police raid a house in El Paso, Texas, and find one lone survivor of a brutal massacre. Taken into custody for questioning, the mysterious man starts telling them strange tales of other worlds, mythical creatures, demons, and the undead."
Coming Out Later This Fall
It Lives Inside – Theaters September 22nd
"Sam is desperate to fit in at school, rejecting her Indian culture and family to be like everyone else. When a mythological demonic spirit latches onto her former best friend, she must come to terms with her heritage in order to defeat it."
Everybody Dies By the End – VOD September 22nd
"Cult horror director Alfred Costella has decided to make his ultimate masterpiece. After becoming a sensation with the successes BATTERY ACID, PSYCHO MENACE, and KILL TIME NOW, a car crash talk show interview ten years ago looked like ending his illustrious career. But now he's returning to the independent movie fold to make his final shocker, EVERYBODY DIES BY THE END, an all-practical concept with a dark twist. And invited along to cover every aspect of the production is a documentary film crew. What could possibly go wrong?"
Deliver Us – Theaters September 29th
"When a nun in a remote convent claims immaculate conception, the Vatican sends a team of priests to investigate. Concerns grow that an ancient prophecy is about to be fulfilled: that a woman will give birth to twin boys – one the Messiah, the other the Anti-Christ – and the ensuing battle will determine the fate of the world."
---