New Trailers & Pop News: 'Alien', 'Highlander' Reboot, 'Five Nights at Freddie's', 'Bodies', More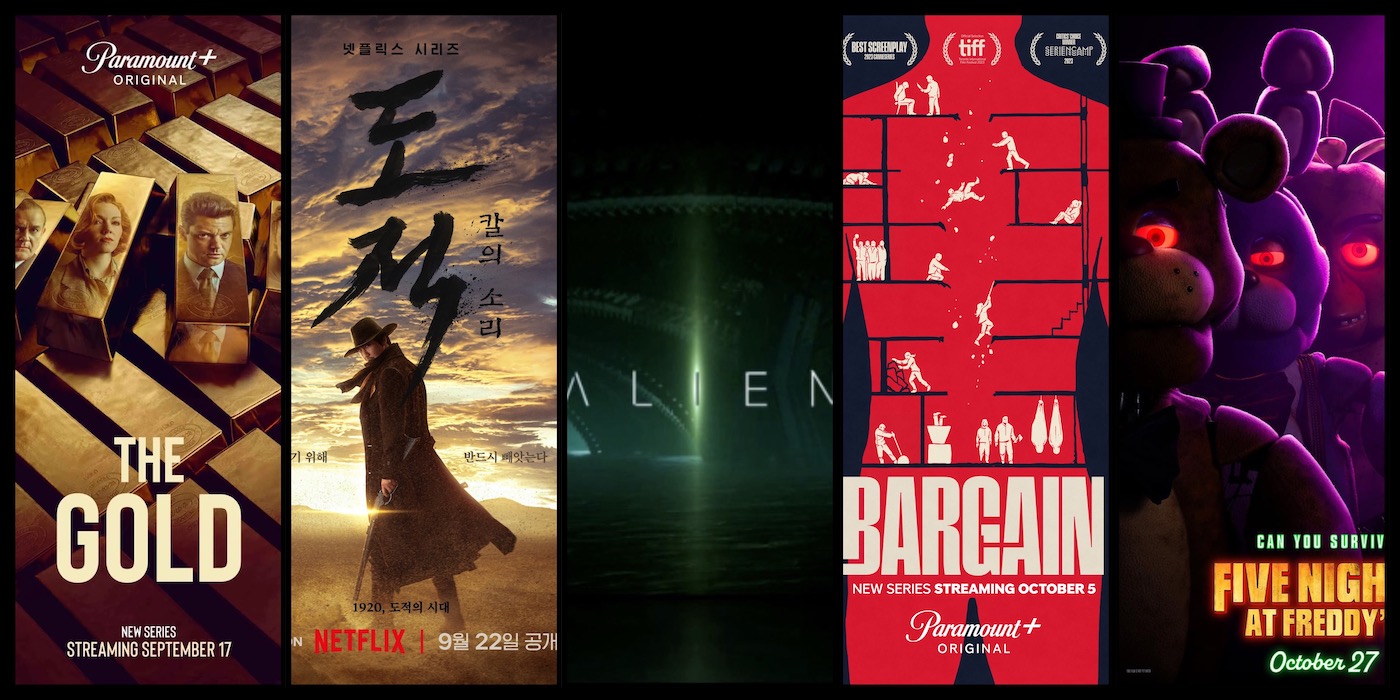 Catch up with all the big pop culture news, announcements, and new trailers you may have missed this week.
This Week's Pop Culture News
---
New Movie & TV Trailers
The Gold – Paramount+ September 17
"In the wealthy Gangnam district in the heart of Seoul, mass chaos ensues when previously normal people suddenly begin viciously attacking other citizens, leading an elite former taekwondo athlete to take on one final match against the walking dead."
Song of the Bandits – Netflix September 22
"An action-adventure set in the tumultuous period of Japanese colonial rule over Korea about a group of people who, for various reasons, end up in the lawless land of Gando and become united in protecting Joseon for the Korean people. Anticipation runs high for the intense drama that will unfold as different groups with their respective motives — including Japanese troops, the Korean Independence Army, hitmen, bandits, and Joseon migrants — face one another in the anarchic land of Gando during the 1920s."
Bargain – Paramount+ October 5
"BARGAIN revolves around a group of strangers who gather at a remote motel with ulterior motives – seeking to bargain. Unlike the original film, the series follows the characters after an unexpected earthquake traps them inside the building. With no one to trust, they must find a way to survive."
Bodies – Netflix October 19
"Four detectives, living in four different eras – 1890, 1941, 2023 & 2053 – find the body of the same murder victim in London's Whitechapel. They soon come to realize their investigations have them central to a mysterious conspiracy spanning over 150 years."
Subscribe to our newsletter!
Get Tabletop, RPG & Pop Culture news delivered directly to your inbox.
Five Nights at Freddy's – Theaters & Peacock October 27
"The terrifying horror game phenomenon becomes a blood-chilling cinematic event, as Blumhouse brings Five Nights at Freddy's to the big screen. The film follows a troubled security guard as he begins working at Freddy Fazbear's Pizza. While spending his first night on the job, he realizes the night shift at Freddy's won't be so easy to make it through."
Ferrari – Theaters Christmas 2023
"It is the summer of 1957. Behind the spectacle of Formula 1, ex-racer Enzo Ferrari is in crisis. Bankruptcy threatens the factory he and his wife, Laura, built from nothing ten years earlier. Their volatile marriage has been battered by the loss of their son, Dino, a year earlier. Ferrari struggles to acknowledge his son Piero with Lina Lardi. Meanwhile, his drivers' passion to win pushes them to the edge as they launch into the treacherous 1,000-mile race across Italy, the Mille Miglia."
---