'Star Trek: Lower Decks': "In the Cradle of Vexilon" Questions Command in Latest Episode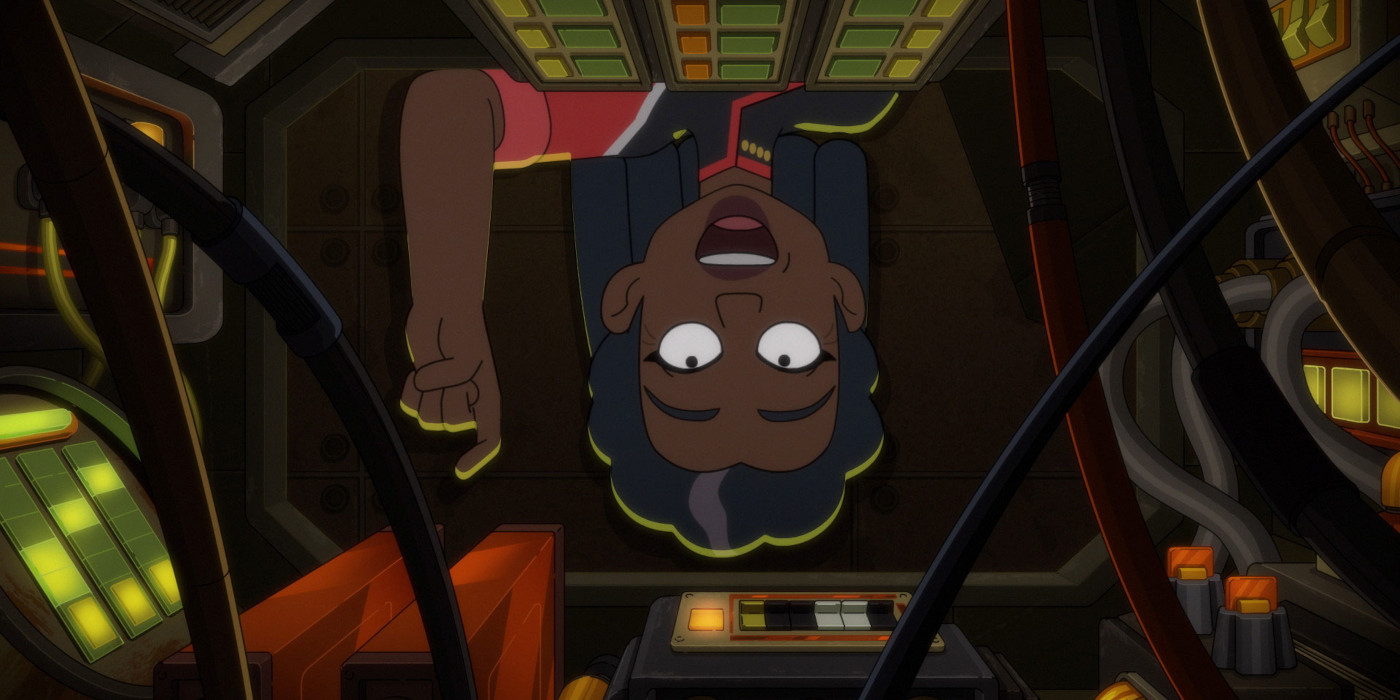 "In the Cradle of Vexilon" is about how a (not evil) computer's malfunction places an entire world at risk. But it's also about command.
The megastructure Por Sonia is home to a society of artisans. It's usually a paradise, but recently Vexilon, the sentient A.I. that keeps the world stable, has been acting up. Mountains flood, cats and dogs live together, et cetera. And it's up to the Cerritos to fix Vexilon. Captain Freeman handles Vexilon themself while Boimler takes on his first command role as lieutenant junior grade to fix a Starfleet structure which aids Vexilon.
"In the Cradle of Vexilon" is part of a proud tradition of Star Trek episodes. Planet of the artisans is a pretty common trope. And A.I. gone awry in some form is perhaps the most common plot of modern Star Trek, period.
But underneath that, the episode this one is most similar to involves neither artisans nor computers: "Pen Pals". And just like that TNG classic, "In the Cradle of Vexilon" focuses on what it means to be in charge. And that plays nicely with Star Trek: Lower Decks season 4 themes of promotion and evolution.
To Boldly Recap "In the Cradle of Vexilon"
Captain Freeman and Commander Ransom touch down on Por Sonia. Freeman decides that, with her minor in archaic technology, she can fix Vexilon herself. Meanwhile, Boimler, T'Lyn, and a few ensigns have to perform a power converter upgrade. After T'Lyn informs Boimler of the risks of the mission (the building is basically just a giant bomb), Boimler starts doing the entire mission himself so as not to endanger the rest of the team.
Meanwhile back on the Cerritos, Mariner, Tendi, and Rutherford have a far more thankless mission–find a single, faulty isolinear chip. Not only that, but they have to touch thousands of scalding chips in a room full of deadly gas to find the right one.
Tendi convinces the other two that this is hazing from a superior officer now that they are lieutenants. As revenge, the three set a trap for their superior officer that will trap him in the Wadi game Chula along with a Betazoid gift box. But Rutherford winds up in the game instead as Tendi finds the damaged chip and Mariner keeps the boss occupied.
On Por Sonia both Freeman and Boimler struggle. Eventually, Vexilon breaks down hard enough to trigger a reset of the entire mega structure viz volcanic apocalypse. To fix things Freeman finally calls down Billups (her chief engineer) and Boimler lets his ensigns do their jobs. Boimler temporarily dies in the process, but the day is ultimately saved.
To Boldly Review
If the first two episodes of this season of Star Trek: Lower Decks are about getting a promotion, "In the Cradle of Vexilon" is about how that promotion impacts the crew. At first, it seems as though Boimler has a Wesley Crusher-like fear of not commanding with confidence. However Boimler's actual anxieties come from a different fear of failure–he's afraid that if he does a bad job, his ensigns will die.
And what this episode gets right is that it actively points out that this type of anxiety never goes away. We see Freeman also struggle with command. She may not be afraid of placing Billups in danger, but she does confuse command with "doing everything". And she is afraid of killing all those artisans.
"If you want something done right, do it yourself" as a conceit is pretty heavy on the ego. But it's also very human and understandable when risk is high. Boimler and Freeman both fear delegation will lead to failure. And neither of them wants to mess up and have their mistakes hurt others.
In reality, though, command structures exist for a reason. Someone needs to lead, see things from the outside, and help people in their command adapt so jobs get done in the most efficient way possible. This lesson yields the temporary death of Boimler because, in essence, a part of him has to die. Boimler cannot be the ensign who doesn't need "buffer time". He has to lead and that means making hard, in-the-moment decisions that include risk for fellow crewmen.
Subscribe to our newsletter!
Get Tabletop, RPG & Pop Culture news delivered directly to your inbox.
By the end of this episode, Boimler is the kind of officer who can make those tough calls. It doesn't mean he always will, but he can do it.
Hazing
"In the Cradle of Vexilon" is a little disjointed. The hazing subplot exists almost entirely separate from the rest of the story. It feels like a requirement: a need for the whole cast to do something. And it also feels like a means to make sure the episode is funny. Because, despite some goofiness, the mega structure plot is mostly played straight.
Lower Decks is not a drama, it is a comedy. While I think these two main stories are disconnected, they do both work. Yes, it is very funny seeing the return of the Wadi game of Chula. And Mariner discovering that she likes this squelchy, weird jazz in spite of herself is a funny way of expressing that she is changing, too.
And let's point out the funniest moment in the entire episode. The Betazoid gift box gets zapped by one of those probes from "Inner Light" causing it to experience a simulated lifetime on a likely long-dead world. This marks the second time this season a sentient artificial life utters the phrase "I miss my wife". Devastating. Hilarious.
"In the Cradle of Vexilon" is weaker on the whole than the first two episodes, but it still solidly continues to show why Star Trek: Lower Decks works so well.
4/5 stars