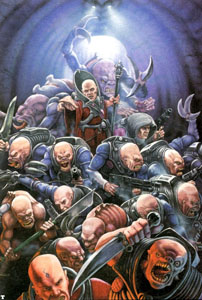 Hi everyone,
I wanted to let you all know what the Fly Lords are busy cooking up in our labs.
The Age of Heresy campaign book, was a great experience and a labor of love for all of us here. we will probably be kicking out a giant full sized (80-90 page) book like it once a year focusing on cool parts of the 40k universe that will never see a codex.
In the meantime, we will be working our way through some of the ancient mini-lists from the days of yore, and updating them to 4th edition, in a small 10 page downloadable format. These "mini-dexes" will have a page of 2 of fluff, an army list, a couple of new units and named characters, a full color miniature pics spread, and maybe a mission. In short everything you need to revive that old dusty army you have on your shelf that used to be your favorite in a nice small format.
The emphasis will be on lists that use existing minis in new ways, or revive old obsolete minis who used to have cool lists.
Our initial set of mini-dexes planned are:
Ordo-Hereticus Strike Force
Genestealer Cult
Adeptus Arbites
Let us know what you think, and as usual, all comments are welcome.