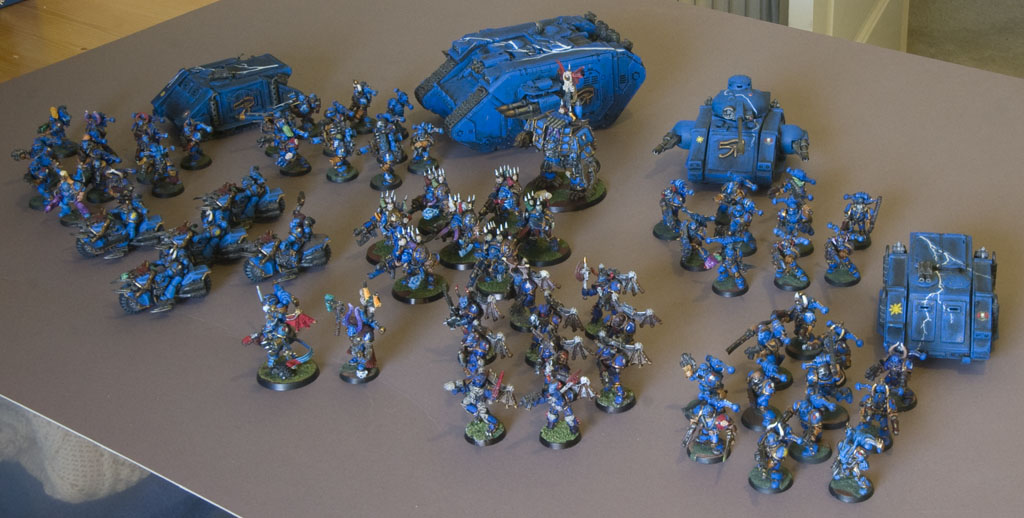 ~2nd image taken by 5-year old Littlered and attached at the insistance of Mrs.Red (she who must not be crossed)
Hi all,
Remember last week when I said I was working on a new expansion to my excessivly large Death Guard forces. Well here they are; an ancient Night Lords army that has been in Mkerr's closet unloved for years. I've dusted them off, sat down with the new CSM codex, and picked up the x-acto blade, superglue, and brush.
One of the challenges I most enjoy in this hobby, is inheriting an old "Bad News Bears" army and bringing them into the here and now with a good round of re-basing, touchups, weapon swaps, and bulking up and expanding them with current models.
Why the Night Lords? Because they are psychotic criminals in power armor of course. Of all the Index Astartes articles describing the traitor legions, I always enjoyed the tales of Mortarion and Conrad Kurze the most. Whenever I need really dastardly villians in campaigns I'm writing, its Night Lords straight away.
So far, I've re-armed and expanded the terminator squad, fixed the raptor squad, and added a handful of heavy weapons to fill in some rough spots. Here is where you guys come in. I think a cool concept would be for you all, our readers to get to boss me around a bit instead of always hearing me bleat away. I'm going to list what I have and challenge you to design the perfect 2000pt list (in keeping with the Night Lords fluff) using only the following:
1) The existing models
2) Simple bits swapout of basic and special weapons if needed (things like flamers, plasma, icons, etc)
3) Up to $100 of new models
I will leave it up to you guys to rearrange models, redefine squads, add wargear, and reason with each other and revise the suggested lists until several of you agree that the last proposed list in this thread is pretty good.
Now you see the Night lords are also a good fluff army as you can feel free to use any marks of chaos you see fit, these nasty pieces of work aren't choosy.
The Night Lords Roster
Chaos Lord (plasma pistol, on foot)
Chaos Lord (plasma pistol, jump pack)
Chaos Sorceror (on foot)
Chaos marines (12)
Flamer, meltagun
Champion (powerfist or lightning claw)
Chaos marines (12)
meltagun
Champion (powerweapon)
Chaos Havocs (10)
autocannon(x2), missile launcher(x2)
Champion (powerfist or lightning claw)
Chaos Havocs (10)
lascannon(x2), heavybolter(x2)
Champion (powerweapon)
Raptors (10)
flamer,melta
Champion (powerweapon)
Chaos Bikers (5)
plasmagun (x1)
Champion (powerweapon)
Terminators (7)
heavy flamer, combi-melta(x4), powerfist(x3)
Dreadnought
plasma-cannon, ccw, havoc
Rhinos(x2)
Predator
lascannon sponsons, autocannon turret
Land Raider
(also assume there are 40 lesser summoned daemons and 1 major available)
~I'm right in the middle of "pre-heresying" this force as the Night Lords didn't change their scheme or logo (its just a swapout of @50 backpacks). I know this isn't the greatest force, more of a generalist build, but I trust you guys to come up with some great upgrades and armylists. Whatever you guys agree on, I will buy, paint up and test. "Help me Obi-wan Kenobi, you're my only hope! "