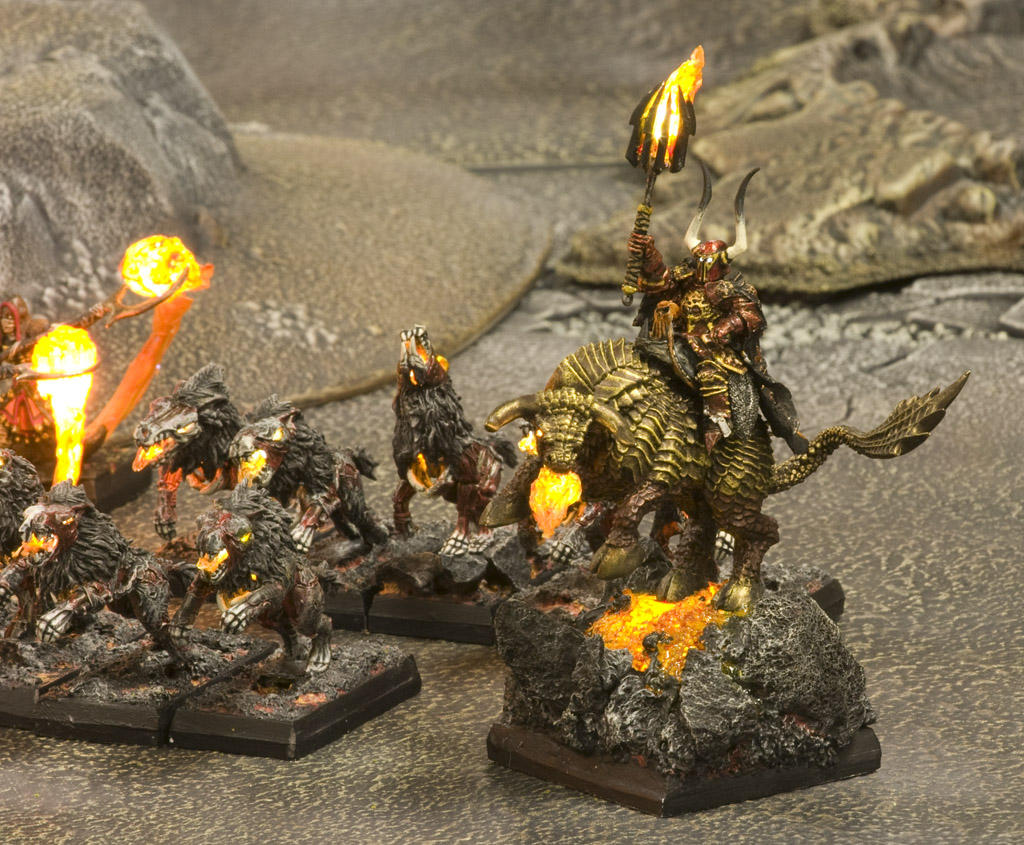 ~Hi all. In our hobby we occasionally see things that are simply beyond belief. From painting virtuosos to conversion kings and everything in between. Still, when I came upon Jody Tucker's Warhammer Fantasy Cult of Fire I sat stunned in disbelief for quite a while. Here is an idea so amazing in everything from concept on through to conversion and painting. Jody not only works with metal, plastic, and paint but with light itself. You really have to see this thing to believe it. Even the pictures don't do this masterpiece justice.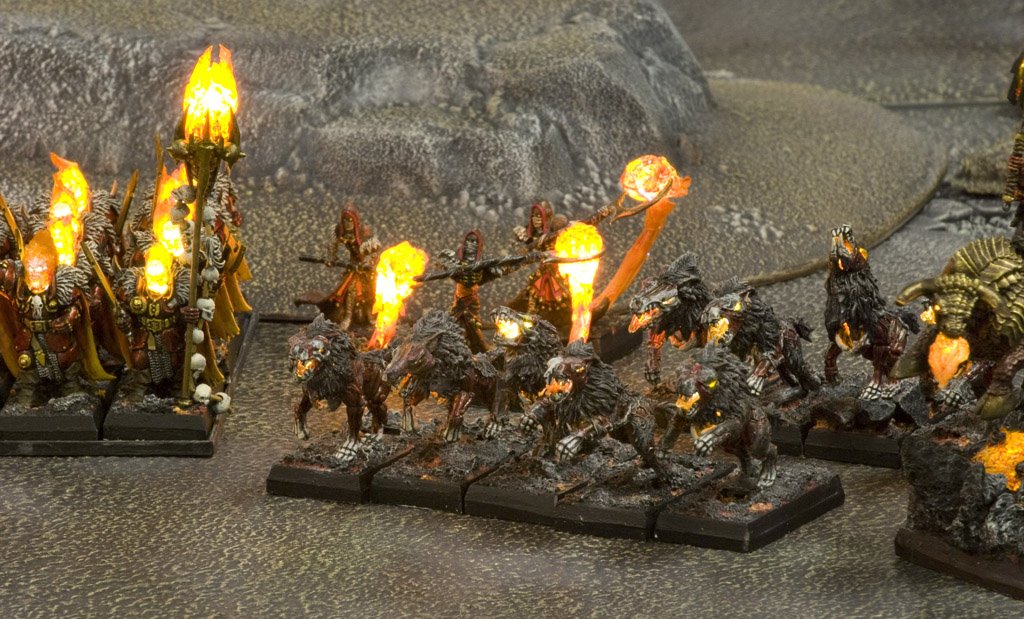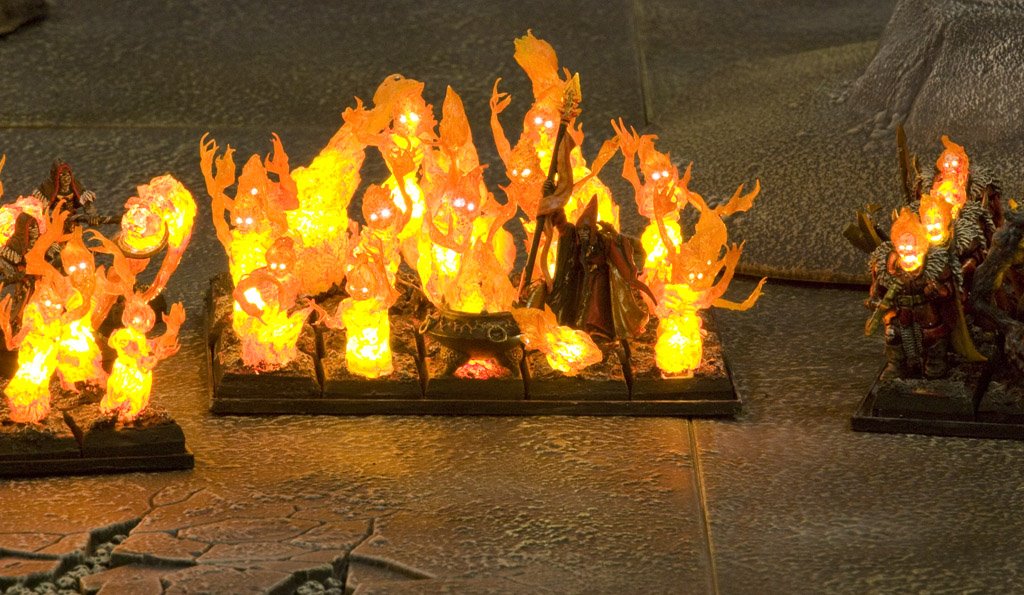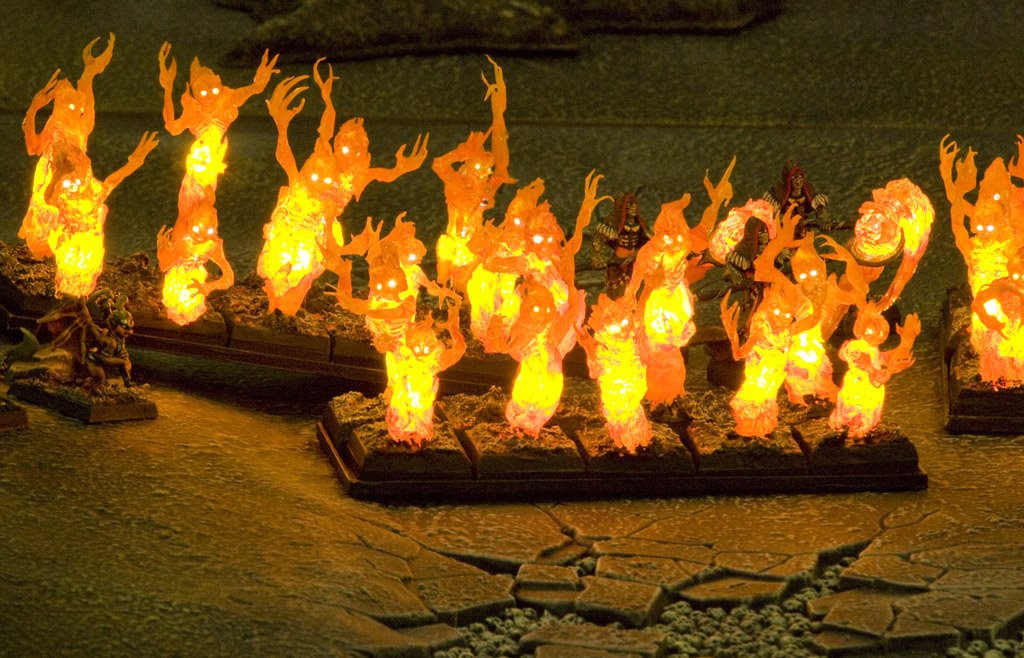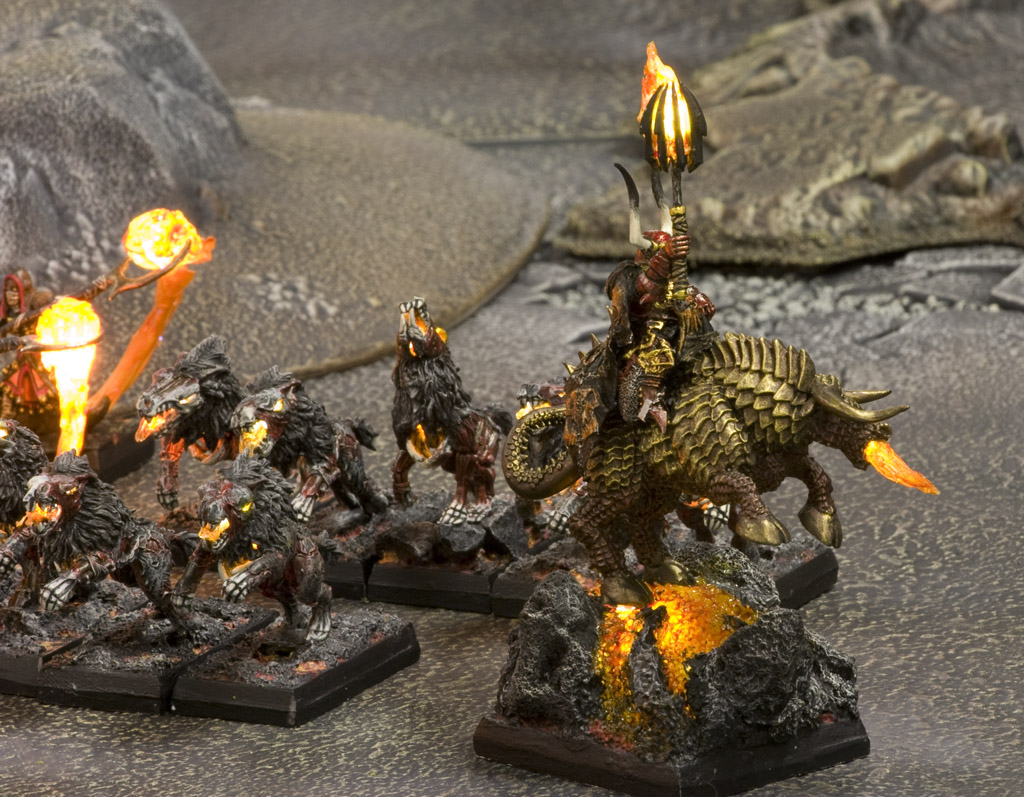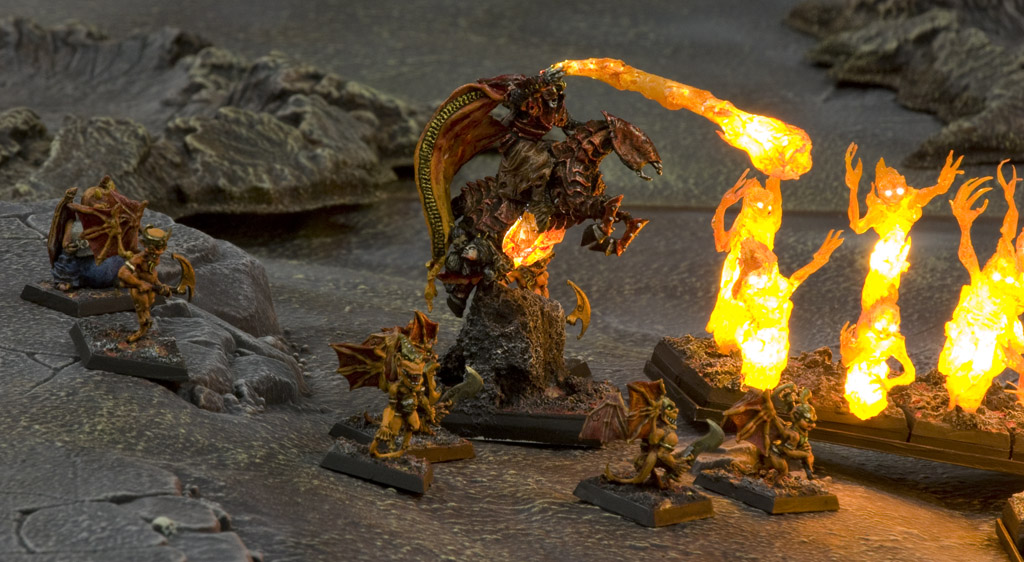 In Jody's words:
The Cult of Fire is a Daemons of Chaos army for Fantasy. Originally, it was going to be a mixed Daemon/Mortal army when Hordes of Chaos was still legit. Then the Daemon codex came out and split the two armies. At first, I thought the project was dead. But I managed to cobble together a fire theme from the new Daemons. The resulting army is pretty solid, gameplay-wise. I played it as a paper proxy army for a few months while they were under construction.
The fire spirits are Horrors of Tzeench (I call them Cinderkin), and the wizard is a Herald of Tzeench. The Warriors with the flaming skulls are being used as Plaguebearers for now, with the big crucible monster acting as a Herald of Nurgle. The burning Dire Wolves are Flesh Hounds, and the Horde Acolyths are Flamers (my buddy calls them the flaming jai-alai players). The fireball flinging wizard on a flying fire-steed is a Herald of Tzeench on a disk. That was a great Gamezone model with a good deal of conversion. But the big guy on the firebreathing bronze bull was the biggest challenge. He's a Herald of Khorne on a Juggernaut, frankensteined out of about five different models.
The glowing hearts of the models were made from a keychain light mounted into the base. I sculpted all of the torsos, heads and other fiery bits, took a mold and cast them in clear resin. Then I assembled them around the LEDs and used paints and inks to give it the fiery colors. I ran fiber-optics into the eye sockets and as a trail of sparks behind some of the fireballs. This took me nearly a year just to figure out how to do it, and then about six months of work to actually execute. But the results exceeded even my expectations.
My next step is to make this army GW legal so I can take it to an official GT, so I'm probably going to do a big model when the new plastic Daemon Prince is released.
~Bigred here. The lavish attention to detail just keeps coming at you even after you've examined the army for a time. Notice the subtle pools of glowing lava from under the burnt top layer of many of the individual bases from underlighting. Normally I like to play in a well lit room, but when Jody's Cult of Fire is on the tabletop ts hard to resist turning them down a little. Comments are welcome guys, and lets give it up for Austin Miniature Minion's Jody Tucker! Also, thats a lot of watch batteries for him to keep track of…