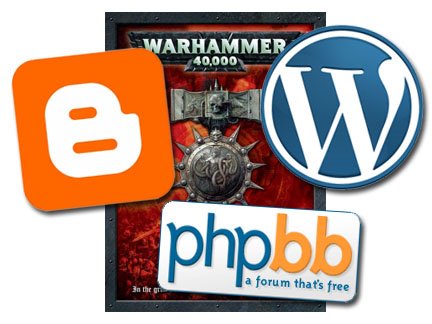 Rise of the 40K Blogosphere
Something has been stirring on the internet. We here at Bell of Lost Souls have been along for the ride into the new world of 40k blogging. No matter your platform of choice, whether it Blogger, WordPress or something else entirely, blogging seems to be here to stay when it comes to Warhammer 40K.
Warhammer players have been around for a while, but we've always laboured under the shadow of the fringe. It wasn't until the relatively recent success of Dawn of War, Warhammer Online, and other Games Workshop and 40K related software products that word of Warhammer 40K began freely spreading without consequence through the internet over the past couple of years. The end result? All kinds of comics, motivational posters and even 40K music videos on youtube, and our little niche hobby has slowly begun taking its place in the mainstream.
So as every other part of social networking and media has been intiltrated by 40K, it's only natural that a surge in Warhammer 40K bloggers was destined to follow. And what a sudden surge it has been. But it wasn't always so. Lets take trip back several years and see how we got here.
Emerging From the Swamps
As recently as 4 years ago the 40K blogosphere was virtually non-existant due to a lack of powerful self publishing tools and the prevalence of the elder-statesmen forums for the Warhammer hobby. The forums were well established, popular and easily understood by the community. They were also the only game in town on the internet for almost a decade, having evolved out of the prehistoric 1980s bbs paradigm. These communities had been firmly established for years and were often spread through word of mouth during the days before Google search. As a result, they were able to develop a large and loyal user bases who never ventured far from their chosen fix of Warhammer 40K.
However, 2005 saw the closure of the massive Portent forum, which was a truly heartfelt loss for the online Warhammer community. Countless people migrated to the other forums seeking refuge. The closure of other forums including Games Workshop's customer forums in mid 2006 further shattered the community into ever more smaller forums. While many of the old forums still remain, the online Warhammer community became far more nomadic in their approach to online resources, dabbling in all manner of websites that they came across. Over time new forums sprung up with a strong focus on particular races in the Warhammer 40K universe in preference to the open approach of the old guard generalist forums, which tended to cover anything and everything related to the Games Workshop hobby.
Something else occurred in those critical two years. Blogs were rising, and with them, more and more powerful platforms and tools. As the warhammer hobbyists scattered, some found refuge in thier own little piece of the blogosphere.
It's hard to imagine that merely three years ago in 2006 Bell of Lost Souls was a simple blog for our local Austin war games group, set up to hold pics of our minis and hair-brained rules ideas. Back then before we slowly began to branch out and link with the other 40k blogs BoLS was just a way for the Fly Lords to keep in touch with each others projects without having to haul all our stuff to our FLGS every week. The very few Warhammer 40K blogs at the time cross linked to each other as we stumbled upon each other. That way, it would be easy for our readers to find more relevant 40K content.
In 2007 there were more of us, but still nothing big, and the odd blog sometimes recieved shortlived attention if they did something that was noticed by the big forums. But 2008 was coming and in it we grew like weeds. It was the year it all changed for 40K blogging. Some bloggers stuck to a specific subject like the Eldar Wind-rider specialists of Way of Saim Hann, while many other formed loose feed networks like From The Warp, much like a blog version of the venerable web-rings. Others directed their efforts towards the 40K journalism route, like us here at BoLS, reporting on the latest news, reviews and rumours all our standard painting articles and army tactics thrown in for good measure. For the first time, in late 2008, several blogs had become destinations in thier own right.
Web 2.0 and Social Networking
Web 2.0 is a popular term banded about by the media with regards to the internet and the rise in online social networking. Blogs are pushing ever more towards the Web 2.0 social networking model of communication, acting as both a personal website, soap box and means of connecting with countless other bloggers who are all recording their own projects, providing resources for their readers and creating an interlinked community. With each passing month, new widgets, upgrades and features are added by the platforms to bind them ever most closely in the social networking worldview.
In many ways the 40k blogs combine the best elements of journals, web pages and magazines, allowing a blogger to freely express their interests using all varieties of media. And the obvious appeal of blogs over hosting your own website is that they are free! New 40k blogs are popping up every day and the sheer amount of content bloggers can generate as a whole is outstanding. A typical example is Warhammer Tau which has only been around for a couple of months, but is growing with its unique Tau-centric content.
Google's Blogger in particular caught on like wildfire simply because it was free and easy to use for non-technical writers. While WordPress is a more potent and flexible platform; its higher level of technical understanding pushed most of the hobbyists straight into Google's hands. Recent blog addons such as Google Connect, Facebook Connect, and DISQUS even allow posters to retain their avatar and commenting history as they move across multiple blogs, in effect turning the blogosphere into a single internet-wide distributed forum.
So if you ever got fed up with the sheer massiveness of the big forums and yearned for your own little web space to write about your army, post pictures, battle reports and conversions guides while generally rambling away to your heart's content about how you crushed your opponents, got eaten by Tyranids or how cheesy the new Ork codex is, then blogging might just be the outlet for you. There's a rapidly growing community ready to welcome you into the fold and thanks to Google, you'll be amazed by the number of readers you'll receive. We've been out here for 3 years now, and let me tell you… the water's fine!
~Your thoughts on the 40k blogosphere are welcome, as well as what you think the Warhammer internet community might look like in a couple years. If you ever wanted to ask about bloggin in general this the place to ask questions and get your feet wet. Enjoy guys!