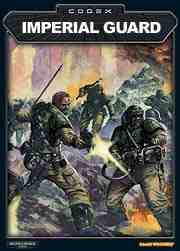 Hi all, Jwolf here. I'm getting terribly excited about the new Imperial Guard Codex, and now I'm breaking my promise to myself to wait until I have a complete codex in hand to design my lists. Without further ado, here's my dream list first, so you don't have to scroll down. No points costs, but I have a feeling I'm pretty close to 2000 points of Tallarn 40k goodness. If I'm over, I'll see what to cut, but this is the time to be dreaming and theorizing based on what we know, and this is the force I'm dreaming of using.
HQ
Captain Al'Rahem (I expect he'll give the ability to Outflank to my units, but it doesn't matter, as Al'Rahem has been in my army as an HSO forever).
Advisors – Officer of the Fleet (-1 enemy reserve rolls), Master of Ordnance (Basilisk in a Flak Jacket)
Elite
Ratlings x10
Stormtroopers x10 in a Valkyrie
Veterans x 6, 3 meltaguns
Troops
Heavy Platoon
Squad A 3x Lascannons
Squad B 3x Missile Launchers
Squad C 3x Autocannons
Assault Platoon
Squad A 2x Flamers
Squad B 2x Flamers
Squad C 3x Meltas
Penal Platoon
Squad A (Meltagun) in a Chimera
Squad B (Meltagun) in a Chimera
Fast Attack
Hellhound
Hellhound
Devildog
Heavy Support
Leman Russ Battle Tank 3x Heavy Bolters
Leman Russ Eradicator Plasma Cannon Sponsons
Medusa (S10 AP1? Hell yes!)
Expect 10 scoring units and enough killpoints to choke a horse.
Tactics
Now to using the army. In most circumstances, the HQ, Ratlings, Heavy Platoon, Fast Attack and Heavy Support will start on the board. Their job is simple – shoot stuff until nothing is moving, then shoot the pieces. The Stormtroopers will be used to come in from Reserve and harass enemy advancing forces or outflank and go after enemy fire support. They will most often leave the Valkyrie on their first turn to generate more targeting problems for the enemy. The Veterans will outflank if the enemy has a vehicle firebase or find some other way to be useful. The Assault Platoon will be used to advance towards objectives in my area after entering from Reserve, unless they are needed to provide infantry screening for a tank bunker. Penal Platoon is the distant objective grabbers, coming in from the flanks and charging towards objectives in their Chimeras. Their stubbornness can help them charge against superior foes and live to tell about it, at least for a turn.
Q&A
Q: How do you know that you have the points costs right?
A: I don't and I'm probably off, but I don't care. At this distance from release, dreaming is more fun than doing guesswork math.

Q: With so much in Reserve, why no Astropath for +1 Reserve rolls?
A: Because I want the Reserves to stay safe a bit longer. I may change my mind later, we'll see.

Q: What do you plan to do about assault forces?
A: Let guys die and shoot the assaulters, just like I've been doing all of 5e.
~As usual, the Tallarn suggestion box is open guys. How would you fight against Jwolf's army? How would you build your IG force differently based on the info we know? Fire at will commenters!