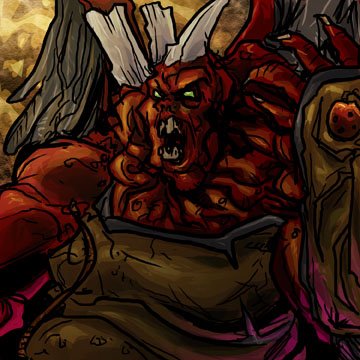 I am sure most of you have seen the upcoming IG codex, or have at least read and digested the Imperial Guard codex rumors. So we all are seeing all the new goodies and the newest army to breathe in codex creep. Today, I've decided to chat a bit about how I am not going to enjoy playing JWolf with his Guard army, and ways we might be able to stem the tide of the Green Army Men.
Good things about the IG Codex.
There are so many army build options in here that I feel you could make just about any type of fun and cool army. From the HQ's all the way down to the lowly troops, you can create all sorts of neat IG armies that are even, "gasp" fun to play and play against. That is a great thing, when most codices seem to fall into one or two effective power-builds and then a bunch of over-costed lists that just don't bring the fun like you want them too. So from a design perspective, I feel that army book is a home run. You have lots of neat options, as well as bits and pieces that can create themed and fun armies. So kudos to GW on this, as I am hoping this trend continues in the rumored upcoming Space Wolves as well as Dark Eldar codices
Bad things about the IG Codex.
This codex pushes the limits of codex creep like none before it. All our local players have started building their old lists in the codex, and have noticed 300+ points extra at the end of the build (we play 2000 point games). That is scary, as it allows you so many more options to add into the army, and so many more guns to bring to bear on your opponent. We all think things should be cheaper, but this is getting a bit crazy here.
The Imperial Guard are also one of the only Warhammer 40k forces that can bring 15+ lascannons to the game with ease. We all remember how awesome they were back in the day, but with the changes in the 5th edition vehicle explosion chart, the lowly lascannon was pushed to the wayside. If you run the math, it takes 18 lascannons to get the "guaranteed" kill. This is when shooting with marines and not with guardsmen. But with the new codex, the Guard will be able to take a large amount of lascannons, giving them a shot to kill something big ans scare easily per turn, let alone destroy any of the smaller stuff that people are playing now that the playerbase is gradually shifting towards melta.
Also, you have the new change to a horde style list mixed with extremely efficient heavy weapons. Could you imagine Orks having more ap 1 to 2 weapons? Now, guard can effectively out play the horde game that the Ork codex created. We all love killing stuff, but after playing a few games, where killing a 100 Guardsmen doesn't mean you win, you may end up finding the guard meatgrinder a bit of a bore. It will also make the IG players game pretty much similar from opponent to opponent.
The biggest thing I fear, is that players will discover an "Ultimate IG army build", and lend the army a monotonous feel. When you see an IG mixed horde list, you often just hope you can manage to draw them, and everyone else draws so you can still be towards the top. Hell I feel that way now about a lot of Guard armies, as they just sit there and shoot your limbs off. When you are only playing one aspect of the game, it really makes you feel like you are wasting your day away trying to kill all the army guys. I just find it hard to find fun in the competitive circle of this codex, and just hope the sheer cost of creating an army will keep a lot of my regular foes away from it.
How will we deal with it?
Well, there are a few ways we can try to combat this endless shooty menace. Drop pod marines might end up getting better. They can concentrate on a IG flank, leaving the other IG side out of the fight as they bring a full army to bear onto the one side. Now of course the IG player will take the reserve roll guy, and screw that up, but you can hope they don't want too. This can also work with Daemons, as they have a good flamer attack that can hit multiple squads. It all really depends on what kind of list the IG player is playing.
The other army that might be interesting is the Tyranid Psychic Scream builds. -5 to the guardsmen's leadership will be a pain, mixed with lots and lots of pinning weapons. For those that are not sure how this works, you can put a barbed strangler and scything talons on an elite fex and you are off to the pinning races! With the guard army being huge, you are bound to hit a few guys on the table, and every change to pin at -5 is pretty good. Of course the tanks will hurt, but you can hope your outflanking genestealers will cause enough issues, if they make it there and throw the IG man walls.
Finally, templates, templates, templates. If you can't outshoot the guard with their high numbers and ability to go to ground with little penalty, burn them out of their foxholes.
Is this the end?
Of course not! You have to remember that any army, when played by an experienced player, is a threat no matter how old their codex is. The player has to know his army inside out to make it an effective tool for winning. Our local area is tweaked towards chaos, orks and surprisingly IG (due to Macharian Crusade), so we are already hard at work dissecting the codex to find its strengths and vulnerabilities.
From a hobby angle, if you don't have an IG army already, be prepared to drop a large amount of cash on the product. 4-5 point guardsmen means you will need a ton of 10 man boxes. And unlike the Orks, there isn't a Black Reach box set that can give you 20 basic dudes and enough other stuff to make those 20 guys cost effective.
This codex won't make me stop playing the game, nor will it make me go out and paint up a new IG army (I just don't like army dudes). I think it will add some fun to the Thursday night fights and some headaches to the local Saturday tournament metagame. For those that are wanting to play IG, either jump in with both feet, or wait a few months and as some people finding it hard to figure out the codex, they might drop their minis on ebay quickly heh.
As usual send your questions to my email.