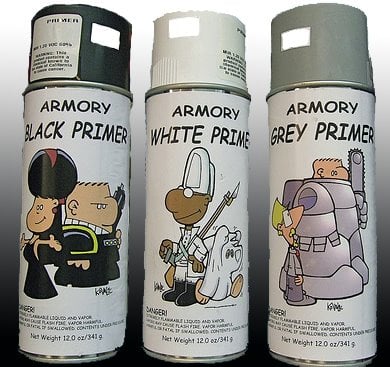 I am writing this for those Warhammer painters who have difficulty with spray primers, and/or are looking to get an understanding on how they work. In my experience bad spray primer results are much like auto accidents. 4% of the time is it the fault of the primer and 96% of the time is it operator error. This article is about fixing operator error.
Before I get into the meat of this subject there is one related subject I would like to touch on: Figure Prep. I am not going to get into the fine points of figure prep here, but a little bit of figure prep will go a long way to good primer coats. The most important of which is once you are done sanding, filing, and cleaning up the mold trash you should wash your figure with warm water, soap, and a soft tooth brush, and then allow the figure to dry thoroughly. This will allow your primer to get the best possible adhesion with your figure.
Spray primers come in all varieties and types. They can be found at an auto supply, home improvement store, hobby shop, and at your "big box" discount stores. Some primers are better than others, but your best bet will be to experiment with a few brands and find what works best for you and your climate.
Not all spray paints are primer. The can must say primer on it for it to be primer. I am sure I will get half a dozen replies that say, "I use such and such spray paint and it works fine." Great! It is not primer. Primer contains chemicals that do two things: protect the surface you are painting, and allow paint to adhere to the surface better. The second effect is what we want. Primer will extend the lifetime of your paint jobs. The rule to drill in to your mind is: All primer is paint, but not all paint is primer.
When using your spray primer it is a good idea to let it sit inside for twenty four hours. This will allow the primer to come to an even temperature, which will help you when you start spraying. Next, check the weather. http://www.srh.noaa.gov/ is the US National Weather Service site I go to for the current conditions outside. Chances are pretty good you do not own a paint booth so you will be painting outside, and knowing the weather conditions is super important. I will explain why later. Finally, for new cans, shake the can for a good long while. I start at about five minutes worth of shaking.
The weather is super important to know when you plan on using spray primers. First there is a temperature sweet spot. I have found that 60 to 90 degrees Fahrenheit works best for me. I learned this through the instructions on the cans of paint and trial and error. When it is too warm the paint dries on its way to the surface of the figure which will produce a powdery finish. When it is too cold the paint seems to not dry well, and ends up not adhering to the surface as well.
Humidity is your next factor. Now this is only important if it is too high and not as important if it is too low. If the humidity is too high and you use a spray primer then you are looking at an effect that some call "orange peel." It is called this because the surface of your figure will look like an orange peel. If you combine high heat with high humidity then you will get an effect on your figure that will look like a course grit sand paper. If the humidity is real low you will need to adjust the spray distance closer to the figure. This is because the paint is actually drying before it reaches the figure and it will produce a Christmas tree flock effect. I have found 65% relative humidity and lower is usually pretty safe.
Wind is another consideration, but can easily be mitigated by spraying inside a garage or a shed. However, do not spray in these places unless you have plenty of ventilation. Too much wind will destroy some of the control you need for priming. Wind is such a variable factor with variable effects
The distance that you are spraying from is important. My advice is to follow the manufacturer's instructions on how far the spray nozzle is from your surface/ miniature. If you are too close then you will fill in details with the paint, and if you are too far away then you will get an ugly powder coat on the figure. My best advice on distance from your figure is start out at 6" and then adjust in or out as needed.
The way you move your hand and arm is also important while spray painting. This is only something that will be learned through practice. I would suggest the speed of waving at someone a good place to start. Along with hand and arm motion is coordinating when to press the spray nozzle. You should press the nozzle before your figure and stop when the spray is past your figure. A common error is holding the nozzle down and passing the spray back and forth across the figure. Spray in one direction. Once you have reached the end of the line, stop, reset, and start back at the same point. In the end you will find what works best for you through trial and error.
A question that commonly arises about primer is after an undesired effect is achieved. The question is, "What do I do now after the primer is dry and I have orange peel or (insert effect description here)?" There are three options. The first, and least desirable, option is to strip the figure and start over. The second option is to file the area down to bare metal and spot prime with a brush on primer. The last option is to use ultra fine grit sandpaper, or a stiff tooth brush, and lightly sand the rough areas smooth. All of these options take time, but chances are good that the reason for the problem in the first place was operator error. Enough of correcting these mistakes will cure anyone of making them too often.
If spray primer is not an option then I suggest that you look at paint-on primers. Since Games Workshop stopped making Smelly Primer, I started looking around for an alternative. Reaper makes a black and white paint-on primer that I really like, which also works well in an airbrush. I have heard that Gunze makes some high quality paint-on primers, but I have not had the opportunity to use them. The key to paint on primers is multiple thin coats.
Before you paint your figures lay down a good primer coat. This is one of the most essential steps in painting that is too often ignored, and least talked about.
Hey readers I know I have been writing a lot of "basics" articles. My goal has been to expand the Bell of Lost Souls hobby reference material. I would like to know if this is something you want more of, or are you interested in other topics. If you don't tell me I'll keep chipping away at this project. Don't worry tutorial and building stuff articles will be happening soon.