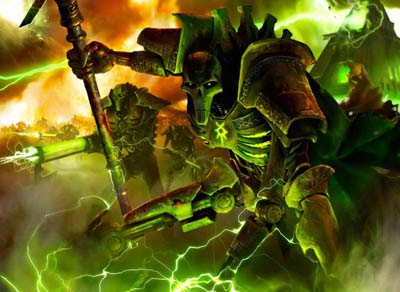 Since 5th edition took much of the punch out of the 4th edition style necrons. I've decided to take another look at all the available options from the codex.
This last week, I took a close look at the scarab swarm fast attack option. There are a number of possible uses for these much maligned little metal bugs.
Pros:
Scarab swarms are super fast, moving like jetbikes. They also get to ignore terrain as they move. The new 5th edition rules mean the swarms get a 2+ cover save when turbo-boosting with their small target rule.
They also have 3 wounds and 3 attacks each. They can tie up a small squad for quite some time as they are also fearless. It's almost like having 3 wound guardsman.
Cons:
Toughness 3 means they get instant death from any strength 6 things they might come across. That means they are not so good for tying up monstrous creatures.
With only a 5+ save, they tend to fall quickly against massed shooting or close combat attacks, and their WS 2 means they are nearly always hit on 3s.
Vulnerable to blasts means things like the hellhound or redeemer flame templates, or any of the massed guard ordinance will instant kill 2 templates for each wound they do. Combined with ignoring turbo-boost cover saves, ouch.
Tricks:
A small squad of 4-6 swarm bases turbo-boosting toward the enemy lines may be enough to draw some fire off the main army. If not, they can cause a lot of trouble for enemy tanks with the disruption field upgrade. In assault, if they can use their speed to attack a flank they may get assault on a support squad or heavy weapons team.
Dirty Tricks:
A large squad of swarm bases, combined with a destroyer lord with the lightning field upgrade can make assaults painful for your opponent. Even a strength 3 return hit for each wound done to the squad can force a good deal of saves. Combined with the normal attacks from the lord and the bases themselves and it can get pretty nasty. Its even worse for really mean assault units who inflict tons of wounds or have poor armor themselves (I'm looking at you Berzerkers and Ork boyz).
~Has anyone else tried using scarab bases in their necron armies or has anyone had scarabs used effectively against them? I think these squads might have a small place in some 5th edition necron armies.