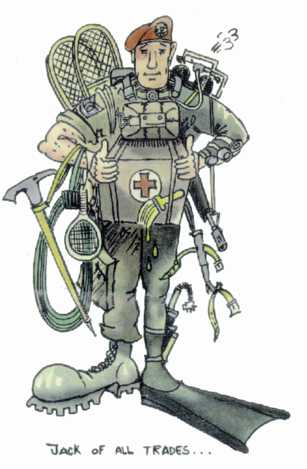 Jwolf, taking a break from BoLSCon preparation again.
I've noticed that I talk about the concept of All-Comer's Lists (ACL) and get a lot of unrelated comments. So I guess I'll define the ACL at 2000 points so we can all know what we're talking about.
-ACL Item 1: Transports. A good ACL has transports, both to allow more mobility for troops and cover as needed.
-ACL Item 2: Transport Killers. Since most transports are AV 12 or less, we want a good volume of fire that kills transports. Lascannons are too expensive in this roll; Autocannons are great.
-ACL Item 3: Heavy Armor Killers. In most armies Meltaguns and Vehicle-mounted Multimeltas are the best choices for killing AV14.
-ACL Item 4: Unit Killers. Here's where we run into radical variations, based on army list and playstyle choices. Ordnance weapons and super assault units are both Unit Killers.
-ACL Item 5: Objective Takers. A good ACL has 4 or more Objective Takers. More can be useful, less are a weakness.
-ACL Item 6: Wild Cards. It's important to keep your opponent at least somewhat off guard.
Wild Cards are things like Outflankers, Fast Movers, Summoned Daemons, Deep Strikers, and Death Strike Missiles. None of these really win games, but they all help disrupt you opponents' focus on what is going to win you the game.
Notice I don't even consider the survivability of your own units. Living isn't anywhere near as important as killing you opponent. If you have a significant disadvantage in the killing arena, just throw everything into Reserves and play for the late win/draw. If you have the advantage, deploy everything (except possibly Wild Cards) and go for the kills. It is always preferable to kill as many enemy units as possible – dead enemies can't surprise you later.
Here's a 2000 point ACL for Eldar:
2000 Pts – Eldar Roster – Eldrad All-Comer's List
-Eldrad
-Autarch – Mandiblaster; Power Weapon; Shuriken Pistol; Fusion Gun; Haywire Grenades; Plasma Grenades
-2x 5 Fire Dragons – Fusion Gun; Melta Bombs
In Wave Serpent – TL Shuriken Catapult; TL Shuriken Cannons
-5 Striking Scorpions and 1 Striking Scorpion Exarch – Shadowstrike
-2x 10 G Storm Squad – Close Combat Weapon; Shuriken Pistol; Flamers(x2)
With Warlocks – Destructor; Shuriken Pistol; Witchblade
In Wave Serpents – TL Shuriken Catapult; TL Shuriken Cannons
-2x 3 Guardian Jetbike Squadron – Shuriken Cannon(x1); TL Shuriken Catapult(x2)
-2x Vyper – Bright Lance; TL Shuriken Catapult
-Fire Prism – Spirit Stone; TL Shuriken Catapult; Prism Cannon
-Fire Prism – Holo-Field; Spirit Stone; TL Shuriken Catapult; Prism Cannon
-Wraithlord – Flamer (x2); Wraithsword; Bright Lance
Total Roster Cost: 1994

This list has plenty of Eldar tanks, which are fine vehicles if you resist giving them too many upgrades. The Jetbikes are almost always in Reserve for late game grabbing. Every unit has the ability to kill AV12. The Vypers can theoretically kill any tank in the game (probably won't, but they can) so use them either to distract early or kill late, your choice. The Wraithlord is a very good unit killer, and Eldrad makes even the Storm Guardians capable of killing units.
~Give it a spin and let me know what you think. Also what are your criteria for all comers lists in general?