Those folks over at Fantasy Flight Games are kicking their Warhammer games into overdrive. Hot on the heels of anouncing the Rogue Trader RPG, and Chaos in the Old World, we get this new offering: Warhammer: Invasion Card Game.
"Warhammer Fantasy has been in existence for over two decades. Now, Fantasy Flight Games is proud to announce the Warhammer: Invasion LCG! Taking place in the war-torn setting of Warhammer Fantasy, players muster their forces, collect vast resources, venture out on perilous -but rewarding- quests, build and develop their kingdom, and lead massive sieges against heavily fortified foes. Designed by Eric M. Lang, award-winning designer of the Call of Cthulhu and A Game of Thrones card games, Warhammer: Invasion puts you in charge of an empire seeking to rule the lands.

Will you play the indestructible grudge-bearing Dwarfs, the shrewd and manoeuvrable Empire, the savage and destructive Orcs, or the entropic and mutating forces of Chaos? Or will you cleverly craft an alliance, playing the combined might of the forces of either Order or Destruction?"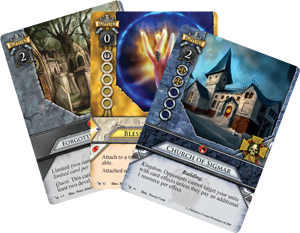 Warhammer Invasion LCG Core Set contains:

1 Rulebook
220 Cards representing 4 factions
4 Capital Boards
35 Resource Tokens
60 Damage Tokens
4 Burning Tokens

MRSP: $39.95
No release date listed.
~There was initially a decent period of lag after FFG first got the GW licence, but they seem to be truckin along now.