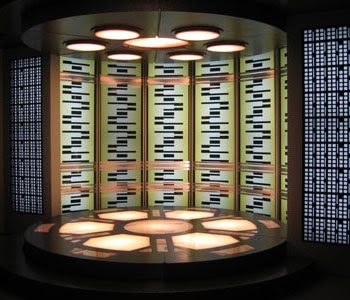 Fritz from Way of Saim-Hann
here with some thoughts on deepstriking in 40K. Now I am only going on what I see in my local gaming group and in the NY tourney scene, so correct me if I am wrong, but in tournaments and on the friendly tabletop I never see any type of serious deepstriking by my opponents. I'm not talking about armies like Chaos Daemons and Deathwing, or assisted DS with icons and teleport homers, but rather naked all or nothing deepstriking to fundamentally change the game.
I can understand why I'm not seeing it from the mathhammer perspective- a pricy unit like terminators that may not arrive when you need them, and even with a slight scatter it could take them out of the game. A good opponent will also use strategic unit placement to limit your deerstike ability, etc. That said, I totally believe there is a place and a time for it, even in tournaments if you have the courage for it and it can and does win games. Let's go to the examples…
My Space Marines Vs. Imperial Guard, capture and control, the battlefield littered with exploded rhinos and space marines taking cover from leman russ tanks. There is no way I'm getting to my opponent's objective and I've got mine locked down tight so there is no way the IG is taking or contesting mine. High in orbit on the strike cruiser is a group of assault terminators waiting for the command to deepstrike. "Priests of Mars Engage! Emperor Protects!"
Terminators arrive top of turn three and I'm looking around on the table where to place them. My opponent's objective is behind a stone tower surrounded by russ tanks and chimera spam. The top of the tower is not defended and is just close enough to contest said objective… I go for it and BAM! I land dead on. Dangerous terrain? Bah! I pass my rolls. We are playing true line of sight so those russ tanks need to back up to see the tops of my terminators burning a turn of shooting. I go to ground for the 3+ as needed and if the game actually ended on turn five I would have won, turn six had my termies blasted with the game ending in a tie.
Of course in my next game vs. Necrons my terminators scattered like 10" right into a group of immortals and promptly vanished in the warp. Many times I've set the 1st company of the chapter back 100 years…
Second example is with my Death Guard Vs. Eldar in an objective based mission. Typhus and his terminators are held in reserve and arrive mid game where I promptly drop him right next to a full dire avenger unit that is camping on an objective. Invoke the dark gods, roll the scatter, and I land dead on frying said avengers with winds of chaos and bolter fire. If I deviated even a bit the unit could have been lost or out of range to really do anything before taking a face full of blade storm fire in return.
In both examples the feeling that I got from my opponent was that nobody is crazy enough to risk a close deepstrike with such expensive units so they don't cover their holes on the table. No need to protect the tower or harden the objective with more units, and THAT is what I am looking to exploit in the moment. If I lose the units I lose them, but If I land it is something we will be talking about for days after.
~What do you guys think about crazy deepstrikes? Valid tactic? Noob fantasy? How do you use your deep-strikers and why?