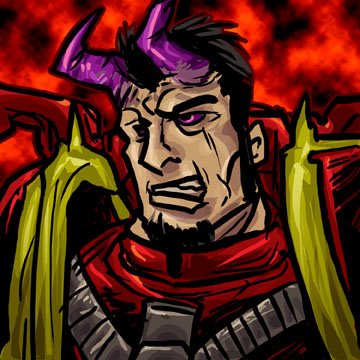 Goatboy here again – chatting about Space Wolves and some of the fun things I have been messing with lately. As you all know, my Space Goats chapter is nearing completion. I can't help painting those jerky skull white goats. In my play testing I have really come to like Thunder Wolves. Now until we get a real FAQ with the whole, "are they strength/toughness base 5 or not", we can't completely cry "OH MY GAWDS THIS IS UBER BROKEN!!! GW SUXXOR AND IS THE FAIL!!!". But we can discuss some of the uses of this unit and what it can bring to your Space Wolves army.
First of all, lets look at what we get out of the whole wolf mount thing. We get a stat bump of +1 Strength, Toughness and Attack. That is pretty cool, especially when dealing with the combat monsters that a Wolflord can become when attached to one of these smelly beasts. You also get classified as calvary as well as rending. Rending is a kinda funky bonus, as most of the time your Lord has some kind of special weapon that makes rending feel like parsley on a dinner plate. Yes if you want a super cheap lord, getting rending is pretty cool, but it is still something you will rarely want to roll when hitting a squad of marines.
The calvary bonus is pretty interesting as it gives you a really neat ability to almost ignore rapid fire. What I mean by this, is that most of the time, when you will be crashing into your enemy, you will most likely be 20 inches or so away (Fleet + 12″ charge). So if your opponent did move to get into range, he will still be outside the magical 12″, double tap range you might see most of the time. This is really an interesting move on GW to give a super assault unit a really intense feeling of crashing into your opponent that is reminiscent of Fantasy and the crashing of knights into rank up infantry.
Alright so now you have the basic bonus of the wild and wooly wolf rider what uses are they in the grand picture of 40k? Of course we understand they make an HQ unit powerful, but the actual unit itself has a few uses that are beyond the basic "kill them before they kill you".
Wolflord Pizza Delivery!!
The first use I have found is as a super assault lord delivery unit. I am sure we all have heard the crazy things a Saga of the Warrior borne guy can do when left to hit unit after unit. I have gotten 12 attacks so far with one of these monsters, and was only limited by hitting a Daemon Prince after eating another unit of guys. Getting one of these guys into a line is a very scary thing, especially when you start to look at 30+ ork boyz running around and the amount of bonus attacks you will have after 2 rounds of green skin killing. The amount of "extra" wounds the Wolflord will have will usually ensure a nice and warm pizza delivered into whatever enemy home you want. Plus, the extra attacks then can add into an ensuing combat can help you spread the love and blow up as many units as you can.
Oh Look at Me! Pay attention to ME!!!
The second use I have found for the unit is as a superb bluff unit. The models end up being so large and so fast moving that they excel in the whole, making the opponent pay attention to them as your troops move out to get ahold of objectives. I have had multiple armies pour fire and units in trying to stop the Thunder Wolf Cav. Yes they end up killing it, but in turn they have left themselves wide open to counter assaults as well as having to waste 2 to 3 turns to get rid of the crazy wolf guys. Most of the time, one unit of Thunder Wolves comes to 280 points and usually takes about 500 – 700 points of an opponent to try and resolve. So most of the time they usually get their points back as you get your Grey Hunters/Wolflords/or Rune Priests into position to do dirty psychic tricks to them.
My Big Fat Screening.
Another use for this unit is as a big screening unit for your vehicles. The models are huge and they can easily cover your vehicles behind them. This gives you another screening unit that can also put out some hurt if need be. I doubt you will see them used as this, but it is another options as the overall cost of the unit at its base level is not too bad. Plus you have a nice assault unit that can give a nice counter charge if need be.
I have been messing with some lists based on what I have painted. Currently another Goat Hunters squad as well as some Goat Scouts are currently on the painting bench. Besides that look for more Thunder Wolves as well as some new converted Wolf Lords and Iron Priests. We will see what I will end up with for Adepticon :).
Thunder Wolf Bluff/Pizza Delivery System
HQ: Wolflord, Saga of the Warrior Borne, Thunder Wolf, Storm Shield, Runic Armor, Frost Axe – 255pts
HQ: Njal – 245pts
Elites: Lone Wolf, Terminator Armor, Chainfist, Storm Shield, Fenris Wolves X 2 – 105pts
Elites: Lone Wolf, Terminator Armor, Chainfist, Storm Shield, Fenris Wolves X 2 – 105pts
Troops: Grey Hunters (10), Meltagun (2), MoW – 170pts
Troops: Grey Hunters (10), Meltagun (2), MoW – 170pts
FA: Thunder Wolf Cav (5), Powerfist – 280pts
FA: Fenris Wolves (10) – 80pts
Heavy: LRC, MM – 260pts
Heavy: LRR, MM – 250pts
This leaves me 80 points I could mess around with. I could drop Njal, get a regular Rune Priest and look at adding another Wolflord if I wanted to. I also know the LR's are not really worth it, but I have them painted right now and this would give me a fully finished army to play if needed. Personally, Space Wolves could go fully foot and be alright, as they have enough rush into your face, to be a threat quickly. Plus they can easily surround a vehicle and pop it, leaving the guys inside very little room to even get out if they could. I also know the Lone Wolves are a bit expensive too – but I find them very fun in the whole scheme of things.
~As usual if you have any questions please feel free to email me at [email protected]. Have fun with you Space Wolves guys!

Here are some commissioned work I am currently painting. I have a Space Hulk I am working, with Aventine working on the Marines and myself working on the Nids. As usual there are some Space Goats thrown in too.