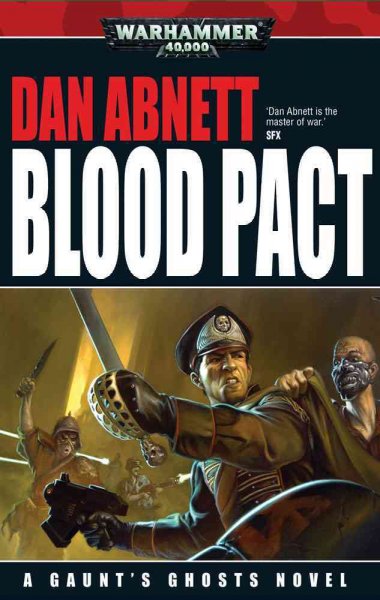 Blood Pact, Dan Abnett
(Black Library, Nov 2009)
In his September 2009 blog, Dan Abnett reported that his doctor has told him to take things a little easier – and it's easy to see why. So far, (and not counting novels that are due to be published within the next few months), he's written more than thirty books for the Black Library, (…also not counting his graphic novels or books for other publishers).
The latest of these is Blood Pact, the start of a new 'Victory' arc of Gaunt's Ghost novels, those whose victory that might be is not yet clear. (Previous arcs are 'The Founding', 'The Saint' and 'The Lost.')
According to Abnett, one of the challenges with writing such a long series of novels about the same characters is not just the determination not to repeat yourself, but also to raise the bar: so, how does Blood Pact shape up to the last page-turner: Only in Death? (Which saw Gaunt and his Ghosts isolated in the disused mountain fortress of the Hinzerhaus, on the fortress world of Jago).
Only in Death featured a big set-piece battle, and nicely, Abnett has gone for a starkly different setting and story line, and we meet the Ghosts two years later, after a long posting away from the action. They're on Balhaut, a planet which saw action years before. They're far from the front line; discipline has lapsed; stomachs have grown; Gaunt has been fully reconstructed, and there are questions about whether he will ever see active service again. Enter a pheguth – 'a traitor general'; queue action, and in best Abnett fashion, let the avalanche of action begin!
Dedicated readers will no doubt think that Abnett is rehashing an old story line, told in Traitor General. And in a way he is, but this time the traitor is a Blood Pact Egotaur, 'general' who holds vital information for the Imperium and the Sabbat World's Crusade. The importance of the general is never quite explained, but never doubted, and to prove his worth we witness the undercover arrival of an elite and scary Blood Pact kill team led by a warrior and witch, brother and sister pairing.
As the story shifts from the Blood Pact kill team to Ghosts all your favourite characters are on hand to get mixed up in the action, which has more in common with the Bourne Identity than Band of Brothers.
Dan Abnett is at his best fleshing out the smallest details of the 40K universe, and injecting a feth-load of action into whatever war-zone he has turned his focus on. He's weakest perhaps, in tying up the ends of the mess of story-lines at the end, but luckily this isn't the case with this book, where the tension is sustained and narrowly focussed on the snowy streets of Balhaut.
While Blood Pact doesn't quite up the bar on Only in Death, it certainly doesn't lower it, and as a caveat, Only in Death was Abnett at his truly best. It's a great read, and certainly no disappointment for any Ghosts fan, and it will be fascinating to see whose victory this story arc will bring.
~Justin Hill is a novelist, painter, wargamer, who has played 40K badly since the early days of Rogue Trader. He fields a number of Imperial Guard armies, as well as an occasional Iyanden army, and is about to start Daemonhunters. He contributed to the Indy GT Dwarfs of Chaos Army Book, has written a number of award winning novels and travelogues, and as he has just finished his latest book he is currently twiddling his thumbs.