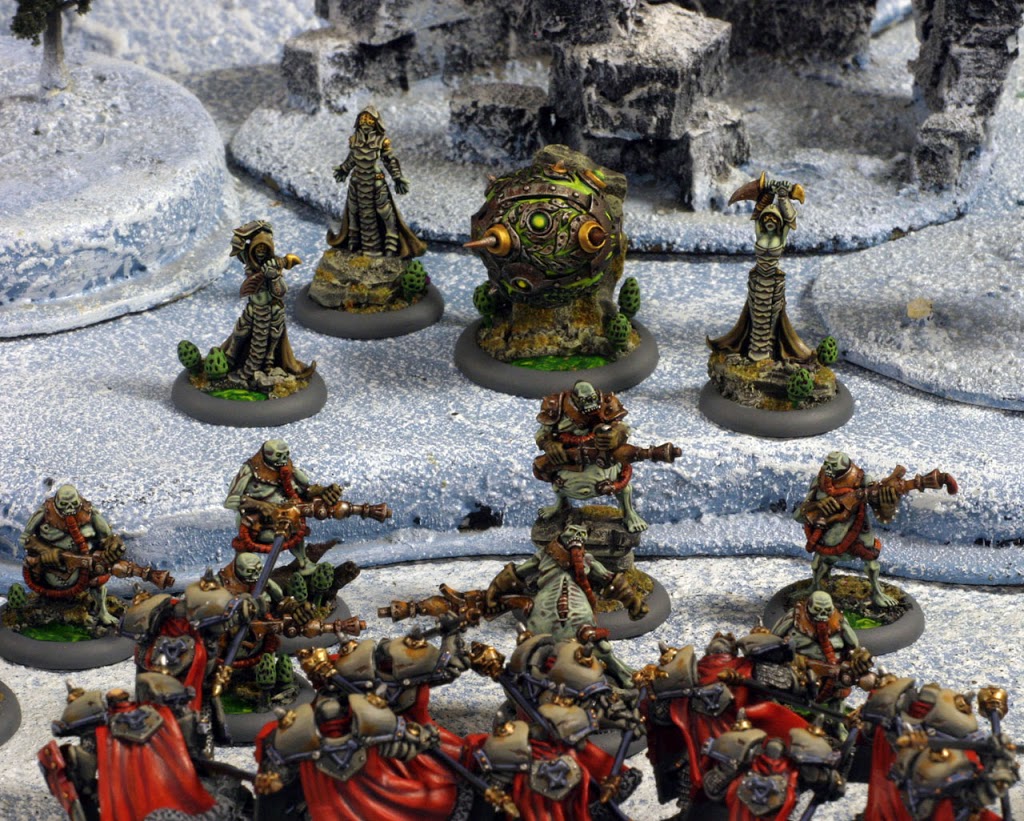 Rising like a cancer from the waters off Cygnar's coast lie the Scharde Isles. This is the dark realm of Toruk the Dragonfather, immortal, all powerful, and evil beyond human reckoning. Toruk is the first dragon, and is, as far as any scholar knows, as old as Imorren itself. His very presence is an enigma to scholars of all faiths, as his presence seems removed from the machinations of any known deity. He is clearly a supernatural being, and he and his progeny are reviled in equal measure by the members of all other religions. It should come as no surprise that such a powerful entity is himself considered a god by many, and his clerics wield dark unholy powers. So evil is this foul beast, that his very presence warps the land and its inhabitants with his so-called dragon blight. His servants may be marked with inhuman spurs, scales, horns, or a suitably terrible visage.
Many often question why a being as powerful as Toruk tolerates the presence of the human kingdoms that continue to grow and prosper on the mainland. The answer lies in what might be this being's only folly, for there was a time when Toruk sought to create rather than destroy. He removed his Athanc, a giant heartstone that contains his very immortal essence, and with a mighty claw he fractured it. This created the shards from which would grow his blighted progeny. But the Dragon failed to create the vassals he had hoped for, and instead the fledgling dragons sought to war against their creator. No one can say how many of his new offspring Toruk managed to consume in the ensuing struggle but the battle quickly weakened him, and so he retreated to the Scharde isles as his remaining wayward children fled to their own lairs to lick their own wounds.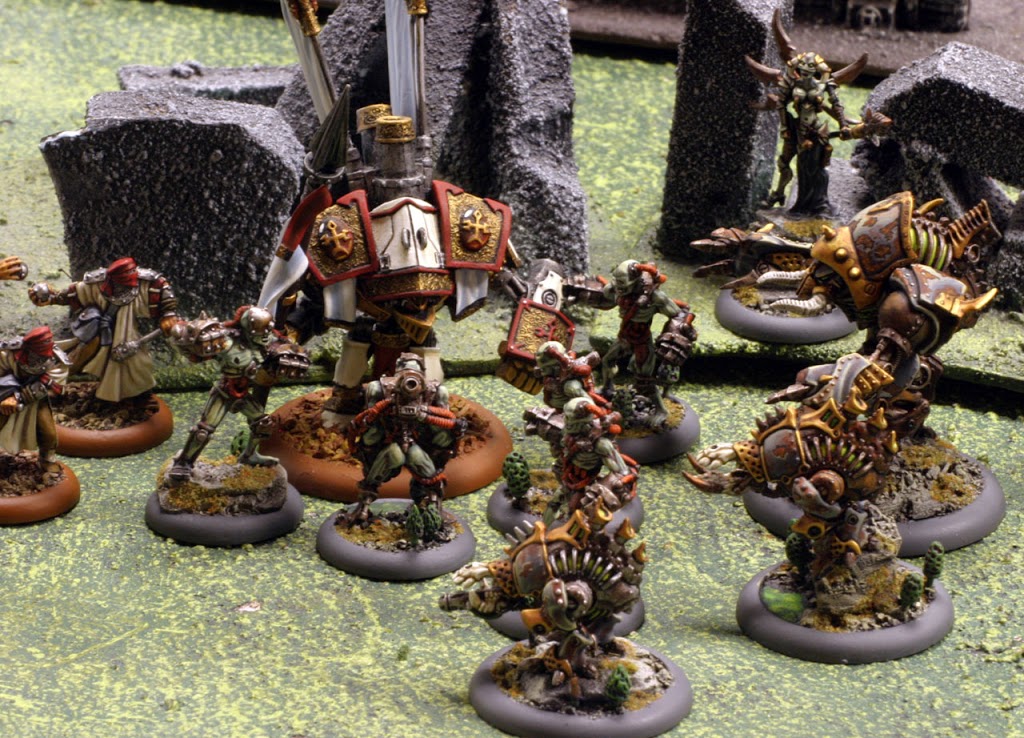 In the ensuing centuries the creature built an empire, beginning by swearing the pirate kings of the islands to fealty. Over the ages those surviving kings and many of their vassals have transformed into powerful liches making them the perfect generals for the Dragon's armies. They still hold court in dark obsidian palaces tended to by undead servitors, or wretched living slaves unfortunate enough to be captured alive, or born into a living hell. It is these liches who organize the islands' various necrotechs to create the hordes of mechanically augmented undead and infernal constructs that wage war on behalf of their dark king. These armies are reinforced by the still living inhabitants of the blighted islands: the lithe Satyxis raiders, and the blighted ogrun and trollkin.
While these forces are frequently sent out to harry the mortals on the mainland, Toruk has built his army for a more specific purpose. For while the dragon is more than a match for any one of his offspring, he fears the day when they may form a pact against him. This eventuality fills him with more dread than any mortal can understand, so it is his goal to one day have armies strong enough to both protect him in his kingdom and hunt and eliminate his children. Until that day he knows that the armies of the mainland help keep his progeny hidden. The other dragons are not so resilient as to stand against the full military might of an entire army of men and their warjacks. And so the Dragonfather is content to cull the human nations in subtle measure, slowly adding the ranks of their dead to his own forces, while keeping them from gaining the strength to threaten his own existence.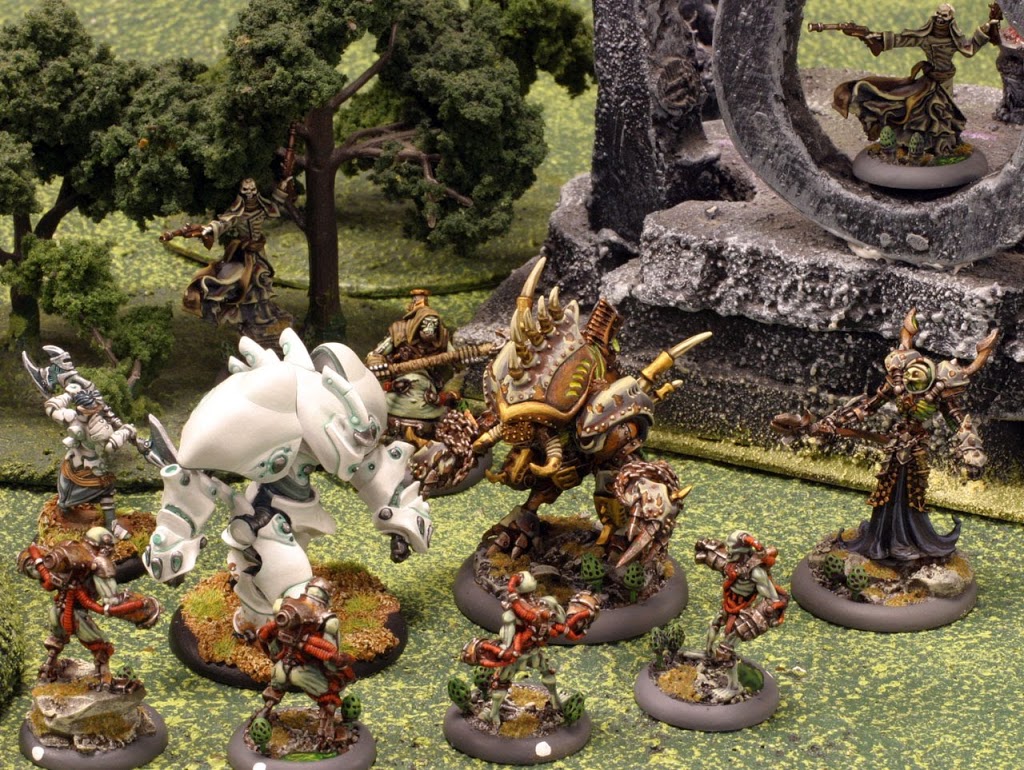 The lowest echelon of the Cryx military machine is the humble mechanithrall. Pure Necromancy has always proved difficult in Immoren, with too much magical energy being necesary to automate the corpses needed for an entire army. The solution was an undead whose sentience is granted through powerful dark magic, but whose automation is purely mechanical. And so, countless numbers of necrosurgeons and necrotechs must toil endlessly attaching pistons and boilers to corpses gathered from the mainland to create the most numerous of Toruk's soldiers. They are supported by massive Brute Thralls, hulking monstrosities that are the pinnacle of the necrosurgeons art. Stitched together from the corpses of Ogrun, Trollkin, and other larger humanoids they tower over a full grown man. Necrosurgeons themselves frequently accompany their creations to the battlefield, and with the assistance of various clockwork augmentations and their faithful Stitch Thralls, they can rebuild their fallen charges with inhuman speed. Also among the ranks of the lesser undead are the bile thralls, whose body cavities are filled with pressurized acids. Though they are equipped with a release nozzle to spray this poison on their foes, the preferred method of delivery is to release it all at once in a single suicidal burst that will shower any nearby. The elite soldiers of the Cryxian forces are the Bane Thralls, powerful undead created primarily through lengthy rituals which infuse them with unnatural powers. They can cut down the most heavily armored foe and fill any soldier's heart with dread.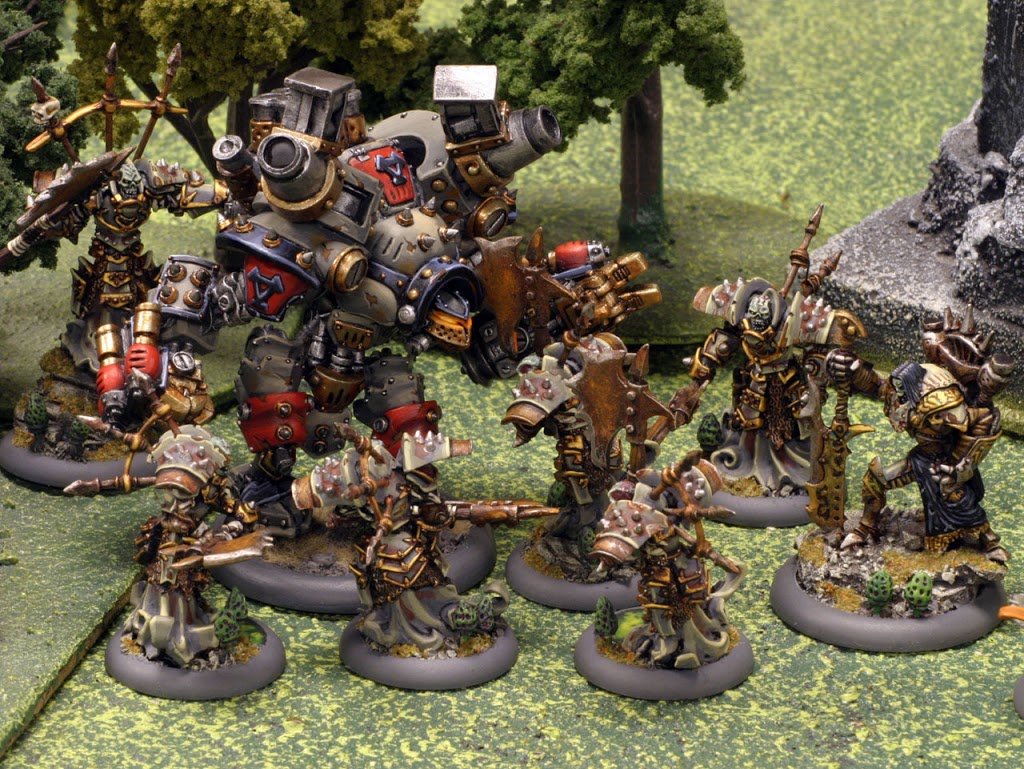 The living forces of Lord Toruk are the descendants of the Scharde Isles' original inhabitants, and they eke out a living primarily as pirates raiding Cygnaran and Khadoran shipping routes. In return for safe harbor they act as soldiers for the Dragon King when his armies make war on the mainland. Among these warriors are the Satyxis Raiders, savage women made no less beautiful by the mighty horns protruding from their heads. In addition to inflicting agonizing injuries, their barbed whips create a charge when striking a warjack that can feedback to its controlling warcaster and injure or even kill them. The Black Ogrun are another indispensable addition to any Cryxian raiding party. Their inhuman strength allows them to wield massive harpoon guns which drag their foes into harms way, and their terrifying visage can make even the most hardened veterans quake. But perhaps the most horrible of Toruk's living minions are the vile Bloodgorgers. This ancient kriel of trollkin already had a well deserved reputation for violence, and their exposure to the dragon's blight has caused them to surrender to their depravity.
Cryxian warjacks are typically lighter and faster than their mainland counterparts and they fall into two distinct categories. Helljacks are larger and were initially developed to counter the threat of mainland heavy 'jacks. Bonejacks are lighter and smaller than most conventional warjack and usually serve in more specialized roles. Since the initial success of the Slayer, the Helljack arsenal has expanded at a pace limited only by necrotech imagination. The Slayer chassis has since been augmented with various ranged armaments giving birth to the Reaper and the Corruptor. To build a 'jack more suitable for naval combat the Leviathan was born. In addition to being completely submersible, the spider legs that make this 'jack so effective on unstable ships have proven perfect for traversing difficult ground and make it impossible to be knocked down. But the Cryxian necrotechs cannot claim responsibility for the most powerful weapon in their arsenal. The monstrous Deathjack is a nightmare given form. Like a dark boogeyman this construct was blamed for numerous inexplicable attrocities and its name was used to frighten children. Those too rational to believe in its existence were proven horribly wrong when it appeared at the fore of a Cryxian army after being captured and bound into servitude.
The more nimble bonejacks sprint, leap, and even burrow across the battlefield. Their two primary purposes are to arc spells and threaten enemy casters or other vulnerable targets with their mobility. Cryx arc nodes are the fastest and cheapest in the game, and their mobility ensures they can always find a juicy target for their warcaster's spells. They will also be armed with vicious mandibles or the acid spewing ranged weapons you would expect from a Cryx warjack.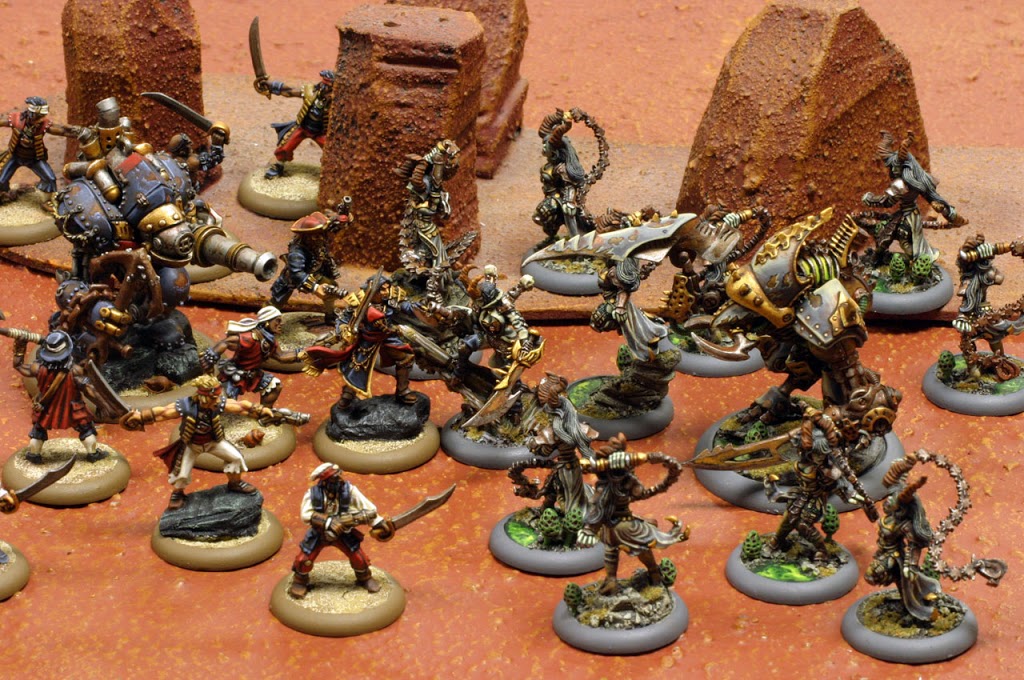 Cryx sorcery is some of the most powerful and destructive in Immoren. It is for the most part an insidious blend of the blood magic native to the Scharde isles infused and magnified by the power of Toruk himself. The warcasters of Cryx cast spells that can melt flesh from bone or turn the armor of the heaviest warjacks brittle. They can obscure Cryxian forces from sight or allow them to walk through walls or even enemy soldiers unhindered. They can weaken the flesh and resolve of enemy infantry or infuse their own forces with unnatural strength and skill.
So what does it mean to be a Cryx player? Foremost, the Cryx army has massive assassination potential. Every Cryxian warcaster has a different insidious way to eliminate their rival warcaster. This may be from attacking directly, with arced spells, or using their magic to weaken the warcaster so much that some of their other assassination tools like the leaping Stalker or incorporeal Pistol Wraith, can finish the job easily. Cryx armies also tend to be faster than most having many bonejacks with spd 7 and equally fast Satyxis raiders. Certain warcasters and combos can also really get armies moving across the table. Master Necrotech Mortenebra is the finest example, granting an additional 2″ of spd to all warjacks in her already fast battlegroup. The significant debuffing abilities of the Cryx army means that even the heaviest warjacks may be softened up by cumulative armor penalties before the army moves in for an easy kill. Cryx also has access to the cheapest troops in the game with mechanithralls costing a meager 5 points per 10 man unit in Mark II. For 2 pts more, those thralls can be joined by a necrosurgeon and their stitch thralls who will quickly restore them should they be disabled.
What the forces of Cryx tend to lack significantly is staying power. This deficit is most notable with their Warjacks who have not only lower armor, but also a significantly smaller damage grid than those of other factions. With the exception of a few spells that grant stealth, the army lacks for defensive buff spells or abilities as well. Since their troops also tend to have somewhat lower defense and armor scores this means many may not survive their way across the battlefield. Though Cryx does have some very interesting warjack armaments and a few ranged specialists, they still tend to lack for solid firepower. They have to rely on their nimble arc nodes and exceptional magic to eliminate foes from a distance, and use their mobility and strength of numbers to reach their enemies intact.
~And that's Cryx at a glance. There's way too much stuff to cover it all here. In fact this just barely scratches the surface. But if you think this is a good time to renounce former allegiances and swear fealty to the Dragon King there's plenty more to learn at www.privateerpress.com. Have at it guys.