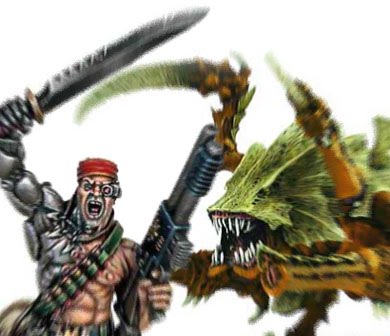 LETS GET READY TO RUMBLE!!! Welcome to another video battle report! This one pits Jwolf's skill and experience (and Imperial Guard machine) against Mkerr's acerbic tongue (and Tyranid gunline). We watched the battle as it happened and it's a "must watch" (Melmax of Ichar IV raved about the the video report, saying "I laughed, I cried. It was better than Cats"), so sit back and enjoy!


Hi, Mkerr here and welcome to the most recent BoLS Video Battle Report. When Jwolf and I sat down to play this game, we thought we were testing out the Tyrannofex from the new Tyranid codex, but the game ended up being a cautionary tale about the implications of the new Space Wolves FAQ (more on that later).
***The video report is at the bottom, so scroll down if you want to skip all of my chatter!***
But let's start with the Tyrannofex!These guys are crazy expensive, but can be armed with some pretty impressive bio-weaponry. I chose the Rupture Cannon (which deals out TWO BS3 S10 AP4 shots per turn); giving these bad boys a really long reach. The hope was that with FOUR BS3 S10 shots per turn (plus the four Zoanthropes), I'd be able to put down just about anything that would give my army a hard time (e.g., Demolishers, Hydras, Medusas, Manticores, Vindicators, Predators, etc.) and allow me to advance unmolested.
Here's the Tyranid list:
HQ
Hive Tyrant (Toxin Sacs, Tactical Insight, Heavy Venom Cannon, Devourer)
Hive Tyrant (Toxin Sacs, Tactical Insight, Heavy Venom Cannon, Devourer)
ELITE
Deathleaper
2 Zoanthropes
— Transport: Mycetic Spore
2 Zoanthropes
— Transport: Mycetic Spore
TROOPS
12 Termigants
12 Termigants
Tervigon (Catalyst, Adrenal Gland, Cluster Spines)
Tervigon (Catalyst, Cluster Spines)
HEAVY
Tyrannofex (Rupture Cannon, Cluster Spines, Regenerate)
Tyrannofex (Rupture Cannon, Cluster Spines, Regenerate)
SUMMARY: This army gives me 4 S10 Rupture Cannon shots, 2 S9 Venom Cannon small blasts, 4 S10 Warplances, 4 S5 large blast Cluster Spines, and 12 S6 Mycetic Spore shots. On top of that shooting, I have six Monstrous Creatures (not including the two Mycetic Spores), the omnipresent Deathleaper and 24+6D6 Termigants.
TACTICS: The idea is to pile up monstrous creatures in my deployment zone, outflank with the Termigants and deep strike with the Zoanthropes. If my opponent is heavily mechanized and advancing (a la Landraiders), I can deploy the Zoanthropes with my forces and deep strike empty Mycetic Spores. If my opponent is using a horde (a la Orks and Tyranids), I can deploy the Termigants as a screen. The Tyrannofexes keep anything that can hurt me shaken  (or worse) until the Zoanthropes can deal with them.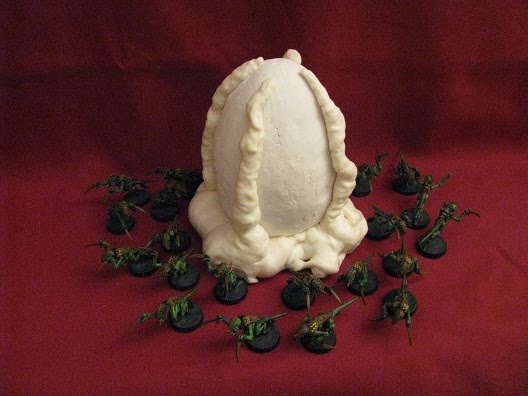 Note: I'm still using pieces of terrain for my Mycetic Spores, but I've stumbled across a really cool option! Our friend Black Matt (from Black Matt's Black Legion Blog) is selling hand-crafted Mycetic Spores on his website. He's currently laid-up from surgery and came up with a way to supplement his income while he recovers — so ordering from him would not only give you some cool models for your army, but also help out another great contributor to the community. So if you've got some extra cash and need some Mycetic Spores, here's a great place to get them!

Here's the Imperial Guard list:
HQ
Colonel "Iron Hand" Straken
— 4 Meltaguns, Bodyguard, Master of the Freakin' Ordnance

— Transport: Chimera
Lord Commissar (Power Fist)
Ministorum Priest (Eviscerator)
ELITES
El Solidat Marbo
3-man Ratling Snipers
TROOPS
Infantry Platoon
— Infantry Command Squad (4 Flamers) – Transport: Chimera

— Infantry Squad (Power Weapon, Lascannon, Commissar w/Power Weapon)
— Infantry Squad (Power Weapon, Grenade Launcher, Lascannon)
— Infantry Squad (Power Weapon, Grenade Launcher, Lascannon)
— Heavy Weapons Squad (3x Missile Launchers)
— Heavy Weapons Squad (3x Autocannon)
— Heavy Weapons Squad (3x Mortars)
Veterans (3 Meltaguns, Lascannon, Power Fist)
FAST ATTACK
Valkyrie (Multiple Rocket Pods)
Hell Hound (Heavy Flamer)
HEAVY
Demolisher (Lascannon, Plasma Cannon Sponsons)
Medusa
TACTICS: Jwolf blobs up the Infantry Platoon. He uses the Lascannon to encourage his opponent to try to assault the blog (a mistake). The Commissar, the abundance of Power Weapons and Straken's Counter-Attack and Furious Charge (not to mention the Priest's Righteous Fury) makes this one of the deadliest units around in close combat. The list is extremely versatile and puts out a deceptive amount of high-Strength, low-AP shots.
Here's Part 1 of the game:
Here's Part 2 of the game:
BoLS YouTube Channel (check us out)
As you can see by the battle report, we really didn't learn much about the Tyrannofex (learning instead that a single Demolisher can, if the dice are agreeable, shrug TWENTY-EIGHT S10 shots in a single game). But we did discover that the Space Wolves Furious Charge + Counter-Attack ruling* has far reaching implications.
In Straken's 12″ cheaty Cold Steel and Courage aura, Jwolf's blob was reliably pumping out S4 I4 attacks. Since the Priest's Righteous Fury wording is similar to Furious Charge, they were also getting to re-roll their misses — when I assaulted them!
So even though my Termigants benefited from the ruling (gaining Furious Charge and Poisoned attacks with Counter-Attack), I just couldn't compete with the blob's Righteous Fury and special close combat weapons. I think next week I'm going to try a Counter-Attack list (using Furious Charge, Poisoned, Preferred Enemy and defensive grenades my Termigants) and see how far we can push the Space Wolves ruling.
*If you aren't familiar with the ruling, then climb out from under your rock and start reading the forums! But here's a brief rundown. The recent Space Wolves FAQ clarifies that Furious Charge works with Counter-Attack. It basically says that since you are effectively charging when you Counter-Attack, you gain the benefits of Furious Charge. Now this opens the door to other things that happen when  you charge, like Righteous Fury. Since Straken radiates Counter-Attack and Furious Charge in a 12″ radius, an Imperial Guard player can grant both of those abilities to most of his army. Meaning that when you attack them, they suddenly gain +1A, +1S, +1I (and Preferred Enemy, if you have a Priest attached). Not too shabby!
~ Both Jwolf and I had a blast! And although I had a great time, I'm planning my revenge against "Iron Pants" Straken and his incredibly abusive Cold Steel and Courage power! I'd love to hear your comments, so leave them here, on the YouTube channel or email them to me at [email protected]!
UPDATE: Games Workshap has reversed the ruling on counterattack and furious charge working together.  The Space Wolves FAQ was updated within 24 hours of this post going up, so be aware.  Colonel Stracken was last seen sobbing in the latrine by his attandants…