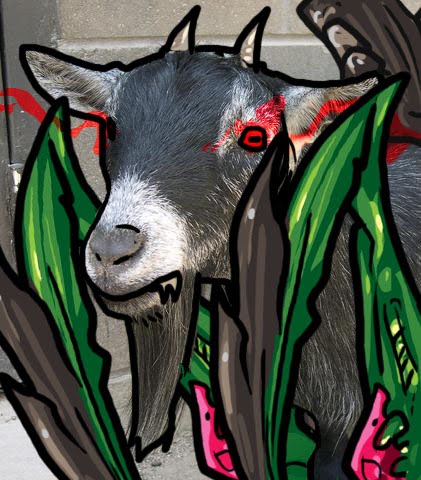 Goatboy here again, ending the review of Fast Attack and Heavy choices in the new Nid codex. Now of course all of this can change depending on how the game evolves in the next few months. A lot of this is just based on what would affect my armies, versus what might affect your own plastic toys. This review is about giving people a taste of what might come out and some thoughts on their own purchase as well as army options.
Fast Attack – ZOOM ZOOM ZOOM!!
Winged Warriors – We cost a lot!
This is an expensive unit. So the question is, will this unit make up its cost quickly enough to warrant its use in the army? I am not really sure. They can be tooled out to be a super flying assault unit, which in itself can be neat. I just don't think it will be worth it in the long run. Boneswords are pretty neat but that just ups them to the cost of a Terminator. The lack of Eternal Warrior is really telling here. The other annoying thing is that this will be an expensive conversion unit too.
4/10 – Just too expensive to really get you their points back.
Ravener – Hooray for Plastic!
As you all know, I have a thing for Cavalry based units. And this is a pretty nice. I wish the Rending Claws were free instead of upping the cost. Still this might be a nice option at Fast Attack to help create a diversion of pain for the opponent. Keep those bad guy units busy while the MC's get into position.
6/10 – Should have had rending claws for free and maybe got an adrenal gland upgrade. Still the model is worth it as conversion bait.
Flying Rippers – Um – not meh like the bases
Here you go, something a bit interesting. A cheap flying multi-wound unit that will annoy the snot out of people. Since the model should be flying, there is a good chance it could cover enough of an MC to give it a cover save. Mix this in, with a fast movement, a ton of wounds, and a nice number attacks means you have a nice little annoyance unit. Will see if it is worth while and whether we will all see a ton of bad green stuffed winged ripper swarms.
7/10 – Might be a nice utility unit, will see.
Gargoyles – Now something interesting
Now this is an interesting unit. We haven't had a fast unit be this cheap in a long time. The last thing I could think of was the Fenris Wolves from Space Wolves. These guys are going to be great harassment units.. They are cheap, can do some goofy things to people, and can really get at some units that are trying to stay hidden. Even just adding in Adrenal Glands can help give you get a chance to destroy some vehicles that might get in their way. It is pretty slim, but it is still a way to continue the Tyranid Assault Wave. Plus the plastic model is pretty fricking sweet.
7/10 – Might go higher as I use them more. Might just be worthless too. We'll see.
Harpy – Now we move onto something pretty scary
It is interesting how MC's seem to fill up every force organization chart in the new Tyranid Codex. I think this monster is going to be pretty interesting. It is one of the other ways to have Heavy Venom Cannons as well as being mixed with a flying base. Side shots anyone? Yes I know the Toughness is 5, so you can auto kill it with a big cannon shot. This isn't that big of a deal as it a) flies b) has longer range then 24 inches. Of course the Tau will serve the Greater Good by putting rail shots in its head so if you are playing them, go ahead and run this sucker in reserve.
8/10 – Put it at 8 because it will be a bit of a pain to convert as well as being a bit too expensive to use when you have to deal with putting other goodies in your army.
Spore Mine Cluster – I can be a jerk with these units
So we'll see how bad these get. Buy enough and deep strike all over an enemies deployment zone and you can cause lots and lots of headaches. This might be the other secret unit and I wish they didn't take a Fast Attack choice. Maybe they should have been an upgrade for the Hive Tyrant or something else. Either way these could be a serious jerk unit in the game.
6/10- Not sure it depends on the army you are playing against and how well you can cover their deployment zone.
Heavy Support – I Kill from far aways!
Carnifex – I used to be good.
Man, they really did a number on the Carnifex. It went from being the de-facto MC unit in the game to something I need to convert into something else from the book. I'm not saying their stats are bad, options are bad, or really over costed (they are costed correctly with what they have) it is just they are not worth it like they used to be. I wish they were cheaper (20 to 30 points less) or at least had certain options included on the new points cost. Still, a DakkaFex is something to fear, especially 3 of them pumping out 36 TWL shots a turn. That is the only way I can really see using them as an anti infantry, anti big bug unit. Still they would cost a ton and really be a "Please don't JoTWW me" unit.
4/10 – Just too expensive to make worth wile as well as take a slot from the better Heavy choices in the army.
Old One Eye – Old one no
Just like above he costs way too much. Just no good.
2/10 – Modeling potential is there, just not worth it at all.
Biovore – We showed you him earlier and he is better we swear!
Yeah it is just not worth it. I wish they would have given it more spore mine options. That would have been interesting. Make some direct hit anti vehicle options. Something to make the venerable biovore worthwhile. I don't know what it is about the Hive Fleets, but they really like making new xxx-vore's and they mostly suck.
2/10 – No
Trygon/Trygon Prime – Now we get to the guess what you are going to buy section
Yup, here is where it is at for the heavy section. I would advise not upgrading him, as it should survive with its 6 wounds whatever nonsense is thrown at them. Most likely the bad guys won't assault unless it is a dedicated assault style unit (TH/SS termies anyone?) so they should get a good pop out, scare the snot out of people, and then hopefully get to assault something. It's shooting attack is pretty neat with the upgraded Prime one being kinda scary. We'll see which one comes out in the lead. I like the Prime because it can really use Shadow of the Warp pretty effectively by popping up near some psycher. I would advise really only upgrading with Toxin sacs and maybe Adrenal Glands as Strength 7 is pretty good to popping plastic boxes.
8/10 – You will be seeing this a lot.
Mawloc – This one is a neat one
I feel that these are going to be super annoying. They start on the board first turn, hidden behind some terrain. They go into the ground and you get a guaranteed pop up on turn 2. This is pretty scary, as they can easily get into a boxed up IG area and cause some Chimera damage. If you are lucky and they get to reburrow again, you have some serious damage coming your way. I am thinking running 2 of these and just hope for some crippling damage on your opponent as you get all your other MC's into range as the army runs from the burrowing gooey mouth monsters.
8/10 – Might be more as I start to play test them.
Tyrannofex – It is a dinosaur and a Tyranid.
Here is a pretty interesting thing. Obviously it is the super shooty tank of the Tyranid codex and I'm thinking it might be worth it to have one. Now if only it had all the gun options all the time, as it can set up different living ammunition whenever it needs it. But we'll see. If you are seeing lots of mech in your area, I think the 48″ S:10 Ap 4 Assault 2 cannon might be where it is at. I do like the Assault 20 option too, as it can just pour a ton of wounds onto your opponent. Still its cost is pretty high and I wish it started at 200 or at least had all the options at the cost it is now.
6/10 – Too expensive to be guaranteed in a list, but still something to look at if you are all about the horde and needing some anti tank options.
Alright there you go, a basic run down of the units in the new codex. I know I didn't go over all the options as I just went into what I thought was good. There are a lot of gun options that are out there too. The army seems to have a heavy anti infantry feel mixed with a large amount of assault capabilities. In fact, most other assault armies will not want to get near anything with Boneswords and Lash Whips. This codex is looking like a completely new thing and along the lines of the new IG codex. If this is the future of codexes then I am excited to see some of the new things coming out in the future. This book changes a lot of things in my own personal Tyranid army which is exciting as I always like painting new models.
As usual if you have questions please shoot me an email at [email protected]. I am going to have a post about converting a Tervigon in a day or two. I made one out of one of my poor Carnifexes and random Scything Talons, green stuff, and other bits. So look for that as a way to help you reuse models from your armies as well as get into the spirit of the new Hive Mind.