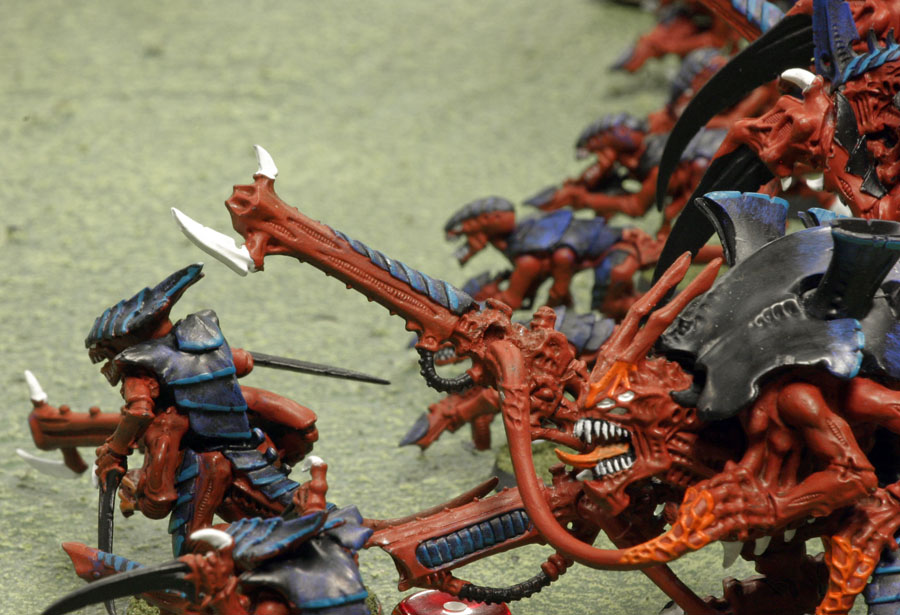 Lux here. I only started playing Warhammer 40k regularly with the introduction of the 4th edition rules, but I've been a Tyranid player the entire time. Every so often I've gotten briefly distracted by Dark Eldar, or Space Marines, but I keep coming back to my bugs and I've built up quite the large collection. As I'm sure you can imagine, I've been excited about the new rules scuttlebutt! Using some of the rumors kindly shared with the comminuty by some of our European readers, I've now played two games with some of the new rules. Both games were against one of Darkwynn's Leafblower lists. Here's what I ran, the missions played, and a few things I think I've learned about the new Nids:
1st List: Capture & Control with Spearhead Deployment
1980pts
-Hive Tyrant with wings, twin scything talons, old adversary, adrenal glands, 2+ save, regeneration, nerve shock, mental scream
-Warrior Alpha with scythes, bonesword, adrenal glands, regeneration
-3 Hive Guard
-3 Zoanthropes
-20 Hormagaunts with toxin sacks
-20 Hormagaunts with toxin sacks
-16 Termagants with toxin sacks
-16 Termagants with toxin sacks
-5 Warriors with rending claws, adrenal glands, 4 deathspitters, 1 barbed strangler
-5 Warriors with rending claws and devourers
-Trygon Primaris with regeneration


I'd read Goatboy's and Mkerr's articles on the Tyranids, as I'm sure many of you have, and I wanted to try out some of their ideas, while also testing some of my favorite units, like Hormagaunts. This first list reflects that philosophy. It was defeated pretty soundly despite Darkwynn having some terrible shooting rolls in the first two turns.
The second list came about from several discussions we'd had over the course of the first game. It was designed to test out one potentially very strong list. You can see a variant of it in a forthcoming article by Darkwynn. I differ with him on a few points, but that's really personal playstyle and preferences coming to the fore more than tactical differences.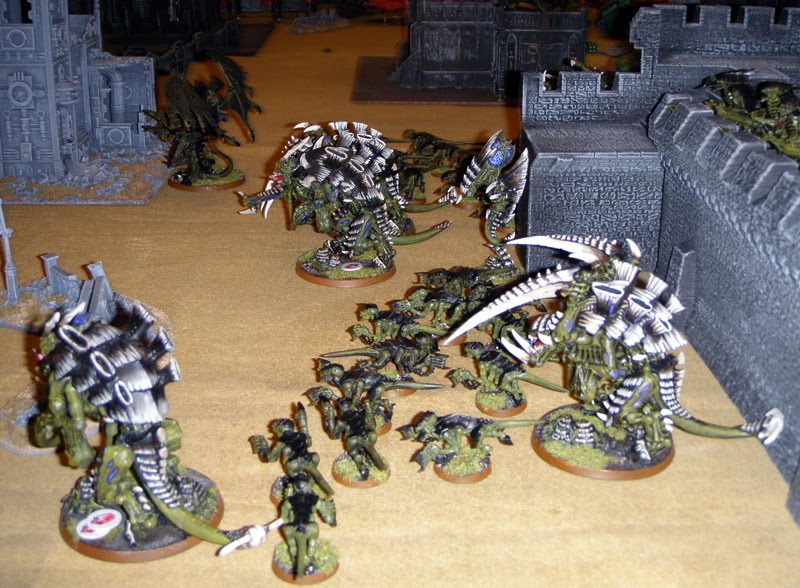 2nd List: Sieze Ground mission with 3 objectives and Pitched Battle deployment
1960pts
-Trygon Primaris
-Trygon
-Trygon
-Alpha Warrior
-Alpha Warrior
-3 Hive Guard
-15 Termagants
-15 Termagants
-15 Termagants
-15 Termagants
-Tervigon with scything talons, catalyst, adrenal glands
-Tervigon with scything talons, catalyst, adrenal glands
-Venomthrope
-3 Zoanthropes in sporepod
Of the two lists, this second one was by far the stronger one. I held all of the Termagant units with the Warrior Alpha's in reserve, hoping I could bring them up through the tunnels created by the Trygons. Sadly, my reserve rolls meant that all those units had to slog their way across the battlefield from my own board edge. Darkwynn pulled out a minor victory in the bottom of turn 6, but this time it was my turn to roll poorly. Even the Leafblower found that it lacked the firepower to take down all of the larger creatures AND the horde of gaunts. Had I been able to actually destroy some of his vehicles instead of merely shaking them, or had my reserve rolls worked at least slightly to plan, I think we would have at least drawn the game.


Here's what I think I've learned:
-I'm coming to the conclusion that adrenal glands is better on basic Gaunts than toxin sacks simply because of the ability to hurt vehicles on the charge with str4. Always wounding on 4's with the toxin sacks is nice, but doesn't do as well in a mechanized metagame (which means you may need to tune this decision based on your local gaming scene). Other things in the list can take care of toughness 6 opponents, and massed numbers of enemies with T6 or higher is rare outside of Daemons or other Tyranid armies.
-Winged Hive Tyrants have gone the way of the dodo. The one I ran in the first list topped out at nearly 350 points, and it did nothing the entire game. The Primaris Trygon was nearly 100 points cheaper, and was vastly more effective. Giving the Hive Tyrant wings alone still brings it to well over 200 points, and leaves it with just initiative 5 and a 3+ armor save. With Warriors and Tervigons as troops, Zoanthropes as elites, and Primaris Trygons as heavy support choices, there is plenty of Synapse to cover the army. That means the HQ choices can be more about combat/game effectiveness rather than needing to be durable Synapse nodes; a welcome change in my opinion!
-Walking Hive Tyrants could still work. I'm considering one with scything talons and a heavy venom cannon. I'll leave it with its basic 3+ save and use Warriors and other critters to screen it. Tyrant Guard have increased nearly 33% in cost, and I'm just not sure if they're still worth it. As I said above, the Hive Tyrants are no longer as integral to the synapse web of the army, and if the opponent is shooting a rear-line Tyrant, then he's ignoring and Trygons, Carnifexes, or Warriors that are racing up to or Sporepodding onto his lines.
-Hive Guard are very, very nice. Those three models destroyed several vehicles in each game, while taking little fire themselves simply by benefit of being a T6 second wave unit, when so many other dangerous units were a lot closer to Darkwynn's lines.
-Hormagaunts are….well…..I'm not sure yet….They were shot up pretty quickly in the first game. In fact, after all the templates raining down on me, I don't think any were left alive past the second turn. I'll continue to play around with these guys, including deploying them from a Sporepod.
-Trygons are fantastic, even if they only soak up fire. The Leafblower list has more strength 6 or higher shots than I can count, but it was still taking him half of his army to bring down one Trygon. Six wounds goes a long way! Having a Tervigon give one Feel No Pain makes things even more fun.
-Tervigons are very nice. Darkwynn killed one of them on the bottom of turn two, but even then I was able to create 40 Termagants before finally rolling doubles on turn 3. Thats 40 additional scoring models that don't count against your points limit or force organization. Lovely.
-Long ranged anti-tank weaponry is expensive! A Carnifex or Hive Tyrant with a heavy venom cannon will run you nearly two hundred points each. OUCH! Shorter ranged options seem to be the way to go. Because of that, I can see the elite section of the list being the tightest. Hive Guard, Lictors, Venomthropes, and Zoanthropes are all in that section. Two of those units add some great shooting to the army, while the others provide cheap bonuses to the army.
-Speaking of Venomthrope's: they are nice, but will need to be hidden in order to do their job. The fact that it is an independent, toughness 4, 4+ save unit means that one decent round of bolter fire will kill it pretty quickly and remove that nice 5+ cover save bubble from the rest of your army.
-It appears there are numerous ways to play the army, from the vast swarm, to a monstrous wall, to medium creatures, to a Sporepodding assault. I'm not sure that all of the builds will make for top tournament level lists, but this is still a GREAT change for the army.
Thoughts on the Lists
I think that second list has a lot of promise and I'll be trying it again with a few modifications. To make it 1850 points I would drop 2 units of Termagants, change the Venomthrope to a Lictor for +1 to my reserve rolls, give both Warrior Alphas adrenal glands, and have 15 points left to play with. To bump it up to 2000 I would swap the Venomthrope for a Lictor and add in some upgrades to the Warrior Alpha's.
An opponent facing that list will have a lot of difficult decisions to make over what to shoot. Armies loaded up on melta weapons at the expense of everything else could face some real problems. Statistically, it would take 3 tactical squads armed with a multi-melta, melta gun, and combi melta on the Veteran Sergeant to bring down just 1 Trygon. Once you include the almost obligatory Rhino, that's nearly 750 points to kill just 200, and of course, that assumes they're all within 18″ range to start with. I can envision missile launchers and plasma weapons coming back into fashion to deal with the plethora of new monstrous Tyranids.
~Of course, this doesn't mean I won't also be testing out the rest of the codex too! I have 20 metal Gargoyles just itching to see the gaming table. Not to mention six Raveners, fifteen Warriors, and….. We've been knee-deep in nids all week here at BoLS. Those of you who have also played test games with or against the new rules, what have your experiences been?