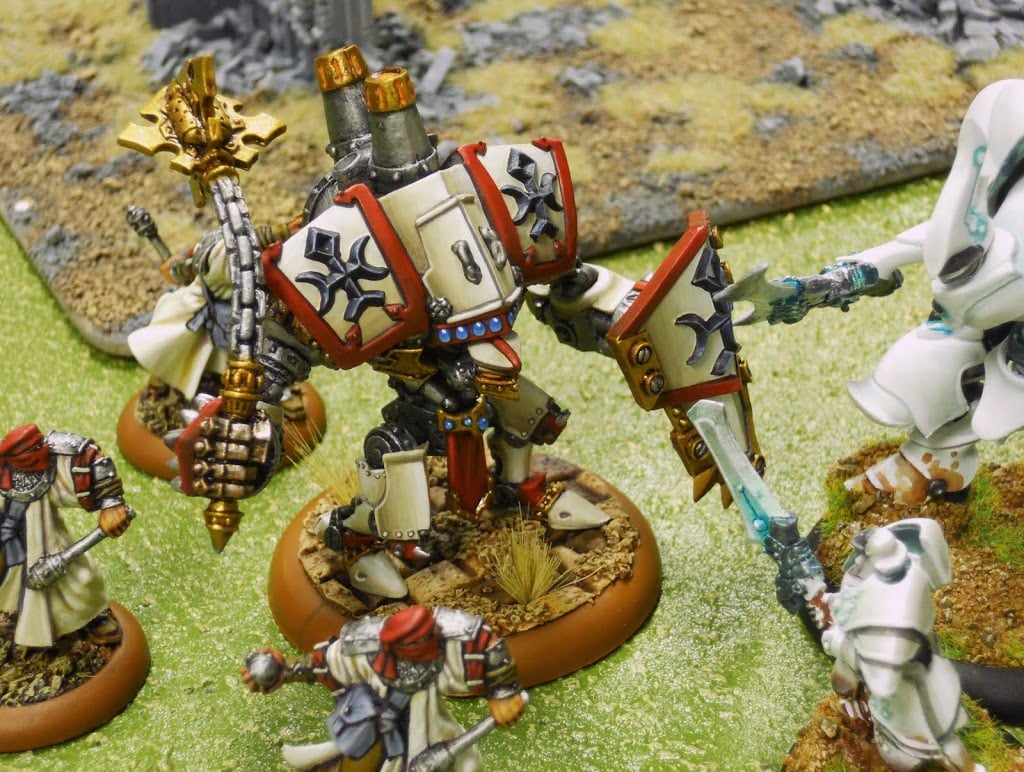 If you check in to this site a lot you should know by now we scored big time here at BoLS, getting promo copies of the four new plastic Heavy warjack kits from Privateer Press. Lets walk you though painting up one of these fantastic new kits.

While a truly obsessed minis gamer like me is never content with just one faction for any war game, when it came time to divvy up the kits, I had to make a choice. With Protectorate being my first Warmachine love the decision was easy. And so I found myself with a brand new Templar to get ready for the battlefield. Even if you don't like Warmachine, you may still find some useful information here as my Protectorate army uses two of the most notoriously difficult colors to paint: red and white. Something about that classic knightly order look was just too iconic to pass up.
So before I get into the nitty gritty, here's a quick word on how I work. As much I love painting, and as much as I can be a perfectionist, I'm also impatient. I want to get my pieces onto the field almost as badly as I want them to look good. To this end I have no patience for dropper bottles or wet palettes. When I need to mix a color, I mix a lot of it, put into its own flip top bottle, and label it for when I'll need it again. So to give you an idea of what I'm talking about, here's a shot of all the colors I'll be using just for the white and red on the Templar.

Before I start painting, I pin the jack to an empty paint bottle. I will be putting him on a special base when I'm finished, and I want to paint it separately. This will keep me from getting any excess paint on it while I'm finishing the 'jack. I pin a wire handle onto the shield so I have something to hold on to while I paint it separately. So we begin with the Templar having already had the metallic parts painted using my typical method for doing metallics.


The silver parts are Chainmail drybrushed over a base of Adeptus Battle Gray that has had a little Codex Gray added to lighten it up a bit. It's given a wash of PP Armor Wash, and drybrushed with Chainmail again. The gold is Shining Gold drybrushed over Snakebite Leather, then washed with some of the old Flesh Wash GW doesn't make any more. Gryphon Sepia would probably make a good replacement. When the ink is dry I drybrush it again with Shining Gold and then Burnished Gold. The Bronze on the fists starts with Scorched Brown, drybrushed with Dwarf Bronze and then washed with the Armor Wash. Then its drybrushed again with Dwarf Bronze, followed by a mix of Dwarf Bronze and Mithril Silver. Then I size it up and do any manual detailing that needs to be done.
The first coat for the white area is Iyanden Darksun with a little Hormagaunt Purple added to make it a little more gray, and some Skull White added to lighten it up a bit.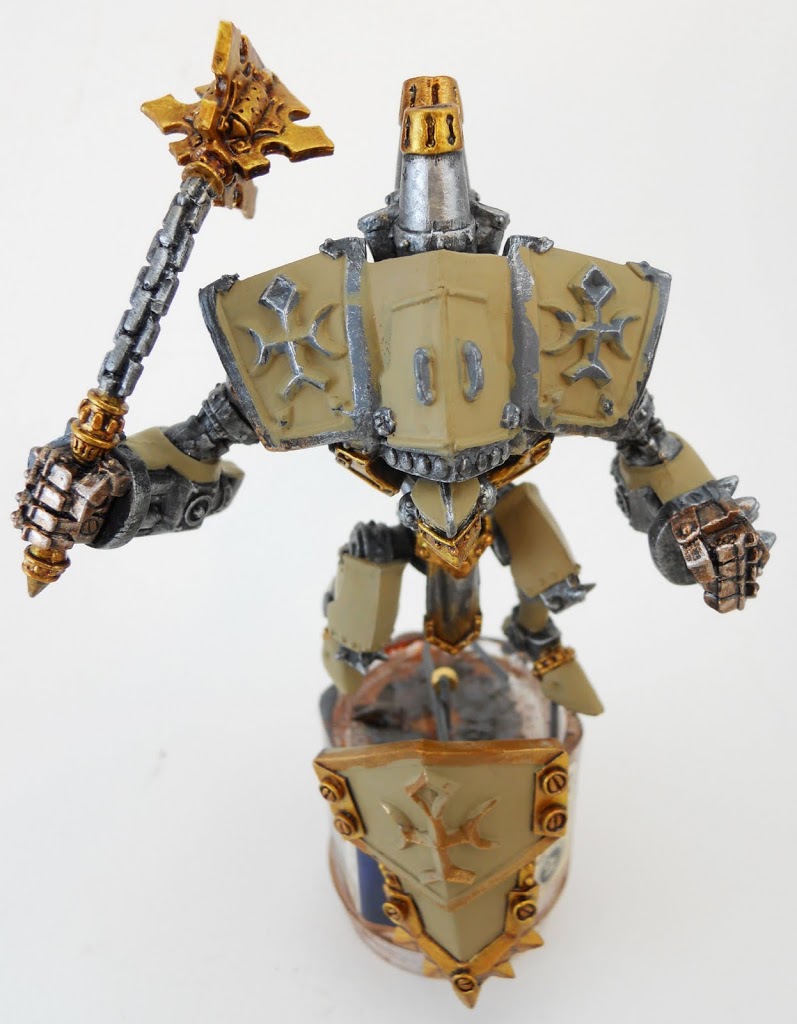 And on to the highlighting. The idea here is to coat most of the surface with the new color, leaving the darker color barely visible only in the darkest area. As I go I'll cover less and less area with each new color creating a nice smooth gradient across the big flat surfaces on this warjack. I'm using wet on dry blending, so on the areas closest to the original color I will use paint that is somewhat watered down, but with very little on the brush. That way you can see some of the older color through the new one creating a nice smooth blend. Make sure the paint is fairly thin throughout the whole process to keep the surface smooth and even. It may take multiple coats at each step to achieve proper coverage. At any given step I may go back to the color from the previous one to make sure the blending stays smooth. I use a number 2 liner sable brush from Kolinsky for just about every thing I paint expect the drybrushing and some extra fine detail. The Brush is twice as big as a GW detail brush but the bristles can be pulled to a very fine point. The larger size means it can hold more paint which makes wet on dry blending much easier.
I start with the basecoat color mixed 50/50 with some bleached bone.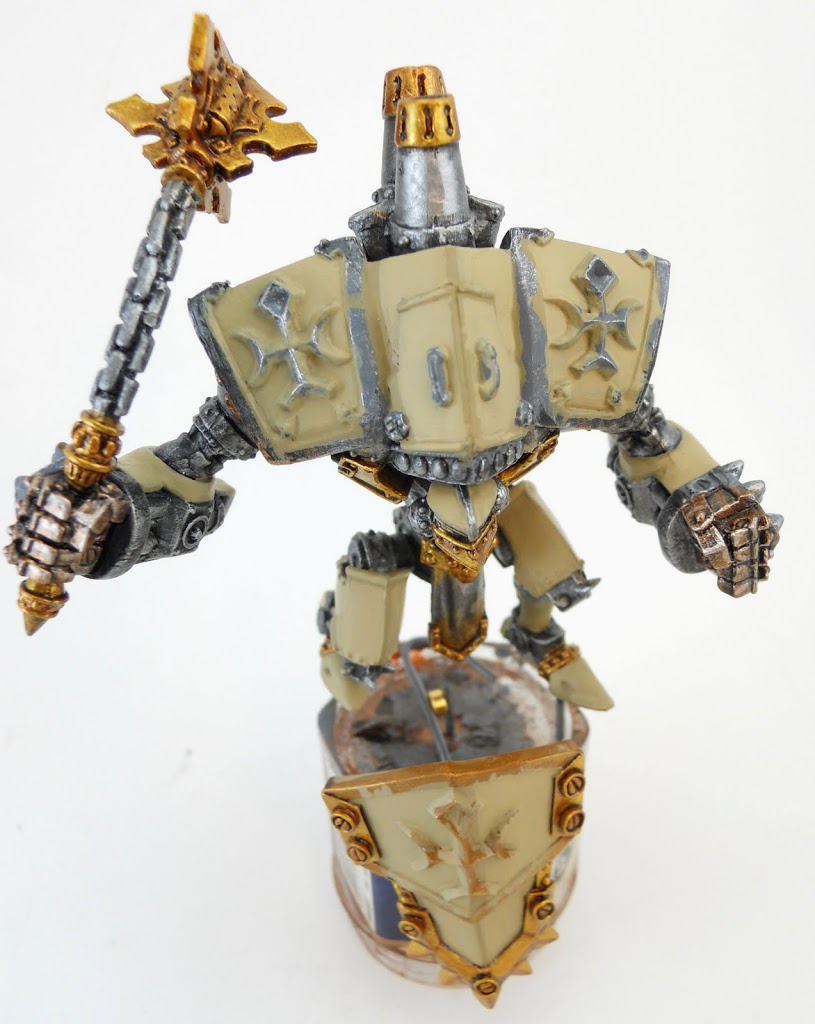 Then the original base color mixed 25/75 with bleached bone.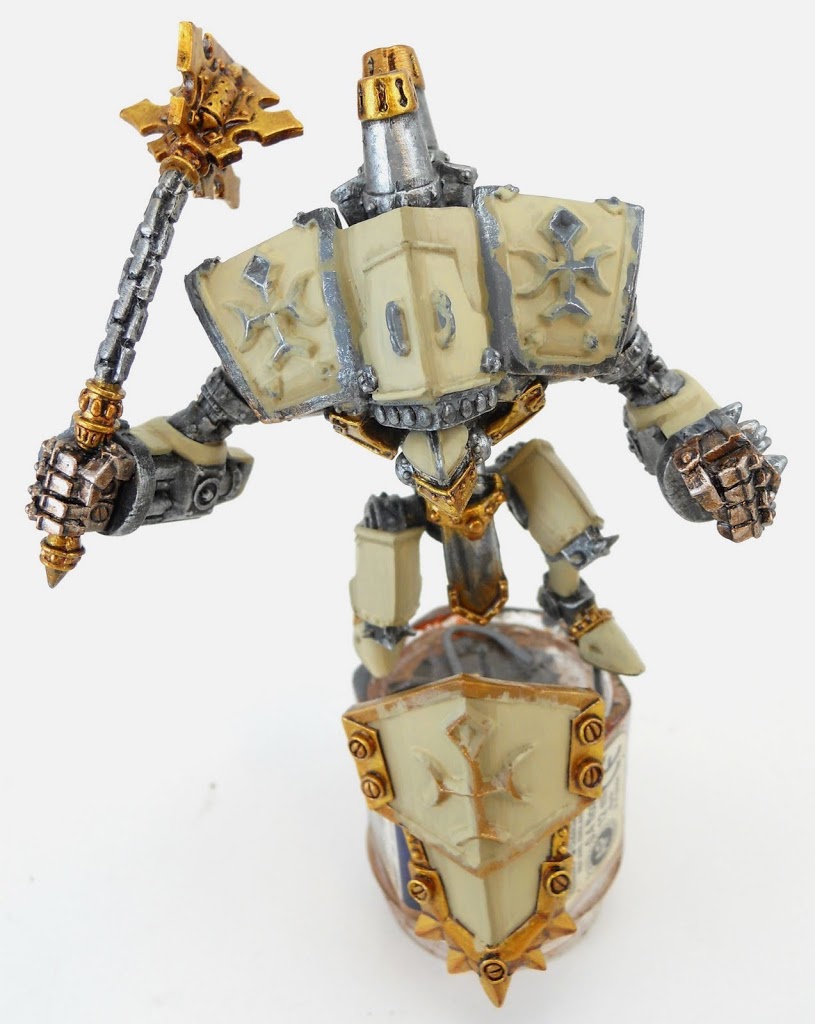 Pure bleached bone. I start lining certain raised surfaces during this step. You can see what I'm talking about on the access panel hatch on the left hand side.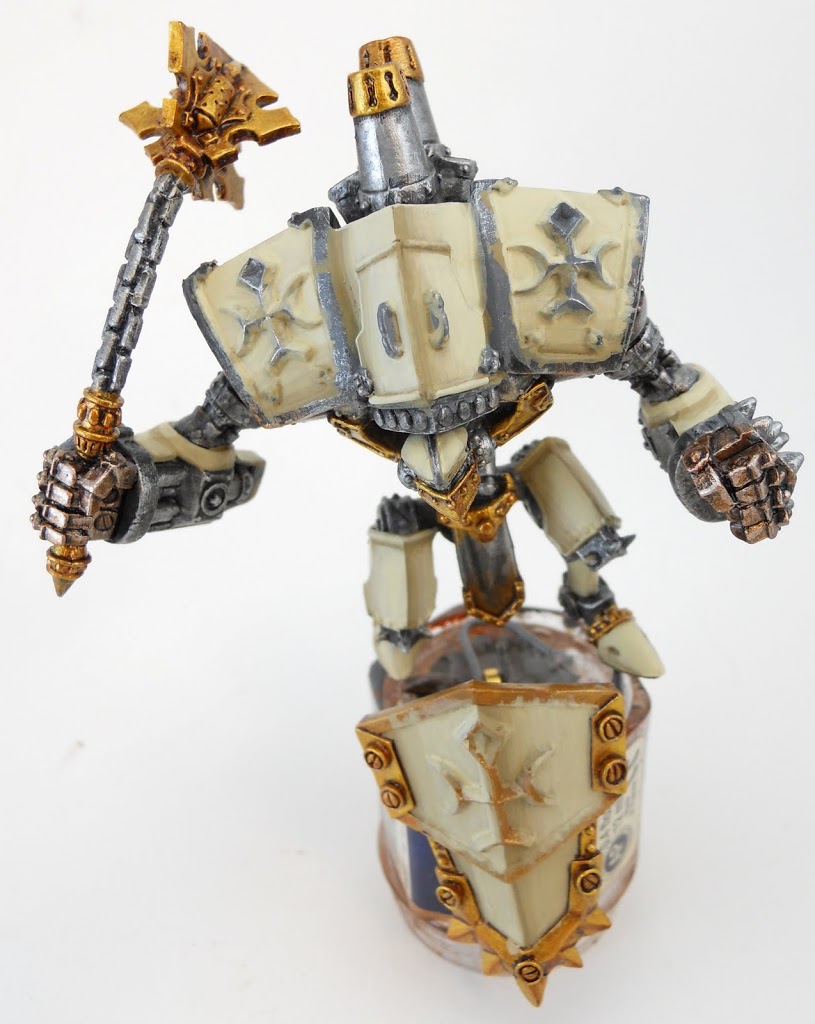 Bleached Bone mixed 67/33 with Skull White.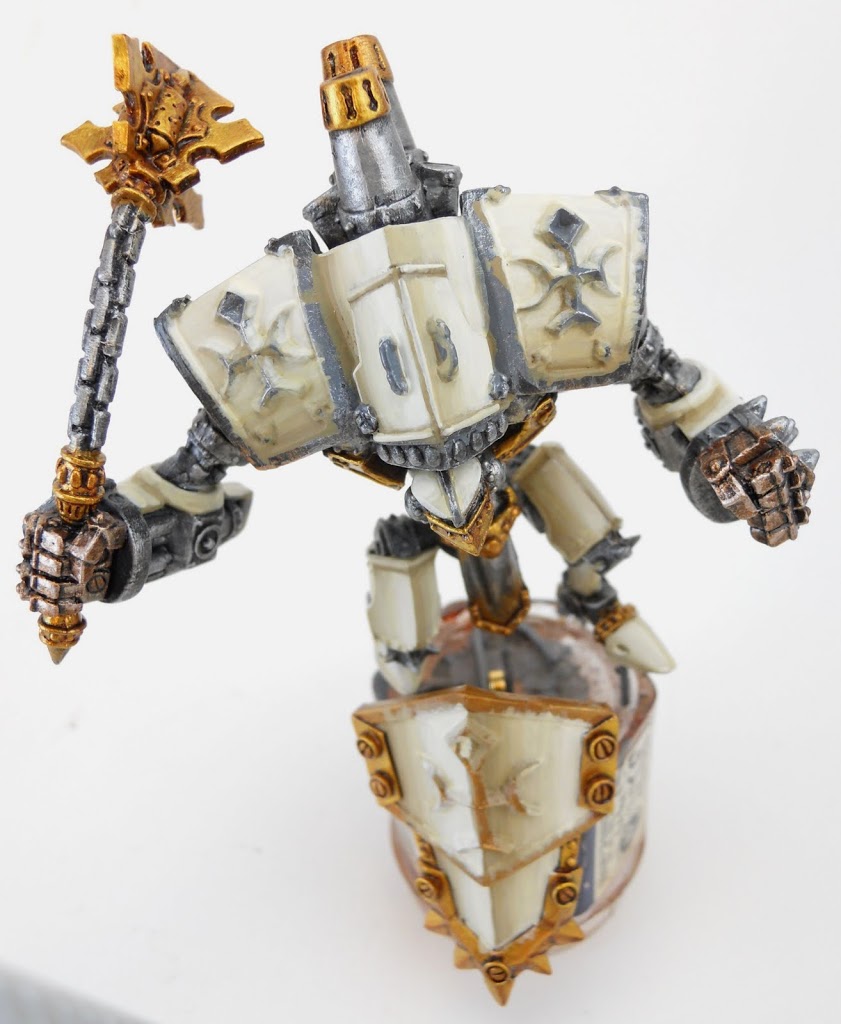 Bleached Bone mixed 33/67 with Skull white.

There are two steps in the next pic. The first is the final skull white highlight. Also in this step I have lined some of the dark areas. Rather than use black, which would create too much contrast, I've used Hormagaunt Purple mixed with about 25% Skull White, with just a bit of Iyanden Darksun added to make a mid range purplish gray. I use this color to help paint the rivets as well, painting the rivet with it and then dotting the top with the lighter Bleached Bone/Skull White mix.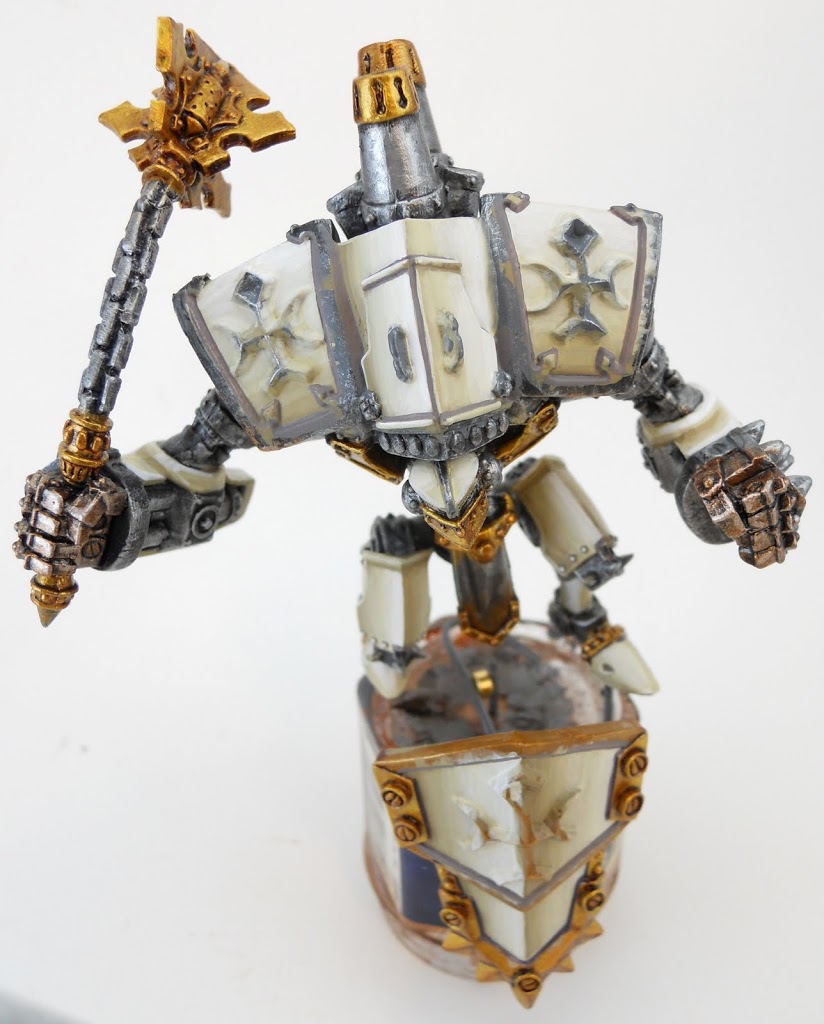 Now I use Dark Flesh to paint every area I will want to be red.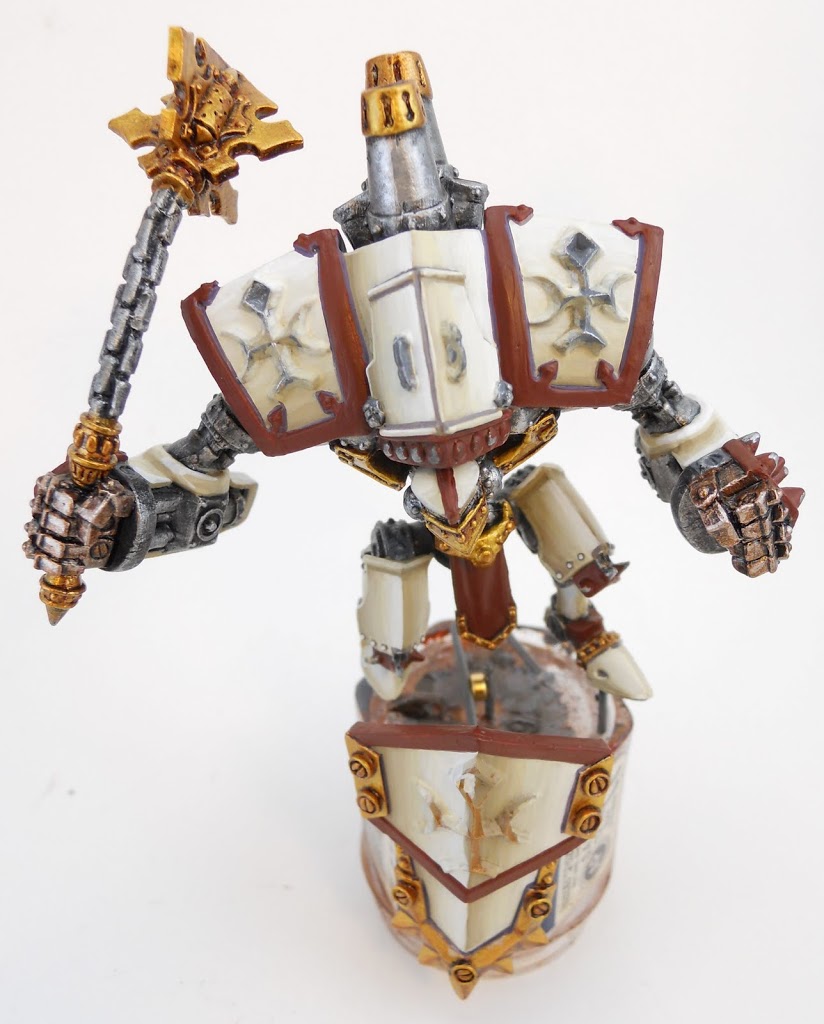 I highlight that with a 67/33 mix of Dark Flesh and Blood Red.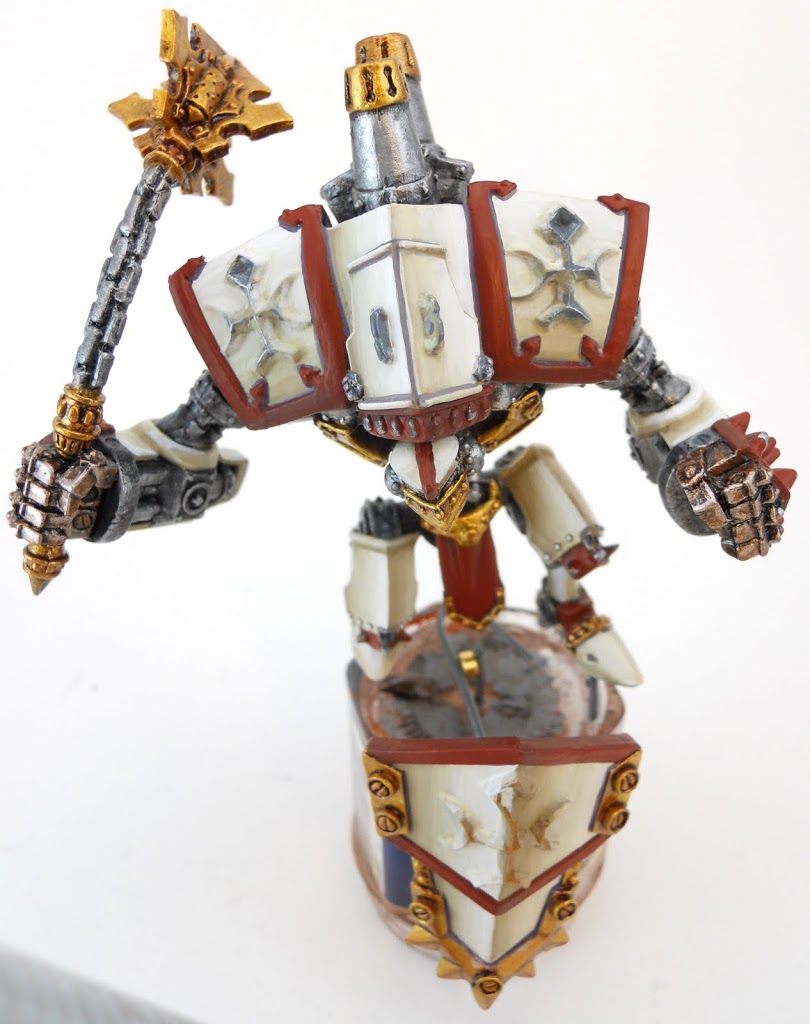 Then a 33/67 mix of Dark Flesh and Blood Red. I use this color to line the bottom-most edges of certain parts, like the raised areas on the shoulder pad. This represents the light reflected off the ground hitting the lower surface.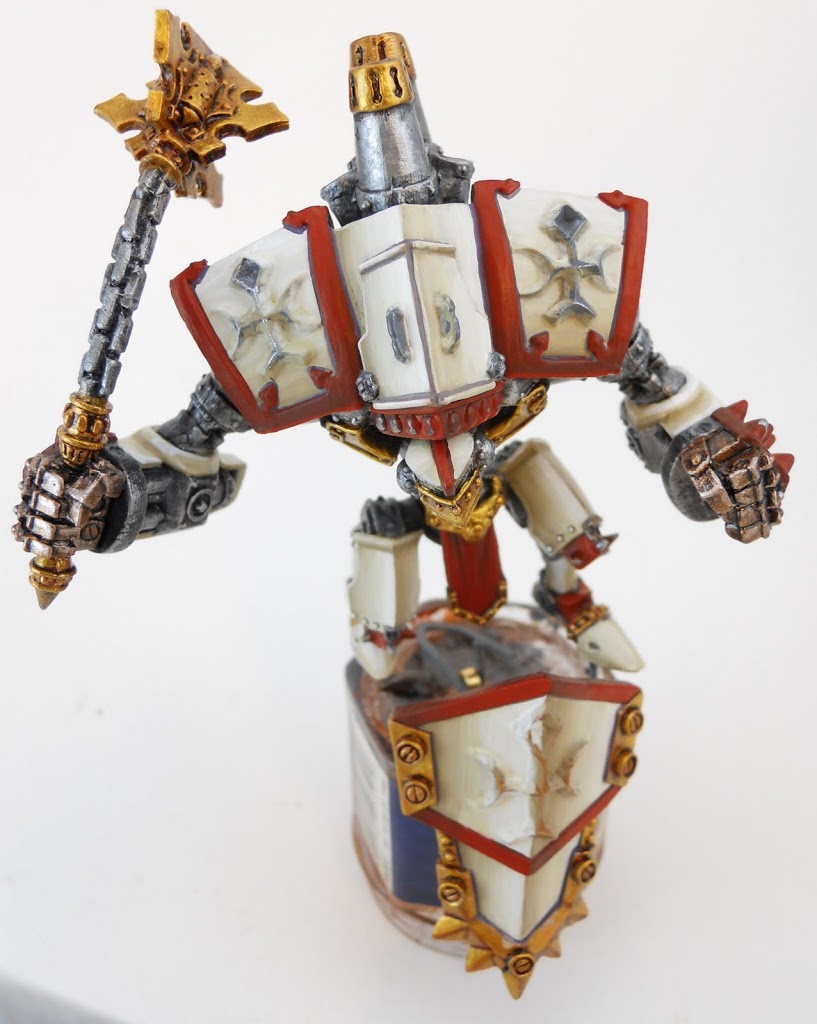 Pure Blood Red. I also use this color to line certain ridges at the tops of some of the red areas like the top of the ridge on the shield. I paint the red rivets with Scaly Green, then give them all a dot of Blood Red.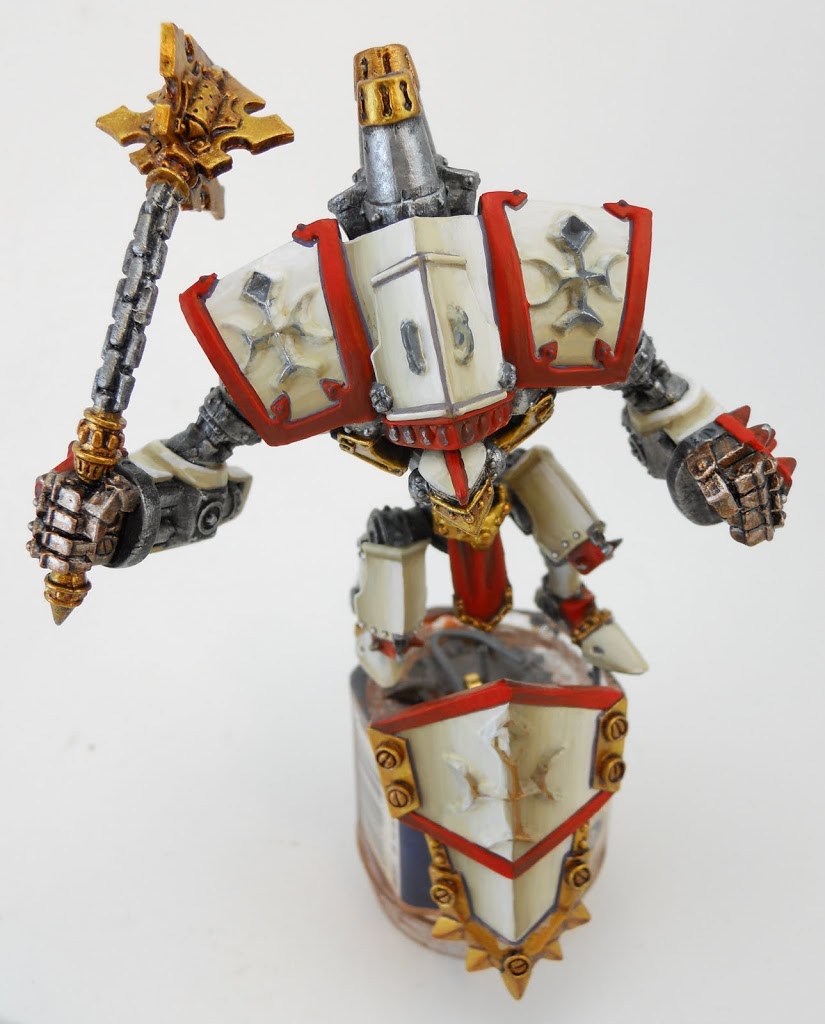 I use a mix of 6o Blood Red, 25 Blazing Orange, and 15 Skull White as the final highlight for the red on a select few key areas. I also paint all the Menofixes Chaos Black.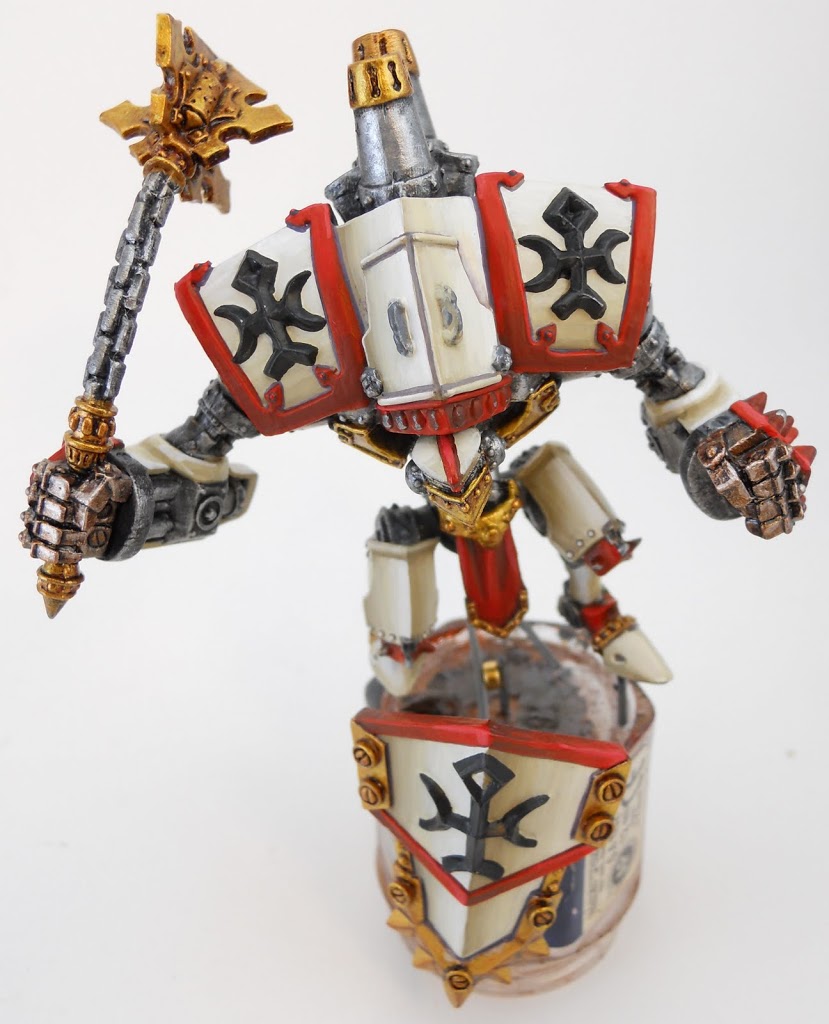 This shot has three steps in one. I give the Menofixes a 60/40 Chaos Black/Shadow Gray highlight. Then a Shadow Gray highlight. Then a Space Wolves Gray highlight on the highest areas only.

I intentionally blew out the highlights a bit because I planned on giving them a Badab Black wash anyway. I also go back and use some Chainmail to retouch some of the metallic areas that got painted over so they can get some of the black wash too. The difference on the highlights after the wash is subtle, but I still think it makes them look more balanced.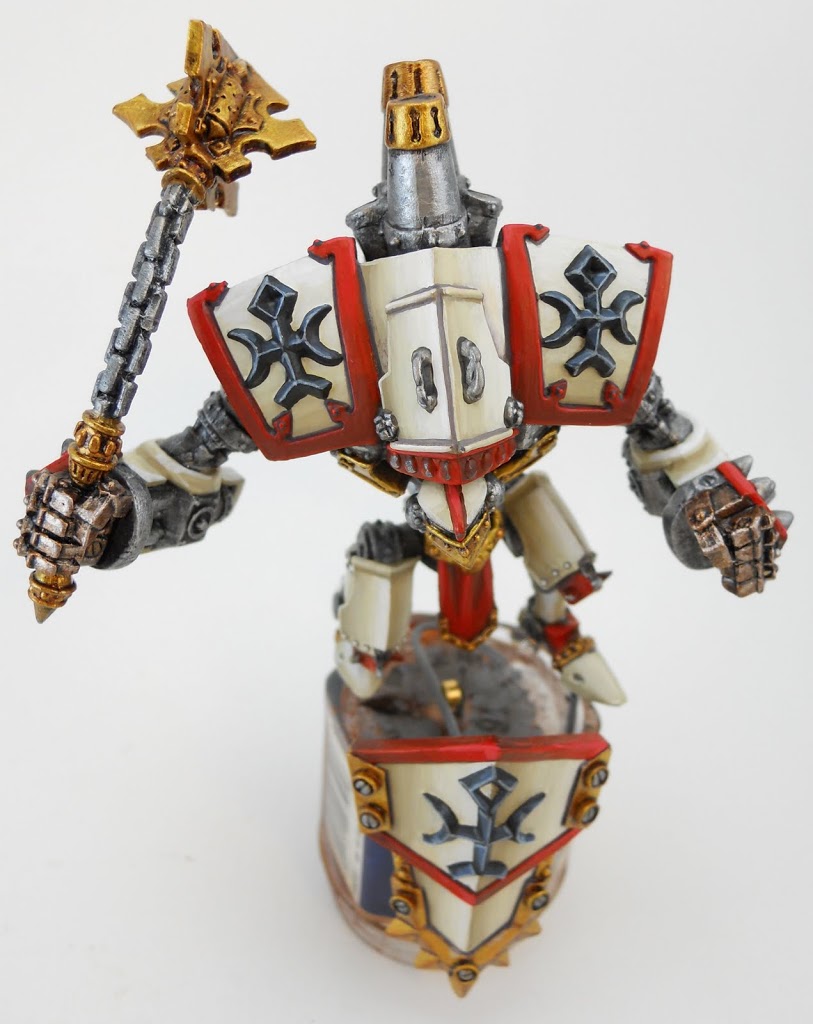 Now Its time to add the furnace glow in places like the eyes and some of the vents. I start with Blazing Orange, and then add sunburst yellow. For the vents it needs to be in the deepest part of the recesses, with the orange glowing around it. I do some very gentle highlighting with the blazing orange in the areas around the eyes to try for a slight OSL effect.

And the final paint step is to turn all those raised bumps on the collar arch and belt(?) into beautiful little sapphires. Since I doubt anyone needs another gem painting tutorial, I'll just give the colors for the gems. I started with a 50/50 mix of Ice Blue and Enchanted Blue, then used Ice Blue for the first under line and Space Wolf Grey for the final one, before I dotted them all with… you guessed it… Skull White.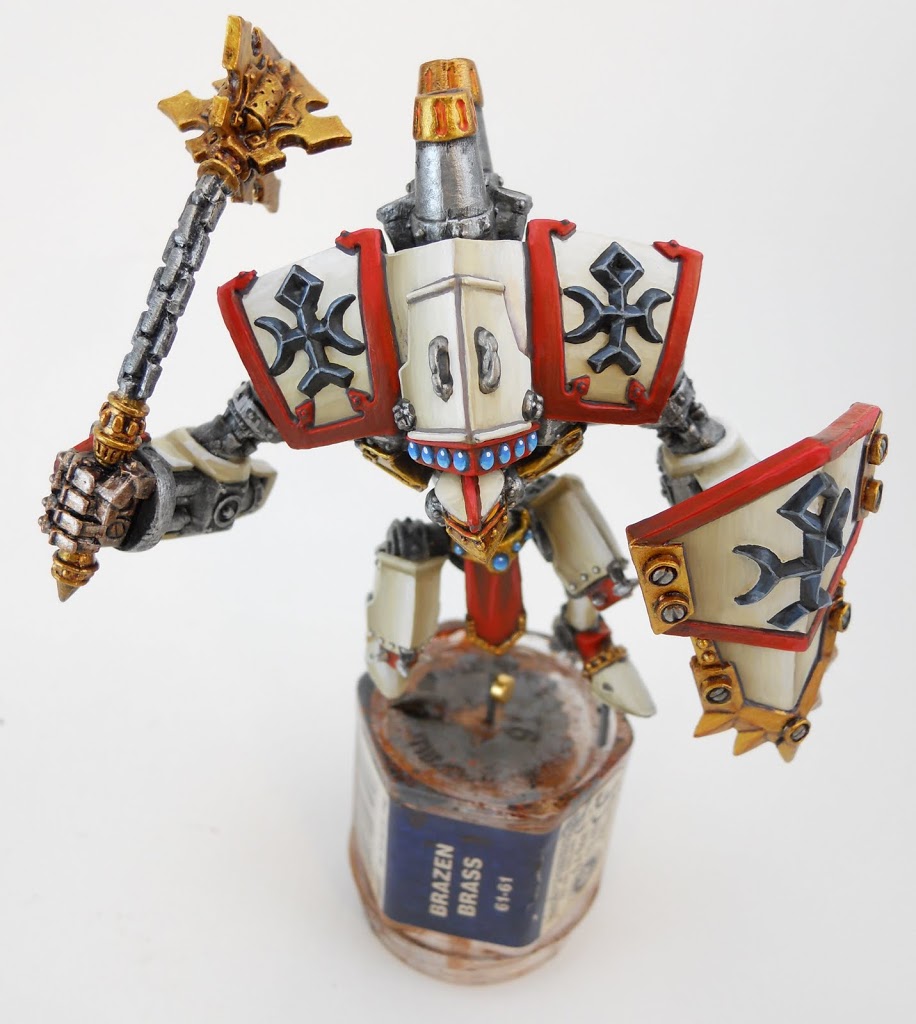 There's just two steps left now that the 'jack himself has been painted. I made a custom cobblestone base (look for the how-to in a future article) before I got started on painting this guy, so now I'll need to attach him to it. To that end I pin the bottom of each of his feet. I poke the pins into the foam to give myself a perfect guide, drill the holes, and push the pins through. I squirt a drop of high viscosity super glue onto each of the exposed pins on the bottom of the base, and set him to dry straddling two paint pots so I don't get glue everywhere.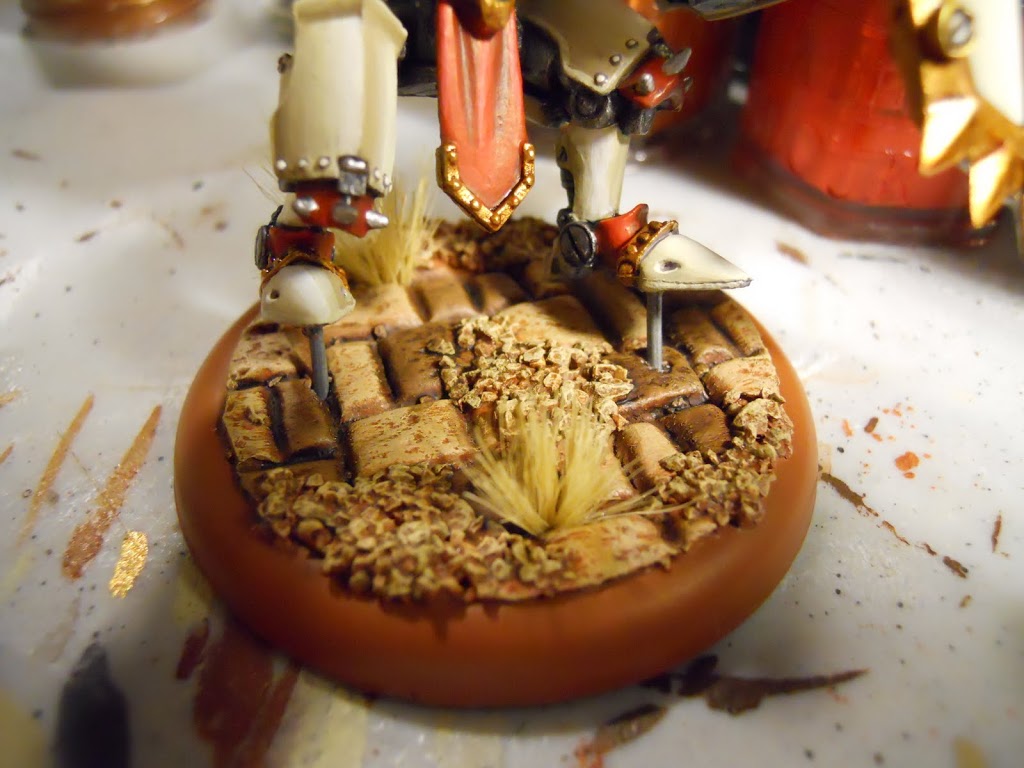 The last step is purely for game function. Using a template I created, I paint a line on either side of the base to designate the 'jacks front and back arcs. The color I use is only slightly darker than the color its painted on, because I don't want it sticking out like a sore thumb.There's no rule that says you have to do this, but it makes the game run a lot faster. I've actually still got a lot of old models that need to be lined like this but fixing them is very low on the current list of priorities.


And now all that's left is to find some heretics to smash. And since we know there's no shortage of those…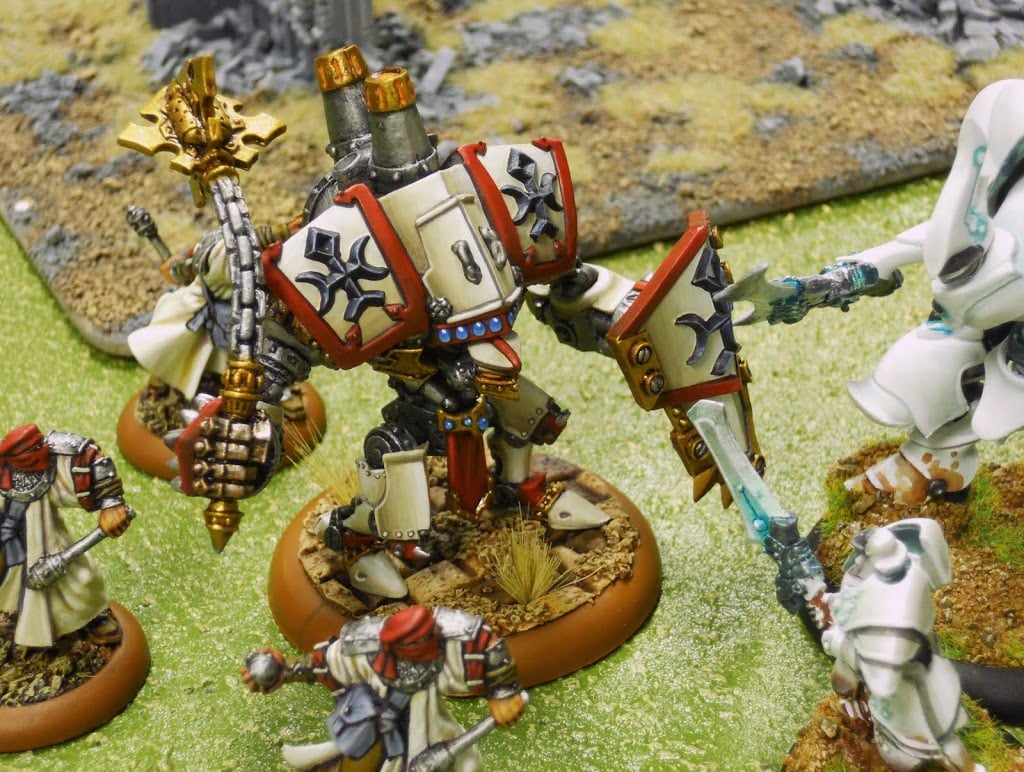 ~ Wow that was a long one. But the sheer volume means there's got to be some useful stuff for you folks in there somewhere. If you've got some great techniques for painting whites or reds, or a new plastic 'jack you want to show off let us know about it in the forums or in the comments section.