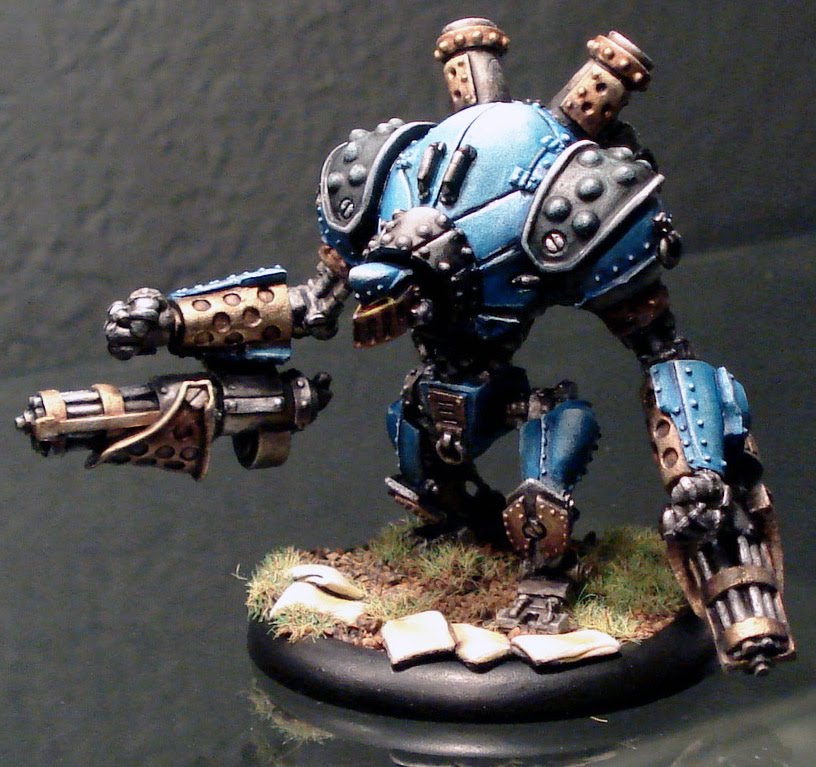 Today we are going to walk you through a totally different technique for painting a dramaticaly lit miniature. Lets go!

This is an article by guest poster Nick, who is a regular in the Warmachine groups here in Austin. If you've been reading some of the Warmachine faction articles, you've already seen a lot of his Cygnar, Merc, and Retribution minis. We're always discussing our painting methods, and his techniques can be quite different from my own. I've always been especially fascinated with the spray primer technique he uses to get fast highlights on his Cygnar warjacks, and thought BoLS would be the better for having a Hobby article about it. So with the preview plastic warjacks in hand, it was simple enough to bribe him into writing one up.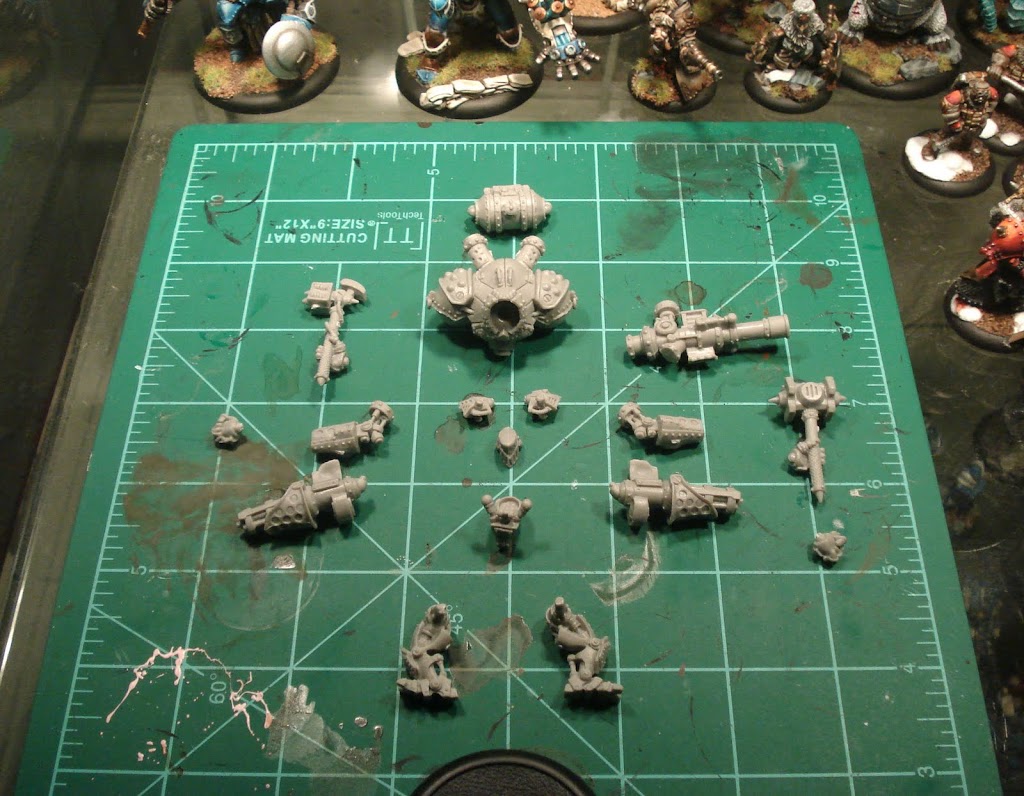 I'm more than a little excited to get my hands on BoLS' Cygnar heavy warjack for this tutorial. Nevermind my love for the boys (and girls) in blue… The sculpted armor plates on the jack's hull and riveted shoulder-pads make it a perfect candidate. These areas benefit most from two-tone priming and will be our focus. I'll be building the new Cyclone and giving it a skylight.
The simulated light source is achieved by spraying a primed black model from above with white. This can also create some easy gradation.
White is usually a nicer surface to paint on. Fewer layers are required for good coverage and the results can look like candy.
Once you've finished assembling your mini, hold it under a lamp. This harsh lighting is the effect we are going to emulate.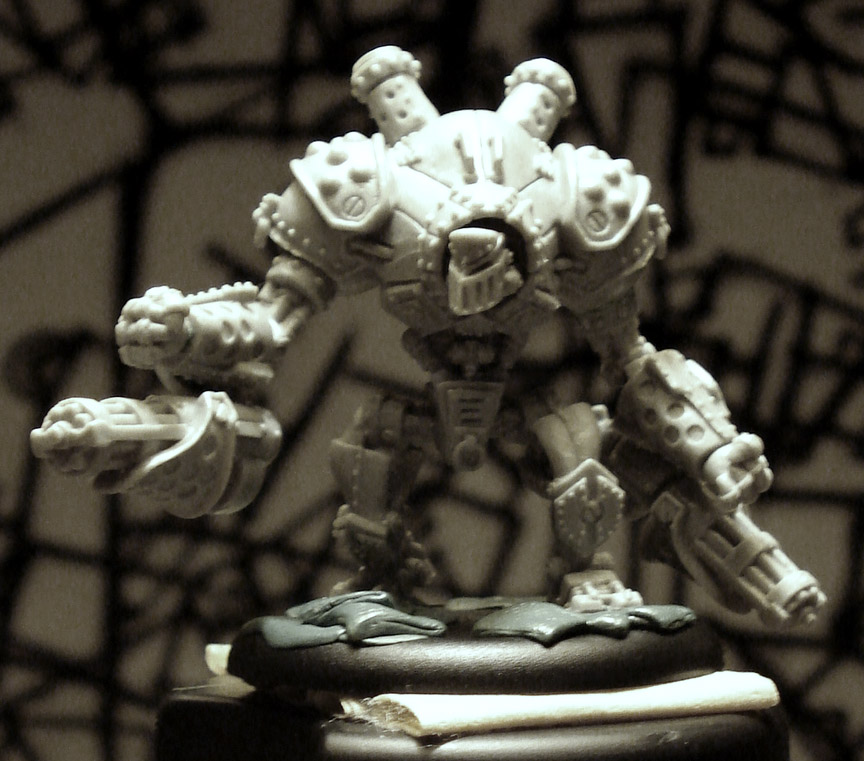 The white primers I have experience with are branded GW and P3. Privateer's can is less expensive and you get more (12oz to 10oz). The quality of coverage seems on par with GW's but there is one problem. The nozzle sprays flat. It's usually a non-issue, but when creating a light source a cone is preferable. The GW nozzle is pretty spectacular and will spray a nice, conic skylight.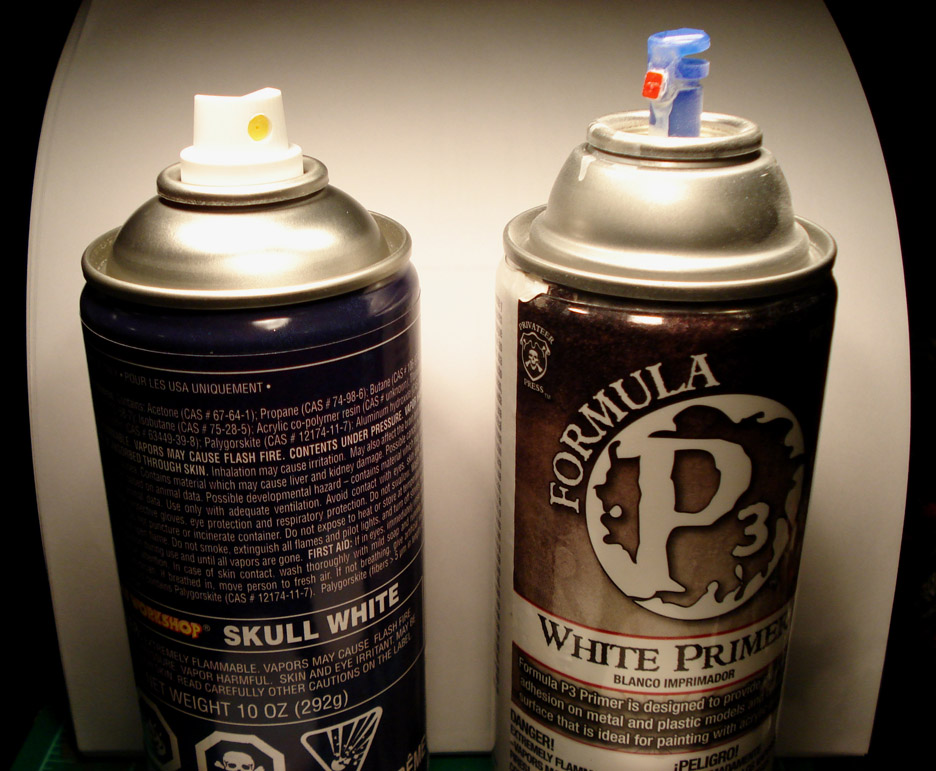 Get full coverage with your coat of black primer.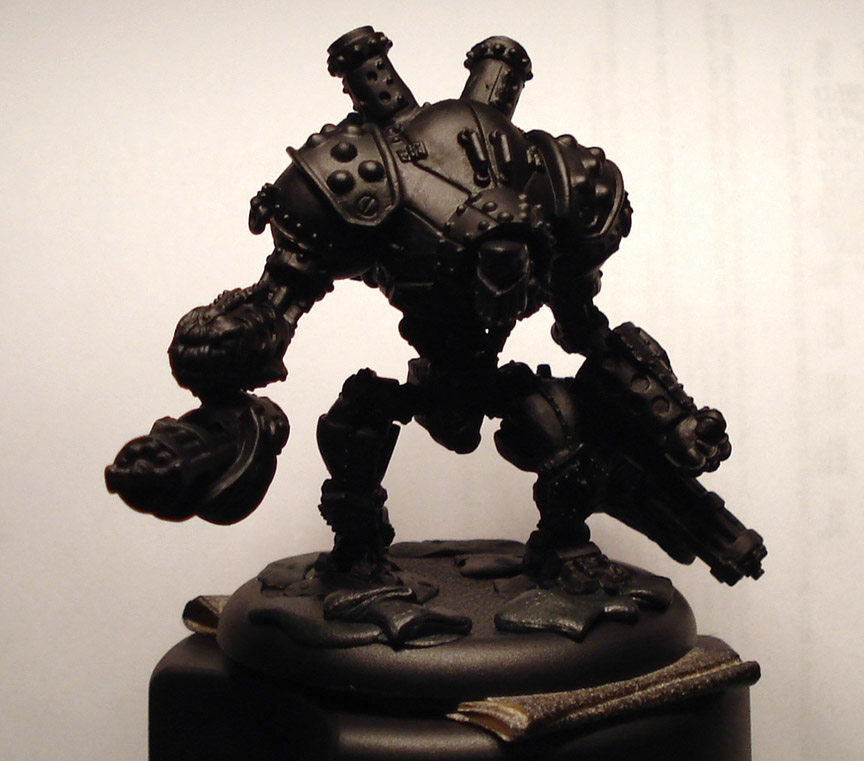 Make some masking tape rolls and stick them on the cap of a spray can, preferably an empty one. Affix the base of your model. Now you have a mini on a stick. It'll be easier to spray primer in your jack's armpits this way. When you are done priming, take the cap off the can and you can avoid handling your model while painting.
NOTE: don't do this with metal minis, especially top-heavy warjacks.
Here's the fun part. Shake the heck out of your white primer can and test it on some scrap to make sure you don't have any drips. Hold your can directly above your mini, start about 16" up and work your way down. Spray short bursts. Go slow and try to build up some nice gradation. The highest points should have the hottest highlights. Let the primer do the work, dictating value.
If you make a mistake just prime it black and try again, I did. Careful though, too many times and you'll lose definition.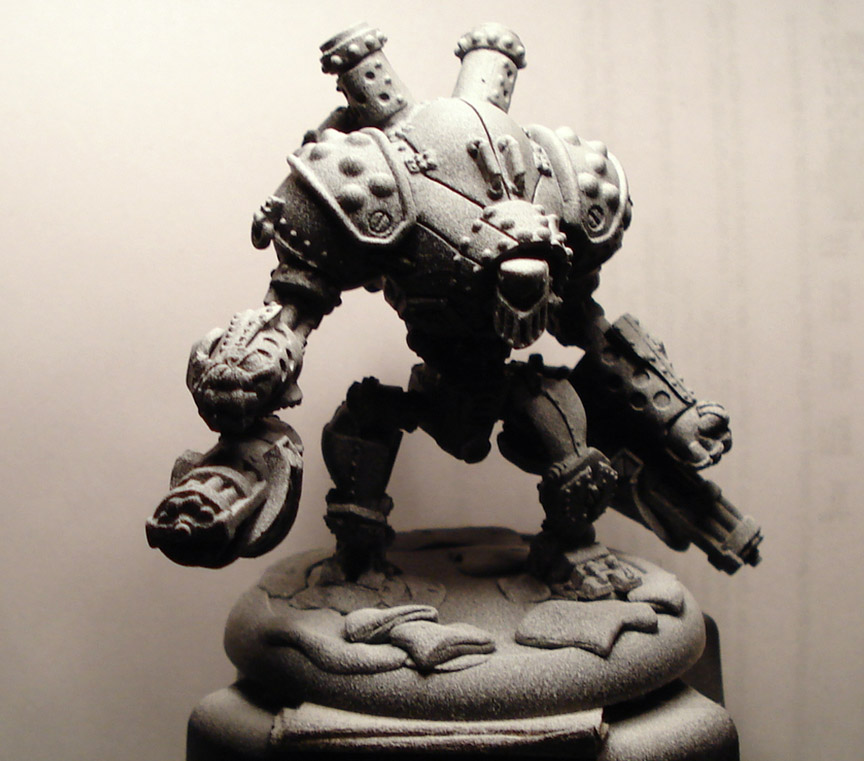 Notice the similarities between this image and the one under the lamp. Now You're ready for paint.
We'll focus on the blue armor plating first.
This first step is a light wash which evenly dyes the surface like an easter egg. I mixed some Cygnar Blue Highlight (P3) with some water and a drop of P3 mixing medium. Remember to keep it light, pastel in this case.
You can be a little sloppy with the application; we'll take care of that later. Just focus on keeping it even. Let this dry fully before continuing.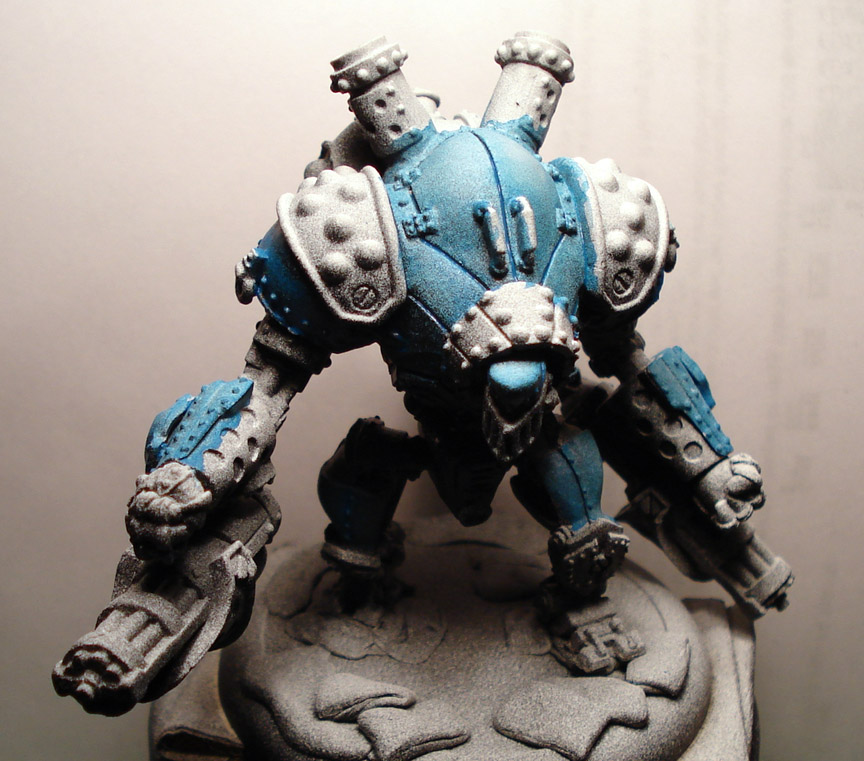 The second wash is much like the first. Add a bit more pigment to your mix but avoid painting the highlight areas, specifically the top of the camel hump. While this is wet you can add some pure paint to the crevasses.
As before, let this dry.
The last step is extreme highlight and shading, Frostbite and Exile Blue (P3) respectively.
Rivets in shadow needn't be given much attention here. Leaving some without highlights will enhance the illusion of shadow. Use discretion of course, and you can revisit this step if you finish painting and some elements still feel flat.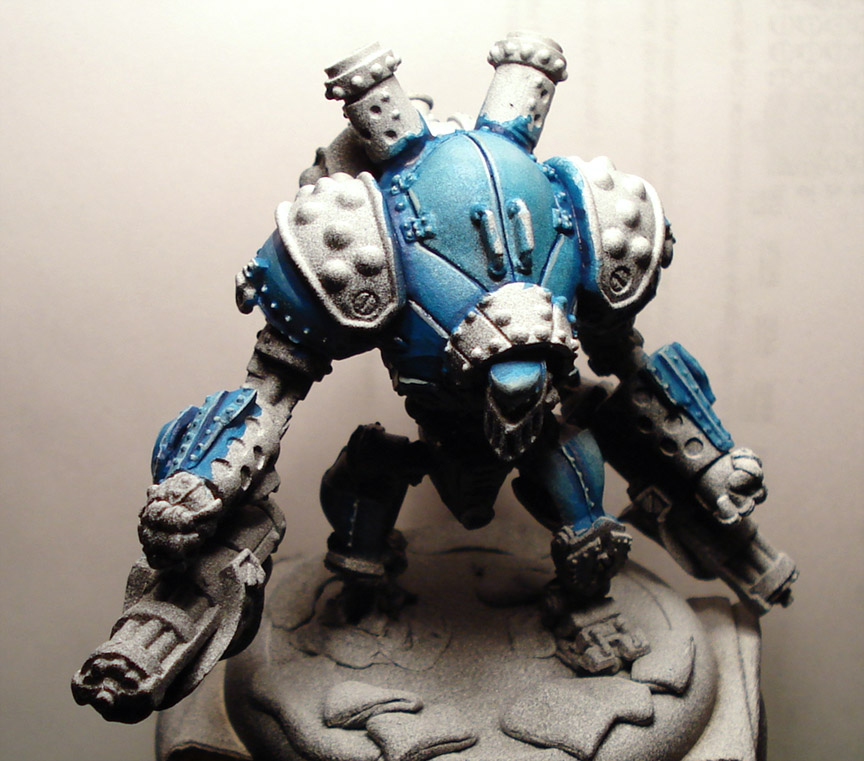 This step is typically called reclamation. Use Thamar/Chaos/Whatever Black straight out of the pot. Tidy up anywhere you got a little overzealous with your blues. Outline the shoulder-pads and blacken out any screws or recesses. This adds much needed contrast.
The shoulders are our other primary surface. We'll focus on them same as the plated armor. I want a de-saturated dark blue so I'll start with a watered down wash of Coal Black (P3).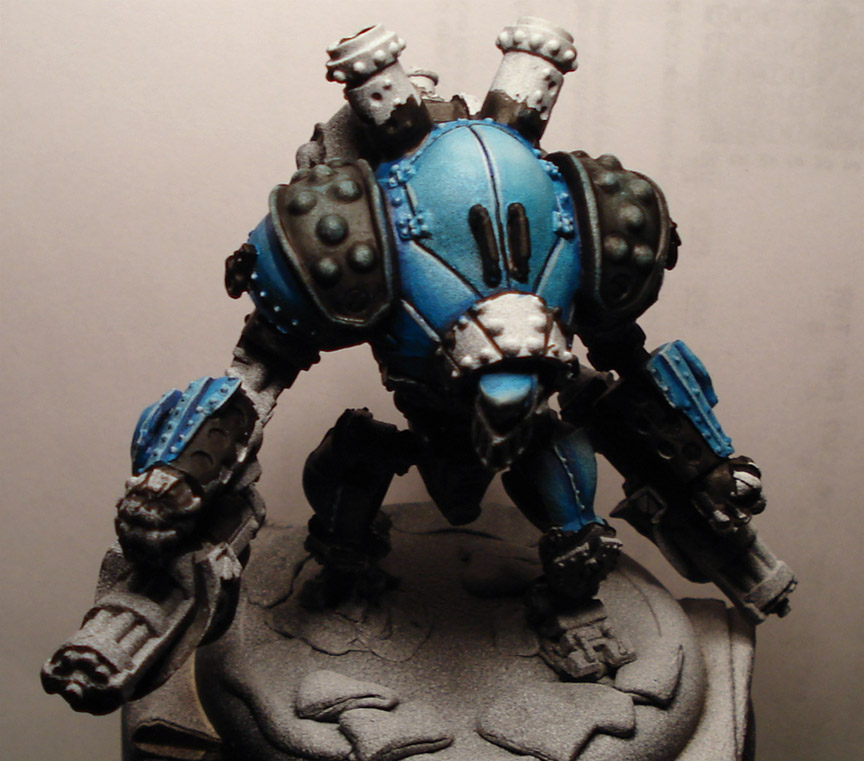 After that dries, it's time for everyone's favorite, Badab Black (GW). Apply this coat liberally, avoiding the highest point of the rivets and allowing it to pool in the lower corners.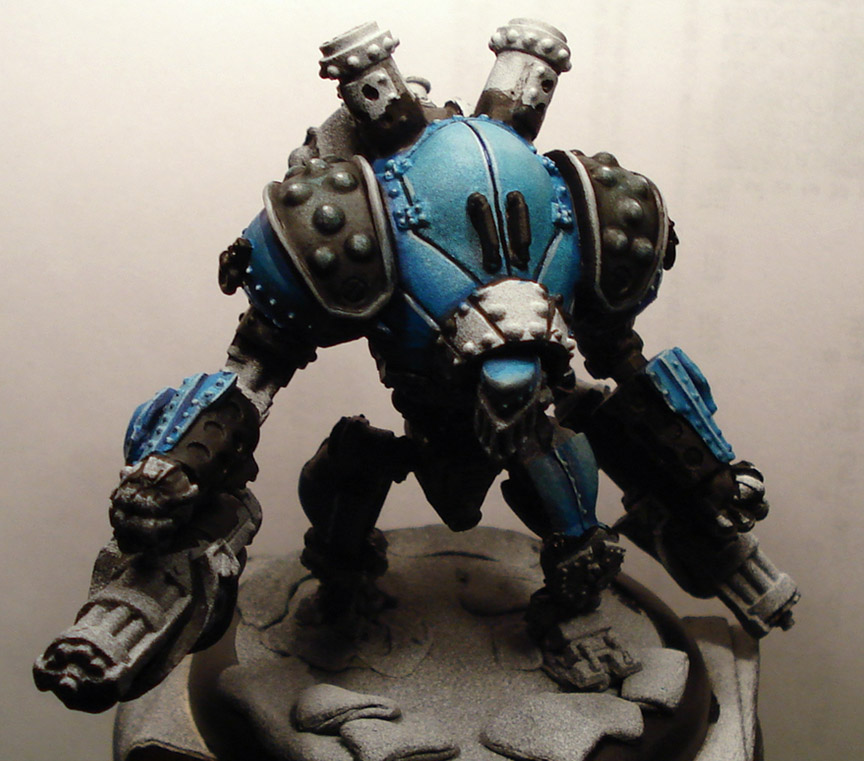 Then highlight with Fortress Grey (GW)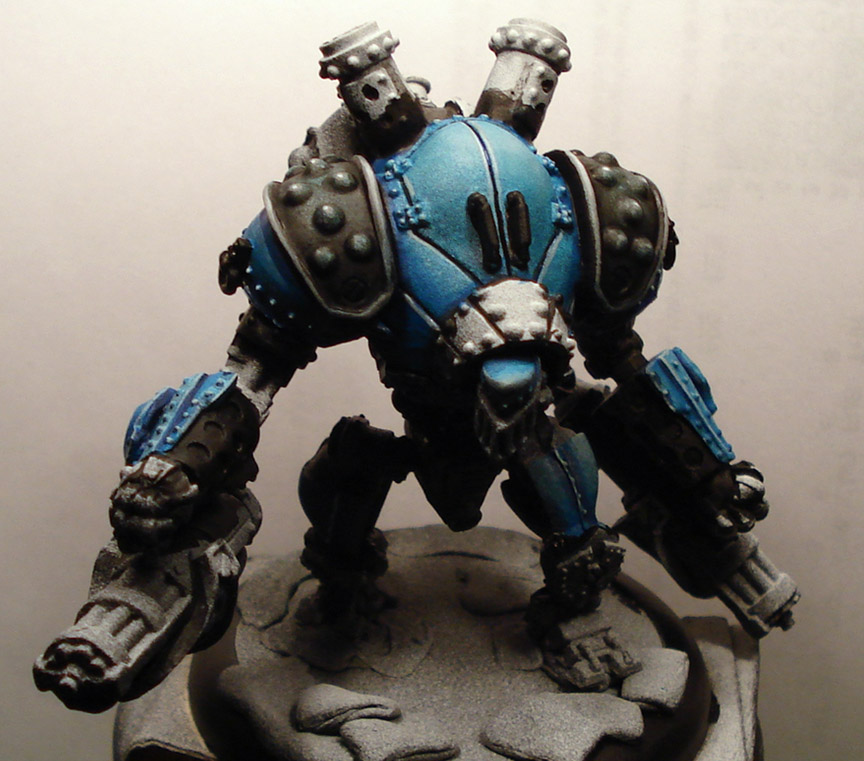 The work that is applicable to the skylight priming technique is done. I've used Brass Balls and Quicksilver (P3) for the metals, be sure to get good coverage. Do two layers if necessary.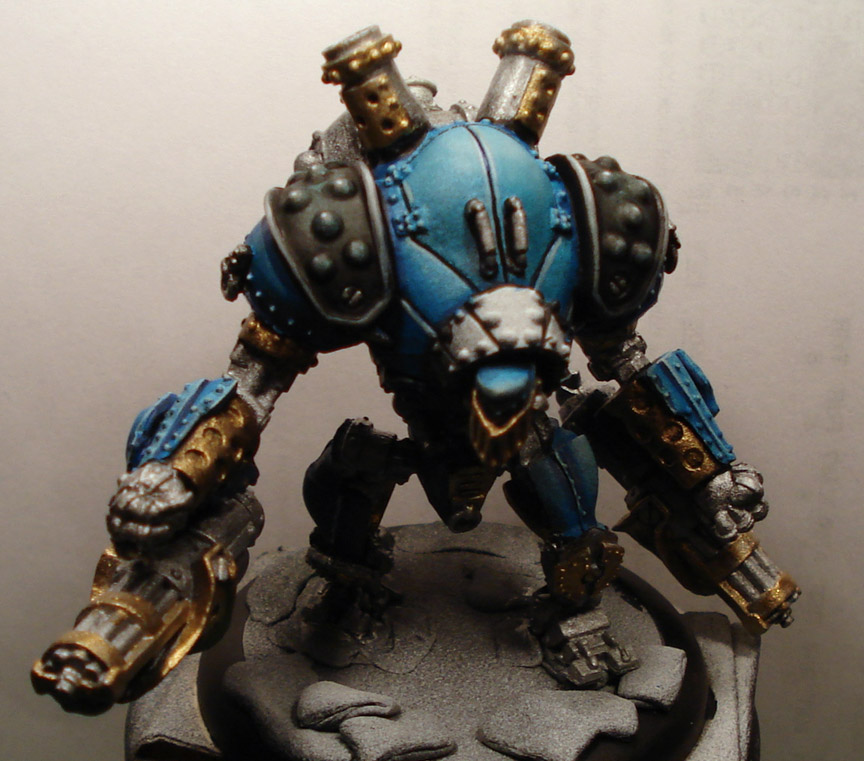 Use Gryphonne Sepia and Badab Black (GW) on both the gold and silver bits. I prefer the rusted oily look.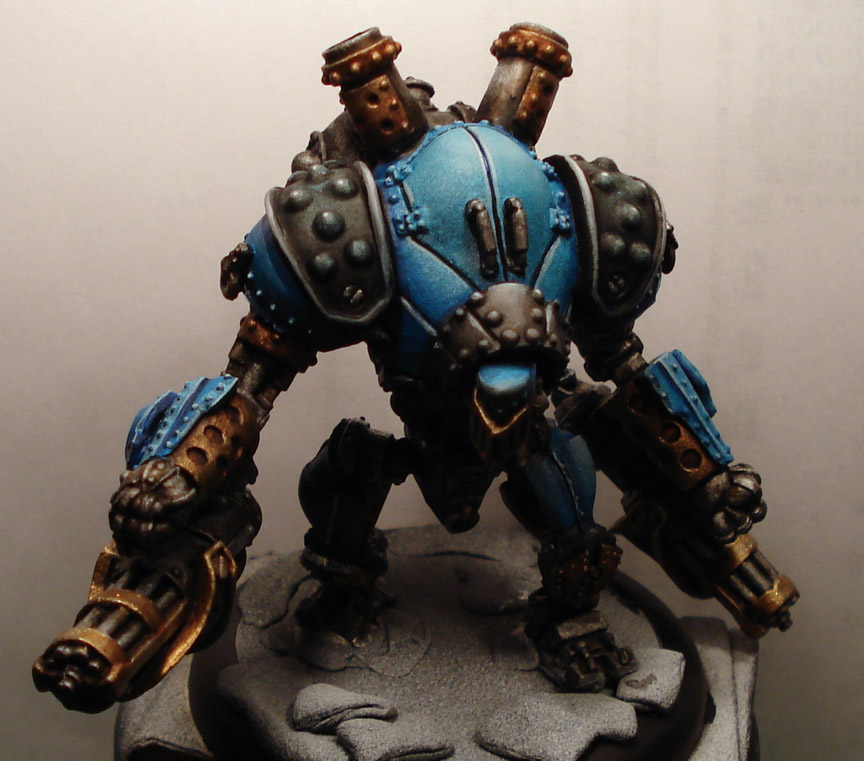 It's just details and basing from here, you know the drill.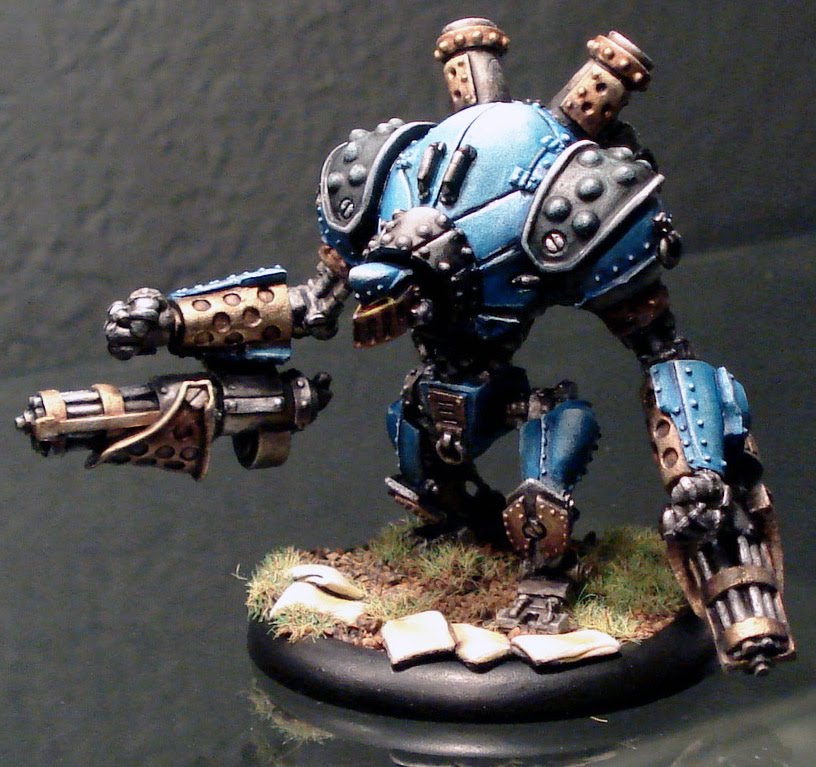 ~So lets hear it for Nick folks. This is probably a brand new painting concept for a lot of you out there, so go grab your spray cans and try it out. If you get some good results, we'd love to see them posted in the BoLS Lounge painting and conversion forums.