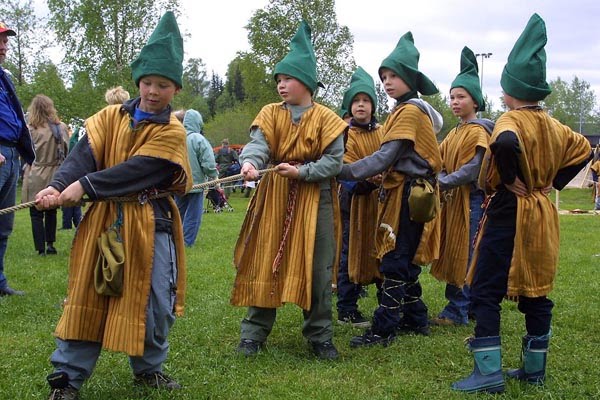 Jwolf here.
If you have no interest in competitive play, you can feel free to stop reading, as this article is about tournament play. This past weekend Goatboy and I played in a Fantasy Doubles Tournament at Battleforge Games…

Neither one of us is a great WFB player. We took good but not crazy lists (Warriors of Chaos with 2 Shrines and Knights, Lizardmen with Slaan Bunker). We had only one really nasty trick (Slaan with Soul of Stone, Cupped Hands, and Infernal Puppet from WoC, which let us reroll a Slaan Miscast, modified by d3, and give it to an enemy caster on a 2+ once per game). We played 3 games, with a minor win, losing draw, and massacre, and won the tournament. In the end, what allowed us to win was we were playing for fun and blood, not one or the other. Since sportsmanship scoring is one of the most nebulous concepts that is present in almost every tournament, I think it's worth discussing how to play a solid and hard game while still being a fun opponent.
1) Have all your materials available and share them with your opponent. Volunteer information that could be seen as a nasty trick during the course of the game. Yes, this means that you explain how your Calidus Assassin works. It means you warn your opponent about real mistakes (charging TH/SS Terminators with Nobs, for instance), and you certainly don't surprise them with you Deamonhunter Mystics.
2) Never complain about your dice rolls. Commiserate with your opponent about their dice rolls. This is simply a good practice.
3) Laugh when you have bad luck.
4) Let your opponent correct mistakes. Ask before correcting yours. If your opponent won't let you correct a mistake, then stop extending the courtesy, but assume that you are playing with another reasonable person, until demonstrated otherwise. By mistake I mean things like forgetting to run a unit with no shooting, starting to fire a tank before finishing orders, not rolling for Reserves, etc. Moving a unit 3 or 4 times isn't really a mistake, and either you're marking before moving or cut it out.
5) Measure generously. Yes, you could let a charge go 1/8th of an inch extra and lose a game. Better to risk things like this than be unreasonably strict on movement. Again, you can have opponents who try to cheat about measurement – don't give them a break. But if your opponent is reasonable, generosity will pay off.
6) Avoid offering advice unless you are asked for it. No one likes to be told where they messed up if they are not asking for it.
7) Demonstrate enthusiasm for the game. This can be telling jokes, cheering for rolls, or any number of ways to show that you're having fun.
8) Walk with your opponent to the scoring table. The kind of opponent that will chipmunk you on sportsmanship will want to do it when you are not around. Staying with your opponent helps reduce chipmunking.
Using these techniques has improved my player-generated subjective scoring, even when I kill every model on the board. If you have skill in keeping your soft scores strong, please feel free to share them with the class.