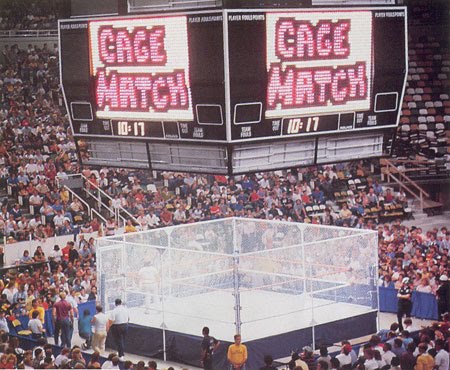 Lets get ready to RUMBLE! BoLS gets all kinds of crazy requests for articles but over the last month, you guys have kept begging for a" Hand-to-Hand King of the Hill" poll. Who am I to deny the people what they so desire.

So lets get out your best mathhammer, put on the thinking cap and figure out who is the best of the best in the hacking apart everybody else in the Warhammer 40k universe. Each codex gets a single entrant:
The entrants are:
-SwarmLord
-Commissar Yarrick
-Ragnar Blackmane
-Brother-Captain Stern
-Ghazghkull Thraka
-Skarbrand
-O'Shovah
-St. Celestine
-Abaddon
-Prince Yriel
-Commander Dante
-High Marshal Helbrecht
-Nightbringer
-Grand Master Azrael
-Lelith Hesperax
-Captain Lysander
-Master Marneus Calgar
(yes Space Marines get 2 choices, that codex is thick)
Some may imagine this fight as a cold clinical set of isolated matches to determine the true winner, but it's so much more entertaining to think of this group sitting around a table after a big dinner when one of them decides to stiff the waiter… disaster ensues!
~Last man standing, taking into account charging and recieving a charge. Calculators and reasoned arguments Ready, Set, GO! (Also, vote down below)