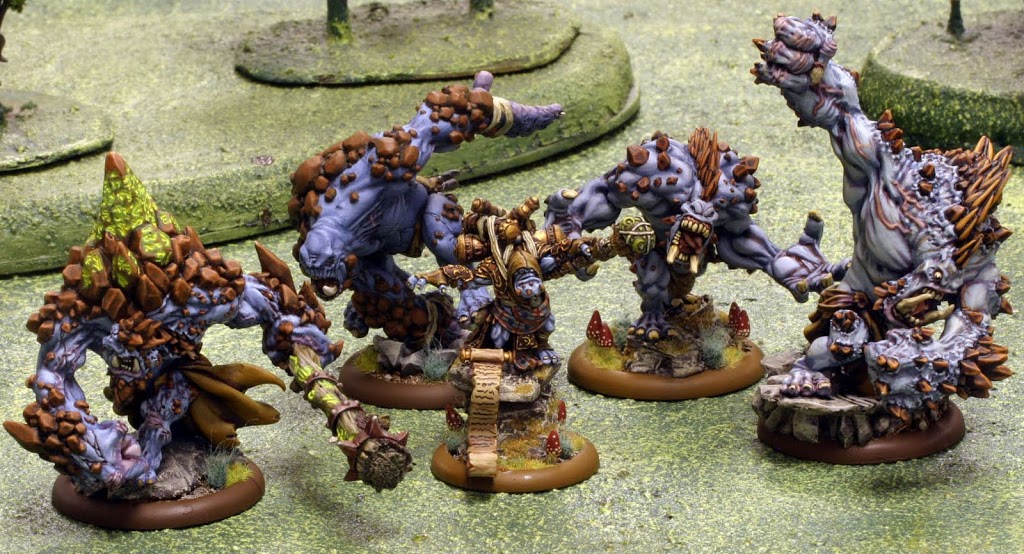 The constant wars between the Human inhabitants of the Iron Kingdoms have ensured that there are still vast tracts of undeveloped wilderness within their borders. Stretching on for hundreds of miles, these places serve as a home to many of the less "advanced" humanoid races of Imorren. Perhaps the most powerful of these varied people are the Trollkin.

While Humans, Elves, and Dwarves built their mighty cities, the Trollkin were content to lead their traditional tribal lifestyle. Organized into family groups called Kriels, they are a semi-nomadic people that follow game between permanent settlements built of stone. While they are related to the larger, more savage, and more powerful "full blood" trolls, the two usually keep to their own affairs unless united by common purpose. The most brutal of their bloodline is the terrifying Dire Troll, a creature whose strength and ferocity are as legendary as its appetite. Also related are the diminutive pygmy trolls, who have only recently proven themselves to be of anything resembling human intelligence. To most of Imorren's human inhabitants, the trolls may seem primitive, but they are an ancient people with a rich history known only to the most learned of mankind's scholars.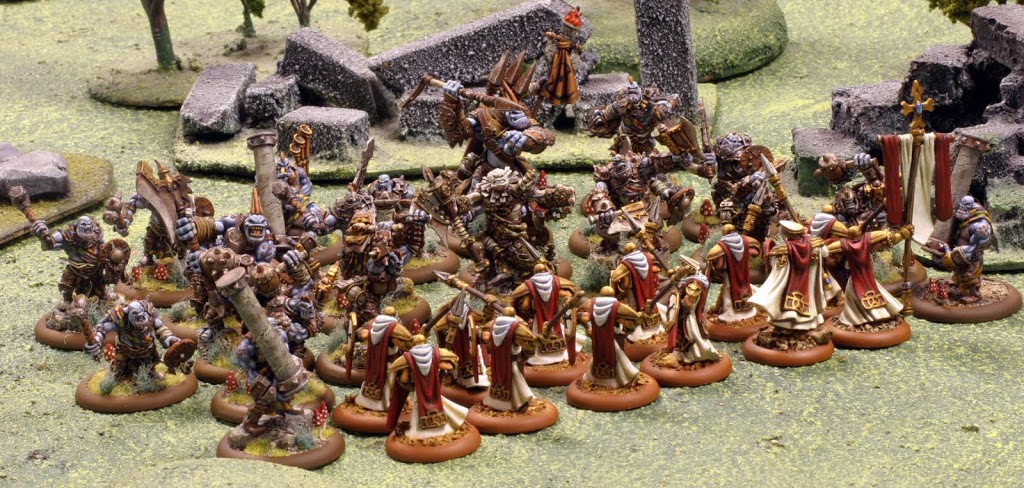 Over three thousand years before the first Orgoth longboat made landfall in Imorren, the Trollkin Kriels were united along with Gobbers, Ogrun, Tharn, and others in a savage alliance known as the Molgur. Unified by the worship of the Devourer Wurm, the Molgur ravaged the ancient kingdoms of men, and for a time carved out a bloody empire for themselves. But the downfall of a civilization that worshipped the embodiment of chaos itself may have been inevitable. Gradually the fledgling human nations pushed back, until the Molgur suffered a crushing defeat at the hands of Priest King Golivant.
The surviving Trollkin saw the error of their ways and most of them returned to the worship of Dhunia, their earth-mother godess. They headed back into the wild places and resumed the lifestyle they had lived centuries before. This withdrawal kept many of them safe during the Orgoth Occupation era, though their strength, endurance, and skills at smithing and masonry meant they were prized as slaves. When the rebellion against those dark invaders began the Trollkin were there, and their aid in the eventual victory ensured they had a seat at the signing of the Corvis treaties that established the present nations of the Iron Kingdoms.
The ensuing four decades were a peaceful time for the Kriels, but the greed of the newly formed Cygnaran nation shattered that tranquility. Loggers sought to fell their woods while caravans refused to pay tolls on Trollkin built roads. All the peaceful efforts of their elders failed to sway the Cygnaran nobility who had so quickly forgotten the promises they had made in Corvis to their former allies. In the war that ensued humans learned for the first time of the bond that exists between the Trollkin and their cousins the full-blood trolls. Many died on both sides but after a series of defeats the Trollkin slowly began to gain the upper hand. As a last ditch effort, the Cygnaran army unleashed its Colossals, giant warjacks which had been key in winning the war against the Orgoth. After many initial losses the Trollkin learned to lead the machines into traps, and rough ground, using the knowledge of their land to their advantage. One by one, the mighty machines fell. The shock of their defeat left such an impression on the human kingdoms that they would not interfere in Trollkin affairs for nearly two and a half centuries. And while the Cygnarans claim the Colossals were retired as an unnecessary drain on resources, the Trollkin tell a very different story.


While the Kriels would not find themselves the targets of any direct aggression in the years that followed, the wars of man were waged more and more in their lands. More and more Trollkin found themselves the victims of human violence. In an attempt to free his people from the perpetual conflict, a young chieftain named Madrak Ironhide struck a deal with King Leto of Cygnar. The Trollbloods would aid them in their wars, and in exchange his Kriel would be given land far from any battlefields. For years, he and his tribe loyally defended the southern borders of Cygnar from Protectorate attacks. They held their ground, but the arrival of the Skorne army was too much for their already thinned numbers to bear. Madrak led his people in a fighting withdrawal, and sought to ensure the acquisition of the land he had been promised. Swayed by greedy nobles unwilling to relinquish their claims, Leto refused, adding to a legacy of broken human promises. This betrayal was too much to bear, and in an act that would inspire Trollkin throughout Imorren, Madrak led an attack on his former allies, taking what was rightfully his. In the time since he has traveled hundreds of miles trying to unify the Kriels to a common purpose. He has found a powerful ally in the shaman Hoarluk Doomshaper, who has taught Trollkin Warlocks how to harness the power of the terrifying Dire Trolls. While many are reluctant to put their people in harms way, he finds that there are more and more like him. Those who understand that their people can no longer hope to survive by being ignored. New heroes emerge adding their skills and Kriels to the cause. Across the trackless wilds of Imorren there are thousands upon thousands of Trollkin, and every day his message reaches more and more of them. Aided by the might of the Dire trolls, the united Kriels would be an unstoppable force.
Every Trollkin is taught to fight from birth, and men and women alike are skilled in the use of arms. The male Trollkin are usually the first on the front lines, with the women typically holding back to protect the young and old, and acting as a last line of defense. These are the Kriel Warriors, the most mumerous soldiers of the Trollkin armies. Their greatest weapon is their race's natural resilience, but the incantantions of their shamans and warlocks can turn these already mighty warriors into a force to be reckoned with. The Fennblades are more specialized soldiers who wield immense hooked greatswords first used to break the charges of Cygnar's cavalry centuries ago. The mightiest of the Trollkin are the stalwart Champions, whose natural resilience and skill at arms have been refined to an art by years of conflict. Fighting in closely knit groups, these warriors are capable of bringing down the most powerful warjacks the kingdoms of men have to offer while withstanding terrible punishment in the bargain.



Also joining the cause, the pygmy trolls add their own unique skills. Up until very recently the Trollkin regarded their smaller cousins, as basically a bunch of backwoods simpletons. Most of their tribes managed to survive by living on Dire Troll lands where they were the only living things the monsters ignored. The Pygs surprised everyone when they demonstrated not only a willingness to aid in the current war, but also a surprising aptitude for using requisitioned Cygnaran firearms. Their natural skills as woodsmen paired with outdated but still serviceable rifles created a perfect harassing force. Clever Trollkin leaders were also quick to capitalize on another unusual Pyg talent: the tiny creatures' propensity to dig with an unnatural speed. And so they armed them with the short-ranged but devastatingly powerful Slug Gun, which they use to unleash devastatingly over-sized bullets behind enemy lines.
The full-blood trolls are a surprisingly diverse bunch of warbeasts. Among them are common trolls outfitted for war, hurling huge spears, swinging over-sized axes, or stoutly defending their warlocks with enormous shields. Some of the more peculiar among them are those whose physiology has been altered by their diet, or native clime. These include the Winter Troll whose icy breath can freeze a man in his tracks; the Pyre Troll whose peculiar habit of drinking the black liquid known as Menoth's fury have given it the ability to spit fire; and the Slag Troll whose stomach acids have grown so corrosive as a result of its all-metal diet, that it can actually melt warjacks. The larger Dire Trolls are all powerful beasts capable of tearing an enemy in half. The Mauler is the most commonly encountered and is easily one of the most destructive forces in Imorren. A few of them have grown to trust the Trollkin enough to allow rapid firing "slugger" machine guns to be attached to their backs, operated by the bravest Pygmies of their tribes. The most recent innovation has been to give the Dire Trolls huge barrels filled with unrefined blasting powder and other volatile substances which, upon being lit by a torch-wielding pyg companion, are gleefully hurled at the enemy. The Earthborn Dire Troll is a rare beast said to be blessed by Dhunia itself. It adapts to the very battlefield around it, and its mighty fists can take on the properties of the enemies it seeks to destroy. All Trolls have the ability to regenerate massive wounds in a very short amount of time. In fact, their regenerative powers are so great that a piece severed from one of these beasts may grow into a small creature called a whelp. The antics of these short lived creatures can serve to amuse and calm even the most ferocious Dire Troll. And they also make a handy snack.
As a Trollblood player (or opponent) the first thing you will notice is that all Trollkin infantry comes with the tough ability. This 5+ on a d6 save against all wounds is really a love it or leave it kind of thing. Why would anybody not want such an advantage you ask? Because like it or not, you have to pay for it. To many players, since it is wholly random and cannot be improved upon in any way, the "tough tax" can be a huge frustration. When you need to hold that key position against an enemy assault, you can never guarantee that you will make the tough rolls you need. The upside is that since there are so few things in the game that get rid of it, it can cause the best laid enemy plans to completely falter and disintegrate. The other thing that makes the army unique is that all Trollkin barring pygs come on medium bases. This can be a tremendous boon as it makes most of your army immune to the Trample power attack. But even experienced players can have difficulty getting all their models where they need them to go with all that base to work around.
But those are hardly the only two things that define the Trollblood army. The hard to kill theme is further enhanced by the Krielstone Bearer and Stone Scribes. The Trollkin haul this giant rock into battle to generate a protective magical barrier, which in game terms provides an additional 2 points of armor to nearby models. With Kriel Warriors already having a very respectable base armor, this aura grants them a stat equal to other factions' shield wall units. It also grants the mighty Dire Trolls a total armor value that rivals the warjacks of Khador. As if that weren't enough, all troll warbeasts have the regenerate ability, letting them regrow D3 lost points of damage per turn. And in a pinch they can always eat a whelp for a little more healing. And since Trollkin troops have a base defense score that is a point lower than most human infantry, you can bring along the Stone Scribe Chronicler to grant your Trolls concealment as they cross the battlefield.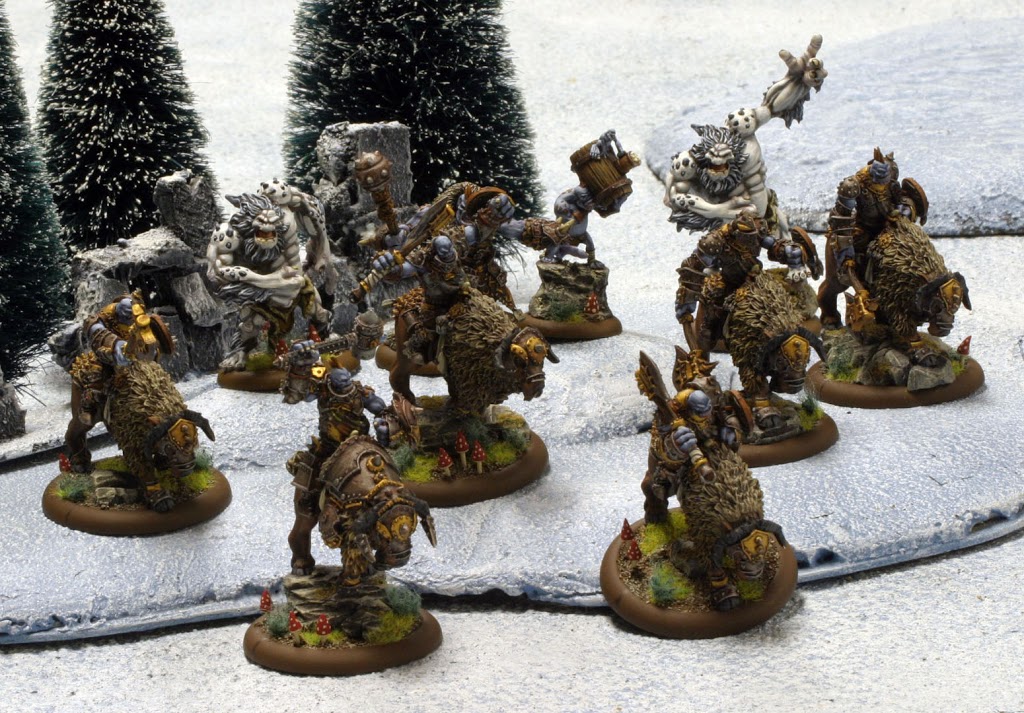 Trolls also have one of the highest damage outputs of any factions in the game. If he has had his animus activated by one of your Warlocks, the Dire Troll Mauler has the capacity to output 7 P+S 19 attacks, and a P+S 14 power attack in a single round. This means this bread and butter FA U warbeast easily rivals the Protectorate's Avatar in terms of sheer power. And with a whelp nearby you can choose to remove fury from a warbeast that would have frenzied otherwise, making it possible to push your beasts even further. Troll infantry can be equally devastating. The mighty champions can each make 2 weapon master attacks. Kriel Warriors deceptively mediocre P+S attacks can be buffed by the unit's own Shaman. Combined with the flank ability provided by the Stone Scribe Chronicler, any Troll infantry attacking a model in melee with a friendly warbeast gets even further benefits to damage. The numbers keep going up as the Kriel stone Bearer UA can give you a further +1 strength on top of everything else. The spells and abilities of Trollkin warlocks add even more, some having abilities that grant extra attacks or spells that grant an additional die on damage rolls.
Trolls also have their share of speed buffs. The Troll Axer's animus grants an additional +2 spd and pathfinder to a target model. This can be stacked with speed enhancing feats and other abilities to jam your Dire trolls down your enemies throats before they know what hit them. Infantry get their share of movement boosts as well, with the Kriel Warriors being able to move 7″ if they opt out of their damage enhancing buff. Grissel Bloodsong can also allow a single unit to make a final move at end of turn, letting those Kriel Warriors advance 17″ from deployment on turn one, to ensure you dictate who is the first to claim any objectives.
The downside to having such phenomenal strength and resilience is that the Trollbloods lack any amazing firepower. Units like the Pyg Bushwhackers and beasts like the Dire Troll Blitzer, or the Impaler help overcome these deficits somewhat, but these models will have to stand on their own merits because Trolls just don't have many strong abilities to buff their shooting. Two key exceptions are Grissell Bloodsong's Calamity spell, and Grim Angus's Feat, but these abilities don't begin to help as much as spells like Dead Eye, or abilities like Kovnik Grigorovich's patriotic speeches. Trolls are also sorely wanting for any truly devastating offensive magic. Their Warlock's do have their share of offensive, often, AoE spells but these tend to be high Fury, short range affairs. Even with the interesting critical effects some of them offer the fury burden and risk to your Warlock mean they are often not worth attempting.
Their characterful background and buff stacking playstyle make the Trollbloods a doubly rewarding army to play. Many veteran Warmahordes players describe them as the only truly "good" faction. A hard point to argue with since at this point they are essentially fighting to stave off their own extinction. It means that self righteous feeling you get when Mulg the Ancient beats an opposing player's warcaster into paste is absolutely justified. And getting the perfect combo off at just the right time makes victory even sweeter. And if that still doesn't do it for you just take a look at the new Dire Troll Bomber mini. If a giant monster like that holding two oversized barrels stuffed with gunpowder doesn't get your attention I don't know what will.
~Hope you enjoyed our second look at the factions of Hordes. If you want to learn more go ahead and check out their gallery section at the Privateer Press homepage or read some posts in the very active Trollblood Community forums.