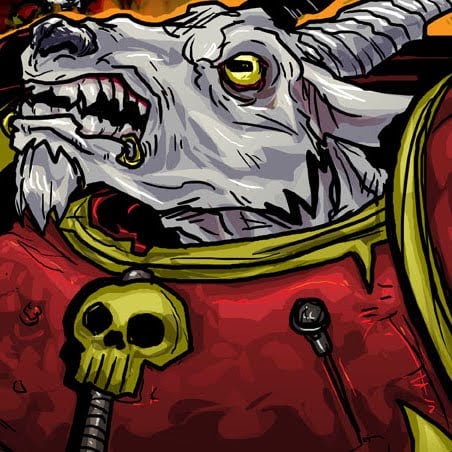 Hi there, as I am sure the blogosphere knows I won the 40k National Championships at Adepticon this weekend. I got my ticket for Vegas as well as an insanely awesome life sized Thunder Hammer as a prize. It is made out of steel and ready to pound some non Space Goats to paste. Overall I had a great weekend with great games and some really amazing looking armies.

What I want to chat about is the championship. My brain is kinda wiped, so I am going to be bad with any names. If the people I played read this, post a comment so I can add your name in. You all were awesome opponents and you really helped capped off a great weekend.
So first of all my list. I changed it up from the last one, after a weekend of getting really mad at my Rune Priest. You can ask my team partners, I failed about 75% of my 4+ rolls to stop Eldrad and his little buddy Farseer from casting their spells in playtest. So I went ahead and just said screw it, I am going to go with a super assault, punch you in the face style list.
SPACE GOATS COAST TO COAST!!! – 1850 list
HQ: Wolf Lord, Thunder Wolf, Runic Armor, Storm Shield, Thunder Hammer, Saga of the Bear, 2 X Fenris Wolves
HQ: Wolf Lord, Thunder Wolf, Runic Armor, Storm Shield, Powerfist, Wolftail Necklace, Saga of the Wolfkin, 2 X Fenris Wolves
HQ: Wolf Lord, Thunder Wolf, Runic Armor, Storm Shield, Frost Axe, Saga of the Warrior, 2 X Fenris Wolves
Troops: Grey Hunters (10), Meltagun X 2, MoW, Rhino
Troops: Grey Hunters (10), Meltagun X 2, MoW, Rhino
Troops: Grey Hunters (10), Meltagun X 2, MoW, Rhino
Troops: Fenris Wolves (15) – (I don't have my codex but these might not be troops, it might just be Canis that activates them)
Heavy: Long Fangs (6), ML X 5
Heavy: Long Fangs (6), HB X 3, Lascannon X 2
This list was designed to abuse the multiple super assault HQ's. I have 21 extra wounds for the 3 Wolf Lords as well as a unit that can dish out a ton of attacks if charged at initiative 5. I have some new thoughts on how to change this up and plan on messing around with it later.
The troop choices were taken to emphasize that more is better in 40k. I have found having full 10 man squads is just a great help when dealing with some of the other armies out there. You could test, dropping one guy for a Wolf Guard, but I really would miss the extra melta gun as I constantly rolled one miss out of two shots. The only way I might change this up, is to go to four 5 man squads with Razorbacks, but that is for another thought article. Either way I found the 3, 10 man squads to be great and still give me enough smack when they charged in for an attack.
The two Long Fangs squads were what I had with me, as I think two 5 man missile launcher squads might just be a better option. But that is for more testing and goofing around. With Blood Angels/Goat Angels in the works this type of testing might have to wait. And for those wondering when my Tyranids will be showing up, I have a few clients I need to finish first before I can work on my own batch of gribbly monsters of doom.
So alright – Onto the games etc.
Game 1 – Black Templar – 44 pts for me
This was exactly what I wanted to play. A big old punch fight with two assault based armies. I was at the advantage with the massed Long Fangs that could take out his 2 rhinos and 2 dreadnoughts. He was running an Inquisitor, Emperor Champ, and Marshal build with a big block of Terminators with Lightning claws and 2 Thunder Hammesr. He had two Crusader squads too. He played a bit timid and that let me get up there to remove some of the Crusader squads. I also got some lucky shots on one dread and popped both Rhinos. The Land Raider survived two melta shots (I roll a 2 and a 3 so I didn't even penetrate adding 4 dice). I popped the LR with the Saga of the Wolfkin Wolf Lord and he ended up getting popped by the Inquisitor. It was a kill point mission and I missed all points but 1.
Game 2 – Tau (Who looked awesome – please whoever I played post pics as the army was fantastic) – 39 pts for me
Tau beat the crap out of me in the Gladiator (weird mission, got stuck in the middle and just died to massed plasma fire) so I was like, oh noes! This game came down to him misreading the mission and not getting into terrain before it ended on turn 5. He was a great opponent and we were just about even on victory points. I still had my long fangs as well as a lot of guys that could get onto objectives. I do have to say the disrupter pods paid for themselves in this game. He passed all cover saves and my Long Fangs were rolling pretty poorly. But no matter what this was an awesome opponent with an amazing army.
Game 3 – CSM – Khorne Big Mech – 45 pts for me
This was a complete swing game. This is the army I am thinking of building for future tournaments as it looks like a ton of fun. 3 Dreadnoughts, 3 Defilers, 2 Daemon Princes, Greater Daemon, and 3 Rhinos fulled of Khorne Berzerkers. I had a great round of initial shooting, popping 2 Rhinos and hurting one dread. His battlecannons did nothing this game as I made cover saves and I was able to get rid of two of them and kill off 2 blocks of Berzerker troops. He massed a super assault back, killing all my Wolf Lords in one turn of total bad ass. I had thought I lost but I had one of those, super turns where everything I shot was killed. All the defilers, 2 Dreadnoughts immobilized, Daemon Prince 1 dead, Greater Daemon dead, and the other Daemon prince was taken down in combat from crazy Grey hunters with their massed attacks. If the game ended on turn 5 he would have one as he had one guy left by an objective, but it went to turn 6 and it was mine. Awesome game, great opponent and it was a ton of fun.
Summary
So all in all I had the most battle points and with the quiz I pulled out ahead of BushidoRedPanda to win it all and take home a crazy hammer. I got my invite for Las Vegas which is what makes me happy as I really wanted to go. In fact I did well enough on the quiz to get the Codexer (Sp?) award for my group too.
The biggest thing I saw at Adepticon was a massive amount of IG. It was kinda disheartening as each army was a massed amount of Chimeras, Vendettas, and Veteran squads. It is one of those armies that can just have an amazing alpha turn that just hurts almost any army. But there are ways to try and combat it. Reserving your army was something else I didn't see used as often as it should. If you see a crazy shooting army and they are going first, put everything in reserves. A refused flank is one of the biggest tactical thoughts you should use and abuse in any game. It is just like playing an all drop pod army and just bubble wrapping your important stuff. These small things will help you pull ahead of an other wise "uber" list. Of course these thoughts are for another article.
This week I plan on taking it easy with mini building as well as painting so look for a super Goatboy next week. Oh as a quick post too, I have been making character cards for the armies. These are cards you can dump in a sleeve and use to mark on with a dry erase marker. It makes it easier to keep track of wounds as well as what powers you might have turned on. I plan on making more and posted the Space Goats one as well as Warriors of Chaos one on my personal blog. They should be the right size to print sharply. Look for Orks with Warboss and Nobz coming soon as well as some Eldar ones and the psychic powers you are turning on and off. Tyranids will also be made soon too.
For all those I met, thanks for coming up and chatting with me. For the little girl who wanted to meet Goatboy, thanks for making my weekend. It was awesome to say hi to her and the little goat stuffed animal was adorable. Meeting all the fans was awesome. I strive to be as nice as I can be, because the only way to help this hobby is to help everyone. As usual, if you have a question, you can email me at [email protected].