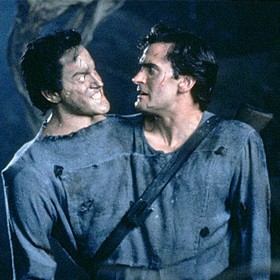 There is something great about soccer/football unlike any other professional sport you will see; you get the best teams and the best players from around the world competing against one another. Rarely can it be said in this singular global event that any team (minus Pele' and the 1970 Brazilians) goes undefeated from qualifiers to the championship. Now let us compare any war game that has a competitive scene. None of them has a unified system or grand tournament that showcases the best of the best. Really there is nothing wrong with that.
For the most part we are happily unaware of the rest of the wargaming world as we sit like toddlers in the sandbox playing however we want. Though most of us do not sit in the sandbox all day sometimes we venture out to the playground and play with the other kids. Then, there is the Internet, the smörgåsbord of our little wargaming desires. It is a place where I can live out my fantasy as TastyTaste and not Larry B. Scott. It is also a place where I can pretend to be larger than life and make boasts to live in ignominy, but never face any real reprisal.
So it is not a big surprise that on forums and posts some of us like to proclaim our domination of the games we love. With sigs at the bottom of forum handles to just flatly stating they never lose, we have a cadre of people who are simply loud mouth braggarts. As a loud mouth without the braggart, I find this sort of thing well quite…
Not to mention the list of things that come to mind.
Is that person lying?
They are trying to look cool.
They play against their baby brother/sister exclusively.
Do they think post count is equal to win count?
They do not count games that get interrupted by "emergencies".
They suffer from low self-esteem.
They play the same five people over and over.
Culminating into a picture of Jack Johnson loving, popped collar lamers drunk during Mardi Gra 2006 now suddenly choking on my bandwidth. Now I want to take this time from interrupting Taylor Swift, to let it be known that we should not mind people telling us some factual information, they should be proud of like tournament awards or what level their adoptables are. I just don't care to know that you are 77-0-1 with Space Marines. I will automatically take any advice you have with a grain of salt as I raise shields and at least go to yellow alert.
If you are winning every match, then you are not learning anything. Every wargame has plenty of John Daly's, but no wargame has a pre-Thanksgiving Tiger Woods. I'd rather hear from the players that get beat and go back to win the next time. They have something more to say than, "look at my unbeaten army list and you can be a winner too" advice. Even if you are the Tiger Woods of wargaming please keep it to yourself because there is nothing like the Augusta to prove that you are the best.
Tell me about your great stories of defeat that taught you the most? Are the games we play so unbalanced that someone could go undefeated all the time? What type of player you think gives the best advice?
Visit me at
bloodofkittens.com
where we tackle the dangers of comp scores and bad punctuation!