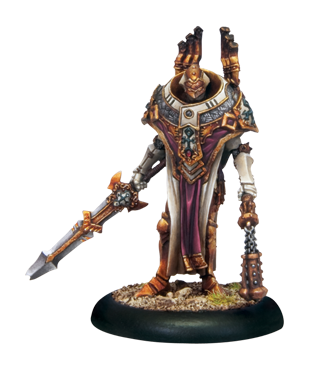 Hi everybody, its Privateer Press Teaser time, and those nice chaps have sent this delicious morsel of stats and abilities for the upcoming Vice-Scrutator Vindictus from the upcoming Forces of Warmachine: Protectorate of Menoth book.

VINDICTUS
Pathfinder
Death Toll [Holy Zealot] – When this model destroys a living enemy model with a melee attack, after the attack is resolved you can add one Grunt to a friendly Holy Zealot unit in this model's command range. The Grunt must be placed in formation and within 3˝ of this model. The destroyed model is removed from play but does not provide a soul or corpse token.
Sacrificial Pawn [Holy Zealot] – When this model is directly hit by an enemy ranged attack, you can choose to have one friendly, non-incorporeal Holy Zealot model within 3˝ of this model directly hit instead. That model is automatically hit and suffers all damage and effects.
~Have fun guys, and ready the censers and holy pyres, the Protectorate is coming…