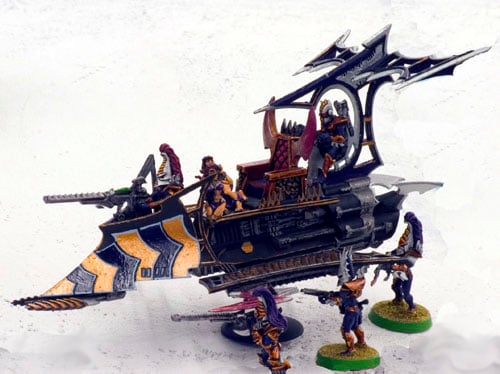 Its been a long quiet while on the Dark Eldar front, but here is a taste of rumored weapon stats that have been floating about out there:

Splinter Rifle: 12″ S:2 AP:5 Rapid Fire, Poisoned (4+)
Splinter Pod: 18″ S:3 AP:5 Assault 2, Poisoned (4+)
Splinter Cannon: 24″ S:2 AP:5 Heavy 6, Poisoned (4+)
Still no solid word on schedule, but the smart money is now leaning toward a Dark Eldar unveiling at Games Day UK, with a full release in October on the heels of the Fantasy 8th boxed set.
~Standard caveats on all this stuff until copies of the Dark Eldar codex are in our greedly little hands, but there is a lot of food for thought in those stats. In particular I like the feel of an army using a standard sidearm with the stats that Splinter Rifle has. It would be the most distinctive basic weapon to hit the tabletop since the Tau Pulse Rifle. Time will tell how close to mark these may be.