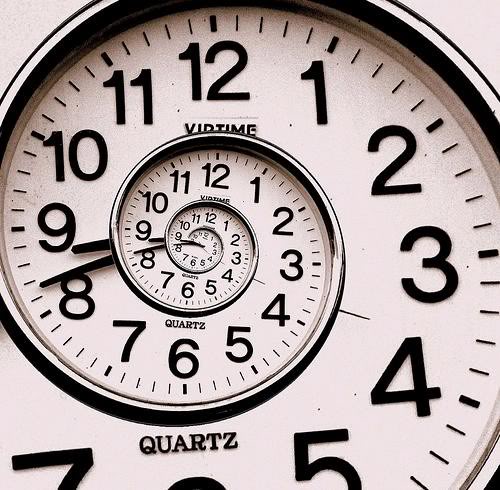 Hey all, this week a couple of quick speculative thoughts about our old friends, that corruptive quartet, the Chaos Gods.

The Ruinous powers have been described on more than one occasion as "timeless" or "ageless," or sometimes even as being as old as time itself. Now, this is in rather difficult to reconcile with the fact that we have a fairly precise date for the "birth" of at least one of them, and somewhat less precise though equally clear beginnings for the others in the distant mists of time. So how can say, Slaanesh, the young kid on the block, be both old beyond time and "born" from the collective psychic resonance of the Eldar race only a few tens of thousands of years ago?
In my estimation the answer can be found in another fact that we know about the Warp. It has been said on many occasions that time has little meaning in Warp. Spacefarers traveling through the warp may be able to transit distances that should take millennia in mere months, and sometimes they may experience only days while weeks, months, or even years have passed for the outside universe or vice versa, or even in rare cases discover that no time has passed at all, or (rarer still) that they have emerged before they left, members of the original Traitor Legions still exist in the Eye after ten millennia little bothered by the ravages of time. These effects seem to be more pronounced when those involved spend extended time in the Warp, or are in arguably more "direct" contact with it (i.e. unprotected by Gellar fields, swept into a Warpstorm, dwelling in a Warp/realspace inversion like the Eye of Terror, etc). Logically we might assume that the Chaos Gods, dwelling as they do in the very deepest parts of the Warp and existing fully and seemingly integrally with it, would be subject to even more pronounced effects.
However, it must be noted that these observations about the behavior of linear time when it interacts with the warp are by definition biased, originating as they do from beings whose entire paradigm is fundamentally based upon the normal operation of linear time. There is no reason to believe that the Chaos Gods themselves would necessarily perceive reality in the same way. In fact it might logically be surmised that the Warp does not have a temporal component at all, or that if it does it is not a linear one in the way we understand it in our universe. Any appearance of the function of linear time in relation to the Warp would be an artifact of interacting with beings and material from our reality. Thus the apparent timeline for the emergence of the Chaos Gods could merely be something enforced upon the nonlinear reality of the Warp by their interactions with our reality by the laws of our universe. As a side note, this interpretation of the Warp as nonlinear would also potentially explain how the precognition of psykers and entities like the Emperor actually work in 40k; psykers with the gift might be able to use the nonlinear aspects of the Warp as a "lens" to peer into time, which would exist simultaneously from the perspective of the Warp.
If the Chaos Gods are in fact nonlinear then their apparent causal relationship with events in our universe would not necessarily have any bearing on their own subjective existence. For example, while Slaanesh might have been "born" from the collective psychic imprint of the decadent Eldar Empire, this would have little meaning to how long it has existed, from its perspective it has always existed (and it would be entirely accurate in this belief with regards to its own reality). Thus when the Chaos Gods are referred to, either by themselves or by others, as having existed "for as long as time itself" this is quite true, their own existences are eternal simply because they are outside of time as we understand it, though they must work inside its rules when they interact with our universe.
References:
Codex Chaos Space Marines
Codex Chaos Daemons
Numerous Black Library novels
There has recently been some discussion on the forums along very similar lines, so what are your thoughts on how the Warp interacts with time? Are the Chaos Gods really "timeless," or is there something else going on here?
If you have a favorite corner of the 40k lore that would like to see featured, or just a lore question you think would interest the community, let me know, you can even PM me on the forum if you like. New ideas are always welcome.