Back in the era of Prime and Escalation, Privateer Press maintained that Mercenary models, including the available warcasters Gorten and Magnus, were meant solely to be options to augment the regular faction forces of the time. For a few years it continued that way, until things unexpectedly changed. When the first issue of No Quarter was released in the summer of '05, rules for playing Mercenary-exclusive forces were made available, and a new breed of player was born.

At the time, and for a year or two after, Mercenaries were mostly distractions for enthusiastic players who enjoyed the challenge of taking a highly-restricted force and destroying their opponents with them. Steadily, three more contracts were created, leading to a higher-and-higher focus on creating exclusive, synergistic Mercenary armies.
When MkII released, many formerly maligned options like Boomhowler and Co., Sam and the Devil Dogs, Ashlynn d'Elyse, and the Ghordson Driller were given proper face-lifts and certain faction models like Arcane Tempest Gun Mages and Long Gunners crept their way into the Highborn Covenant, giving Mercenary players some very solid and competitive options for organized play. Mercenaries became a stable platform with their own strong combinations that put worry on the faces of regular faction players.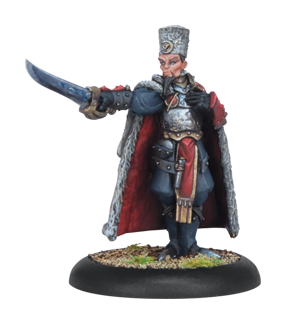 Valachev: beware his epic beard
This month's No Quarter magazine has given us a look into a series of new models that have raised some questions as to the direction that Privateer Press is taking Mercenary models. The first concept that started raising eyebrows were the rules for Ranking Officers; mechanics that would allow faction players to attach an in-faction model to a Mercenary unit, giving it a few faction-centric buffs while also granting "faction status" to the unit so that such units can benefit from faction-exclusive spells and feats like Defender's Ward or Signs and Portents. I thought this was a pretty good idea. For years, most Mercenary releases have been largely disregarded by faction players, save a few notable exceptions like Epic Eiryss, Aiyanna and Holt, or Rhupert Carvolo. This was an opportunity for faction players to take a Mercenary unit that might have been an attractive option were it not for the lack of a "faction" label.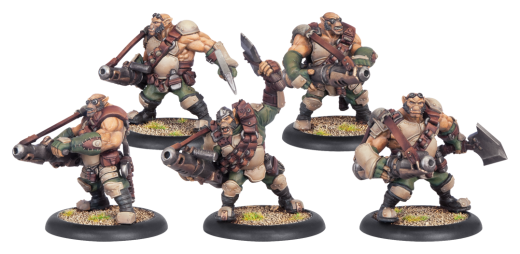 The other interesting tidbit were the rules for the Ogrun Assault Corps. As a non-faction, Mercenary-exclusive Warmachine player, I was pretty disappointed with their rules. On their own, their stats are pretty lackluster, and I couldn't for the life of me find any significant synergies between them and the rest of the available Mercenary models. Some players might wax lyrical on how "they're the unit that Durgen Madhammer has been waiting for", but I largely believe that idea, by which "Madhammer needs lots and lots of blast damage", is a miscalculation of Durgen's strengths, but that's another story.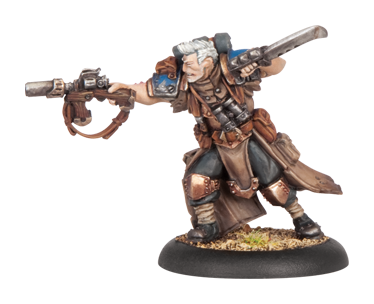 Jonas Murdoch: coming to a Nyss Hunter unit near you
It wasn't until I visited their faction availability that things started clicking into place. They're not really a Mercenary Unit; they're a Cygnaran unit in Rhulic clothing. That's where all the synergy is. Sure their ARM value isn't impressive, but slap Arcane Shield on them and they'll take a hit much better. They don't have great range, but with Snipe, they're moving and shooting 21″. They don't have great accuracy, but that's obviously fixed by using Temporal Barrier, Deadeye, or Earthquake. They don't hit terribly hard on blast damage rolls, but Siege can fix that right up. When you add Jonas Murdoch to them, things open up for them even more, giving them some added punch via Assault as well as some other options. They can benefit from feats like Firing Squad, Blitz, and Invulnerability, and get buffs from Deflection and Positive Charge.
Could this be a shift for how Privateer Press treats Mercenaries? Is this a return to the late-Escalation era of Mercenaries as faction-support models first and Mercenary-exclusive models second? It's probably a little early to start throwing the theories around, but many think that the writing is on the wall. Since there's only one Mercenary model left unpreviewed between now and the already-announced April releases, we'll have to a wait a while to see.