Warmachine: Mydnight's Khador at Adepticon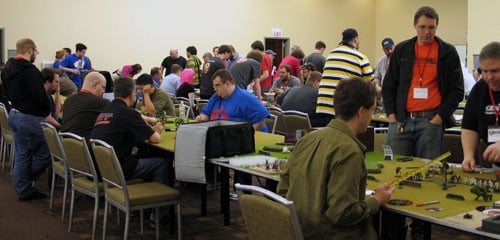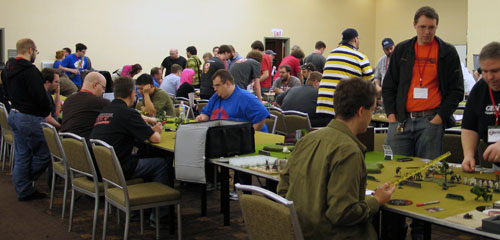 Being crammed in a van with ten guys for 36 hours and bad restaurant experiences aside, my first Adepticon was really fun. I met some great people and got to look at a bunch of beautiful armies.
I spent most of my time in the Warmachine hall with Rabscutle and Spanky Harrison. That room had the most laid back atmosphere I've experienced at a major tournament. It was a definite change from the charged air in the main hall where players were battling for the 40k Championship title.
On Saturday I met and talked with Mydnight, whose Khador army caught my eye – esp the amount of time and detail he'd put into his Fenris models. I asked if I could take a few pictures, and he talked with me about his hobby work and the tournament while I worked… in his own words:
"I first heard about War Machine when I offered to paint some of my friends models to clear up a bit of debt I had with him. I ended up painting some Cryx Death Rippers and a Skarlock. The sculpts were very impressive and quite different from what I had seen/painted from Reaper and Games Workshop. I started to look for my own Skarlock (which really caught my eye) and made a point to search for Privateer Press at conventions. After a few years of collecting pieces from various factions I was offered a really good deal on some used Khador pieces from a friend. I took the plunge and started painting and really got into the game with the release of Mk II.
Originally I had my eye on Cygnar with their very heroic looking models, and while I do have enough for a small list it seemed like everyone near me was playing Cygnar. This made me go back and look at all the factions and what they had to offer in the way of models. I tend to pick factions based on what I have to paint instead of how that faction is played, which gets me into trouble sometimes. It was difficult to choose which faction I wanted, and I limited myself to the War Machine factions only. I settled on Khador because I liked how their infantry models looked. The Widowmakers and Iron Fangs were the ones that pushed me over the edge.
The biggest part of my painting process is to find the right combination of colors. I like to use three similar colors; a dark for shadows and recessed areas, a medium base color, and a highlight. Rather than just do a paint-by-numbers scheme I mix in the dark color with my base and do a layering technique. I use anywhere from three to five layers depending on the model and how much time I want to spend. When dealing with armor plates I finish off the layering by doing a wash to help smooth out the edges of the paint, and give a more even/smooth look overall. You can really see this on my Man-O-War Demolition Corp….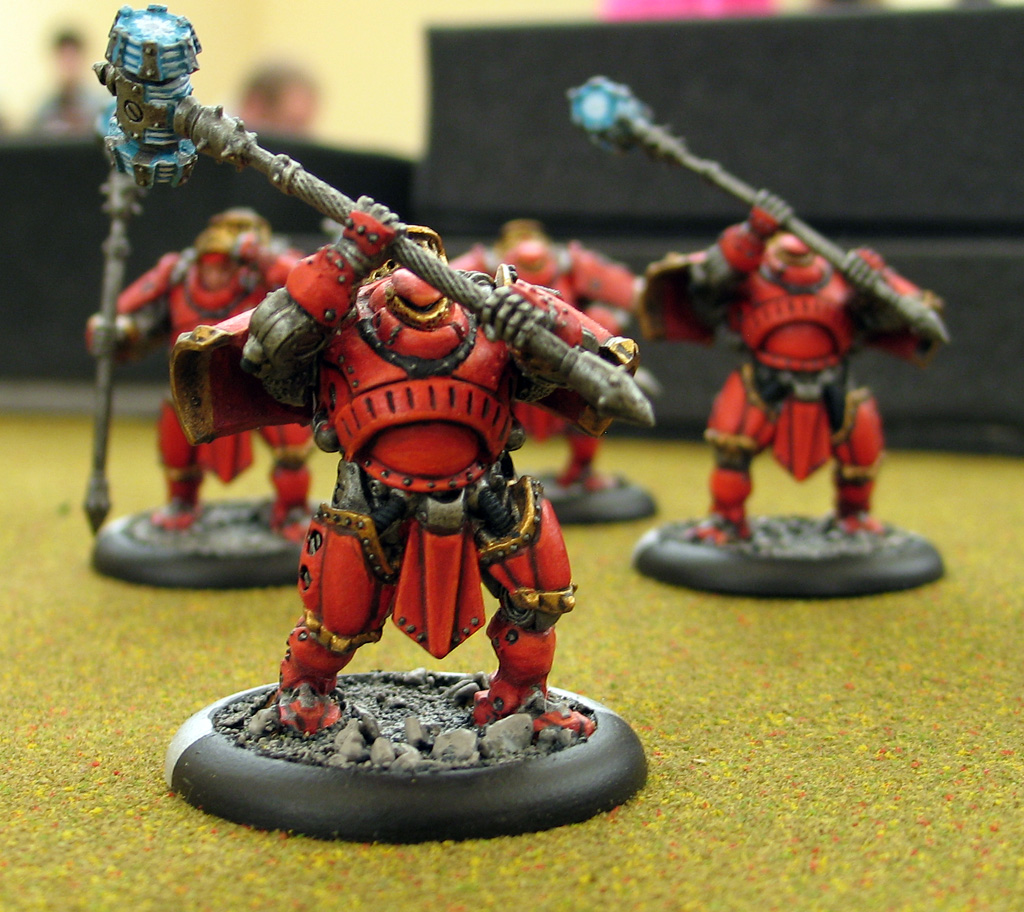 I really liked how they turned out, the P3 Red Ink I used gave a sort of smooth and lacquered feel to the armor.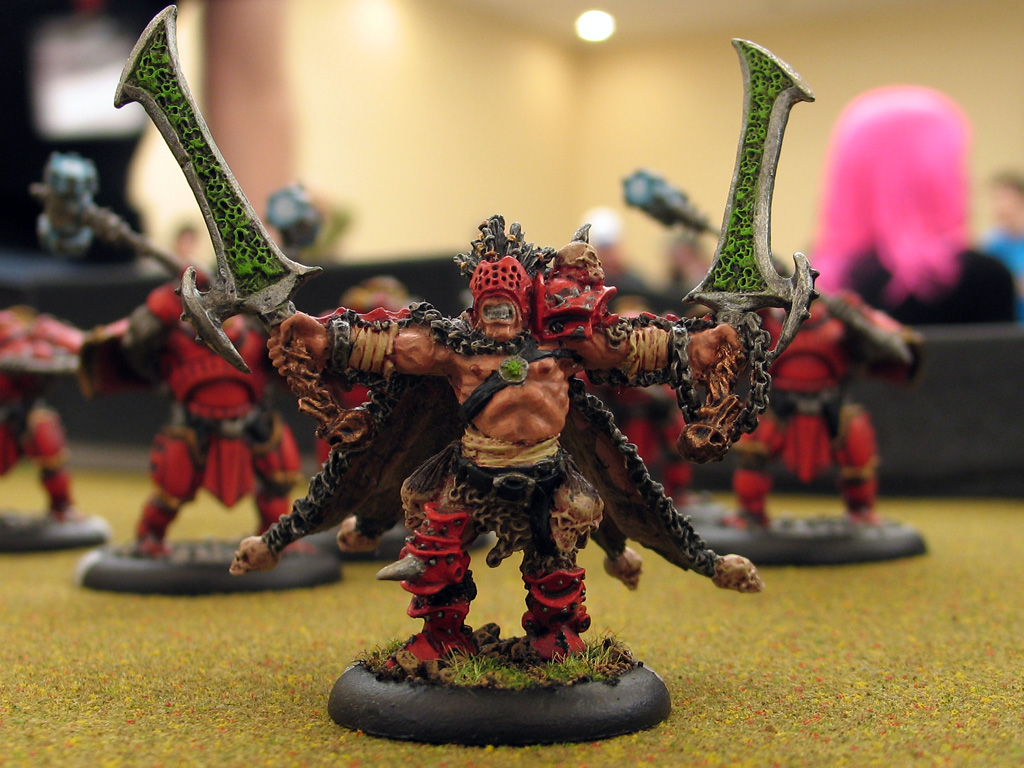 Fenris took me about 20 hours over two weeks. This includes the dismounted version, mounted version, and the horse.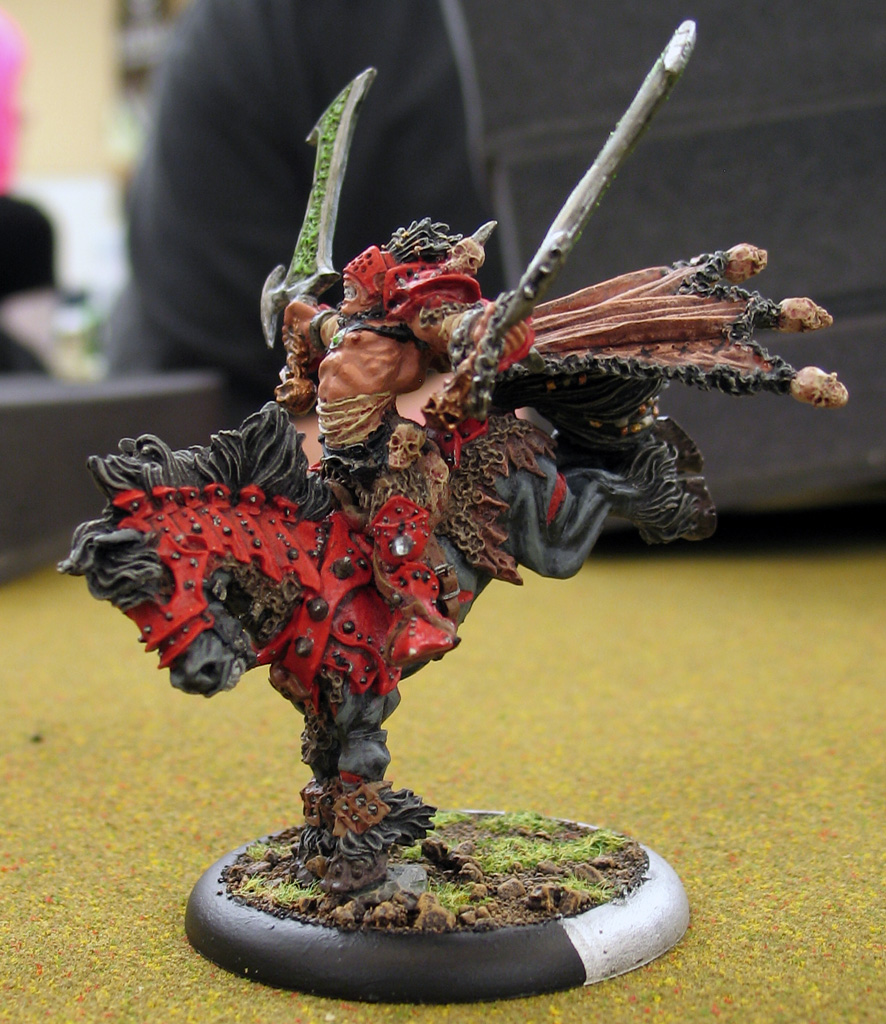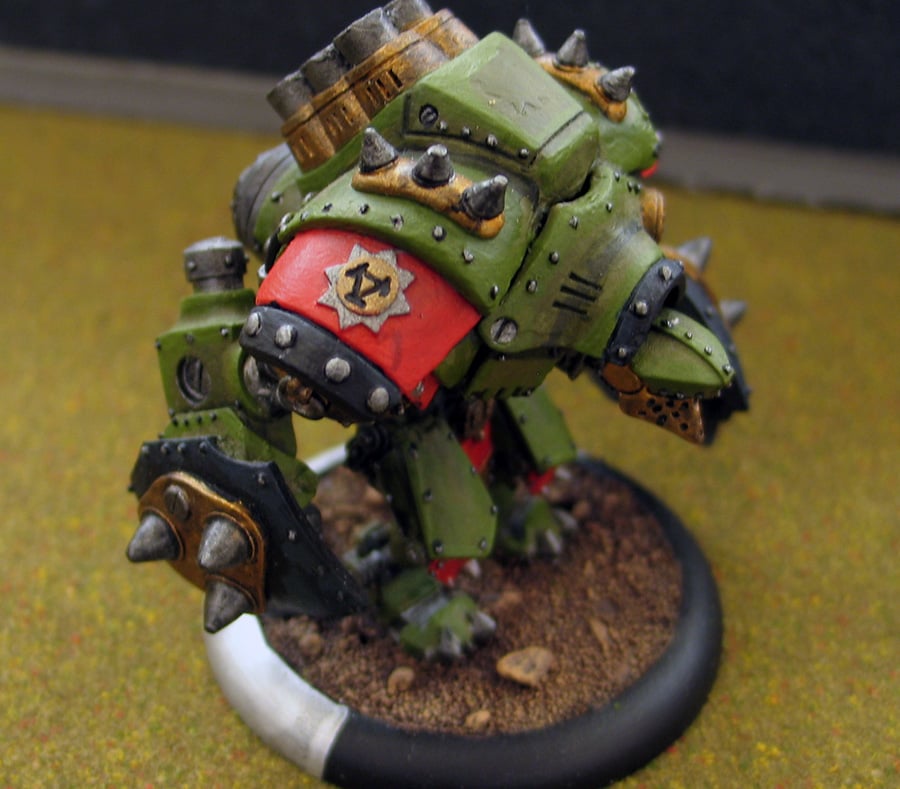 I discovered that painting green recessed and highlights is a little different from other colors, and this shows in the Kodiak. I was trying to do my normal layering, but looking at the finished project I get a different feel from what I was going for originally. I'm still satisfied with the end result and it gives me new perspective on choosing colors.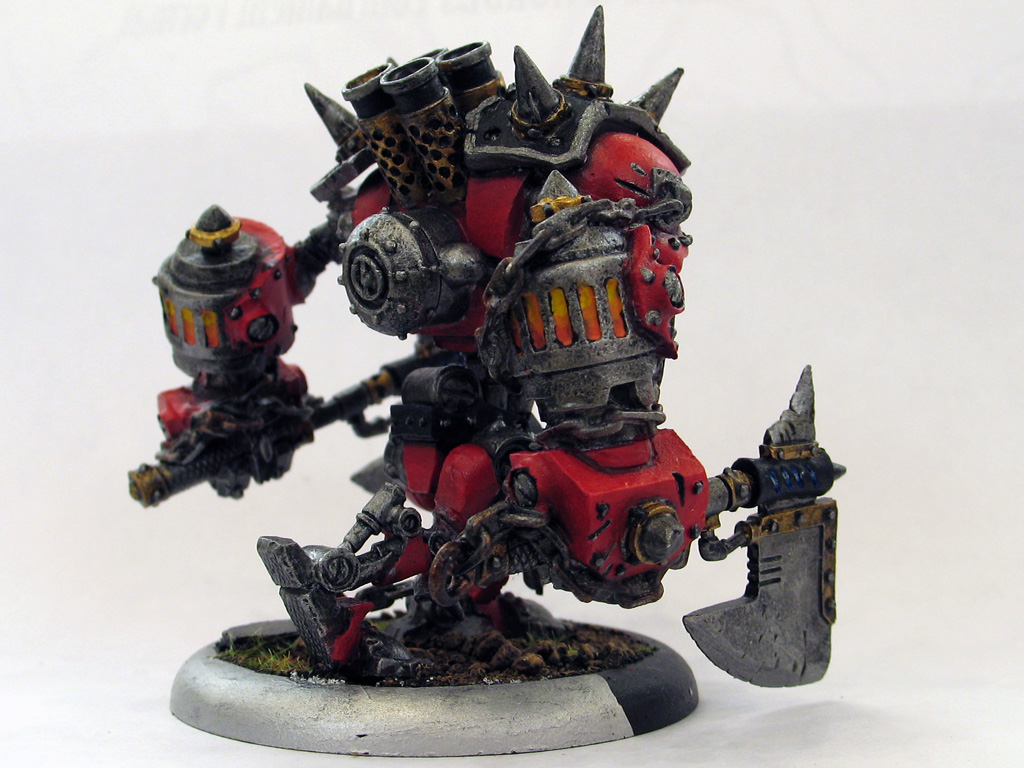 Drago got a lot of attention and people really noticed the flame effects in the boilers on his arms. It was a simple trick (just some layering) that had a noticeable effect, and its always nice to have those catch people's attention.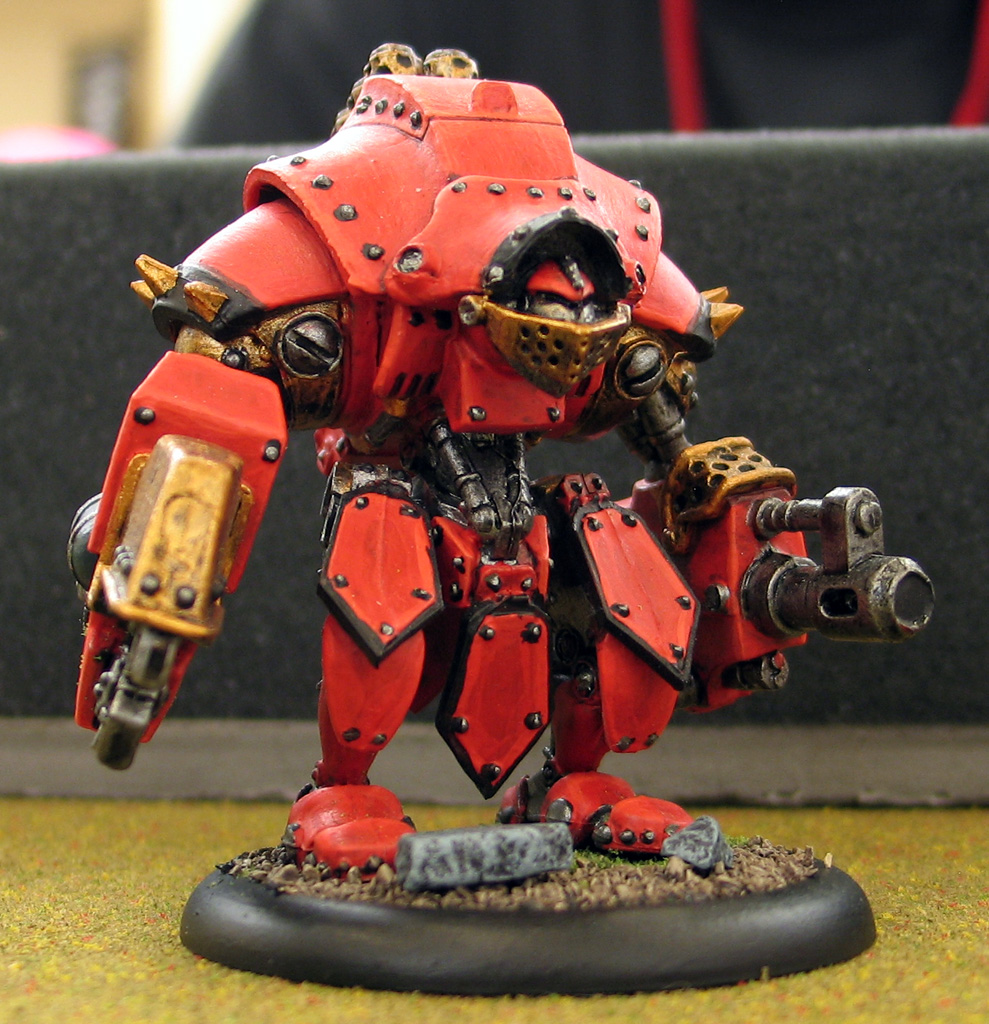 The Decimator is one of the models where I tried different layering techniques, and the shadows don't show up as well as in the models that were painted after it. After painting it I started to take my darkest color that I mixed for shadowing and started painting thin lines in recessed areas to help better define the shadows and spaces between areas.
Subscribe to our newsletter!
Get Tabletop, RPG & Pop Culture news delivered directly to your inbox.
I haven't done much in the way of mods yet, but I am curious about trying out more.
I spent a lot of time and work getting everything finished up for the Hardcore tournament at Adepticon, so I'm taking a small break from War Machine to mess around with some Malifaux miniatures. I plan to start up another faction in War Machine or Hordes, and I'm debating on which to do based on the merits of the particular faction as well as how fun it will be to paint the models. I'm planning on doing a custom color scheme rather than traditional faction colors, unless I go with Cygnar since I love their lightning and blue motif. The other choices are Retribution of Scyra, Legion of Everblight (which has incredibly gorgeous figs!), and Skorne. I've picked up a handful of models from each faction except Legion of Everblight, and I may paint up a few schemes and see which catches my eye more. I'm also hoping to try out more in the ways of moding and custom bases."
And what did he put on the table last weekend, you ask?
"I only brought my Khador stuff with me, having put in a lot of time to get things ready. Having 50 points worth of models for a Hardcore tournament (fully painted and based) is a daunting task when you decide to change up your list a few months before the convention. I participated in the Hardcore event and the Sunday Steamroller. On Saturday I took it easy catching some pickup games, checking out the displays, and participating in some Malifaux demos.
My list for Hardcore was with Vladimir, The Dark Champion (a.k.a. eVlad) and was a bit infantry heavy. For the Sunday Steamroller I used both the epic and normal version of Vlad depending on who my opponent was. Looking at the play results from over the weekend my painting is my strong point 😀
For the Hardcore Tournament we were limited to a single 50-point list:
eVlad
Drago
10 Iron Fang Pikemen
~ Iron Fang Pikeman Officer & Standard Bearer
Doom Reavers
~ Greylord Escort
Fenris
Koldun Lord
~ Kodiak
Winter Guard Mortar Crew
5 Man-O-War Demolition Corp
Manhunter
For the Sunday Steamroller we had to use two lists with different warcasters for each list. Both my lists were similar but each had their own little flair. Used in both lists were:
Drago
5 Man-O-War Demolition Corp
Koldun Lord
~ Kodiak
eVlad
Doomreavers
~ Greylord Escort
Fenris
pVlad
~ War Dog
10 Iron Fang Pikemen
~ Iron Fang Pikeman Officer & Standard Bearer
Manhunter"
I look forward to seeing Mydnight's new projects [I'll be sure to keep y'all in the loop]… he was a really great guy to talk to, as were most of the guys I met that day. Hope you all made it home alright and have recovered from the con 🙂
Did you participate in any of the Privateer Press events at Adepticon? Tell us about your experiences and the people you met.